Cardless ATM Market Research, 2031
The global cardless atm market was valued at $2 billion in 2021, and is projected to reach $5.2 billion by 2031, growing at a CAGR of 10.6% from 2022 to 2031.
The COVID-19 outbreak had a negative effect on the market for smart financial hardware industry because many bank ATMs were shut down during the lockdown. The governments of every country in the world took this action to prevent new ATM installations.
Customers who use cardless ATMs can quickly set up the withdrawal on their banking app before making the withdrawal at any equipped ATM, as well as digitally locate the closest ATMs, banks, and other institutions. In addition, it reduces the cost of teller service and fraud, increasing mobile banking participation. Further, this novel approach that makes use of the existing card rails boosts efficiency and security. 
Cardless ATMs are frequently being installed in bank locations to provide convenience of cash withdrawals, deposits, and transfers. In addition, the increase in level of technical advancement in IoT technologies, such as incorporation of data analysis tools drives the cardless ATM market growth. However, the market expansion is likely to be hampered by the increase in data breaches and rise in concerns regarding data security. On the contrary, the surge in integration of next-generation smart ATMs that can be remotely maintained further encourages the demand for cardless ATMs among end-users, which is anticipated to contribute toward the growth of the cardless ATM market. 
The report focuses on growth prospects, restraints, and trends of the cardless ATM market analysis. The study provides Porter's five forces analysis to understand the impact of various factors such as bargaining power of suppliers, competitive intensity of competitors, threat of new entrants, threat of substitutes, and bargaining power of buyers on the cardless ATM market outlook.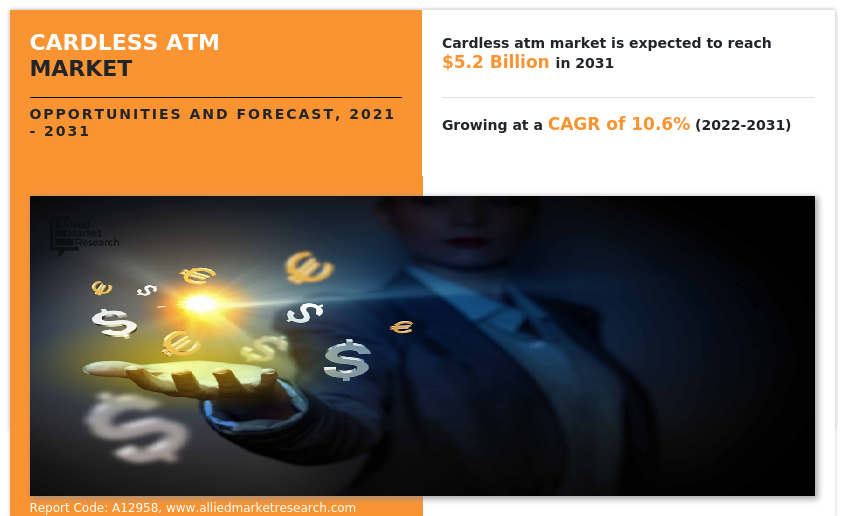 The cardless atm market is segmented into Type, Technology and End User.
Segment review
The cardless ATM market is segmented into type, technology, end user, and region. By type, the market is differentiated into on-site ATM, off-site ATM and, and others. By technology, the market is classified into near-field communication (NFC), quick response (QR) codes, and biometric verification. By end user, it is categorized in bank & financial institutions and independent ATM deployer. Region wise, the market is analyzed across North America, Europe, Asia-Pacific, and LAMEA.
Cardless ATM Market

---
By Type
Off-site ATM segment accounted for the highest market share in 2021.
Get more information on this report :
Request Sample Pages
By type, the off-site segment has acquired the highest size of cardless ATM market size in 2021. This is attributed to the fact that financial institutions and banks are planning to put more and more emphasis on modernizing their ATM infrastructure in order to increase security & convenience and provide customers with a seamless, personalized banking experience by implementing cardless ATM transactional functionalities like one-time access codes and biometric authentication.
Cardless ATM Market

---

By Region
North America segment accounted for the highest market share in 2021.
Get more information on this report :
Request Sample Pages
Region wise, North America dominated the cardless ATM market share in 2021. This is attributed to the region's developed IT infrastructure as it makes easier to implement IoT-based devices in the BFSI sector, such as smart ATMs, contributing to the region's considerable share in the cardless ATM market.
The key players operating in the global cardless ATM market include Citigroup Inc., JPMorgan Chase and Co., Wells Fargo, NCR Corporation, Fujitsu, Barclays Bank Plc, HSBC Bank A.S., GRGBanking, ICICI Bank Ltd., and Banco Santander S.A. These players have adopted various strategies to increase their market penetration and strengthen their position in the cardless ATM industry. 
Market Landscape & Trends
Industry 4.0 machines, technology, and equipment are transforming the manufacturing industry by digitalizing production processes, quality control, maintenance, and many other parts of the manufacturing ecosystem. However, there are adoption obstacles that can be resolved with financing. Further, vendor finance offers an alternative to outright purchase during the initial scoping and needs analysis phase, which can assist OEMs, systems integrators, and other technology vendors in improving their value proposition and fending off competition challenges. Vendor financing, which can include entire financial solutions, maintenance, servicing, hardware, and software, can play a significant, supplementary role in supporting the sale of digital technology and machines. Affordable payment methods might also encourage the OEM's client to think about a more specialized technical specification and comprehensive solution to meet the client's evolving needs.
Further, various key players are increasingly adopting various strategies to offer innovative solution in cardless ATM market. For instance, in July 2022, Huawei Cloud launched its Cloud Native Core Banking solution – the foundation for agile innovation of traditional banks and new digital banks.
Furthermore, various companies across U.S. are collaborating to boost prosperity in cardless ATM market. For instance, in June 2021, NEXGO and GUOXIN MICRO started a corporation and signed the strategic cooperation agreement. Two enterprises would build up a partnership in mobile communication, FinTech, digital currency, IoT, smart life, etc., for business transformation and upgrade, boost the intelligence industry.
The COVID-19 outbreak had a negative effect on the market for smart financial hardware industry because many bank ATMs were shut down during the lockdown. The governments of every country in the world took this action to prevent new ATM installations. As individuals opted for UPI and other cellular transactions during the pandemic, which had an impact on the market's growth, the restriction of the pandemic further reduced ATM transactions.
Top Impacting Factors
Increased penetration of smartphones
One of the main factors propelling the growth of the cardless automated teller machine (ATM) industry is the rising adoption of smartphones. The expanding sales of affordable smartphones have increased the penetration of smartphones in emerging nations. Furthermore, low-cost smartphones are integrated with several features that are usually available in high-end smartphones. Moreover, smartphones can link to other NFC-enabled devices in cardless ATMs via the peer-to-peer communication mechanism, allowing for the transfer of data. Further, a smartphone can read QR codes shown on an ATM screen in QR code verification. Therefore, this factor is responsible for driving the cardless ATM market's growth.
In addition, to improve customer experience with better service, various market players are adopting different key strategies to drive their revenue growth opportunities that propel the cardless ATM market's growth. For instance, in June 2020, Empays Payment Systems, which runs the IMT Payment System, announced a partnership with Mastercard to launch a 'Cardless ATM powered by Mastercard' in India. The facility helps users digitally locate the nearest enabled ATM and initiate a withdrawal by simply scanning a QR code on their mobile phone, using their banking app.
Security and convenience offered by cardless ATMs
Since consumers often demand two things that can be inherently contradictory which include increased convenience and increased security. With respect to banking, these two can be offered by banks for instance a cardless ATM. Although world economies continue to shift towards cashless transactions and digital currency and payments, cash remains the prevalent payment method across the world. Furthermore, consumers get cash from ATMs. But consumer convenience, concerns about ATM fraud devices, and the necessities of the COVID pandemic have made consumers warier about ATM usage. Cardless ATMs help resolve these issues, eliminating a card from the user's wallet and reducing the overall amount of contact consumers have with common surfaces such as ATM screens or keypads. Therefore, these are the factors propelling the growth of the cardless ATM market.
Increase in adoption of artificial intelligence and machine learning
Increased technological advancements are going to create profitable opportunities for banks and other institutions to scale up ATM service strategies and increase business revenues. Furthermore, the incorporation of technologies such as blockchain, artificial intelligence, Internet of Things (IoT), and others will help in executing the better contactless payment.
For instance, in August 2021, National Australia Bank Limited (NAB) and Microsoft collaborated to design a proof-of-concept Automatic Teller Machine (ATM) using cloud and artificial intelligence (AI) technology. The cloud-based application, developed using Azure Cognitive Services, has been designed to improve the customer experience by removing the need for physical cards or devices to access cash from ATMs. Instead, through the concept, a customer who opted into the service would be able to withdraw cash from an ATM using facial recognition technology and a PIN. Therefore, these factors will provide major lucrative opportunities for the growth of the cardless ATM market.
KEY BENEFITS FOR STAKEHOLDERS
This report provides a quantitative analysis of the market segments, current trends, estimations, and dynamics of the cardless ATM market forecast from 2021 to 2031 to identify the prevailing market opportunities.

The market research is offered along with information related to key drivers, restraints, and opportunities of cardless ATM market overview.

Porter's five forces analysis highlights the potency of buyers and suppliers to enable stakeholders make profit-oriented business decisions and strengthen their supplier-buyer network.

In-depth analysis of the cardless ATM market segmentation assists to determine the prevailing cardless ATM market opportunity.

Major countries in each region are mapped according to their revenue contribution to the global market.

Market player positioning facilitates benchmarking and provides a clear understanding of the present position of the market players.

The report includes the analysis of the regional as well as global cardless ATM market trends, key players, market segments, application areas, and market growth strategies.
 Cardless ATM Market Report Highlights
Aspects
Details
Market Size By 2031
USD 5.2 billion
Growth Rate
CAGR of 10.6%
Forecast period
2021 - 2031
Report Pages
379
By Type

On-site ATM
Off-site ATM
Others

By Technology

Near-field Communication (NFC)
Quick Response (QR) Codes
Biometric Verification

By End User

Bank and Financial Institutions
Independent ATM Deployer

By Region

North America (U.S., Canada)
Europe (UK, Germany, France, Italy, Spain, Rest of Europe)
Asia-Pacific (China, Japan, India, Australia, South Korea, Rest of Asia-Pacific)
LAMEA (Latin America, Middle East, Africa)

Key Market Players
Fujitsu, Citigroup Inc., HSBC Bank A.S., ICICI Bank Ltd., JPMorgan Chase & Co., Wells Fargo, GRG Banking, Santander Group, Barclays Bank PLC, NCR Corporation