Caribbean Islands Bunker Fuel Market Overview:
The Caribbean Islands bunker fuel market was valued at $8,931 million in 2017 and is projected to reach $16,404 million by 2023, growing at a CAGR of 10.7% from 2017 to 2023.
Bunker fuel is the fuel oil delivered to ships of all states that are engaged in international navigation. Bunker fuel refers to the heavy oil, which is used to power a ship. Distillate and residual are the two types of marine fuels, which are most widely used in the bunker fuel industry. Residual fuel oil is a heavy oil composed of distillation residue, and is considered as the most important byproduct after extraction of distillates. This oil is extracted during the refining process of crude oil. It consists of fuel mixture having non-boiling fractions. On the basis of distillation temperature, the fuel oils are categorized into different grades, namely, marine gas oil (MGO), marine diesel (MDO), and other bunkers.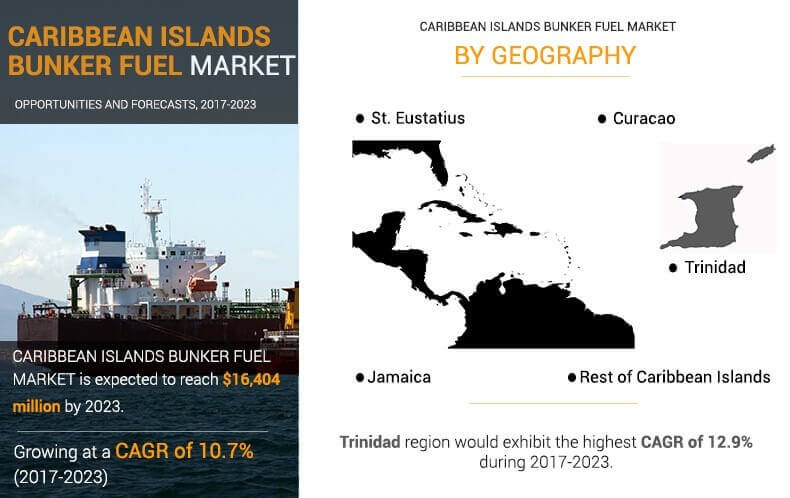 Caribbean islands bunker fuel market size is primarily expanding due to rise in marine trade. Growing offshore hydrocarbon exploration activities are developing scope for the bunker fuel consumption. But, the growth of this market is largely driven by increase in marine-borne trade and IMO's regulations of sulfur cap for marine fuels. Besides this, due strengthening country level political alliances trade activities have increased. Wherein, marine trade is a convenient choice as a result of high shipment capacity.
Consequently, marine trade emerged as a strong driving force in the Caribbean islands bunker fuel market. In addition, availability of alternative sources for marine fuel is expected to supplement the market in the future. Considering this, Caribbean islands bunker fuel market share in the global market expected to progress significantly. Caribbean islands bunker fuel industry provides qualitative and quantitative insights on the consumption pattern across the various regions in Caribbean Island by analyzing market trends.
On the other hand, high investment cost involved in the development of bunker fuel infrastructure and old vessel replacement from wasteful to new fuel-efficient ships may impede the Caribbean islands bunker fuel market growth. Bunker fuel is composed of considerable amount of pollutants such as sulfur and nitrogen which are highly potential to disturb marine life cycle. This factor further expected to challenge the growth of the Caribbean islands bunker fuel market over the forecast period. The Caribbean bunker fuel market expected to witness healthy growth opportunities over forecast period. This can be attributed to the growing commercialization of marine gas oil, as IMO proposed regulation to restrain the use of Sulphur content below 0.5%. This regulation will be operational after 2020 and can lead to greater adoption of marine gas oil due to low Sulphur content. Similarly, Caribbean islands bunker fuel market opportunity is analyzed on the various emerging applications of bunker fuel.
The Caribbean islands bunker fuel market is segmented based on type, commercial distributor, end user, and geography. On the basis of type, the market is classified into residual fuel oil, MDO, and MGO. Residual fuel oil is further divided into IFO 180 and IFO 380. Depending on commercial distributor, the market is fragmented into oil majors, large independent, and small independent. By end user, it is categorized into container, bulk carrier, oil tanker, general cargo, chemical tanker, fishing vessel, gas tanker, and others. Geographically, it is analyzed across St. Eustatius, Trinidad, Curacao, Jamaica, and rest of Caribbean islands.
Based on commercial distributor, the large independent commercial distributors in the Caribbean region include oil & gas companies such as Aegean Bunkering (Jam) Ltd. and Petrotec Bunkering (JA) Ltd. in Jamaica; Freeport Oil Co. (FOCOL) and Bahamas Oil Refining Co. (BORCO) in Bahamas; Bunkers International Corporation and C.I. International Fuels in Colombia; Harbor Bunkering Corp. in Puerto Rico; Staatsolie Maatschappij Suriname NV in Suriname; and Petroleum Company of Trinidad & Tobago Ltd. (Petrotrin), Ventrin Petroleum Co. Ltd., and Aegean Marine Petroleum in Trinidad & Tobago.
Key manufacturers operating in the Caribbean islands bunker fuel market are Aegean Marine Petroleum Network Inc., Bomin Bunker Oil Corp., BP PLC, Bunker Holding A/S, Chemoil Energy Ltd., Exxon Mobil, Gazprom Neft PJSC, GAC Bunker Fuels Ltd., KPI Bridge Oil A/S, and Royal Dutch Shell PLC. In order to stay competitive in the market abovementioned market players are adopting different strategies such as expansion, merger, acquisition, product launch, and others.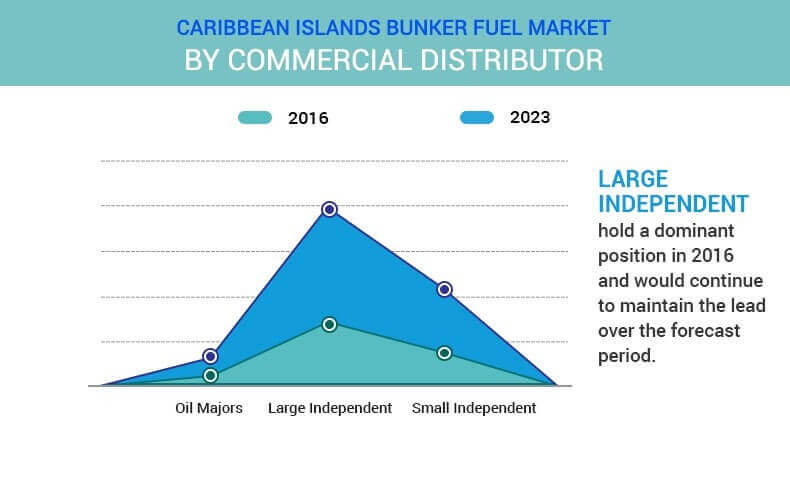 Based on Type, the market is classified into residential fuel oil (MFO), marine diesel oil (MDO), and marine gas oil (MGI). Residential fuel oil accounted for the largest market share in 2017 and it is expected to continue its dominance during the forecast period. Residential fuel oil has high density as compared to other types that provide efficient lubrication to vessel engines.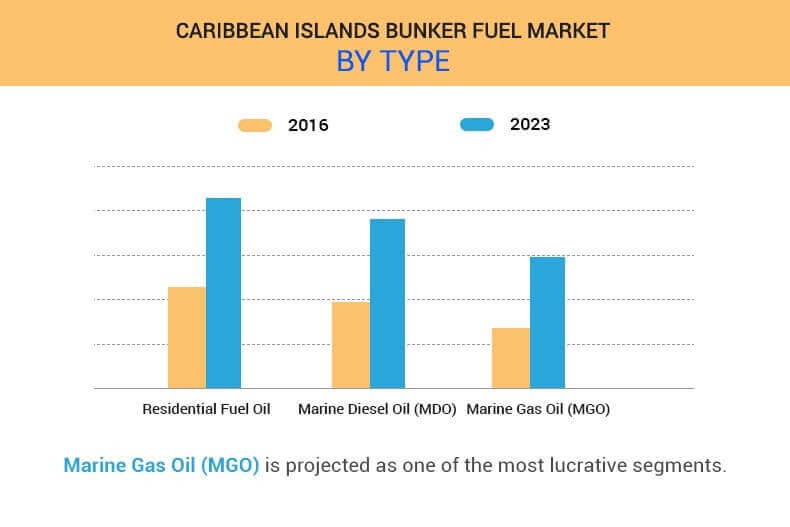 Based on the commercial distributor, the market is bifurcated into oil majors, large independent, and small independent. Large Independent segment has emerged as a market leader among other. This is due to large storage capacities of the large independent distributors. Small Independent segment anticipated to exhibit largest CAGR during the assessment period due rising penetration of the small independent distributors in this market.
Caribbean Islands Bunker Fuel Market-by Region
Based on the region Caribbean Island Bunker fuel market has been segmented into Curacao, Trinidad, Jamaica, and Rest of the Caribbean Island. Trinidad region expected to exhibit the largest CAGR during the forecast period due to significant demand for bunker fuel.  
Key Benefits for Caribbean Islands Bunker Fuel Market:
This report provides an extensive analysis of the current trends, emerging estimations, and dynamics in the Caribbean islands bunker fuel market.
Caribbean islands bunker fuel market forecast is provided by considering historical market trends and impact of technological momentum on the market
In-depth analysis of the market is conducted and estimations for key segments between 2015 and 2023 are provided
Caribbean islands bunker fuel market trends are provided by analyzing various macro and micro economic variables
Caribbean islands bunker fuel market opportunity is analyzed on the various emerging applications of bunker fuel
Factors that drive and restrain the growth of the market are provided
Industry analysis is conducted by following the key product positioning and monitoring the top competitors within the market framework
The qualitative data in this report aim on the market dynamics, bunker fuel market trends, and developments in the oil sector while the quantitative data provides the information of the market statistics in terms of volume and revenue
Key players are profiled, and their strategies are analyzed thoroughly to provide a competitive outlook of the industry trends
 Caribbean Islands Bunker Fuel Market Report Highlights
Aspects
Details
By Type

Residual Fuel Oil
MARINE DIESEL OIL (MDO)
MARINE GAS OIL (MGO)

By Commercial Distributor

Oil Majors
Large Independent
Small Independent

By End User

Container
Bulk Carrier
Oil Tanker
General Cargo
Chemical Tanker
Fishing Vessels
Gas Tanker
Others

By Geography

St. Eustatius
Trinidad
Curacao
Jamaica
Rest of Caribbean Islands

Key Market Players
BP PLC, ROYAL DUTCH SHELL PLC, EXXON MOBIL CORPORATION (EXXONMOBIL CHEMICAL COMPANY, INC., AEGEAN MARINE PETROLEUM NETWORK INC., BOMIN BUNKER OIL CORP., BUNKER HOLDING A/S, CHEMOIL ENERGY LTD., GAZPROM NEFT PJSC, GAC BUNKER FUELS LTD., KPI BRIDGE OIL A/S