Cartilage Repair Market Overview:
The Global Cartilage Repair Market was valued at $713 million in 2017, and is estimated to reach at $2,195 million by 2025, registering a CAGR of 15.0% from 2018 to 2025. The articular cartilage is a nonvascular connective tissue, which covers the ends of bones where they conjoin to form joints. The major function associated with cartilage includes provision of a lubricated and smooth surface for bone movement. Cartilage can be damaged due to injuries, timely wear & tear, and diseases such as osteoarthritis. The procedure undertaken to repair this damage is known as cartilage repair.
The global cartilage repair market is segmented based on modality, type, application, end user, and region. By modality, the market is divided into chondroplasty & microfracture, autologous chondrocyte implantation, osteochondral allograft, and juvenile allograft fragments. On the basis of type, it is bifurcated into hyaline cartilage and fibrocartilage. The applications covered in the study include knee, shoulder, and others. Depending on end user, the market is categorized into hospitals & clinics, ambulatory surgical centers, and others. Region wise, it is analyzed across the North America, Europe, Asia-Pacific, and LAMEA.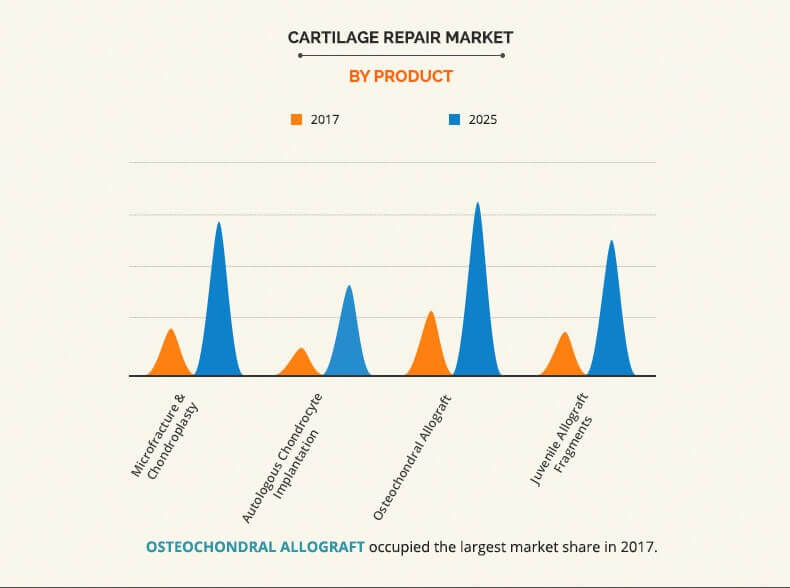 Osteochondral allograft dominated the cartilage repair market in 2017, owing to its versatility to treat large defects of the subchondral bone and generally successful outcomes associated with this modality.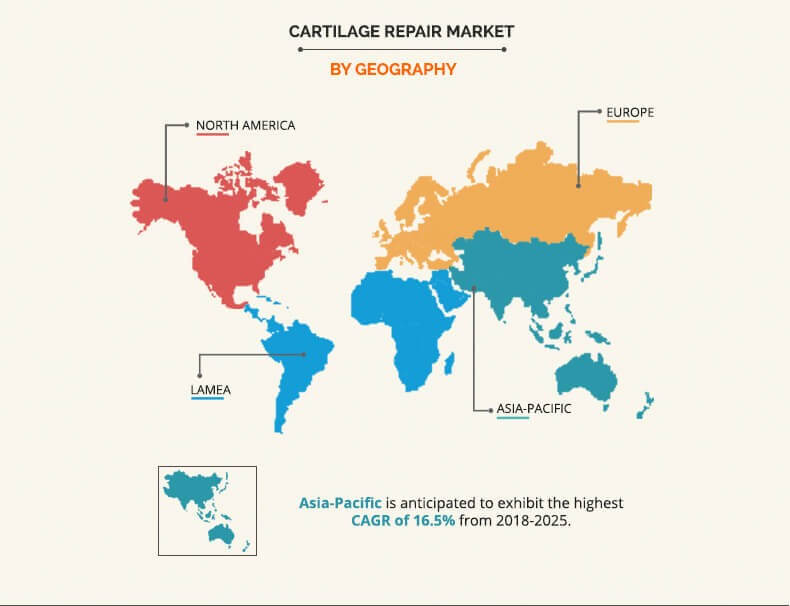 Rise in focus of vendors on the emerging markets, such as Asia-Pacific and LAMEA, is expected to boost the market growth. Asia-Pacific is projected to witness significant growth in future, owing to increase in R&D investment and surge in osteoarthritis awareness. Furthermore, this region presents remarkable opportunities for the venture capitalists and investors, as the developed markets are comparatively saturated.
The report provides an extensive competitive analysis and profiles of the key market players such as Arthrex, Inc., B. Braun Melsungen AG, Conmed Corporation, Johnson & Johnson, Osiris Therapeutics, Inc., RTI Surgical, Inc., Smith & Nephew PLC, Stryker Corporation, Vericel Corporation, and Zimmer Biomet Holdings, Inc. The other players in the value chain (not included in the report) include Anika Therapeutics, Inc., Collagen Solutions LLP, and Histogenics Corporation.
Key Benefits
This report entails a detailed quantitative analysis of the current market trends from 2017 to 2025 to identify the prevailing opportunities along with strategic assessment of global cartilage repair market.
Market size and estimations are based on comprehensive analysis of the modalities, applications, end users, and developments in the industry.
An in-depth analysis based on region assists to understand the regional market and facilitate the strategic business planning.
The development strategies adopted by the key market players are enlisted to understand the competitive scenario of the market.
 Cartilage Repair Market Report Highlights
Aspects
Details
BY MODALITY

Microfracture & chondroplasty
Autologous chondrocyte implantation
Osteochondral Allograft
Juvenile Allograft Fragment

BY TYPE

Hyaline Cartilage
Fibrocartilage

BY APPLICATION
BY END USER

Hospital & clinic
Ambulatory surgical center (ASC)
Others

BY REGION

North America (U.S, Canada, Mexico)
Europe (Germany, France, UK, Italy, Spain, Rest of Europe)
Asia-Pacific (Japan, China, India, Australia, South Korea, Taiwan, Rest of Asia-Pacific)
LAMEA (Brazil, Saudi Arabia, South Africa, Rest of LAMEA)

Key Market Players
Johnson & Johnson, B. Braun Melsungen AG, Smith & Nephew Plc, Stryker Corporation, Zimmer Biomet Holdings, Inc, Conmed Corporation, Arthrex, Inc, RTI Surgical, Inc, Vericel Corporation, Osiris Therapeutics, Inc