Case Packers Market Overview:
Global Case Packers Market is expected to reach $7,288 million by 2023 from $4,853 million in 2016, growing at a CAGR of 6.1% from 2017 to 2023. Case packers are machines, which aid in secondary or outer packaging of goods in industries. This case packaging adds an extra protective layer and facilitates convenient storage and transportation of the goods. Technological advancements in factory automation contributes majorly toward the development and growth of various case packaging machinery. Some of the end user industries of case packers market are pharmaceuticals, food & beverages, chemicals, consumer goods, and others.
Growth in demand for the food & beverages industry drives the market. In addition, the rise in popularity of robotic packaging is anticipated to take over other conventional case packaging machinery in the coming years.
Key players operating in the market include ADCO Manufacturing, Hangzhou Youngsun Intelligent Equipment Co., Ltd., Illinois Tool Works Inc., KN Packaging Solutions Pvt. Ltd., Marchesini Group S.p.A., Massman Automation Designs, LLC, Molins PLC., Pro Mach, Inc., Robert Bosch GmbH, and U-PACK ENGINEERING (SHANGHAI) CO., LTD.
The global case packers market is segmented based on automation mode, machine type, end users, and geography. Based on automation mode, the market is divided into automatic and semi-automatic. Based on machine type, it is classified into horizontal, vertical, overwrapping, robotics, and others. Based on end users, the market is categorized into food & beverage, chemical, pharmaceutical, consumer goods, and others. By geography, it is analyzed across North America, Europe, Asia-Pacific, and LAMEA.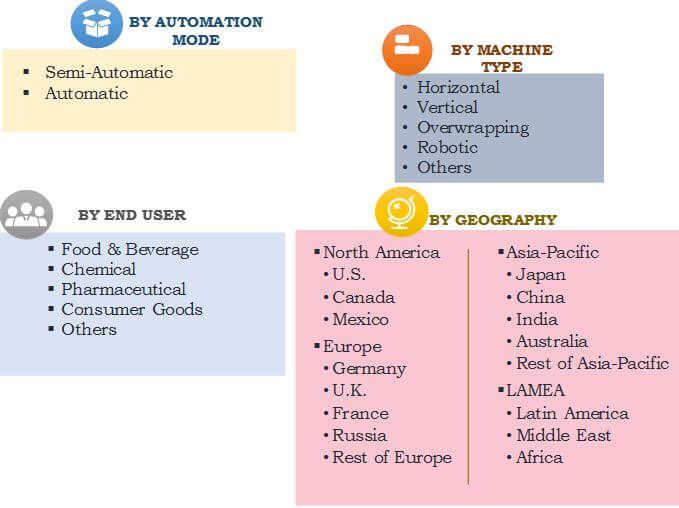 Applications of case packaging industry include secondary packaging of pharmaceuticals, medical, food & beverages, bakery items, toys & stationery, cosmetics, pet supplies, chemicals, and others. The secondary packaging surrounds and protects the goods. The food industry, along with the beverage industry is accounted to be the largest global consumer of the case packers market.
North America is the home of most of the leading manufacturers of packaging equipment and a high degree of M&A activity is anticipated to foster the prospects for market growth in this region during the estimated period. Moreover, the rise in demand from the food & beverage market in the developing countries also fuels the increase in demand for the case packers market.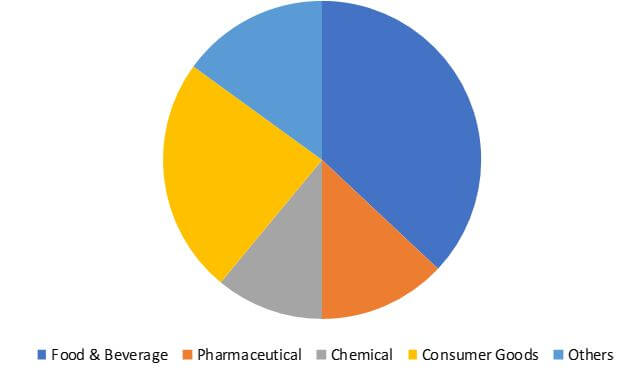 Top Impacting Factors
Increase in Wages
Industries majorly focus on low manufacturing cost & high margin of profit. Therefore, hike in the minimum wage of unskilled or semi-skilled labor, involved with assembly, packing, and other semi-skilled jobs drives the requirement of various automations in industries.
Optimization of Process Time
Growth in the population and increase in disposable income of the middle-class people gives rise to the demand of various consumer goods. To meet the demand, the production rate needs to be increased. In a highly competitive market scenario, delay in the production and supply of goods results in loss of potential market share. To address this situation, industries shift toward automation to decrease the total process time and gain a competitive edge.
Rapid Population Growth & Demand for FMCG
According to UN, the global population is attributed to reach 8.6 billion by 2030. This population is expected to increase the demand for various products such as food, household accessories, and others, required for our basic needs.
Infeasibility for Small Manufacturers
Case packaging machines involve high investment and high switching cost. They are feasible for big industries. However, for MSMEs, it is not convenient to invest in high priced machines owing to situations such as economic problem and low production of goods.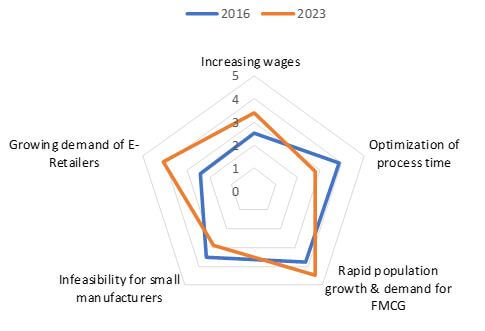 Growth in Demand of E-Retailers
Presence of e-retailers is expected to fuel the market of the case packers due to increase in internet penetration among individuals and dynamic product portfolio. However, the online retail market is complimented by the logistic industry to deliver the goods in the market. Therefore, outer packaging of goods is very essential before dispatching the product to any location.
Key Benefits :
The study provides an in-depth analysis of the global case packers market and current & future trends to elucidate the imminent investment pockets.
Information about key drivers, restraints, and opportunities and their impact analysis on the market is provided.
Porters Five Forces analysis illustrates the potency of buyers & suppliers operating in the industry.
The quantitative analysis of the global case packers market from 2017 to 2023 is provided to determine the market potential.
Case Packers Market Key Segments:
By Automation Mode
By Machine Type
Horizontal
Vertical
Overwrapping
Robotic
Others
By End User Industry
Food & Beverage
Chemical
Pharmaceutical
Consumer Goods
Others
By Region
North America
Europe

UK
Germany
France
Russia
Rest of Europe

Asia-Pacific

China
India
Japan
Australia
Rest of Asia-Pacific

LAMEA

Latin America
Middle East
Africa
Key Market Players
ADCO Manufacturing
Hangzhou Youngsun Intelligent Equipment Co., Ltd.
Illinois Tool Works Inc.
KN Packaging Solutions Pvt. Ltd.
Marchesini Group S.p.A.
Massman Automation Designs, LLC
Molins PLC
Pro Mach, Inc.
Robert Bosch GmbH
U-PACK ENGINEERING (SHANGHAI) CO., LTD