Catheter Coatings Market Overview:
The global catheter coatings market size was valued at $918.9 million in 2018 and is projected to reach $1,527.3 million by 2026, registering a CAGR of 6.50% from 2019 to 2026. Catheters are medical instruments that comprise of thin tubes. They are used for diagnosis and therapeutic purposes in various medical procedures such as angioplasty, cardiac electrophysiology, and neurosurgery. Catheter coating plays vital role in catheterization. It offers reduction in friction and decreases incidences of urinary tract infections & prevents biofilm formation.
The growth of the global catheter coatings market is majorly driven by surge in prevalence of diseases such as catheter-associated urinary tract infection (CAUTI), increase in demand for coating materials such as antimicrobial, hydrophilic, lubricious coatings, and rise in demand for cardiovascular & urology catheters. However, time-consuming product approval process and volatile raw material prices hinder the growth of the global catheter coatings market. Conversely, increase in awareness about novel surgeries, surge in geriatric population, and increase in demand for better healthcare facilities are expected to provide lucrative opportunities for the catheter coatings market growth during the forecast period.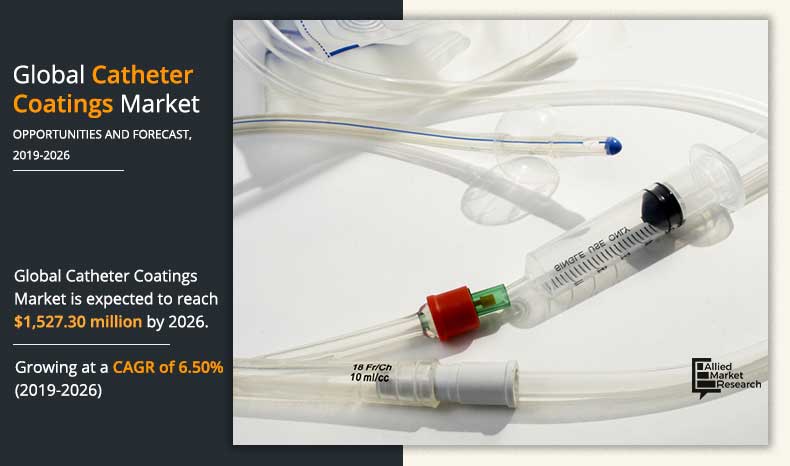 Moreover, with the outbreak of COVID-19 globally and the stipulated lockout, there is an ongoing downturn in the healthcare market. Aside from communities, COVID-19 was equally disastrous for major world economies, especially the healthcare sector. For instance, The CovidSurg Collaborative, a 120-country research initiative formed to analyse the impact of COVID-19 on surgeries, has projected that, based on a 12-week period of peak disruption to hospital services due to COVID-19, around 28.4 million elective surgeries worldwide will cancelled or postponed in 2020. This ultimately leads to decrease in the usage of surgical instruments including catheters, which hinders the growth of catheter coatings during the pandemic period.
The catheter coatings market is segmented on the basis of material, type, and region. By material, the market is bifurcated into metal and polymer. On the basis of type, the catheter coatings market is divided into hydrophilic coatings, drug-eluting coatings, anti-microbial coatings, and others. Region wise, it is analyzed across North America, Europe, Asia-Pacific, and LAMEA.
Type Segment Review
Catheter coating allows the catheter to easily pass through the body. The response of coated surfaces to fluids and the purpose of the coating are imperative to understand the form of coating required for the catheter. Based on type, the catheter coatings market is segmented into hydrophilic coatings, drug-eluting coatings, anti-microbial coatings, and others. Hydrophilic coatings are non-porous and are the most used coatings for medical devices. These coatings are known to reduce bacterial adhesion due to their low coefficient of friction and are biocompatible & durable. Moreover, these coatings are solvent resistant, facilitate aqueous interactions, have low coefficients of friction, and eliminate thrombosis. These advantages over other coating materials are expected to drive the demand for hydrophilic coatings for catheters.
Catheter Coatings Market

---
By Material
The polymer segment is anticipated to grow with the fastest CAGR and is also the highest contributor to the material segment throughout the forecast period. This is attributed to increase in usage of polymers for surface coatings of central, peripheral, and cardiac catheters
Material Segment Review
By material, the market is bifurcated into metal and polymer. Since coating plays a vital role in increasing the effectiveness of catheters, most of the materials used for coating these devices are usually made up of metal or polymer. As the catheters find their usage in several medical practices, the need for innovative and specialized coatings is expected to witness growth, thereby creating higher growth opportunities for an expanding array of catheter coating options in the coming years. Metal coatings are often considered as multifunctional owing to their anti-bacterial properties for prevention of microbial growth on the surface of the catheters along with their biocompatibility, thereby resulting in extended usable life of the device. Furthermore, catheters are coated with polymers to enhance their mobility and biocompatibility by reducing friction within the body tissues. Moreover, catheters are coated with polymers that allow intravascular drug delivery, thereby preventing the growth of microorganisms on the tissue surface. In addition, drug-eluting coatings are most widely used in coating catheters that are involved in cardiovascular and peripheral artery procedures. The drugs eluted from the catheters minimize infection; prevent inflammation as well as blockages in the arteries or veins.
Catheter Coatings Market

---
By Type
The hydrophilic coatings segment accounted for a majority of the market share in 2018 and is expected to exhibit a prominent growth rate during the forecast period, owing to its high use as a coating material for lower-cost catheter devices
Region segment review
North America was the leading revenue contributor to the global catheter coatings market share in 2018, owing to technological advancements in catheter coatings market systems and increase in applications of catheters across several medical procedures. The U.S. catheter coatings market is expected to account for a major share of the total market, due to rise in prevalence of urinary continence and growth in geriatric population. Similarly, in Canada, there is rise in prevalence of urinary incontinence due to unhealthy lifestyle and aging population.
Catheter Coatings Market

---
By Region
The rise in geriatric population, favorable reimbursement rates, rise in prevalence of cardiovascular diseases (CVDs) even among the younger population, and innovative technology are expected to drive the growth in this region
Region wise, Asia-Pacific accounts for the highest CAGR in the global catheter coatings market. This region offers lucrative opportunities in the market owing to presence of high population base, increase in awareness about urinary self-catheter, development in healthcare infrastructure, and rise in demand for intermittent catheters. Moreover, increased investments by the coating companies are also expected to fuel the market demand. Asia-Pacific represents significant opportunities for venture capitalists and investors as the developed markets are comparatively saturated. Remarkable catheter coatings market developments led by China and Japan to incorporate new technologies and develop healthcare settings, majorly drive the Asia-Pacific market.
Key Benefits For Stakeholders
This report provides a detailed quantitative analysis of the current catheter coatings market trends and forecast estimations from 2019 to 2026, which assists to identify the prevailing market opportunities. 

An in-depth catheter coatings market analysis includes analysis of various regions, which is anticipated to provide a detailed understanding of the current trends to enable stakeholders formulate region-specific plans.

A comprehensive analysis of factors that drive and restrain the growth of the global is provided.

Region-wise and country-wise market conditions are comprehensively analyzed in this report.

The projections in this report are made by analyzing the current trends and future market potential from 2019 to 2026, in terms of value.

An extensive analysis of various regions provides insights that are expected to allow companies to strategically plan their business moves.

Key market players within the market are profiled in this report and their strategies are analyzed thoroughly, which helps in understanding the competitive outlook of the global catheter coatings market.
 Key Market Segments & Key Market Players
Segments
Sub-segments
By Material
By Type

Hydrophilic Coatings
Drug-eluting Coatings
Anti-microbial Coatings
Others

By Region

North America (U.S., Canada, Mexico)
Europe (Germany, France, UK, Italy, Rest of Europe)
Asia-Pacific (Japan, China, India, Australia, Rest of Asia-Pacific)
LAMEA (Brazil, Saudi, South Africa, Rest of LAMEA)

Key Market Players
B. BRAUN MELSUNGEN AG, BIOCOAT INCORPORATED, COVALON OEM TECHNOLOGIES, CUUMED CATHETER MEDICAL CO., LTD., HYDROMER, LIPOCOAT BV, POLYONE CORPORATION, ROYAL DSM, SPECIALTY COATING SYSTEMS INC., SURMODICS, INC