CBCT Systems Market Overview:
Global CBCT Systems Market was worth $536 million in 2016, and is estimated to reach $1,041 million by 2023, growing at a CAGR of 9.9% during the study period. Cone beam computed tomography (CBCT) system is a special type of x-ray equipment that provides 3-D views for more thorough analysis of bone structure and tooth orientation. Rise in geriatric population, wide range of applications of CBCT systems in dental practice, and upsurge in number of patients suffering from dental disease are expected to drive the market growth. Moreover, expanding application of CBCT systems in other medical fields such as breast imaging further boosts the market growth. However, high cost of the devices and image related issues such as lack of clarity are expected to impede the market growth.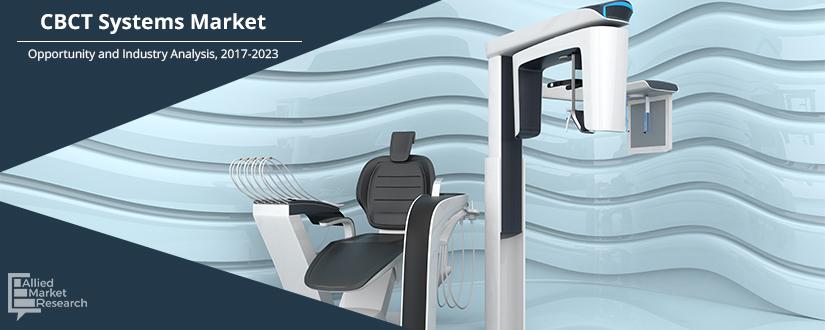 Rise in Incidence of Dental Disease
As per the estimates of the World Health Organization (WHO) in 2012, severe periodontal disease, resulting in tooth loss is found in 15-20% of middle-aged adults (35-44 years). In addition, ageing population also poses a risk for dental disorders (such as dental cavities and periodontal disease), which results in complete tooth loss. For instance, according to WHO, about 30% of people aged 65-74 have no natural teeth.
Growth in Asia-Pacific Region
This region offers lucrative opportunities in this market owing to presence of large pool of patients suffering from dental disorders, such as dental cavities, periodontal disease, and tooth loss. According to an article published by NCBI in 2016, about 95% of the Indian population suffers from periodontal disease. Hence, high incidence of dental disorders makes it an attractive market for CBCT systems.
Expanding Applications of CBCT Systems
The field of CBCT systems have witnessed several expansion in their application and utilization. For instance, in February 2015, Koning Breast CT (KBCT) system received FDA approval for diagnosing breast cancer. The advent of KBCT represents an innovative development in the field of 3D breast imaging.
South Africa: CBCT Systems Market, 2016-2023 ($Million)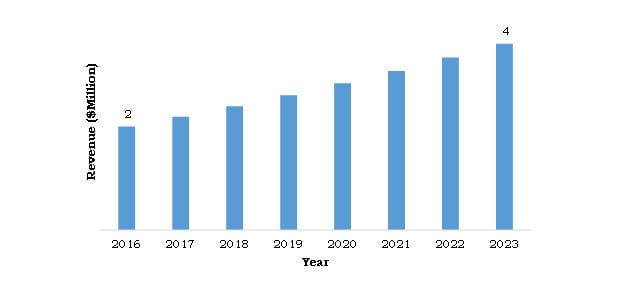 The global CBCT systems market is segmented on the basis of application, patient position, detector type, end-user, and geography. Based on application, it is classified into dental application and others. On the basis of method of patient position, it is bifurcated into single position and combination position systems. On the basis of type of detector, it is categorized into image intensifier detector and flat-panel image detector. Considering the concept of field of view (FOV), the CBCT systems are divided into small, medium, and large FOV systems. While on the basis of end-user, the market is divided into hospitals & clinics, imaging centers and academic & research centers. Geographically, it is analyzed into North America, Europe, Asia-Pacific, and LAMEA.
Segmentation

The key companies operating in the CBCT systems market are Carestream Health, Danaher, Planmeca OY, Dentsply Sirona, Vatech Co., Ltd., Cefla s.c., ASAHIROENTGEN IND.CO.,LTD., J. Morita, Curve Beam, and Prexion.
Key Benefits
The study provides an in-depth analysis of the global CBCT systems market, with current trends and future estimations, to elucidate the imminent investment pockets.
Quantitative analysis from 2016 to 2023 is expected to enable the stakeholders to capitalize on prevailing market opportunities.
Comprehensive analysis of all geographical regions is provided to determine the prevailing opportunities.
Extensive analysis is conducted by closely following key product positioning and monitoring the top contenders within the market framework.
CBCT Systems Market Key Segments:
By Application
Dental

Implantology
Oral and Maxillofacial Surgery
Orthodontics
Endodontics
General Dentistry
Temporomandibular Joint (TMJ) Disorders
Periodontology
Forensic Dentistry

Other

Breast Imaging
ENT applications
Orthopedic conditions
By Patient Position
Single Position

Standing Position
Seated Position
Supine Position
Combination Position
By Detector Type
Image Intensifier Detector
Flat-Panel Imager Detector
By Field of View (FOV)
Small FOV Systems
Medium FOV Systems
Large FOV Systems
By End-User
Hospitals & Clinics
Imaging Centers
Academic and Research Institutes
By Region
North America
Europe

France
Germany
UK
Italy
Spain
Rest of Europe

Asia-Pacific

Japan
China
India
Australia
South Korea
Rest of Asia-Pacific

LAMEA

Brazil
Saudi Arabia
South Africa
Rest of LAMEA