CC Cream Market Research, 2031
The global cc cream market size was valued at $433.8 million in 2021, and is projected to reach $889.8 million by 2031, growing at a CAGR of 7.1% from 2022 to 2031. 
CC cream is a multi-tasking cosmetic that acts as a sunscreen, foundation, and moisturizer. CC cream is a color-correcting skin product that is meant to target discolored parts of the skin and eventually smooth out dark spots or red regions. Anti-aging chemicals such as vitamin C, peptides, and antioxidants are frequently integrated into the mix to protect the skin from sun damage.
The CC cream market has witnessed significant growth, owing to a rise in the number of female consumers that are focusing on skincare and beauty. Furthermore, key players in the market are trying to consolidate their position by introducing more suitable products for every skin type and trying to produce environment-friendly products, which are expected to drive the market growth during the forecast period.
CC cream has an advantage over other types of makeup. For example, CC cream shields skin from damaging UV radiation that can cause photoaging. As CC cream is lighter, it is less likely to clog pores and cause a breakout. If anyone wants a professional look, they may want to apply a little more CC cream because it doesn't provide as much "opaque" coverage as a conventional foundation. CC creams can also be used as a primer if used in smaller amounts to preserve the skin if one does not want to put on a full face of makeup before going out for errands.
Consumers have become aware of cosmetic products and skincare in recent years, especially women. Better understanding amongst women regarding their skin led to them using different products to identify the products that best suit their skin types. Consumers use a variety of products as part of their skincare routine and try high-quality products in the hopes that they can improve their appearance. Consumers are more likely to choose simple-to-apply and effective products such as CC cream which is the best choice for that since it is a multipurpose easy-to-apply cream, which has resulted in market expansion.
The CC Cream Market was impacted negatively by the COVID-19 due to the reduced consumer spending on cosmetic products and more preference towards the products such as hygiene products, personal care products, clothing and footwear.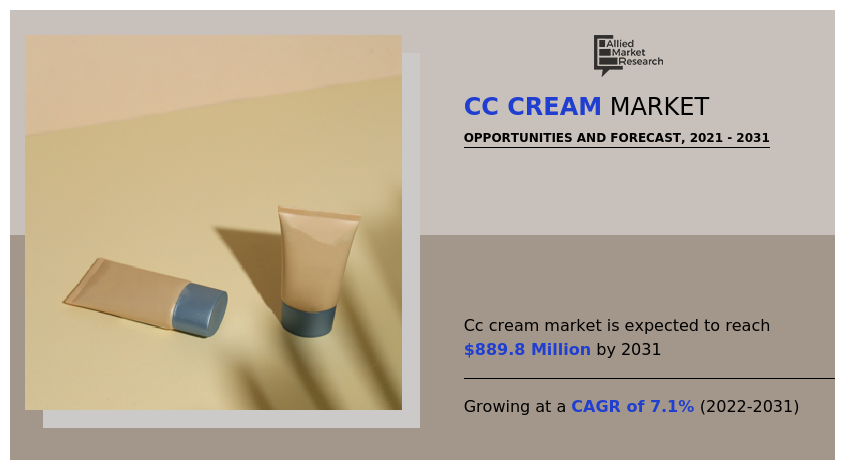 The cc cream market is segmented into Type, Application and Sales Channel. 
On the basis of type, the market is categorized into below 15 SPF, between 15 and 30 SPF, and above 30 SPF. On the basis of application, the market is classified according to oily skin, normal skin, and dry skin. On the basis of sales channel, the market is divided into hypermarkets/supermarkets, specialty retailers, online retail, and others. On the basis of region, the market is studied across North America, Europe, Asia Pacific, and LAMEA.
 The top leader that holds a significant CC cream market share such as L'Oréal S.A. and Unilever, sales and distributes CC cream, by some of its brands make it a prominent segment in the market. For instance, cosmetics have 4 types of CC cream.
On the basis of product, the above 30 SPF segment was valued at $ 197.5 million in 2021 and is expected to reach $ 416.6 million by 2031 at a CAGR of 7.4%. Skin-conscious people and women are significant users of CC cream. These consumers are more focused on the quality of products and a high sun protection factor. In addition, CC cream is considered as a multipurpose skincare product with foundation-like light to medium coverage. Owing to these factors, the above 30 SPF CC creams segment holds the highest market share.
CC Cream Market

---

By Type
Above 30 SPF segment is likely to lead the market for CC Cream from 2021 to 2031 growing at the CAGR of 7.4%
On the basis of sales channels, the online retail segment was valued at $101.5 million in 2021, and is expected to reach $ 226.2 million by 2031 at a CAGR of 8.0%. An increase in the use of E-commerce portals in developing regions as well as an increase in the number of deals or discounts offered by these sites encourages end users. Furthermore, E-commerce platforms have expanded customer reach, resulting in them becoming a major source of revenue for many businesses. Furthermore, owing to the rapid increase of internet-enabled mobile user bases in emerging nations, the E-commerce segment is expected to expand during the CC Cream market forecast period.
CC Cream Market

---

By Sales Channel
Hypermarkets and Supermarkets segment is likely to lead the market for CC Cream from 2021 to 2031 growing at the CAGR of 7.4%
Asia-Pacific has been dominating the global CC cream market and is expected to sustain its dominance during the forecast period. This is mainly attributed to the fact that people are more inclined toward cosmetics products. Beauty consumerism is high due to increasing exposure to the world of beauty. The use of beauty products has risen in the Asia-Pacific region, owing to a rising middle class and constantly increasing disposable income among consumers, propelling the region to the top of the global cosmetics market. The region includes some of the world's largest beauty brands that contribute toward significant sales volumes across the region, accounting for about 40% of the worldwide cosmetics market. The most promising growth rate on this course is expected to come from Asia-Pacific. The strong growth of the regional market is attributed to the rapid development of the health and wellness industry in the region.
CC Cream Market

---

By Region
Asia Pacific region is likely to lead the market for CC Cream in terms of the market size and growth rate with CAGR of 7.9% from 2022 to 2031
Key players operating in the global CC cream industry have adopted various development strategies to expand their market share, increase profitability, and remain competitive in the market. Key players profiled in this report include L'Oréal S.A., Unilever, Estee Lauder, Marico, Procter & Gamble Co, Loccitane En Provence, Oriflame Sweden, Chanel, Kose Corporation, and Natura & Co.
Key Benefits For Stakeholders
This report provides a quantitative analysis of the market segments, current trends, estimations, and dynamics of the cc cream market analysis from 2021 to 2031 to identify the prevailing cc cream market opportunities.
The market research is offered along with information related to key drivers, restraints, and opportunities.
Porter's five forces analysis highlights the potency of buyers and suppliers to enable stakeholders make profit-oriented business decisions and strengthen their supplier-buyer network.
In-depth analysis of the cc cream market segmentation assists to determine the prevailing market opportunities.
Major countries in each region are mapped according to their revenue contribution to the global market.
Market player positioning facilitates benchmarking and provides a clear understanding of the present position of the market players.
The report includes the analysis of the regional as well as global cc cream market trends, key players, market segments, application areas, and CC Cream market growth strategies.
 CC Cream Market Report Highlights
Aspects
Details
Type

Below 15 SPF
Between 15 to 30 SPF
Above 30 SPF

Application

Oily Skin
Normal Skin
Dry Skin

Sales Channel

Hypermarkets and Supermarkets
Specialty Stores
Online Retails
Others

By Region

North America (U.S., Canada, Mexico)
Europe (Spain, Netherlands, Rest of Europe, Germany, France, U.K., Italy)
Asia-Pacific (China, Japan, Australia, South Korea, India, Rest of Asia-Pacific)
LAMEA (Brazil, Argentina, Saudi Arabia, South Africa, UAE, Rest of LAMEA)

Key Market Players
Chanel, KOSE CORPORATION, Natura & co, L'Oréal S.A., Unilever plc, Estée Lauder Inc., Marico, Procter & Gamble Co., L'OCCITANE EN PROVENCE, ORIFLAME SWEDEN