Cells are the basic building blocks of all living organisms and genes are small sections of DNA, found within cells that carry genetic information. Cell and gene therapy represent overlapping fields of biomedical research with similar therapeutic goals, which target DNA or RNA in the body. Both of the approaches aim to modify genetic material present to improve its functioning or to immunize or fight against a certain disease and disorder. Precisely, gene therapy utilizes genetic material to engineer the patient's cells for treatment of an inherited or acquired disease. On the other hand, cell therapy is transplantation of a set of whole new cells into the patient for the treatment of the disease. This therapy finds its application in the development of regenerative medicines. Headway is also being made for cell therapies derived from stem cells to maybe one day treat diseases like autoimmune diseases, Alzheimer's, and Parkinson's. The success of cell and gene therapies is not only credited to their capability of offering the desired therapeutic benefits, but also to effective utilization of all supply chain requirements which highlights the fact that supply chain holds significant share in growth and development of the cell and gene therapies and their distribution.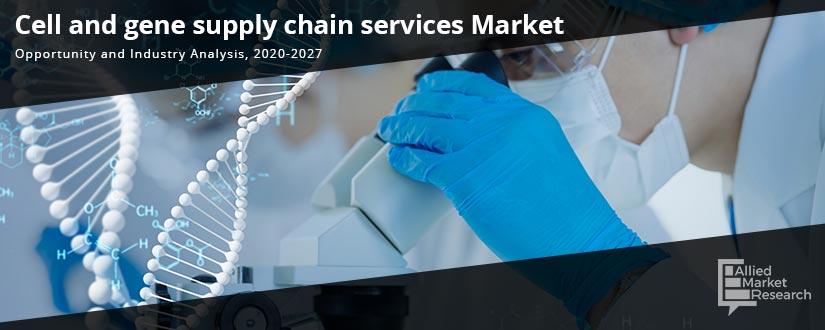 COVID – 19 scenario analysis:  
Due to the ongoing COVID – 19 pandemic, lockdowns are in place restricting people to travel which has impacted the supply chain of these industries as well including biotech and pharmaceutical sector
Some of pharmaceutical companies in India have stated that they are stocked enough that inventory would last upto six months, but the impact on supply chains maybe truly felt if the lockdown extends beyond march
However, there have been supply interruptions in some European countries, China amidst the outbreak of Novel coronavirus
Global supply chains are set for a major overhaul as the COVID – 19 outbreak has exposed the vulnerability of countries and companies that rely on conventional supply chains
But, many of multi-national companies (MNCs) have started re-valuating, innovating their supply chains and are thinking about shuffling of their supply chains to reduce dependence on conventional methods
Top impacting factors: Market Scenario Analysis, Trends, Drivers and Impact Analysis
The entry of such treatment options with freedom to choose from has led to a paradigm shift in drug development, production and consumption. In addition, such therapies have actually enabled healthcare providers to treat several difficult-to-treat clinical conditions. The spending on healthcare sector has also increased with advancements in medical field leading to better diagnosis, treatment and increasing prevalence of diseases, both inherited and acquired. According to World Health Organization, the global healthcare expenditure is on a rise to be $8.5 trillion in 2020, owing to an increasing burden of chronic diseases, which are estimated to constitute almost 43% of the global economic burden. The ever increasing demand for better treatment, increased pool of patients with various diseases, favorable regulatory support and special designations for cell and gene therapy products and increasing funding for cell and gene therapy R&D activities is leading to an ascending need for preventive, precise healthcare and tailored medication.
Introduction of technologically advanced cell and gene therapies
Advanced therapy biomedical products, such as cell and gene therapies, have revolutionized healthcare sector and services. More than 30 such therapy products have been approved in the last two decades; recent approvals include Zolgensma, RECELL system, AmnioFix, EpiFix, EpiBurn, Alofisel, LUXTURNA, Yescarta and Kymriah. Further, according to a report by The Alliance for Regenerative Medicine in 2019, more than 1,000 clinical trials are being conducted globally by over 900 companies. In 2018, around $ 13 billion was invested in cell and gene therapies, representing 73% increase in capital investments, compared to the last year.  It is important to notice that, based on an analysis of the current pipeline of cell and gene therapies and the past clinical success of similar products, it is possible that around 10-20 advanced therapies would be approved by the US FDA each year, till 2025. The National Cancer Institute projects that nearly five million more U.S. citizens are expected to survive cancer in 2026 than in 2016. Henceforth, these developments in the therapies would mean an immense scope for supply chain.
Innovations in supply chains
The advanced therapy medicinal products supply chain is comparatively more complex than conventional pharmaceutical supply chain. Hence risks like operational inefficiencies, capacity scheduling concerns, process delays leading to capital losses and deliverable tracking-related issues. These concerns multiply in some situations, like the current ongoing COVID – 19 pandemic situation. This has created an urgency and a need for technological solutions, which can be integrated into existing processes to enable the engaged stakeholders to oversee and manage the various aspects of the cell and gene therapies supply chain, in compliance to global regulatory standards. 
Over the period of time, several advanced, innovative, software-enabled systems, offering supply chain orchestration and needle-to-needle traceability, have been developed. The market has also witnessed the establishment of numerous strategic partnerships between therapy developers and software solutions providers. Further, given the growing demand for cost-effective personalized medicinal products, and a myriad of other benefits of implementing such software solutions would see supply chain market grow significantly. For instance, TrakCel collaborating with supply chain services provider McKesson and WuXi to address supply chain challenges. In 2019, biotech major Lonza partnered with supply chain services provider Cryoport for logistics of cell and gene therapies globally.
Key benefits of the report:
This study presents the analytical depiction of the global cell and gene supply chain services industry along with the current trends and future estimations to determine the imminent investment pockets.
The report presents information related to key drivers, restraints, and opportunities along with detailed analysis of the global cell and gene supply chain services market share.
The current market is quantitatively analysed to highlight the global cell and gene supply chain services market growth scenario.
Porter's five forces analysis illustrates the potency of buyers & suppliers in the market.
The report provides a detailed global cell and gene supply chain services market analysis based on competitive intensity and how the competition will take shape in coming years.
Questions answered in the Cell and Gene Supply Chain Services Market research report:
Who are the leading market players active in the cell and gene supply chain services market?
What are the current trends that will influence the market in the next few years?
What are the driving factors, restraints, and opportunities in the cell and gene supply chain services market?
What are the projections for the future that will help in taking further strategic steps?
 Cell and gene supply chain services market - Global Opportunity Analysis and Industry Forecast, 2020-2027 Report Highlights
Aspects
Details
By Technology

Presence on cloud
Presence on-premises

By Applications

Ordering and scheduling
Sample collection
Logistics
Post treatment follow-up

By End User

Biobank/ cell-bank
Hospitals
Research institutes
Cell therapy labs
Others

By Region

North America (US, Canada, Mexico)
Europe (France, Germany, UK, Italy, Spain, rest of Europe)
Asia-Pacific (Japan, China, India, Australia, South Korea, rest of Asia-Pacific)
LAMEA (Brazil, South Arabia, South Africa, rest of LAMEA)

Key Market Players
sedApta Group, SAVSU Technologies, Stafa Cellular Therapy, MAK-SYSTEM, MasterControl, Vineti, Clarkston Consulting, Hypertrust Patient Data Care, TrakCel, Cryoport, BioTherapies, Haemonetics, Brooks Life Sciences, Lykan Bioscience, SAP, TraceLink, Title21 Health Solutions