Cell Separation Technologies Market Overview:
The global cell separation technologies market size was valued at $8,639.20 million in 2019 and is projected to reach $28,766.14 million by 2027, registering a CAGR of 15.4% from 2020 to 2027. 
Cell separation is the process of removing one cell population from another within a biological sample, such as blood or tissue. The separation of one or more cell types from other cells is a critical step in biological research and clinical testing. Moreover, cell separation is a key part of many life sciences, from stem cell and oncology research to routine clinical diagnosis. Additionally, cell separation technology preferred over pathological treatment and conventional diagnostic procedures. Using cell separation technique, root cause of any disease is predicted. And later, treatment is provided on the same basis. The technique aims at removal of disease from cell level, leaving no trace for reoccurrence of disease in future. The recent expansion of the field of cell separation is linked to an increase the mortality rate due to chronic diseases as majority of these diseases can be treated using cell-based therapies.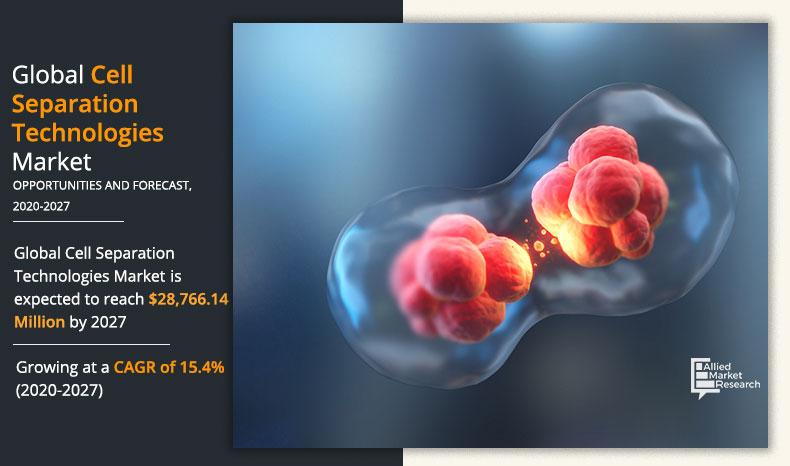 The COVID-19 outbreak that started from Wuhan city of China has now wide spread globally. Almost every nation is dealing with the outbreak. Researchers around the world are working earnestly to study SARS CoV-2, the coronavirus responsible for the COVID-19 pandemic. The emergence of COVID-19 has changed life. This is a fast-moving and deadly pandemic that requires novel, next-generation technology to enable ongoing research and advanced diagnostic testing. Many cell separation technology companies are offering their products to study COVID-19 infection and also helps in vaccine development, which includes Stemcell Technologies Inc., Akadeum Life Sciences, Miltenyi Biotec, Nanocellect Biomedical and others. For instance, Nanocellect Biomedical offers WOLF benchtop cell sorter uses sterile, disposable cartridges with no cross-contamination between samples and fits inside a biosafety cabinet ensuring the safe handling of biohazard materials. COVID-19 researchers can utilize the WOLF cell sorter for optimal sample preparation in single-cell "-omics", cell isolation for culturing, or antibody discovery. Whether performing immune profiling, antibody discovery, or functional assays, the WOLF in lab can ensure the ability to continue while core facilities are still shut down in this situation.
The growth of the global cell separation technologies market is majorly driven by increase in number of patients suffering from chronic disease and technological advancements in cell technologies. In addition, surge in focus on personalized medicines for early detection of disease, selection of appropriate treatment, and determination of the prognosis of the therapy. However, ethical issues related to embryonic stem cell separation and high cost of cell based research hinder the market growth. Conversely, high market potential in untapped emerging economies are expected to provide lucrative growth opportunities for the cell separation technologies market growth.
The cell separation technologies market is segmented on the basis of technology, product, application, end user, and region. By product, the market is bifurcated into instruments and consumables. On the basis of technology, the cell separation technologies market is divided into gradient centrifugation, surface markers separation, and filtration based separation. Surface markers separation is further classified into fluorescence activated cell sorting and magnetic cell sorting. On the basis of application, the market is classified into oncology research, neuroscience research, stem cell research, microbiology, immunology research and other application. By end user, the market is segmented into academic institute, biotechnology & biopharmaceutical companies, and cell banks. Region wise, it is analyzed across North America, Europe, Asia-Pacific, and LAMEA.
Product segment review
By product, the consumable segment accounted for the largest market share in 2019, and is expected to maintain its dominance during the forecast period, owing to increase in investments by the major players in the development of technologically advanced consumable products as well as the frequent use of consumables are the major factors which fuels the growth of this segment.
Cell Separation Technologies Market

---
By Product
Consumables segment holds a dominant position in 2019 and would continue to maintain the lead over the forecast period.
Technology segment review
On the basis of technology, the surface markers separation segment is expected to register highest CAGR during the forecast period, owing to the fact that fluorescence activated cell sorting (FACS) technology is highly versatile and has a high throughput, as well as fluorescence activated cell sorting technology is now the standard in many clinical and research labs.
Cell Separation Technologies Market

---
By Technologies
Surface Markers Separation Segment is projected as one of the most lucrative segment.
Region segment review
North America accounted for the largest share of revenue in 2019, and is anticipated to maintain its dominance from 2020 to 2027, due to high expenditure on R&D, presence of major players & their product availability, and well-established healthcare infrastructure in the region. However, Asia-Pacific is expected to register highest CAGR during the forecast period, as Governments of Asian countries are investing in the development of healthcare infrastructure for continuous research in stem cell and targeted therapies, as well as rise is medical tourism.
Cell Separation Technologies Market

---
By Region
Asia Pacific region would exhibit the highest CAGR of 17.8% during 2020-2027.
Key Benefits For Stakeholders
This report entails a detailed quantitative analysis along with the current global cell separation technologies market trends from 2020 to 2027 to identify the prevailing opportunities along with the strategic assessment.
The cell separation technologies market forecast is studied from 2020 to 2027.
The cell separation technologies market size and estimations are based on a comprehensive analysis of key developments in the industry.
A qualitative analysis based on innovative products facilitates strategic business planning.
The development strategies adopted by the key market players are enlisted to understand the competitive scenario of the cell separation technologies market.
 Cell Separation Technologies Market Report Highlights
Aspects
Details
BY PRODUCT
BY TECHNOLOGY

Gradient Centrifugation
Surface Markers Separation
Fluorescence activated cell sorting
Magnetic cell sorting
Filtration Based Separation

BY APPLICATION

Oncology Research
Neuroscience Research
Stem Cell Research
Microbiology
Immunology Research
Others

BY END USER

Research laboratories & Institute
Biotechnology & Biopharmaceutical Companies
Cell Banks

BY REGION

North America (U.S., Canada, Mexico)
Europe (Germany, France, UK, Italy, Spain, Rest of Europe)
Asia-Pacific (Australia, Japan, India, China, Rest of Asia-Pacific)
LAMEA (Brazil, Saudi Arabia, South Africa, Rest of LAMEA)

Key Market Players
ALFA LAVAL CORPORATE AB, BECTON, DICKINSON AND COMPANY, BIO-RAD LABORATORIES, INC., CORNING INCORPORATED, DANAHER CORPORATION., MERCK KGAA, MILTENYI BIOTEC INC., PLURISELECT GmbH, STEMCELL TECHNOLOGIES INC, THERMO FISHER SCIENTIFIC, INC.