Cellular Concrete Market Research, 2031
The global cellular concrete market size was valued at $27.2 billion in 2021, and is projected to reach $48.2 billion by 2031, growing at a CAGR of 5.7% from 2022 to 2031. Cellular concrete is a type of lightweight concrete, consisting of portland cement, cement-silica, cement-pozzolan, lime-pozzolan, along with with gas-forming chemicals or foaming agents. Cellular concrete typically has a density ranging between 300 kg/cubic meter to 1800 kg/cubic meter.
The cellular concrete market was hampered during the outbreak of COVID-19 pandemic, owing to restrictions on construction activities. In addition, cellular concrete products could not be effectively manufactured during the lockdown period.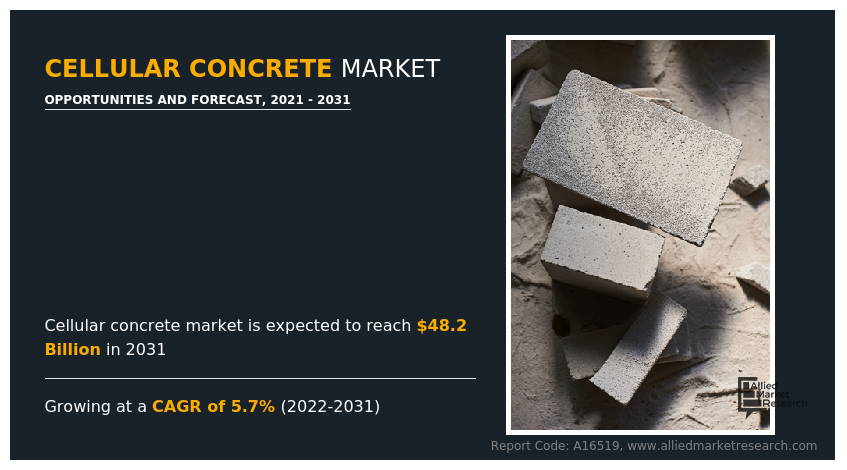 The demand for cellular concrete has witnesses significant growth in the past few years, owing to growth of construction industry. Cellular concrete is especially suitable for construction of partition walls in residential and commercial buildings. Moreover, the low density of cellular concrete reduces the dead weight of the structure and also enhances the pace of construction. In addition, it can also be used for backfill and geotechnical applications in infrastructure projects. Cellular concrete also offers advantages such as fire resistance and termite resistance, thereby, increasing its serviceability. Furthermore, advantageous properties of cellular concrete such as heat insulation, thermal insulation and resistance to freezing are propelling the cellular concrete market growth.
The global population is rising at a rapid pace, along with a rapid urbanization across the world, especially in the developing nations. It is estimated that by the year 2050, there will be more than 9.5 billion people living in the world, compared to about 7.5 billion in 2021. The rising population and urbanization are playing a crucial role in driving demand for residential as well as commercial building complexes in emerging economies. For instance, according to India Brand Equity Foundation, the Indian real estate market is expected to grow from US$ 1.72 billion in 2019 to US$ 9.30 billion in 2040. Autoclaved aerated concrete, which is a type of cellular concrete is extensively used for fabricating building components such as blocks, floor panels and wall panels. Thus, the growth of real estate industry, fuels the demand for cellular concrete industry.
In addition, major manufacturers of cellular concrete are offering a wide range of building components in various sizes and densities, thereby, increasing the usability of cellular concrete. For instance, AERCON AAC has a large portfolio of autoclaved aerated concrete components such as blocks, lintels, wall panels, roof panels and floor panels. And Litebuilt, offers aerated concrete in densities ranging from 300 kg/cubic meter to 1600 kg/cubic meter, for applications in pavements, roof insulation and back filling. Also, Litebuilt, uses advanced steam and air curing methods, that enhance the life span of its aerated concrete products.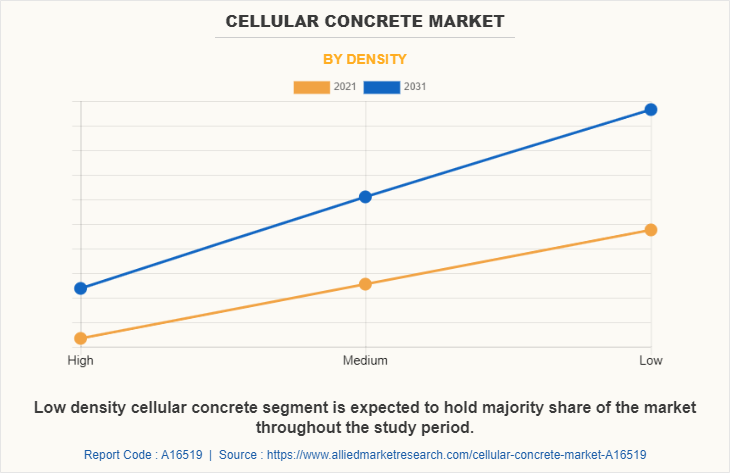 COVID-19 had spread rapidly across various countries and regions, causing an enormous impact on the lives of people and the overall community. It began as a human health condition and later became a significant threat to global trade, economy, and finance. The COVID-19 pandemic halted the production of cellular concrete building components due to lockdown. The economic slowdown initially resulted in reduced construction of residential and non-residential building buildings. However, owing to the introduction of various vaccines, the severity of COVID-19 pandemic has reduced significantly. As of mid-2022 the number of COVID-19 cases have diminished significantly. This has led to considerable recovery of real estate industry and also resulted in full-fledged reopening of cellular concrete manufacturing facilities. Moreover, it has been more than two years since the outbreak of this pandemic, and many companies have already shown significant signs of recovery.
Furthermore, the increasing GDP of the countries across the world, especially the developing nations such as India and China has led to increased expenditure on infrastructure construction. In addition, the advancements in cellular concrete manufacturing technologies is a major cellular concrete market opportunity.
The cellular concrete market is segmented into Density, Type and Application. On the basis of density the market is bifurcated into high, medium and low. On the basis of type, aerated concrete and foam concrete. On the basis of application, it is bifurcated into building construction and infrastructure. On the basis of region, the market is analyzed across North America, Europe, Asia-Pacific, and LAMEA. Asia-Pacific held the largest cellular concrete market share in 2021, accounting for the highest share. Whereas, LAMEA is anticipated to grow at a highest CAGR. This is attributed to increased investments in building construction and infrastructure projects.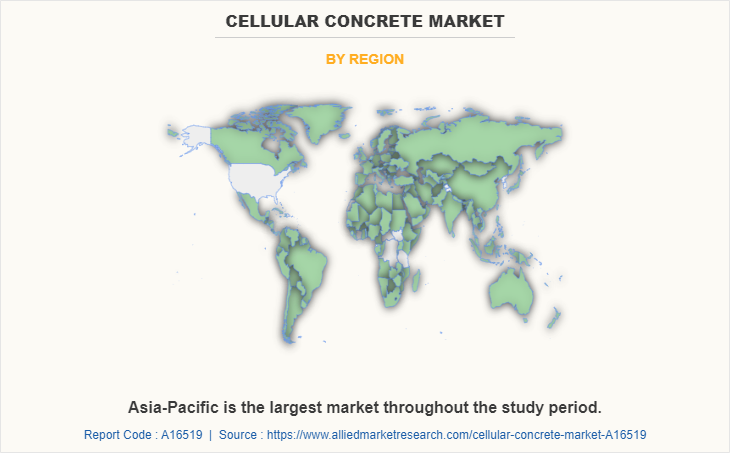 Competition Analysis 
Key companies profiled in the cellular concrete market forecast report include Acico, AERCON AAC, Aerix Industries, Aircrete Europe, Bauroc, Cellular Concrete Inc., Cematrix, Litebuilt, Inc., SOLBET, and Xella Group.
Key Benefits For Stakeholders
This report provides a quantitative analysis of the market segments, current trends, estimations, and dynamics of the cellular concrete market analysis from 2021 to 2031 to identify the prevailing cellular concrete market opportunities.
The market research is offered along with information related to key drivers, restraints, and opportunities.
Porter's five forces analysis highlights the potency of buyers and suppliers to enable stakeholders make profit-oriented business decisions and strengthen their supplier-buyer network.
In-depth analysis of the cellular concrete market segmentation assists to determine the prevailing market opportunities.
Major countries in each region are mapped according to their revenue contribution to the global market.
Market player positioning facilitates benchmarking and provides a clear understanding of the present position of the market players.
The report includes the analysis of the regional as well as global cellular concrete market trends, key players, market segments, application areas, and cellular concrete market overview.
 Cellular Concrete Market Report Highlights
Aspects
Details
Market Size By 2031
USD 48.2 billion
Growth Rate
CAGR of 5.7%
Forecast period
2021 - 2031
Report Pages
180
By Density
By Type

Aerated Concrete
Foam Concrete

By Application

Building Construction
Infrastructure

By Region

North America (U.S., Canada, Mexico)
Europe (Germany, France, UK, Italy, Rest of Europe)
Asia-Pacific (China, Japan, India, South Korea, Rest of Asia-Pacific)
LAMEA (Latin America, Middle East, Africa)

Key Market Players
Aerix Industries, Cematrix, PAN PACIFIC MANAGEMENT RESOURCES PTY LTD, AERCON AAC, aircrete europe, ACICO Group, Xella Group, Cellular Concrete Inc., SOLBET Spka z o.o., BAUROC AS