The global cephalosporin market size was valued at $13.69 billion in 2019, and is estimated to reach $16.87 Billion by 2027, growing at a CAGR of 2.6% from 2019 to 2027. 
Cephalosporin is a bactericidal, broad-spectrum, and β-lactam antibiotic originally derived from fungus Acremonium, which is used to treat bacterial infections such as pneumonia, skin infections, strep throat, staph infections, tonsillitis, bronchitis, otitis media, gonorrhea, and others. They inhibit enzymes in cell wall of susceptible bacteria, disrupting cell synthesis. Cephalosporins are mainly designated for prophylaxis as well as treatment of infections caused by bacteria. First-generation cephalosporins are active mainly against gram-positive bacteria, such as Streptococcus and Staphylococcus. Hence, they are used primarily for soft tissue and skin infections as well as to prevent from hospital-acquired surgical infections. Successive generations i.e. from second-generation to fifth generation of cephalosporins have increased activity against gram-negative bacteria and gram-positive organisms. Cephalosporin may be used for patients who are allergic to penicillin due to different β-lactam antibiotic structure.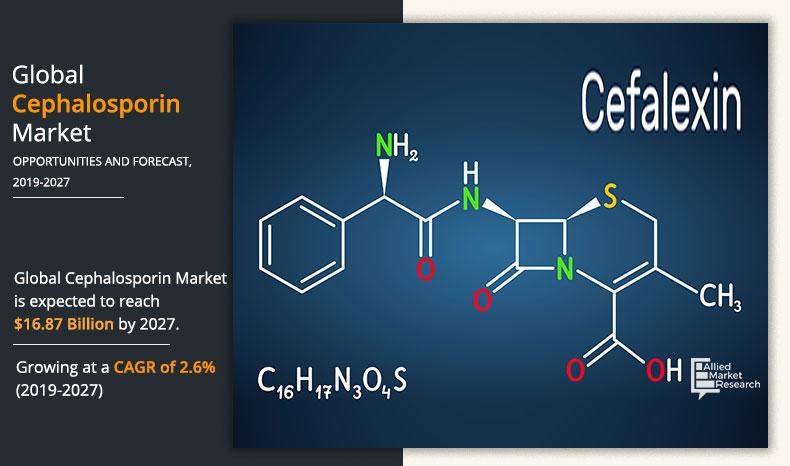 Get more information on this report : Request Sample Pages
Severe Acute Respiratory Syndrome Coronavirus 2 (SARS-CoV-2) is the causative agent of coronavirus disease 19 (COVID-19), a novel human coronavirus responsible for about 300,000 deaths worldwide. Till date, there is no confirmed treatment or vaccine prevention strategy against COVID-19. Hence, owing to urgent need for effective treatment, drug repurposing is regarded as the immediate option. Potential drugs can be identified via silico drug screening experiments. Thereby, in vitro and in vivo studies are going on to evaluate the potential of generations of cephalosporin for COVID-19.
The global cephalosporin market is experiencing growth, owing to surge in prevalence of infectious diseases, increase in R&D activities for development of combination drugs, and rise in funding for development of antibiotics. In addition, rise in demand for antibacterial drugs further drives growth of the global cephalosporin market. However, side effects associated with cephalosporin, uncertain regulatory reforms, antibiotic resistance to cephalosporin, and less drugs in pipeline are projected to impede the cephalosporin market growth. On the contrary, discovery of advanced prospect molecules and introduction of novel combination therapies to treat antibiotic-resistant microbial infections are expected to offer remunerative opportunities for the market players.
The global cephalosporin market is segmented on the basis of generation, type, route of drug administration, application, and region. On the basis of generation, the market is divided into first-generation cephalosporin, second-generation cephalosporin, third-generation cephalosporin, fourth-generation cephalosporin, and fifth-generation cephalosporin. By type, it is bifurcated into branded and generic. Depending on route of administration, it is classified into intravenous and oral. Applications covered in the study include respiratory tract infection, skin infection, ear infection, urinary tract infection, sexually transmitted infection, and others. Region wise, the market is analyzed across North America, Europe, Asia-Pacific, and LAMEA.
Cephalosporin Market

---
By Generation
Third-generation Cephalosporin

holds the dominant position in 2019 and would continue to maintain the lead over the forecast period.
Get more information on this report : Request Sample Pages
Generation segment review
On the basis of generation, the third-generation cephalosporin segment generated the highest revenue in 2019, and is anticipated to maintain its dominance throughout the forecast period, as these are used for treatment of gram-negative bacillary meningitis, serious infections of enterobacteriaceae, otitis media, pyelonephritis, skin & soft tissue infections, Lyme disease, and gonorrhea. However, the fifth-generation cephalosporin segment is expected to register highest CAGR during the forecast period, as these drugs possess strong activity against aerobic gram-negative bacteria and exceptional activity against aerobic gram-positive bacteria.
Cephalosporin Market

---
By Type
Branded

is projected as one of the most lucrative segments.
Get more information on this report : Request Sample Pages
Type segment review
By type, the generic cephalosporin drugs segment is projected to exhibit highest growth during the forecast period, as these drugs are available at a much lower cost as compared to branded drugs. Moreover, pharmacological effects of generic drugs are exactly same as those of their brand-name counterparts.
Cephalosporin Market

---
By Region
Asia-Pacific

would exhibit the highest CAGR of 3.6% during 2019-2027.
Get more information on this report : Request Sample Pages
Region segment review
Region wise, the antibiotics market is analyzed across North America, Europe, Asia-Pacific, and LAMEA. Asia-Pacific dominated the market in 2019, accounting for the highest share, and is anticipated to maintain this trend throughout the forecast period. This is attributed to increase in consumption of cephalosporin, easier availability, and rise in demand for over-the-counter drugs, and increase in bacterial infection in the region.
The report provides a comprehensive analysis of the key players operating in the global cephalosporin industry, namely, Allergan Plc., Bristol-Myers Squibb Company, F.Hoffmann-La Roche Ltd., GlaxoSmithKline Plc, Lupin Limited (Lupin Pharmaceuticals, Inc.), Merck & Co. Inc., Novartis International AG, Pfizer Inc., Sanofi, and Teva Pharmaceutical Industries Ltd. The other players in the value chain include Eli Lilly and Company, Bayer HealthCare, Sun Pharmaceutical, and Shionogi.
Key Benefits For Stakeholders
This report provides a detailed quantitative analysis of the current cephalosporin market trends and cephalosporin market forecast estimations from 2019 to 2027, which assists to identify the prevailing cephalosporin market opportunities. 
An in-depth cephalosporin market analysis includes analysis of various regions is anticipated to provide a detailed understanding of the current trends to enable stakeholders formulate region-specific plans.
A comprehensive analysis of the factors that drive and restrain the growth of the global cephalosporin market is provided.
Region-wise and country-wise cephalosporin market conditions are comprehensively analyzed in this report.
The projections in this report are made by analyzing the current trends and future market potential from 2019 to 2027 in terms of value.
An extensive analysis of various regions provides insights that are expected to allow companies to strategically plan their business moves.
Key market players within the cephalosporin market are profiled in this report and their strategies are analyzed thoroughly, which helps in understanding competitive outlook of global cephalosporin market.
 Key Market Segments
By Generation

First-generation Cephalosporin
Second-generation Cephalosporin
Third-generation Cephalosporin
Fourth-generation Cephalosporin
Fifth-generation Cephalosporin

By Type
By Route Of Administration
By Application

Respiratory Tract Infection
Skin Infection
Ear Infection
Urinary Tract Infection
Sexually Transmitted Infection
Others

By Region

North America
Europe

Germany
France
UK
Italy
Spain
Rest of Europe

Asia-Pacific

Japan
China
India
Australia
Rest of Asia-Pacific

LAMEA

Brazil
South Africa
Saudi Arabia
Rest of LAMEA
 
Key Market Players
ABBVIE INC. (ALLERGAN PLC.)
BRISTOL-MYERS SQUIBB COMPANY
F. HOFFMANN-LA ROCHE LTD.
GLAXOSMITHKLINE PLC
LUPIN LIMITED (LUPIN PHARMACEUTICALS, INC.)
MERCK & CO., INC.
NOVARTIS INTERNATIONAL AG (SANDOZ)
PFIZER INC.
SANOFI
TEVA PHARMACEUTICAL INDUSTRIES LTD.