The global ceramic tiles market size was valued at $343.9 billion in 2020, and is projected to reach $633.5 billion by 2030, registering a CAGR of 6.3% from 2021 to 2030. Ceramic tiles are extensively used in both residential and commercial structures because of their durability and crack resistance. Ceramic tile protective coatings are highly water resistant, stain resistant, and can be cleaned easily. The glazing on ceramic tiles is intact, which provides dust protection. Ceramic tiles are idle for use on walls and floors, as well as in residential and commercial interiors. They are also utilized as bathroom wall and kitchen floor surfaces in homes, restaurants, workplaces, and shops. They are easy to install, clean, and maintain, and are reasonably priced.
The COVID 19 outbreak has affected the growth of the ceramic tiles industry owing to the lockdown measure in the countries and delay in manufacturing and production of ceramic tiles which are utilized in residential and commercial buildings, infrastructure, and others.
The global ceramic tiles market is driven by the expansion of building industry, owing to the rapid expansion of the housing sector and increased construction spending across the globe. The ceramic tiles market is expected to expand as a result of urbanization and population growth. Ceramic tiles have a more appealing appearance, are more durable, and are more reliable, which has led to an increase in demand in the construction of a significant number of structures. The global ceramic tiles market is characterized by numerous opportunities for industry participants owing to rise in disposable income and rapid global economic expansion. Furthermore, key players are expanding the business to strengthen the market position and showcase the latest ceramic products. For instance, in August 2020, R.A.K. ceramics has opened its flagship showroom in the UK. The showroom is 250sqm and features the most recent and dedicated ceramic tiles and other ceramic products. The showroom also includes a new section called "Room for Imagination" designed to inspire interior designers and architects. Such market strategies by key players in ceramic tiles  market are expected to provide significant growth opportunities for the ceramic tiles market during the forecast period.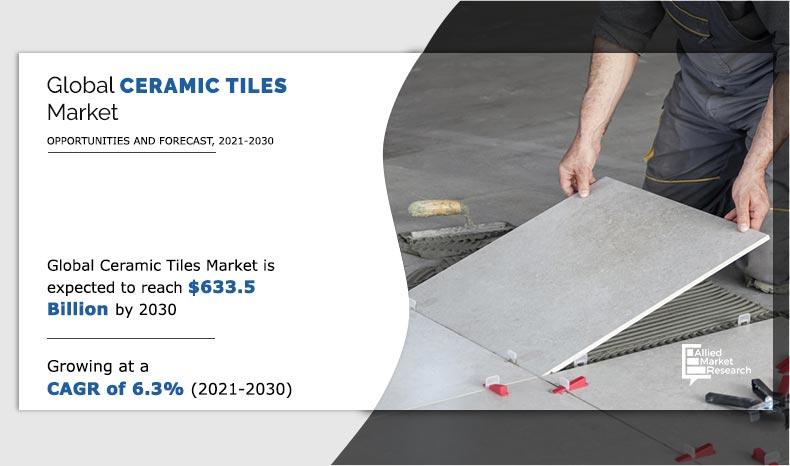 The novel coronavirus has rapidly spread across various countries and regions, causing an enormous impact on the lives of people and the overall community. It began as a human health crisis and it now poses a significant threat to global trade, economy, and finance., The COVID-19 pandemic has halted the production of many items in the ceramic tiles business due to the continuous lockdown in key global countries. Key players in ceramic tiles market can afford a complete lockdown only for a limited period, before having to alter their investment plans. Furthermore, the number of COVID-19 cases are expected to decrease soon as a vaccine for COVID-19 has been introduced in the market. This is also expected to result in the re-initiation of ceramic tiles companies at the full capacities, which would aid the ceramic tiles market to recover by the start of 2022. After COVID-19 infection instances start to decline, equipment and machinery producers must focus on protecting their employees, operations, and supply networks to respond to urgent emergencies and establish new working methods.
Ceramic Tiles Market

---
By Type
Glazed segment is projected to grow at a significant CAGR
Growth in response to rise in consumer demand for home renovation and replacement is one of the major factors boosting the global ceramic tiles market growth. For instance, according to Harvard Joint Centre for Housing Studies article published in January 2021, the growth of house remodeling and repair expenditures is expected to increase from 3.5 percent at the end of 2020 to 3.8 percent by the year-end of 2021, based on the most recent Leading Indicator of Remodeling Activity (LIRA). Similarly, officials at the National Association of Home Builders' IBSx virtual event in February 2021, predicted that remodeling expenditure on owner-occupied single-family homes would rise 4% this year, then another 2% in 2022. Remodeling and renovation across the globe are factors that provide lucrative growth in the ceramic tiles industry throughout the forecast period.
Ceramic Tiles Market

---
By End User
Residential segment holds dominant position in 2020
The ceramic tiles market is segmented on the basis of type, application, construction type, end user, and region. By type, it is bifurcated into glazed tiles and unglazed tiles. By application, it is divided into floor tiles and wall tiles. By construction type, it is categorized into new construction and renovation & replacement. By end user, it is classified into residential and non-residential. Region wise, the ceramic tiles market analysis is conducted across North America (the U.S., Canada, and Mexico), Europe (the UK, France, Germany, Italy and Rest of Europe), Asia-Pacific (China, India, Japan, South Korea, Thailand, Vietnam, Indonesia, Philippines, and Rest of Asia-Pacific), and LAMEA (Latin America, the Middle East, and Africa).
Competition Analysis
Key companies profiled in the ceramic tiles market report include Ceramica Saloni, China Ceramics, Crossville Inc., Kajaria Ceramics, Lamsoa Group, Mohawk Industries, R.A.K. Ceramics, Siam Cement Group, Ceramica Carmelo Fior, STN Ceramica.
Ceramic Tiles Market

---
By Region
Asia-Pacific holds a dominant position in 2020 and is expected to grow at a significant rate during the forecast period.
Key Benefits For Stakeholders
The report provides an extensive analysis of the current and emerging ceramic tiles market trends and dynamics. 
In-depth emerging ceramic tiles market analysis is conducted by constructing market estimations for key market segments between 2021 and 2030.
Extensive analysis of the emerging ceramic tiles market is conducted by following key product positioning and monitoring of top competitors within the market framework.
A comprehensive analysis of all the regions is provided to determine the prevailing opportunities.
The global emerging ceramic tiles market forecast analysis from 2021 to 2030 is included in the report.
The key players within emerging ceramic tiles market are profiled in this report and their strategies are analyzed thoroughly, which help understand the competitive outlook of the emerging ceramic tiles industry.
Global Ceramic Tiles Market Segments
Key Segments
By Type
Glazed Tiles
Unglazed Tiles
By Application
By Construction Type
New Construction
Renovation and Replacement
By End User Industry
Residential
Non-residential
By Region
North America
Europe

Germany
France
UK
Italy
Rest of Europe

Asia-Pacific

China
India
Japan
South Korea
Thailand
Vietnam
Indonesia
Philippines
Rest of Asia-Pacific

LAMEA

Latin America
Middle East
Africa
Key Players
Ceramica Saloni
China Ceramics
Crossville Inc.
Kajaria Ceramics
Lamsoa Group
Mohawk Industries
R.A.K. Ceramics
Siam Cement Group
Ceramica Carmelo Fior
STN Ceramica