The cheese market size was valued at $156.9 billion in 2020, and is estimated to reach $199.7 billion by 2030, registering a CAGR of 2.3% from 2021 to 2030.
Cheese is a highly nutritious and palatable milk-derived food product found in wide range of textures, tastes, and aromas globally available in around 2000 varieties at present. The distinction between texture and taste is determined by the raw material such as type & breed of milk producing animal, grazing and climatic factors taken into consideration during the preparation of cheese.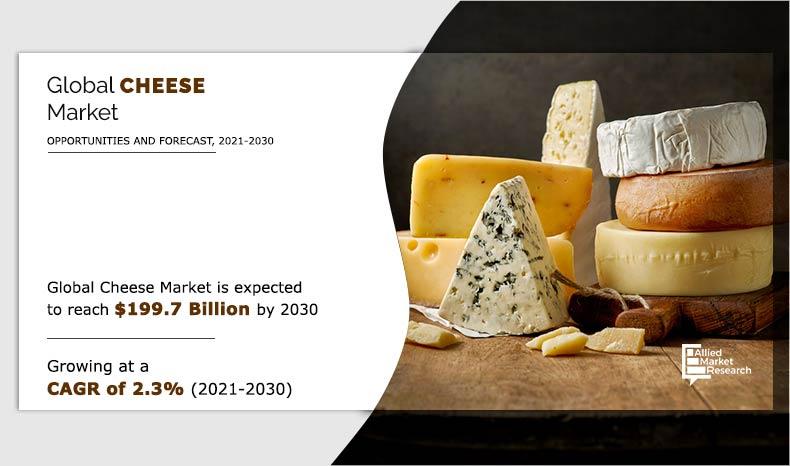 Cheese consumes about one-tenth volume of milk, making it portable with longer shelf life compared to milk. It is rich in nutrients such as protein, essential minerals, fat, calcium, and others. Moreover, it offers certain health benefits such as stronger teeth & bones, healthy heart (if consumed in moderate quantity), prevention of osteoporosis, and others. Furthermore, cheddar, parmesan, Roquefort, and others can be easily consumed by lactose intolerant and milk allergic people.
Bufflow segment would exhibit the highest CAGR of 3.6% during 2021-2030.
In 2020, North America and Europe collectively occupied with nearly 77% of the cheese market share. At present, the global cheese market growth is driven rise in number of quick service restaurants (QSRs) in the developing regions and already established QSR outlets in the developed regions. In addition, longer shelf life of cheese products, rise in disposable income, and increase in demand for protein-rich food propel the market growth. However, alarming obesity rates & rise in health consciousness among adults, unhealthy additives & ingredients in processed cheese, and perishable nature of the products are expected to hamper the market growth during the cheese market forecast period. Moreover, developing market for low-fat cheese and various innovations to improve the taste & quality of the products provide new opportunities in the market.
The cheese market is segmented on the basis of source, type, product, distribution channel, and region. By source, it is divided into cheese obtained from cow milk (whole milk and skimmed milk), sheep milk, goat milk, and buffalo milk. The type segment is bifurcated into natural cheese (hard cheese and soft cheese) and processed cheese (spreadable cheese and block cheese). By product, it is classified into mozzarella, cheddar, feta, parmesan, Roquefort, and others. By distribution channel, it is divided into hypermarkets, supermarkets, food specialty stores, convenience stores, and others. By region, it is analysed across North America, Asia-Pacific, Europe, and LAMEA.
Processed segment would exhibit the highest CAGR of 2.8% during 2021-2030.
By source, the cow milk segment accounted for the highest revenue, in 2020. This is attributed to the presence of protein and fat in the milk which gives flavour and texture to the cheese. Furthermore, before the cheese making process starts, the cow's milk is pasteurized by heating the milk to a precise temperature and then rapidly cooling it. Heating milk kills the harmful bacteria present in the milk.
By product, the Cheddar segment generated the highest revenue, in 2020, owing to its harder texture, creamier and sharp taste, and longer shelf life. In addition, the price of cheddar cheese is low as compared to that of other cheese like mozzarella, which make cheddar cheese affordable. Also, cheddar cheese is available in single slices wrapped in plastic, cheese spray, cheese spread, squeeze tube, and various other packaging options, which have opened a lot of opportunities for the market growth.
Roquefort segment would exhibit the highest CAGR of 3.1% during 2021-2030.
By distribution channel, the business to business segment generated the highest revenue, in 2020, owing to the surge in demand for QSR and online food delivery, which is propelling cheese market demand. 
By region, Europe contributed the highest the highest share in cheese market analysis 2020, registering a CAGR of around 2.1%, attributable to high demand in France, Finland, Denmark, Germany, and other countries. Asia-Pacific is the fastest growing region followed by LAMEA, owing to increase in cheese consumption in various emerging economies. 
Cheese Market

---
By Distribution Channel
Others segment would exhibit the highest CAGR of 3.0% during 2021-2030.
The key players operating in the cheese market are Arla Foods, Bel Group, Fonterra Food, Kraft Heinz, Lactalis Group, SAVENCIA SA, Britannia Industries Limited, Associated Milk Producers Inc., Saputo Inc., and Gujarat Cooperative Milk Marketing Federation Ltd.
The other players in the value chain include Almarai Co. Ltd., Sargento Foods Incorporated, FrieslandCampina, Dzintars, Go Cheese, Parag Milk Foods, Gebrder Woerle Ges.m.b., Mother Dairy, Old Fashioned Cheese, Vindija dd, and Bletsoe Cheese, Inc.
Asia Pacific region would exhibit the highest CAGR of 2.7% during 2021-2030.
COVID-19 impact analysis
The COVID-19 pandemic has a huge impact on the global cheese market.
The COVID-19 pandemic had a significant impact on the supermarket/hypermarket segment due to the closure of major distribution channels across the globe in an attempt to prevent the spread of coronavirus.
Manufacturers are comprehending strategies to revive from the current situation by means of reshaping their strategies as well as product innovation.
Key Benefits Cheese Market:
The report provides a quantitative analysis of the cheese market trends, estimations, and dynamics of the market size from 2019 to 2027 to identify the prevailing opportunities.
Porter's five forces analysis highlights the potency of buyers and suppliers to enable stakeholders to make profit-oriented business decisions and strengthen their supplier–buyer network.
In-depth analysis and the market size and segmentation assist to determine the prevailing cheese market opportunities.
The major countries in each region are mapped according to their revenue contribution to the cheese market. 
The market player positioning analysis facilitates benchmarking and provides a clear understanding of the present position of the market players in the cheese industry.
 Cheese Market Report Highlights
Aspects
Details
By Source

COW MILK
SHEEP MILK
GOAT MILK
BUFFALO MILK

By Type
By Product

Mozzarella
Cheddar
Feta
Parmesan
Roquefort
Others

By Distribution Channel

Hypermarkets
Supermarkets
Food Specialty Stores
Convenience Stores
Others

By Geography

North America
Europe

UK
Germany
France
Italy
Spain
Rest of the Europe

Asia-Pacific

China
India
Japan
South Korea
Australia
Rest of Asia-Pacific

LAMEA

Brazil
Argentina
South Africa
KSA
Rest of LAMEA

Key Market Players
ARLA FOODS, BEL GROUP, FONTERRA FOOD, KRAFT HEINZ, LACTALIS GROUP, SAVENCIA SA, BRITANNIA INDUSTRIES LIMITED, ASSOCIATED MILK PRODUCERS INC., SAPUTO INC., GUJARAT COOPERATIVE MILK MARKETING FEDERATION LTD.