Chemical Technology Market Research, 2031
The global chemical technology market was valued at $1.4 billion in 2021, and is projected to reach $2.5 billion by 2031, growing at a CAGR of 6.2% from 2022 to 2031.
Report Key Highlighters:
The chemical technology is highly fragmented, with several players including 

HiNa Battery Technology Co., NGK INSULATORS, LTD., Profacgen, Bayer AG, Camson Biotechnologies, Corteva, novoMOF, Promethean, Marrone Bio Innovations, and Andermatt Biocontrol AG.

More than 6,000 product literatures, annual reports, industry releases, and other such documents of key industry participants along with authentic industry journals, and government websites have been reviewed for generating high-value industry insights.
The study covers nearly 20 countries. The segment analysis of each country in terms of value ($million) during the forecast period 2021-2031 is covered in the chemical technology market report.
The first quarter of 2020 had an unanticipated impact on chemicals industries. Increasing consumer awareness of sustainability has led energy and chemical industries to explore decarbonization technologies, reexamine their assets, and begin to diversify away from hydrocarbons where possible. Augmented usage of digital technologies in the workplace is transforming work as well as the workforce.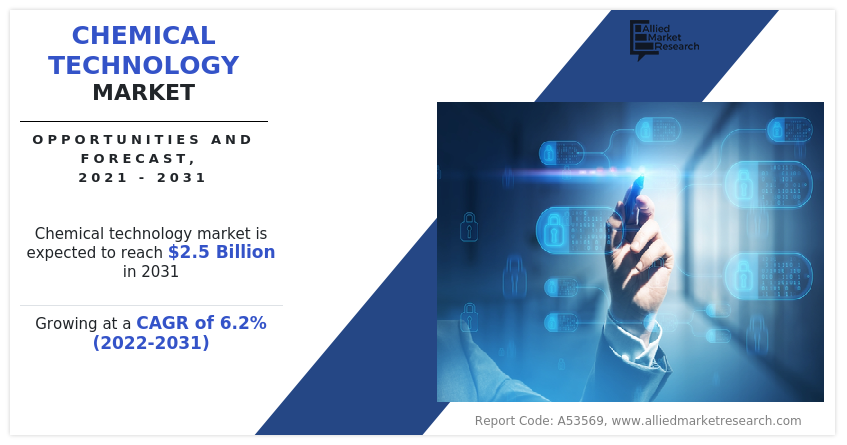 Chemical technology includes blockchain, sodium-ion batteries, nanozymes, nanosensors, and others. In the chemical industry, blockchain can be used to trace chemical products under the manufacturing process and therefore assure product quality to customers from raw materials to production to goods to the customer that can be tracked continually. Further, sodium-ion batteries are a potential alternative to lithium-based battery technologies, primarily due to sodium's lower cost and greater availability.
Since sodium-ion batteries use abundant and cheap materials, they are predicted to be less expensive than lithium-based battery technologies. Also, in recent years, sodium-ion batteries are gaining popularity because of the natural abundance, low cost, and environmental friendliness. Sodium-ion batteries are regarded as one of the most appealing alternative rechargeable batteries to lithium-ion batteries.
Furthermore, nanozymes have been gaining popularity over the past decade due to their capability to address the limitations of natural enzymes including high cost, low stability, and difficult storage. Nanosensors are widely utilized in chemical industries to detect the presence of nanoparticles and chemical species or monitor physical parameters such as temperature, on the nanoscale.
Increase in demand for chemical technology in the agricultural sector is predicted to propel the market growth during the forecast period
The population across the globe keeps rising. It is predicted that there will be nearly 10 billion humans by 2050. Feeding that many people is likely to create surge in agricultural production while lessening the amount of water needed, reducing the environmental impact in terms of land use, and mitigating the contamination by agrochemicals including, fertilizers or pesticides.
In recent years, nanotechnology has been drawing attention beyond the pharmaceutical industries. Also, tailored nano-delivery systems will become a crucial tool for farmers in coming years as it would ultimately allow them to combat the major problems of traditional pesticides including, bioaccumulation, environmental contamination, and the boost in pest resistance.
Further, nanotechnology would become an important component to sustainable agriculture and certainly lead to more sophisticated agrochemicals with a lower influence on the environment and human health. Moreover, nanopesticides are used by farmers in order to control weeds and boost agricultural productivity. These minimize harmful residues and deliver overall crop protection. Moreover, nanopesticide formulations can enhance water solubility and preserve agrochemicals from environmental degradation, revolutionizing crop pest control against diseases, weeds, and insects.
Furthermore, the increase in environmental problems owing to chemical release from the plants, surge in focus on the circular economy, and rise in concern toward the reduction of risk associated with chemical industries are anticipated to serve as other critical drivers for the chemical technology market growth.
Chemical and other manufacturing players are leveraging technologies such as Internet of Things (IoT), digital twin, and automation to lessen resource and energy consumption. Further, chemical manufacturers are inclining toward a more sustainable business, with varying customer preferences coupled with the surge in stringent regulations. Most of the chemical players are focusing on the environment and sustainability as on revenue growth.
However, the risk of cybercrime is predicted to hinder the market growth of chemical technology. Data privacy is a major concern in recent years. With a big fleet of devices, integrating encryption and security measures with IoT devices might be challenging. The new devices grow gradually, inventing new things and integrating the previous ones with the new ones demands effort and money. Several small and medium-sized businesses are cost-conscious and cannot afford large initial expenditures to incorporate the technologies in the chemical industry, which limits the market growth.
Further, players in the chemical process industries encounter an ever-evolving cybersecurity threat landscape. Cybercriminals or business rivals intent on blackmail are deploying a range of tools in order to manipulate vulnerabilities resulting from raised interconnectedness between operational technology and information technology systems, as well as, increasingly, remote connectivity in the wake of COVID-19. Robust foundational security controls along with a well-implemented reference architecture can lessen this threat and safeguard intellectual property, technology licenses, and high-risk substance production.
The chemical technology market is segmented into technology, application, and region. On the basis of technology, the market is categorized into artificial intelligence, sodium-ion batteries, nanozymes, blockchain, nanosensors, nanopesticides, metal organic frameworks (MFOs), 3D-printing, and others. On the basis of application, the market is divided into consumer chemicals, specialty chemicals, petrochemicals and polymers, fertilizers and agrochemicals, and others. Region-wise, the chemical technology market share is studied across North America, Europe, Asia-Pacific, and LAMEA.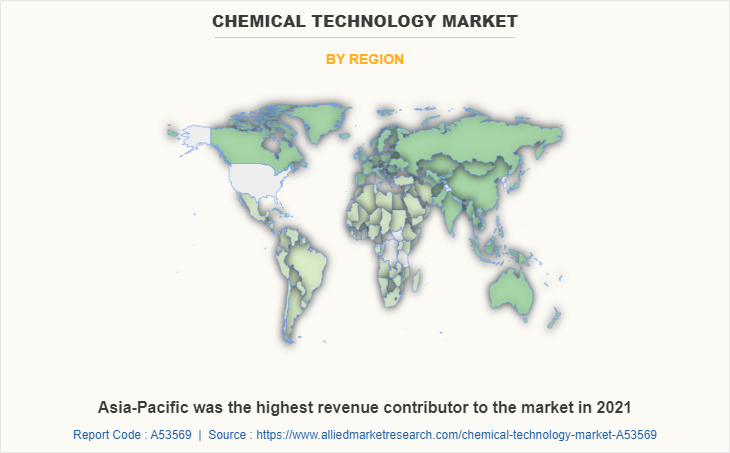 Asia-Pacific was the highest revenue contributor to the market in 2021. Petrochemicals in chemical technology are used to produce synthetic fibers like polyester, nylon, and acrylic, which are used in clothing, carpets, and other textiles in Asia-Pacific.
As per the China Petroleum and Chemical Industry Federation (CPCIF), China's petrochemical industry reached a total revenue of 16.56 trillion yuan (approximately $2.41 trillion) in 2022, up by 14.4% compared to the previous year. The country's crude oil output reached 205 million tons in 2022, indicating a 2.9 % YoY increase, marking the fourth consecutive year of growth.
Agrofertilizers are an important component of chemical technology to improve soil health and produce healthy crops. In India, farmers are increasingly using agrofertilizers like nitrogen-fixing bacteria, phosphorus-solubilizing bacteria, and mycorrhizae to enhance soil fertility and improve crop yields.
Thus, the increase in demand for petrochemicals and growth of agriculture sector is expected to boost the growth of the chemical technology market during the forecast period.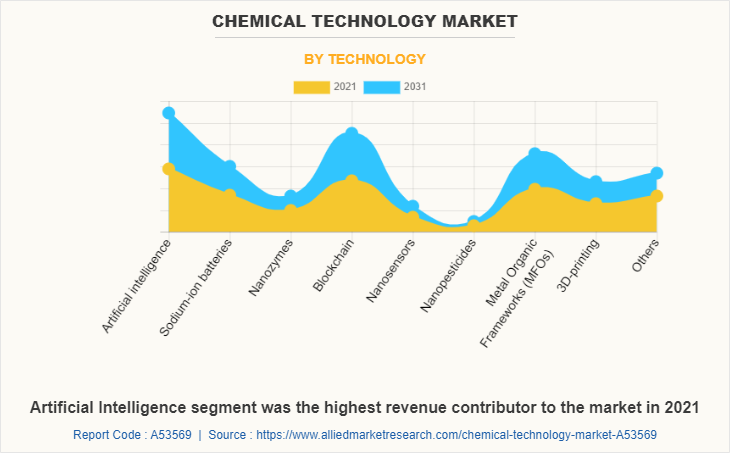 Artificial Intelligence segment was the highest revenue contributor to the market in 2021. Artificial intelligence (AI) can be used to analyze large datasets of chemical properties and predict the behavior of materials and chemical reactions. It can help researchers to design new materials with specific properties or optimize chemical processes for better performance. It can also be used in quality control to monitor the quality of chemical products by analyzing data from sensors and other monitoring equipment which can help to detect defects and improve the consistency of products.
Further, AI models can be used to predict the outcomes of chemical reactions, the properties of new materials, and the optimal conditions for chemical processes. AI can help optimize chemical processes by using machine learning algorithms to analyze data from sensors and other monitoring equipment. This data can be used to detect patterns, anomalies, and other information that can help improve the efficiency and effectiveness of chemical processes. AI can be used to accelerate the drug discovery process by identifying promising drug candidates from large databases of chemical compounds. This is often done using machine learning algorithms that can predict the properties and activity of chemical compounds, based on their molecular structure.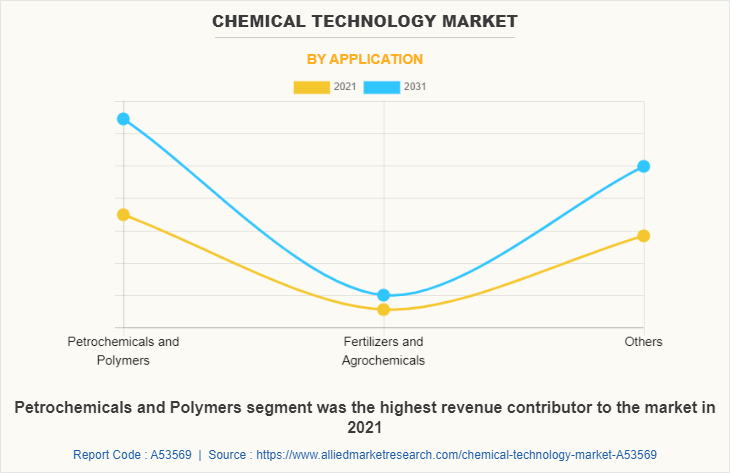 Petrochemicals and Polymers segment was the highest revenue contributor to the market in 2021. Petrochemicals such as gasoline, diesel, and jet fuel are used as transportation fuels in chemical technology. These fuels are gaining popularity to produce lubricants for various applications, including automotive engines, industrial machinery, and hydraulic systems. As per the Petroleum Planning and Analysis Cell (PPAC), the consumption of fuel a proxy for oil demand, rose 3.1% year on year to 19.60 million tons in December 2022 in India. Petrochemicals such as ammonia and urea are used as feedstocks for the production of fertilizers. These fertilizers are used to promote plant growth in agriculture and horticulture.
Key Players & Strategies:
Major players operating in the global chemical technology industry include HiNa Battery Technology Co., NGK INSULATORS, LTD., Profacgen, Bayer AG, Camson Biotechnologies, Corteva, novoMOF, Promethean, Marrone Bio Innovations, and Andermatt Biocontrol AG. These players adopted several growth strategies to strengthen their position in the market.
For instance, in 2022, Bayer AG acquired German biotech start-up Targenomix. The spin-off of the Max Planck Institute for Molecular Plant Physiology utilizes novel systems biology and computational life science tools to determine new modes of action for crop protection compounds. This acquisition will help Bayer to design safe and effective molecules and propel the discovery and production of molecules with the potential to make agricultural production more sustainable despite challenges such as climate change as well as improving weed, disease, and insect resistance.
Key Benefits For Stakeholders
This report provides a quantitative analysis of the market segments, current trends, estimations, and dynamics of the chemical technology market analysis from 2021 to 2031 to identify the prevailing chemical technology market opportunities.
The market research is offered along with information related to key drivers, restraints, and opportunities.
Porter's five forces analysis highlights the potency of buyers and suppliers to enable stakeholders make profit-oriented business decisions and strengthen their supplier-buyer network.
In-depth analysis of the chemical technology market segmentation assists to determine the prevailing market opportunities.
Major countries in each region are mapped according to their revenue contribution to the global market.
Market player positioning facilitates benchmarking and provides a clear understanding of the present position of the market players.
The report includes the analysis of the regional as well as global chemical technology market trends, key players, market segments, application areas, and market growth strategies.
 Chemical Technology Market Report Highlights
Aspects
Details
Market Size By 2031
USD 2.5 billion
Growth Rate
CAGR of 6.2%
Forecast period
2021 - 2031
Report Pages
250
By Technology

Artificial intelligence
Sodium-ion batteries
Nanozymes
Blockchain
Nanosensors
Nanopesticides
Metal Organic Frameworks (MFOs)
3D-printing
Others

By Application

Petrochemicals and Polymers
Fertilizers and Agrochemicals
Others

By Region

North America (U.S., Canada, Mexico)
Europe (Germany, France, Italy, UK, Spain, Rest of Europe)
Asia-Pacific (China, India, Japan, South Korea, Australia, Rest of Asia-Pacific)
LAMEA (Brazil, Saudi Arabia, South Africa, Rest of LAMEA)

Key Market Players
Marrone Bio Innovations, Inc., Bayer AG, STK bio-ag technologies, novoMOF, Andermatt Group AG, NGK INSULATORS, LTD., Promethean Particles Ltd, Corteva, Profacgen, HiNa Battery Technology Co., Ltd