The global chillers market size was $10,049.4 million in 2019 and is expected to reach $12,670.0 million by 2028, registering a CAGR of 3.7% from 2021 to 2028. Chillers are generally used in the industrial sector to maintain equipment temperature and keep the atmosphere cool. Some of the components of chillers include compressors, evaporators, condensers, control units, power panels, and expansion valves. Chillers provide air conditioning by eliminating the unwanted heat from commercial and industrial buildings. 
The COVID 19 outbreak has negatively influenced the development of the global chillers industry owing to the lockdown measure in regions such as Asia-Pacific & Europe in addition to delay in manufacturing & production of chillers.
A rise in demand for chillers from various industry verticals such as food & beverages, petrochemicals, rubber, plastic, medical, and others, fuels the growth of the market. The growth in aviation industry and rise in new commercial construction buildings, is anticipated to drive the global chillers market growth. For instance, according to Civil Aviation Administration of China (CAAC), China built 27 new airports between 2014 and 2017, which in turn, increased the demand for chillers, to keep the atmosphere cool. These situations are predicted to fuel the growth of the market.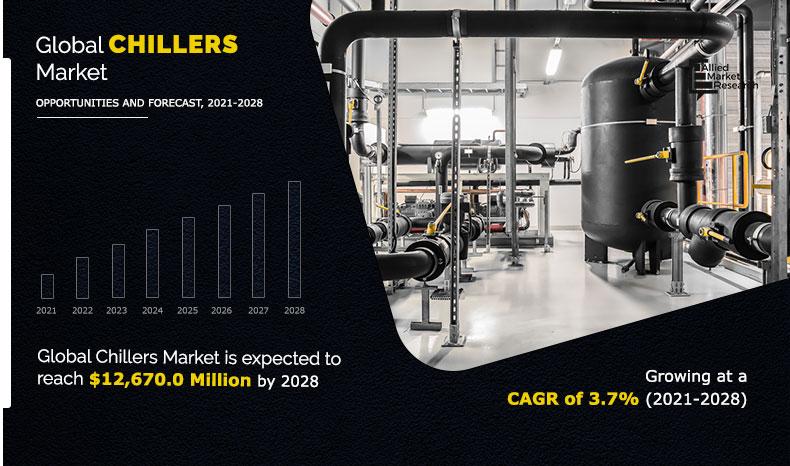 In addition, increase in average temperature globally, which in turn, leads to the adoption of heating, ventilation, and air conditioning systems (HVAC systems)drives the growth of the market. For instance, according to Oppla Organization, by year 2100, the global temperature is expected to increase by 4.50°C in comparison to 1990s.
Major players such as Daikin Industries Ltd., LG Electronics, and others are engaged in offering centrifugal chiller to the market. For instance, in 2018, Daikin Industries Ltd. launched a new centrifugal oil-free water-cooled chiller with magnetic bearing technology. It has features such as low noise level, 32% energy saving, and rapid restart. It is best suitable for data center. 
An increase in government spending on construction building activities, requires more chillers for temperature control. This in turn is anticipated to cater to the growth of the chillers market. For instance, in December 2018, the construction industry of Spain accounted for 5.8% of country's GDP. Furthermore, an increase in the effect of greenhouse gases produces a global warming effect globally. For instance, the total global warming effect is increased by 37% from 1990 to 2015. An increase in urbanization and surge in disposable income of people are the factors anticipated to fuel the growth of the global chiller market. For instance, urbanization in Latin America increased by 0.3% from 2018 to 2019. Moreover, surge in industrial and residential construction activities with government initiatives such as "National Infrastructure Program", and "Nation Program on Strategies for Sustainable Smart Cities", and others, are expected to drive the growth of the market.
Screw Chiller segment holds dominant position in 2019
However, high initial investment and setup cost, fluctuation in raw material prices, and rise in demand for variable refrigerant flow (VRF) systems are anticipated to restrain the growth of the global chiller market. Furthermore, technological innovation in chillers is expected to offer remunerative opportunities for the global chillers market. 
The chillers market is segmented into type, product type, power range, end user, and region. By type, it is divided into screw chiller, scroll chiller, centrifugal chiller, and others. Screw chiller segment having the highest revenue in 2019. By product type, it is bifurcated into air-cooled chiller, and water-cooled chiller. By power range, it is classified into less than 20 kW, 50-200 kW, and more than 200 kW.  More than 200 kW segment generated the highest revenue in 2019. By end user, it is fragmented into chemicals & petrochemicals, food & beverages, medical, and others. The others segment contributed the highest revenue in 2019.By region, it is studied across North America, Europe, Asia-Pacific, and LAMEA. In 2019, Asia-Pacific region was the highest contributor to the global chillers market share, and is anticipated to secure a leading position during the forecast period.
Chillers Market

---
By End User
Medical segment is expected to grow at a significant CAGR
Competition Analysis
The key players profiled in the report include Carrier Global Corporation, Mitsubishi Electric Corporation, Daikin Industries Ltd, Dimplex Thermal Solutions, LG Electronics, Johnson Controls International Plc, Gree Electric Appliances Inc of Zhuhai, Midea Group Co. Ltd, Thermax Ltd, and Trane Technologies Plc.
The key players in this market adopted product launch, partnership, and expansion as their key strategies to meet the change in consumer demands. For instance, in February 2019, Dimplex Thermal Solutions launched a new P Series chiller for dairy and milk processing operations. This chiller is used in dairy applications with capacity of cooling milk from 100 degrees Fahrenheit to 40 degrees Fahrenheit within 30 minutes to protect from production of harmful bacteria. This chiller is available in size of ranging from 1/8 tons to more than 90 tons. It is best suited for dairy and milk processing applications.
Chillers Market

---
By Region
Asia-Pacific Region is expected to dominate the market during the forecast period.
Key Benefits For Stakeholders
The report provides an extensive analysis of the current and emerging global chillers market trends and dynamics.  
Extensive analysis of global chiller is conducted by following key product positioning and monitoring of the top competitors within the market framework.
In-depth market analysis is conducted by global chillers market estimations for the key market segments between 2019 and 2028. 
A comprehensive global chillers market analysis of all the regions is provided to determine the prevailing opportunities.
The global chillers market forecast analysis from 2021 to 2028 is included in the report.
The key market players within the global chillers market are profiled in this report and their strategies are analyzed thoroughly, which help understand the competitive outlook of the global chillers market.
Global Chillers Market Segments
By Type 
Screw Chiller
Scroll Chiller
Centrifugal Chiller
Others
By Product Type 
Air Cooled Chiller
Water Cooled Chiller
By Power Range 
Less than 50 kW
50-200 kW
More than 200 kW
By End User
Chemicals & Petrochemicals
Food & Beverages
Medical
Others
BY Region
North America
Europe

Germany
France
UK
Italy
Rest of Europe

Asia-Pacific

China
Japan
India
South Korea
Rest of Asia-Pacific

LAMEA

Latin America
Middle East
Africa