Chimney Caps Market Outlook- 2025
The global chimney caps market size is expected to reach $128.0 million by 2025 from $112.1 million in 2017, growing at a CAGR of 1.6% from 2018 to 2025. A chimney cap is a covering for the top of a chimney and is used in both residential and non-residential environments. It is equipped with flue cover, crown, and mesh, which is installed upon flue located on chimney chase. Chimney caps are also known as chimney tops, chimney toppers, and flue caps. It comes in stainless steel or copper body to prevent water penetrations due to the rain and snowfall. In industries, it is majorly used where the industrial furnace and steam-generating boilers are installed. In residential houses, it is used where furnaces are installed for house heating or house warming.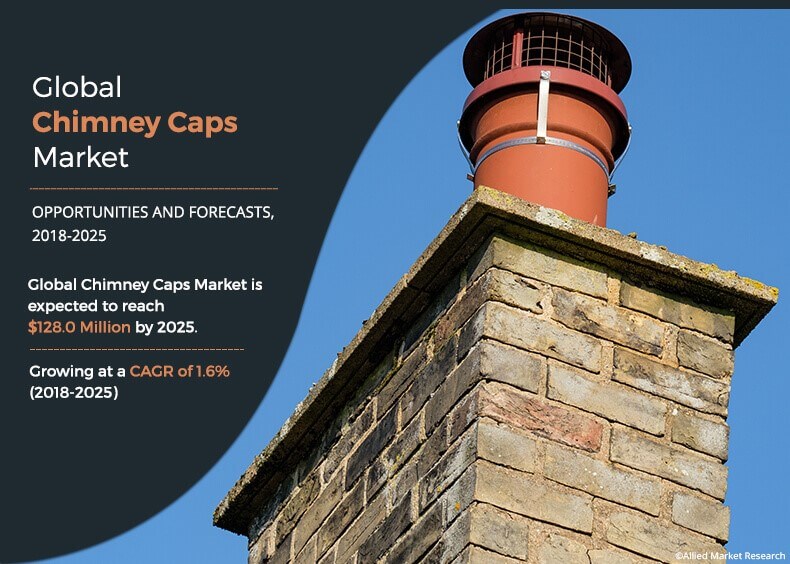 Growth in awareness regarding the beneficial usage of chimney caps is one of the major factors that drives the demand for chimney caps, as these caps efficiently cover the chimney liner and flue openings. In addition, various industries that are using furnaces and boilers install the chimney, thus they need chimney caps to cover the openings, thereby increasing the demand for chimney caps. Besides, chimney caps have spark arrestors, which prevent the emission of burning particles on the roof and cause fire. Moreover, durability of stainless-steel chimney cap is high as compared to other conventional covering, owing to its ability to resist corrosion. Further, increase in do-it-yourself (DIY) users in addition to ease of installation of chimney caps is anticipated to encourage the chimney caps market growth in the coming years. Furthermore, installing chimney caps in industries and commercial spaces can stop downdrafts from entering industries and commercial spaces and also make them highly energy efficient. Increasing awareness regarding the beneficial usage of chimney caps such as affordability, easy installation, and high adoption of these caps in non-residential sectors such as restaurants, and others is expected to drive the market growth for the chimney caps market.
Chimney caps requires regular maintenance and it can become inefficient in some weather conditions, such factors are expected to hamper the chimney caps market growth. Similarly, government of different economies have implemented various building regulations and standards for chimneys. These regulations and standards implied by governments describes the least principles and criteria required to apply if the chimney or flue is to function without harm and appropriately. For building new chimneys and in some cases to repair or alter old chimneys, building control approval is necessary. Such firmer building regulations and standards for chimneys built by governments is estimated to restrain the growth of the chimneys market, and thereby the chimney caps industry. On the contrary, increase in residential sector and industrialization is expected to fuel the chimney caps market growth, which will in turn lead to provide lucrative opportunities for small player in developing countries. For instance, Artis Metals Company Inc., Chim Cap Corp, and Chimney King provide a wide range of chimney caps that prevent the rainwater, birds, and animals from entering the chimney.
The global chimney caps market is segmented by type, application, and region. The type includes single flue and multi-flue chimney caps. In 2017, the single flue segment dominated the market, in terms of revenue, and is expected to maintain this trend in the coming years owing to growing awareness about the valuable usage of single-flue chimney caps such as affordability, and easy installation in residential sectors such as homes.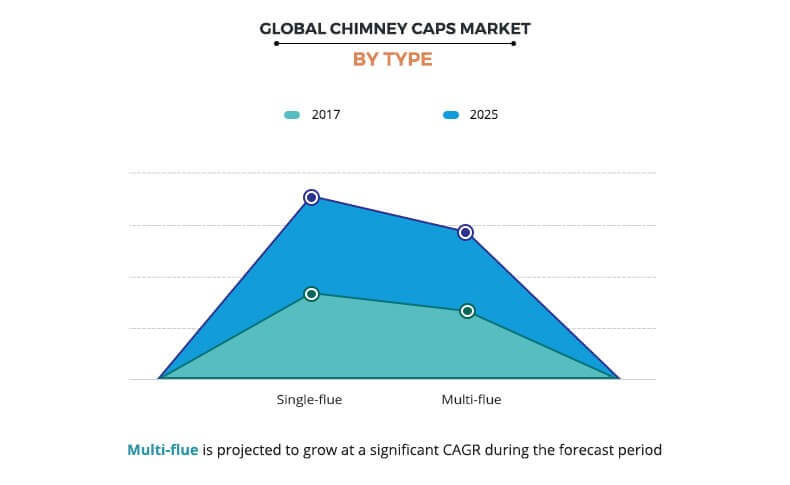 The application segment is sub-divided into residential, and non-residential. The residential segment is anticipated to dominate the global chimney caps market throughout the forecast period owing to increase in investments in residential buildings in North American and Asia-Pacific countries in addition to ability of chimney caps to safeguard fireplaces or furnaces flue from rain, birds, animals and debris. They also shield roofs of houses, decreases fire risk by deceiving sparks and embers, and stops smoke, air, and fumes from blowing into the dwellings on high wind days.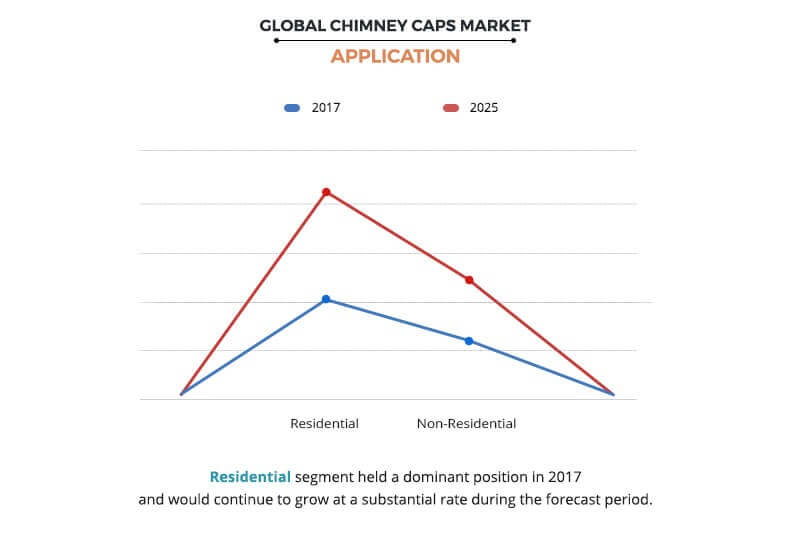 Region wise, the market is analyzed across North America, Europe, Asia-Pacific, and LAMEA. In 2017, North America contributed the highest share in the chimney caps market and is anticipated to secure the leading position during the forecast period, owing to the presence of key manufacturing companies and large investment in the chimney manufacturing sector.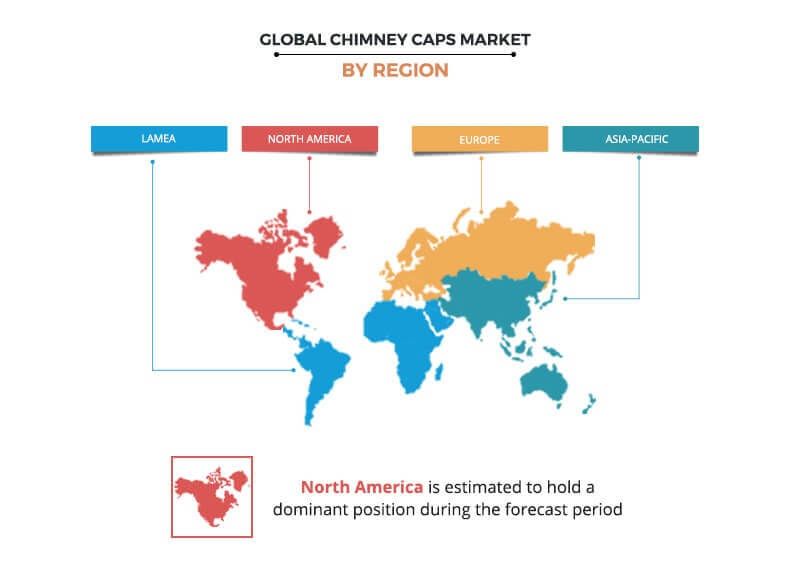 Competitive Analysis Of Chimney Caps Market
Competitive analysis and profiles of the major chimney caps market players such as Artis Metals Company Inc., Chim Cap Corp, Chimney King, Fireplace Essentials, GLL, HY-C, National Chimney, Olympia Chimney Supply Inc., Owens Chimney Systems Inc., and Stromberg are provided in this report.
Key Benefits for Chimney Caps Market:
The report provides an extensive analysis of the current & emerging market trends and dynamics in the global chimney caps market.
In-depth analysis is conducted by constructing market estimations for the key market segments between 2018 and 2025.
Extensive analysis of the market is conducted by following key product positioning and monitoring of the top competitors within the market framework.
A comprehensive analysis of all regions is provided to determine the prevailing opportunities in these geographies.
Key market players within the chimney caps market are profiled in this report, and their strategies are analyzed thoroughly, which help to understand the competitive outlook of the global market.
Chimney Caps Key Market Segments:
By Type
By Application
Residential
Non-residential
By Geography
North America
Europe

Germany
UK
France
Italy
Rest of Europe

Asia-Pacific

China
Japan
India
Australia
Rest of Asia-Pacific

LAMEA

Latin America
Middle East
Africa
Key Players
Artis Metals Company Inc.
Chim Cap Corp
Chimney King
Fireplace Essentials
GLL
HY-C
National Chimney
Olympia Chimney Supply Inc.
OWENS CHIMNEY SYSTEMS Inc.
Stromberg