The global chipless RFID market size was valued at $903.3 million in 2019, and is projected to reach $4,744.0 million by 2027, to register a CAGR of 23.1% from 2020 to 2027.
The retail segment in Global Chipless RFID Market is expected to attain positive growth due to increasing automation and wireless operations to maintain minimum contact..
Radio frequency identification (RFID) without a silicon IC are called chipless RFID. It is an evolving wireless technology for access controls, automatic identifications, security & surveillance, tracking, database management, logistics, and inventory control. It uses conductive polymers or plastic as a replacement for silicon-based ICs.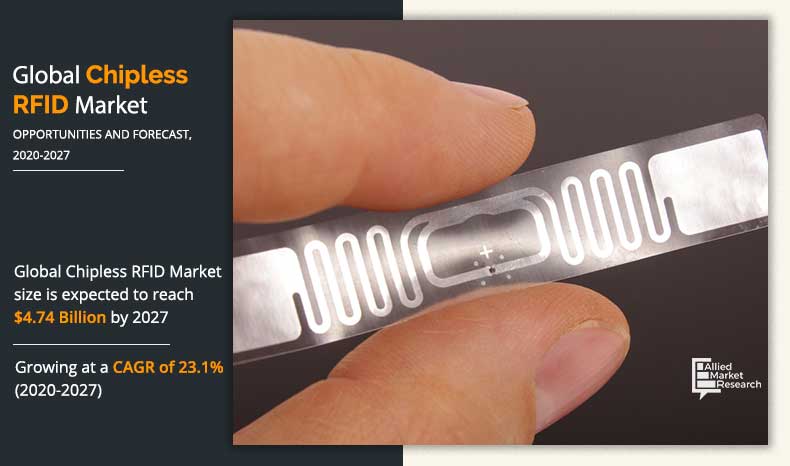 Get more information on this report : Request Sample Pages
The chipless RFID is a breakthrough in overcoming the restrictions of traditional RFID technology as it eliminates the expense related with the silicon IC chip in the circuit. Also, the chipless RFID is completely printable and in this way it is resistant to very harsh and climate conditions. It can also be imprinted on metals & bottles containing fluids. The key advantages of these features grant chipless RFID in extraordinary applications that couldn't be accomplished beforehand with both chipped and barcode RFIDs. A few examples include low-cost item tagging such as, for ID cards, banknotes, drink containers, books, aluminum cans, and customer merchandise. A chipless RFID tag is also used as a chipless RFID sensors in offering low-priced sensors for realizing the universal networks required by the IoT paradigm. A chipless RFID sensors is mainly used for detection of CO2.
The idea of chipless RFID has been created with rivaling barcodes in specific regions of application. Chipless RFID has numerous benefits, such as low cost, easy to use, and others. The barcode provides single feature of ID recovery, but the technology is time-tasted, and widespread.
The global chipless RFID market is anticipated to witness significant growth over the period of forecast. Factors such as high accuracy, low manufacturing cost, and providing more functions as compared to other alternatives drive the growth of the chipless RFID market. Since, all chipless RFID tags within range can be detected instantaneously & checked with data in system database. Thus, it reduces human error & effort and provides high accuracy. Additionally, chipless RFID technology provides various functionalities such as chipless RFID tags are read/write capable, automated, uniquely identifies each item or asset, among others. However, initially high capital investment is a major restraint to global chipless RFID industry. In addition, growing shift of retailers toward chipless RFID is expected to create opportunities for the
global market.
The global chipless RFID market is segmented into product type, frequency, application, end user, and region. By product type, the market is segmented into tag, and reader. The frequency segment is divided into low frequency, high frequency, and ultrahigh frequency. By application, the market is fragmented into smart cards, smart tickets, and others. Depending on end user, the market is segregated into retail, healthcare, logistics and transportation, BFSI, and others.
Chipless RFID Market

---
By Product Type
Tag segment is projected as one of the most lucrative segments.
Get more information on this report : Request Sample Pages
Region wise, the chipless RFID market trends are analyzed across North America (U.S., Canada, and Mexico), Europe (UK, Germany, France, and Rest of Europe), Asia-Pacific (China, Japan, India, and Rest of Asia-Pacific), and LAMEA (Latin America, the Middle East, and Africa).  APAC region is expected to develop at highest rate during the conjecture time frame. APAC region, specifically China remains a significant participant in the global supply chain market, organizations in the country are intensely putting resources into the technology; for example, usage of RFID labels in logistic sector  to improve the production network market in the country. In January 2018, Taocafe, China based organization introduced smart store, where individuals buy RFID labels connected to the item & can check out via WeChat Pay. Comparable smart stores were opened by Alibaba, JD.com, & Tencent in the China market. In this way, owing to high adoption of chipless RFID products, in the APAC market indicating positive effect on the global chipless RFID market.
Leading chipless RFID manufacturer such as Zebra Technologies Corporation, Alien Technology, LLC, Honeywell International Inc., etc. are focusing their investment on technologically advanced, cost-effective and more secure products for various applications.
Chipless RFID Market

---
By End User
Logistics and Transportation segment is expected to secure leading position during forecast period.
Get more information on this report : Request Sample Pages
Top Impacting Factors
The prominent factors that impact the chipless RFID market growth are increased efficiency offered by chipless RFID tags, low cost of manufacturing, and rise in demand for chipless RFID tags in the healthcare & banking sector. However, data encoding and transmission while designing chipless RFID restrict the market growth. On the contrary, growing shift of retailers toward chipless RFID & innovation of cloud-based system is expected to create lucrative opportunities for the market. Every one of these elements is expected to affect the development of the global chipless RFID market during the forecast time frame.
Competition Analysis
Competitive analysis and profiles of the major chipless RFID market players such as Alien Technology, LLC., Applied Wireless, Inc., Avery Dennison Corporation, Checkpoint Systems, Inc., Honeywell International Inc., iDTRONIC GmbH, Impinj, Inc., Invengo Technology Pte. Ltd., NXP Semiconductors, and Zebra Technologies Corporation.
Chipless RFID Market

---
By Region
Asia-Pacific region would exhibit the highest CAGR of 25.2% during 2020-2027
Get more information on this report : Request Sample Pages
Covid-19 Impact Analysis
The overall effect of the COVID-19 outbreak is impacting the production process of several industries of chipless RFID market. As government of different provinces have already announced total lockdown and temporarily shutdown of industries, the overall production process being adversely affected; thus, hinder the overall market globally. 
The COVID-19 pandemic is impacting the society and overall economy across the global. The impact of this outbreak is growing day-by-day as well as affecting the supply chain. The crisis is creating uncertainty in the stock market, falling business confidence, massive slowing of supply chain, and increasing panic among the customer segments. 
The Asian and European countries under lockdowns have suffered in major loss of business and revenue, due to the shutdown of manufacturing units in the region. The operations of the production and manufacturing industries have been heavily impacted by the outbreak of the COVID-19 disease; thereby, leading to slowdown in the growth of the chipless RFID market in 2020.  
The COVID-19 has been impacted severely on the electronics sector as the production facility have stalled, which in turn have the significant demand in the industries. The symptoms include a large-scale manufacturing interruption across Europe, interruption in Chinese parts exports, which may hinder the chipless RFID market.  
Key Benefits For Stakeholders
This study comprises analytical depiction of the global chipless RFID market size along with the current trends and future estimations to depict the imminent investment pockets.
The overall chipless RFID market analysis is determined to understand the profitable trends to gain a stronger foothold.
The report presents information related to key drivers, restraints, and opportunities with a detailed impact analysis.
The current chipless RFID market forecast is quantitatively analyzed from 2020 to 2027 to benchmark the financial competency.
Porter's five forces analysis illustrates the potency of the buyers and the chipless RFID market share of key vendors.
The report includes the market trends and the market share of key vendors.
 Key Market Segments & Key Market Players
Segments
Sub-segments
By Product Type


By Frequency

Low frequency
High frequency
Ultrahigh frequency



By Application

Smart Cards
Smart Tickets
Others



By End User

Retail
Healthcare
Logistics and Transportation
BFSI
Others



By Region

North America
Europe

UK
Germany
France
Rest of Europe

Asia-Pacific

China
Japan
India
Rest of Asia-Pacific

LAMEA

Latin America
Middle East
Africa



Key Market Players

Alien Technology
APPLIED WIRELESS IDENTIFICATIONS GROUP, INC.
AVERY DENNISON CORPORATION
Checkpoint Systems, Inc.
HONEYWELL INTERNATIONAL INC.
iDTRONIC GmbH
IMPINJ, INC.
INVENGO TECHNOLOGY PTE. LTD.
NXP Semiconductors
ZEBRA TECHNOLOGIES CORP.