Chitosan Market Outlook - 2027
The global chitosan market size was valued at $1.7 billion in 2019, and is projected to reach $4.7 billion by 2027, growing at a CAGR of 14.5% from 2020 to 2027.
Chitosan is a polysaccharide derivative of chitin obtained from shells of marine animals such as shrimps, lobsters, crabs, and others. Commercial chitosan is produced through deacetylation of chitin that is extracted from crustacean shell waste. Chitosan restricts lipid absorption in gastrointestinal tract; thus, it is widely used in dietary supplements. Due to biocompatibility and biodegradability properties it is widely used in healthcare application. The anticoagulant properties of chitosan makes it suitable for hemostatic dressing to treat wounds. In addition, it is also used as a bio pesticide in the agriculture to restrict pathogenic impacts on trees & plant growth promoter and for water treatment. Furthermore, it is also used in polyurethane paints & coatings, bio printing of organs, and as a food preservative.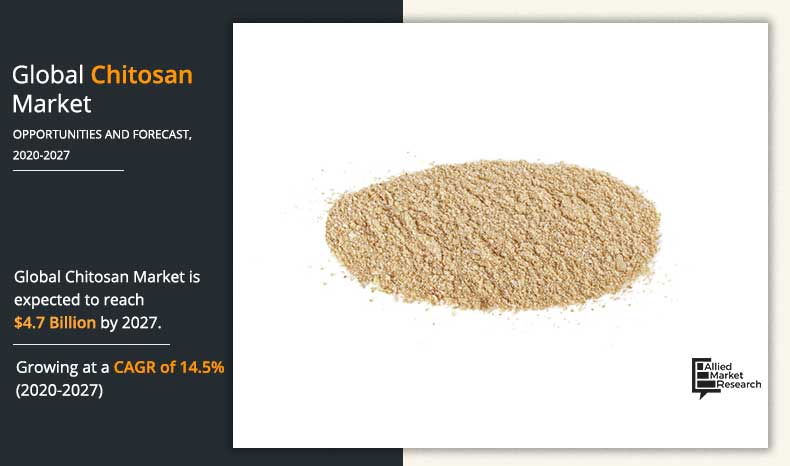 The global chitosan market is driven by the growth in waste from the seafood industry, increase in applications of chitosan, and support from the government toward waste utilization. The shell waste is processed into chitin and other high-value products. Chitosan extracted from crustaceans such as crabs, shrimp, and lobster is widely applicable in reducing body weight due to its lipid absorption property. Furthermore, growing application of Chitofelx in hemostatic dressing due to its anticoagulant properties is expected to drive the market growth. In addition, rise in demand for bio-based cosmetic products is also expected to propel the market growth during the forecast period. However, high cost of bulk production for water treatment may hamper this market growth. Nonetheless, rise in number of new sources for commercial chitosan such as fungi, snail, and other molluscs may replace the conventional sources such as crab, shrimp in case of shortage for marine waste. Easy availably of fungi waste in agriculture and artificial production of fungi through cheap nutrients by simple chemical procedures may create lucrative opportunities for the chitosan market growth.
The chitosan market is segmented on the basis of source, application, and region. On the basis of source, it is divided into shrimp, crab, krill, squid, and others. Based on application, it is categorized into water treatment, biomedical & pharmaceuticals, cosmetics, food & beverages, and others. Based on region, it is analyzed across North America, Europe, Asia-Pacific, and LAMEA, with country level analysis of each region.
Major players have adopted product launch, business expansion to sustain the intense market competition. The key players profiled in the report include Advanced Biopolymers AS (Norway), Heppe Medical Chitosan GmbH (Germany), G.T.C. Bio Corporation (China), Primex ehf (Iceland), Kitozyme S.A. (Belgium), Novamatrix (Norway), Agratech International, Inc. (U.S.), Golden-Shell Pharmaceutical Co. Ltd. (China), Qingdao Yunzhou Biochemistry Co. Ltd. (China), and Panvo Organics Private Ltd.
Global Chitosan Market, By Region
Asia-Pacific accounted for the highest chitosan market share, owing to easy availability of crustacean waste in coastal areas. Moreover, crustaceans are produced and consumed in China, Japan, and Thailand in large quantities, which makes crustacean shell waste readily available in this region. North America is expected to witness significant growth, owing to increase in adoption of chitosan-based biomedical and pharmaceutical products, including bandages and weight loss supplements
Chitosan Market

---
By Region
Asia-Pacific exhibits CAGR of 15.3% during 2020-2027
Global Chitosan Market, By Source
The shrimp chitosan segment accounted for the highest revenue share in 2019, owing to the large demand of shrimp chitosan for water treatment and in food and beverages industry. Chitosan originated from shrimp cell is biocompatible and biodegradable as well as nontoxic unlike other chemical products. Furthermore, easy availability of shrimps reduces the manufacturing cost of Chitosan; thus, making it widely available that will enhance the market growth. The crabs chitosan segment is expected to witness highest market growth due to growing utilization of crab waste in plantation to maintain soil biodiversity. According to industry experts, the application of Chitosan in plants can further simulate plant growth providing better outcome than non-treated plants. For instance, according to a report by International Journal of Current Microbiology and Applied Sciences, the average height for 70% chitosan and 30% non-treated plants were 27.8 and 21.7 cm, respectively
Chitosan Market

---
By Source
Crabs chitosan is projected as the most lucrative segment
Global Chitosan Market, By Application
The water treatment segment accounted for the highest revenue share in 2019, owing to growing application of chitosan as coagulant in waste water treatment processes due to its biodegradable nature and effectiveness in removing toxic materials. Chitosan, being a biomaterial, is the preferred choice for water treatment plants across the globe due to high purity percentage compared to conventional water treatment methods, such as sand filtration. The food & beverages segment is expected to witness steady growth due to growing demand for chitosan to improve the quality and shelf life of food products of agriculture, poultry, and marine origin.
Chitosan Market

---
By Application
Water Treatment is projected as the most lucrative segment
Key Benefits For Stakeholders
The global chitosan market analysis covers in-depth information of major industry participants.
Porter's five forces analysis helps to analyze the potential of buyers & suppliers and the competitive scenario of the industry for strategy building.
Major countries have been mapped according to their individual revenue contribution to the regional market.
The report provides an in-depth analysis of the global chitosan market forecast for the period 2020–2027.
The report outlines the current chitosan market trends and future estimations of the market from 2019 to 2027 to understand the prevailing opportunities and potential investment pockets. 
The key drivers, restraints, and chitosan market opportunity and their detailed impact analysis is elucidated in the study.
 Chitosan Market Report Highlights
Aspects
Details
By SOURCE

Shrimp
Squid
Crab
Krill
Others

By APPLICATION

Water treatment
Biomedical & Pharmaceutical
Cosmetics
Food and Beverage
Others

By Region

North America (U.S, Canada, Mexico)
Europe (Germany, UK, France, Italy, Rest of Europe)
Asia-Pacific (China, Japan, India, South Korea, Rest of Asia-Pacific)
LAMEA (Brazil, Saudi Arabia, South Africa, Rest of LAMEA)

Key Market Players
PANVO ORGANICS PVT LTD, Qingdao Yunzhou Biochemistry Co., Ltd, NOVAMATRIX, AGRATECH INTERNATIONAL, INC, GOLDEN-SHELL PHARMACEUTICAL CO. LTD, HEPPE MEDICAL CHITOSAN GMBH, PRIMEX EHF, G.T.C. BIO CORPORATION, KITOZYME S.A, ADVANCED BIOPOLYMERS AS