Chocolate Confectionery Market Research, 2031
The global chocolate confectionery market size was valued at $77.6 billion in 2021, and is projected to reach $118.6 billion by 2031, growing at a CAGR of 4% from 2022 to 2031.
The COVID-19 pandemic affected the chocolate confectionery market as many countries have considered chocolate confectionery as a non-essential item during the crisis of pandemic. Actions by governments affected customers as they were unable to purchase items during the government-mandated closure, thus affecting customer demand for these products. Furthermore, limits on the functioning of restaurants, bars, and geographically specialized sales channels, government-enacted stay-at-home directives have significantly limited end-consumers ability to buy confectioneries in the U.S. and other markets. On the other hand, according to the International Cocoa Organization (ICCO) in 2021, cocoa production in Asia-Pacific had a dip of -10.6%.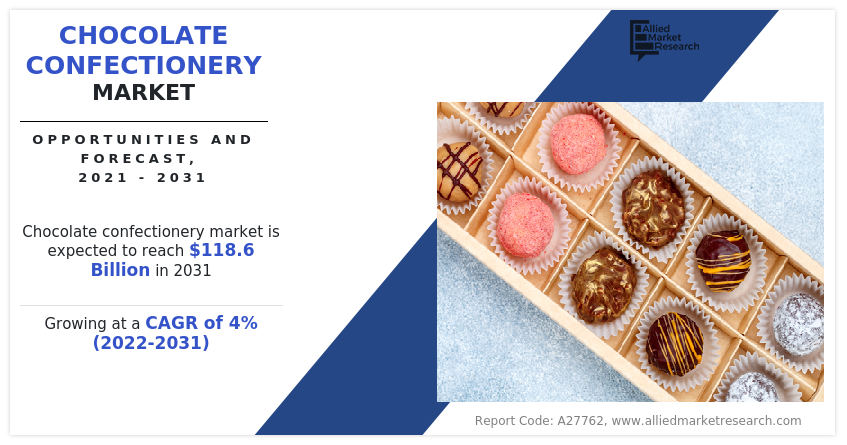 Chocolate confectionery is a chocolate-based delicacy that may also incorporate layering or combinations of nuts, fruit, caramel, nougat, and wafers. Chocolate confections are available in different shapes and forms. There are several chocolate confectionery brands available. A prominent example is a Snickers bar, which is made of nougat, caramel, and peanuts, and wrapped in milk chocolate.
Key factors for market growth include innovation, processing, and packaging. Factors such as customer health awareness, consciousness, and varying consumer eating habits and tastes drive innovation. In addition, it fulfills evolving customer preferences, and manufacturers expand their product line by integrating useful ingredients, organic herbal fillings, tropical fruit, and nut-based & exotic tastes in product formulations. Innovative packaging tactics, such as appealing jars, family-sized packs, resealable packaging, and advertising increases product sales and raises awareness. Divine Chocolate, for instance, released new branding in 2021, with vibrant new packaging and a forceful call to action to help prevent abuse in the cocoa industry. To express Divine Chocolate's collaboration with farm owners, its new design shows a distinctive handshake encircled by the slogan "every bar directly benefits the lives of farmers." The introduction of various packaging and promotional activities provides a chocolate confectionery opportunity for global growth and development.
Following the arrival of the COVID-19 pandemic in 2020, there has been a significant consumer shift toward veganism, with a 500% increase in veganism discovered when compared to 2014. Veganism is practiced by up to 6% of the US population, up from 1% in 2014. Furthermore, over 500,000 people signed up for the vegan challenge in 2021, which is 25% more than the challenge in 2020. There will only be 400,000 participants in 2020. Moreover, retail sales of plant-based food in the U.S. have increased at a promising rate over the last three years. This demonstrates that the consumer shift toward plant-based or vegan products is increasing and will continue to be positive in the future. As a result, demand for vegan chocolate confectionery will rise in the future as more people are willing to experience the taste of vegan or plant-based confectionery, which is propelling the market growth. Furthermore, key players are entering the vegan market and introducing vegan products. For instance, The Hershey Company introduced a new line of vegan chocolates in 2021 to cater to the growing vegan population.
The expansion of sales channels is a significant element contributing to the chocolate confectionery market growth, and one of them is the online retail platform, which is also the fastest-growing category. Many retail companies are currently operating web-based retail shops where shoppers can learn more about businesses and their items. The availability of different product selections and price comparison on internet platforms is also increasing the number of people who purchase online. This is advantageous to major players since it eliminates the need for physical outlets or stores while also allowing buyers to read reviews offered by other users and compare various stores, goods, and prices of different vendors for the specific candy. Furthermore, according to World Bank data, in the year 2020, North America will be the leader with about 88.4% of the population being internet users, followed by Europe and Central Asia with approximately 83.9% of the population being internet users. Amazon.com and Flipkart.com are two major online merchants in the chocolate candy business. Furthermore, in addition to sales channels, product availability is increasing in convenience stores and local shops in small towns, propelling market expansion.
The chocolate confectionery market is segmented on the basis of product type, price point, age group, distribution channel, and region. Depending on product type, the market is classified into dark chocolate, milk chocolate, and white chocolate. By price point, it is segregated into the economy, mid-range, and luxury. Depending on age group, it is segregated into children, adult, and geriatric. By distribution channel, it is categorized into supermarkets/ hypermarkets, convenience stores, pharmaceuticals & drug stores, specialty stores, duty-free stores, e-commerce, and others. Region-wise, it is analyzed across North America (the U.S., Canada, and Mexico), Europe (Germany, France, the UK, Italy, Spain, and rest of Europe), Asia-Pacific (China, India, Japan, South Korea, Australia, and rest of Asia-Pacific), and LAMEA (Brazil, Saudi Arabia, South Africa, Turkey, and rest of LAMEA).
On the basis of product type, the milk chocolate segment gained a major share in the global market in 2021 and is expected to sustain its market share during the forecast period as Milk chocolate is the most popular type of chocolate in the world. Milk chocolate melts faster than dark or white chocolate and has a lighter hue and creamier texture. Milk chocolate is a sort of solid chocolate that is made with pure milk or milk available in different forms, including powdered milk, liquid milk, and condensed milk. Worldwide, milk chocolate is offered in several formats, including boxes, countlines, molded bars, seasonal chocolates, straight lines, and others. Customers' taste preferences are changing, thus consumers are indulging to spend on decadent things developed with new concepts and healthy components.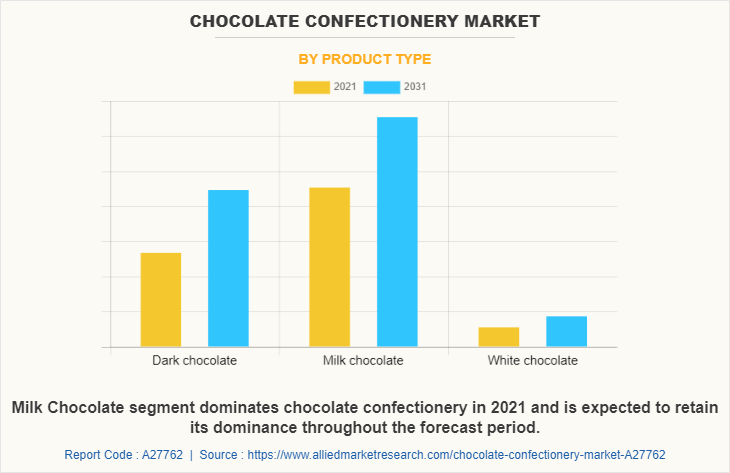 According to the chocolate confectionery market demand, on the basis of price point, the economy segment gained a major share in the global market in 2021, and is expected to sustain its market share during the forecast period. The economy segment is the most popular price point. In most markets, value is a trending topic. In the U.S., for instance, around 79% of confectionery customers search for a good deal when purchasing chocolate. The value component is especially important in developing nations. In Western countries such as the UK and the U.S., a bar of chocolate (45 grams) accounted for much less than 1% of the weekly shopping budget, whereas in India, the same bar accounted for 18% of the weekly food allocation. Despite rising discretionary income in both developing and developed countries, a sizable proportion of buyers continue to choose the cheapest choice on the market. As a result, the bulk of confectionery items appeals to huge populations in the economy sector.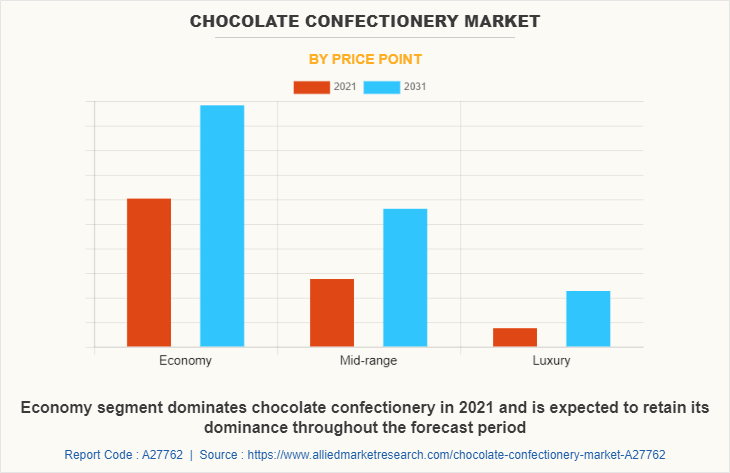 On the basis of age group, the adult segment gained a major share in the global market in 2021 and is expected to sustain its market share during the forecast period. The adult segment is the most popular age group as adults prefer to experience and taste different types of chocolate confectionery products available. The latest trend in the confectionery industry for adults includes clean labels and functional ingredients. Furthermore, local & authentic sourcing of ingredients and the use of trendy ingredients (such as quinoa in chocolate candy) are used by chocolate confectionery manufacturers as means to attract adults' attention. Furthermore, the availability of sugar-free chocolate has gained greater significance in the industry, owing to health concerns over snacking calories and sugar consumption. Therefore, chocolate marketers are not only innovating fun and flavorful products but also modernizing them with non-caloric sweeteners to encourage adults to go for the confectionery products.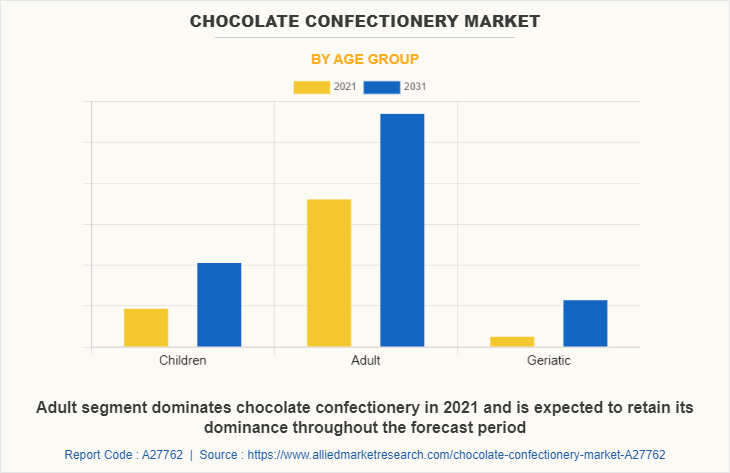 On the basis of distribution channel, the supermarkets/hypermarkets segment accounted for around 40% of the global market share in 2021 and is expected to sustain its share during the forecast period. Supermarkets/hypermarkets offer a convenient experience of diverse shopping under a single roof to consumers. Supermarkets/hypermarkets provide consumers a premium advantage, i.e., higher availability of chocolate confectionery products at discounts, the assistance of sales representatives, and easy checkouts. These advantages are expected to drive the growth of supermarkets/hypermarkets during the forecast period.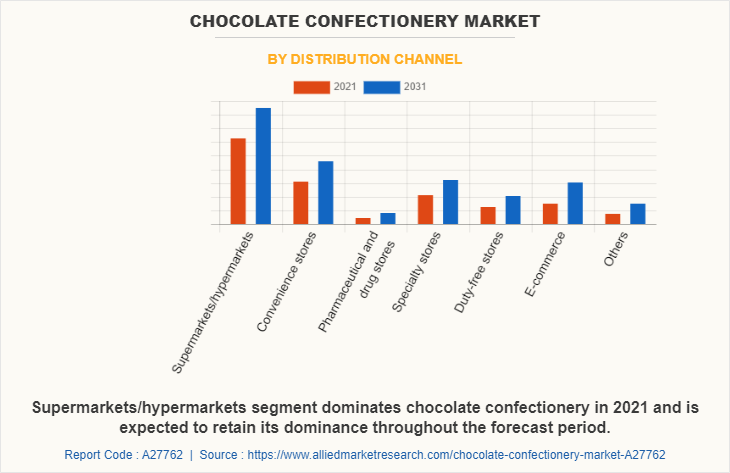 On the basis of region, Europe dominated the chocolate confectionery market in 2021 and is expected to remain dominant during the chocolate confectionery market forecast period. The dominance is largely attributed to deep product knowledge among consumers and an increase in the consumption of different types of chocolate confectionery by the local population. Due to the growing popularity of premium chocolates and handmade artisan confectioneries, chocolate confectionery is in great demand throughout Europe. The surge in demand for chocolate confectionery in Europe can be ascribed to changes in lifestyle and a greater desire to sample distinctive chocolate sweets. Europe is a major consumer of chocolate confectionery items. Furthermore, the trend of giving confectionery items, such as personalized chocolates, chocolate bouquets, exotic flavored chocolates, and others, has aided in propelling the growth of the European market. While chocolate manufacturers in Europe are always developing new engagement strategies to attract customer attention since chocolate and confectionery items are frequently purchased on impulse.
Players operating in the global chocolate confectionery industry have adopted various developmental strategies to expand their chocolate confectionery market share, increase profitability, and remain competitive in the market. Key players profiled in this report include Barry Callebaut, Chocoladefabriken Lindt & Sprüngli AG, Delfi Limited, Ferrero International S.A, Lotte Corporation, Mars, Incorporated, Mondelez International, Inc, Nestle S.A, Perfetti Van Melle, and The Hershey Company.
Key Benefits For Stakeholders
This report provides a quantitative analysis of the market segments, current trends, estimations, and dynamics of the chocolate confectionery market analysis from 2021 to 2031 to identify the prevailing chocolate confectionery market opportunities.
The market research is offered along with information related to key drivers, restraints, and opportunities.
Porter's five forces analysis highlights the potency of buyers and suppliers to enable stakeholders to make profit-oriented business decisions and strengthen their supplier-buyer network.
In-depth analysis of the chocolate confectionery market segmentation assists to determine the prevailing market opportunities.
Major countries in each region are mapped according to their revenue contribution to the global market.
Market player positioning facilitates benchmarking and provides a clear understanding of the present position of the market players.
The report includes an analysis of the regional as well as global chocolate confectionery market trends, key players, market segments, application areas, and market growth strategies.
 Chocolate Confectionery Market Report Highlights
Aspects
Details
Market Size By 2031
USD 118.6 billion
Growth Rate
CAGR of 4%
Forecast period
2021 - 2031
Report Pages
335
By Product Type

Dark chocolate

Sub type

45%-65% cocoa
65%-80% cocoa
80% and above cocoa

Milk chocolate
White chocolate

By Price point
By Age Group
By Distribution channel

Supermarkets/hypermarkets
Convenience stores
Pharmaceutical and drug stores
Specialty stores
Duty-free stores
E-commerce
Others

By Region

North America (U.S., Canada, Mexico)
Europe (Germany, France, UK, Italy, Spain, Rest of Europe)
Asia-Pacific (China, India, Japan, South Korea, Australia, Rest of Asia-Pacific)
LAMEA (Brazil, Saudi Arabia, South Africa, Turkey, Rest of LAMEA)

Key Market Players
Ferrero International S.A, Delfi Limited, Barry Callebaut, Nestle S.A, The Hershey Company, Mondelez International, Inc., Mars Incorporated, Chocoladefabriken Lindt and Sprüngli AG, Lotte Corporation, Perfetti Van Melle