Chondroitin sulfate also called as glycosaminoglycan sulfated glucose (GAG). Chondroitin sulfate is composed of long chain of alternating sugars including N-acetylga-lactosamine and glucuronic acid. This chemical compound is an essential component of the extracellular matrix made of many connective tissues, including bone, cartilage, tendons and ligaments. Chondroitin sulfate is commercially produced from various animal sources consisting pig, chicken, bovine, fish, shark, crocodiles and other animals. Chondroitin sulfate is recommended as a therapeutic intervention in multi-faceted treatment of Osteoarthritis management. It has shown positive outcomes in osteoarthritis of the finger, knee, hip joints, low back, facial joints and other diseases as it possesses anti-inflammatory properties and aids by offering resistance to compression, reduces pain in sore muscles and maintaining the structural integrity. Commercial applications continuously being explored in genetic engineering of biological tissues to accelerate the regeneration of damaged structure. It is an approved supplement in the U.S. for treatment of osteoarthritis. Regular intake of chondroitin sulfate contributes to smooth joint activities and enhanced joint function and applications extending to veterinary use.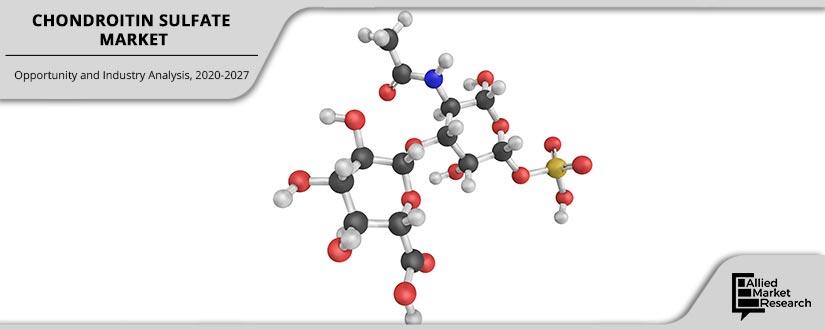 COVID – 19 scenario analysis:  
The COVID-19 pandemic has emerged as a humanitarian as well as economic crisis, creating strain on the society and affecting millions of people and businesses
Industry closures and people are asked to stay in their homes which has cause taken a huge toll in terms of money and economic growth
Over 4 million people affected globally, with 300 thousand losing their lives due to novel coronavirus
Healthcare organizations are already working in battle mode, preparing new plans to respond growing COVID-19 patients, right from sourcing rapid diagnosing kits to sufficient PPE kits for workers
Due to diversion of medical field towards treating COVID-19, the funding to R&D activities related to chondroitin sulfate has been reduced and this segment have to face negligence subsequently causing negative impact on chondroitin sulfate market
Top impacting factors: Market Scenario Analysis, Trends, Drivers and Impact Analysis
The rising number of patients suffering with osteoarthritis, extensive use of chondroitin sulfate in the treatment of osteoarthritis and various other ailments, wide range of application and growing demand for chondroitin sulfate in pharmaceutical industry are the key factors that would drive the market growth in years to come.  The other uses like thickeners, additives, preservatives and hygiene foods in dietary supplements and meat products in the form of sodium chondroitin sulphate, its extensive use in veterinary and animal feed due to its attribute to cure joint pain and arthritis in animals as well are further fueling the chondroitin sulfate market growth. The use of chondroitin sulphate in animal feed is further presenting a promising opportunity.
Developing economies like the U.S., United Kingdom, Germany and others have adopted chondroitin sulphate and is expected to have a positive impact on the market. Arthritis Research U.K., stated by 2035, around 8.3 million people belonging to age group 45 years and above could have knee osteoarthritis in UK. Favorable laws, increasing healthcare spending, advanced health infrastructure, increasing R&D operations in advanced countries are expected to surge the demand for chondroitin sulfate.
However, several side effects due to direct inhalation such as nausea, heartburn, diarrhoea and constipation would hamper the growth. In addition, tablets of chondroitin sulfate contain manganese in amounts which can cause hazardous effects on the body. These factors would cause hindrance in the market.
Rising incidences of osteoarthritis and wide applicability of chondroitin sulfate to propel market growth
The incidence of osteoarthritis is one of the major factors to fuel the market growth. 8.9 fractures are caused by osteoarthritis annually in the U.S. As per National Arthritis Statistics of U.S., in the year, around 55.6 million U.S. adults were diagnosed with some form of arthritis, gout, lupus, rheumatoid arthritis. The product chondroitin sulfate due to its attribute of slowing down the breakdown of cartilages and reduction in muscle pain, it is extensively used in treatment of osteoporosis thereby increasing the demand for the product all over the world. Chondroitin sulfate is used an alternative therapy in integration with several other drugs and therapies for treating osteoarthritis, cataracts and urinary tract infections as well as solution for preserving corneas used for transplants. Chondroitin sulfate orally consumed for treating HIV/AIDS, coronary diseases, heart ailments, flaky skin (psoriasis) and muscle soreness which are expected to surge the overall product demand during the forecast period.  It is usually used in combination with glucosamine to treat Osteoarthritis. Regulation of cell development, cell adhesion, proliferation, and differentiation are the key functions where chondroitin plays key role. It can also be used to enhance digestive function, improve the liver functioning, reduce blood sugar level and prevent tumor. Lotions, ointments and pharmaceutical infusions consisting of chondroitin sulfate are likewise utilized by individuals suffering from osteoarthritis. Around 20 million people are suffering from joint related ailments in the U.S. alone which would create immense opportunities of growth for chondroitin sulfate market. While as per AIHW in 2014-15, osteoarthritis affected more than 9% of the Australian population.
Rising demand in animal feed industry
Chondroitin sulfate is an essential bio-supplement in the animal feed industry as its consumption can help animals in avoiding and treating problems related to arthritis or hip dysplasia. Besides, it has several other health benefits. Veterinary supplements and animal feeds extensively include Chondroitin sulfate due to its health benefits. Chondroitin sulfate also aids in keeping pets active and healthy with as they ensure better joint mobility and functioning. For example, Zeria Group (ZPD) offers  a variety of several concentrations like different grades containing 20%, 40%, and 80% chondroitin sulfate for the manufacturers of pet food in accordance with the industry requirements.
Key benefits of the report:
This study presents the analytical depiction of the global chondroitin sulfate industry along with the current trends and future estimations to determine the imminent investment pockets.
The report presents information related to key drivers, restraints, and opportunities along with detailed analysis of the global chondroitin sulfate market share.
The current market is quantitatively analysed to highlight the global chondroitin sulfate market growth scenario.
Porter's five forces analysis illustrates the potency of buyers & suppliers in the market.
The report provides a detailed global chondroitin sulfate market analysis based on competitive intensity and how the competition will take shape in coming years.
Questions answered in the Chondroitin Sulfate Market research report:
Who are the leading market players active in the chondroitin sulfate market?
What are the current trends that will influence the market in the next few years?
What are the driving factors, restraints, and opportunities in the chondroitin sulfate market?
What are the projections for the future that will help in taking further strategic steps?
 Chondroitin Sulfate market - Global Opportunity Analysis and Industry Forecast, 2020-2027 Report Highlights
Aspects
Details
By Type

Capsule form
Tablet form
Powder form

By Sources

Bovine
Poultry
Porcine
Shark and Fish
Others

By End users

Pet food and veterinary supplements
Pharmaceutical and biotech companies
Cosmetics and personal care
Others

By Region

North America (US, Canada, Mexico)
Europe (France, Germany, UK, Italy, Spain, rest of Europe)
Asia-Pacific (Japan, China, India, Australia, South Korea, rest of Asia-Pacific)
LAMEA (Brazil, South Arabia, South Arica, rest of LAMEA)

Key Market Players
TSI Group, Synutra Ingredients, Pacific Rainbow International, Shandong Runxin Biotechnology, Bioiberica., Yantai Ruikangda Biochemical Products, Sioux Pharm, Summit Nutritionals International, S.A.U. Seikagaku Corporation