Cladding Market Overview:
Claddings Market are defined as a non-loadbearing skin or layer attached to the outside or inside of a building and includes all moisture barriers and siding materials used to cover the outside of a structure. Cladding systems provide versatile long lasting energy saving advantages, which are designed to meet the most demanding aesthetic and functional requirements. The choice of cladding is done based on a careful assessment and prioritization of each of these roles for each orientation of the building. By choosing cladding materials specific to an elevation or exposure, users can achieve the best in physical performance and aesthetics. Cladding is typically made from wood, metal, plastic (vinyl), masonry or an increasing range of composite materials.
The global claddings market was valued at $166,026 million in 2015 and is expected to garner $262,381 million by 2022 growing at a CAGR of 6.7%. The claddings market is largely driven by the rise in residential & commercial constructions, government regulations regarding zero energy buildings, and an increasing demand for sustainable cladding systems. However, the claddings market growth is restrained due to factors such as high material & installation costs and lack of skilled labor availability.
Segment Overview:
The global claddings market is segmented based on component type, material type, and end-use sector and by geography. Geographically, the market is analyzed across four regions, namely, North America, Europe, Asia-Pacific, and LAMEA along with their prominent countries. Component wise, the claddings market includes walls, roofs, windows & doors, and others (including rooflights, vents and gutters). Walls are the most dominant component type and constituted around 63.1% of the overall claddings market in 2015. The walls segment is projected to grow at the highest rate in the forecast period, owing to factors such as growing customer focus towards sustainable construction and improved focus on aesthetics of the buildings.
Based on material type, the global claddings market is segmented into masonry & concrete, brick & stone, stucco & EIFS, fiber cement, metal, vinyl, wood, and others. Vinyl is the most widely used material for making cladding systems and accounted for the largest share of the claddings market size in 2015. The dominance of vinyl cladding is due to its low-cost and easy availability, which makes it one of the most widely used materials for cladding systems globally. Fiber cement estimated to be the fastest growing material for claddings market.
The global claddings market based on end-users has been classified into residential and non-residential segments. The non-residential segment includes commercial buildings, public infrastructure, and industrial buildings. The non-residential segment dominated the market in 2015 accounting for around 61.6% of the overall claddings market size. Residential segment is projected to be the fastest growing end-user sector.
By geography, North America generated the maximum revenue, and is estimated to grow at a CAGR of 6.9%, followed by Asia-Pacific. Asia-Pacific region is estimated to grow at the fastest as the countries in this region are expected to achieve high growth in the construction sector, thus triggering a huge demand for cladding systems.
Global Claddings Market Segmentation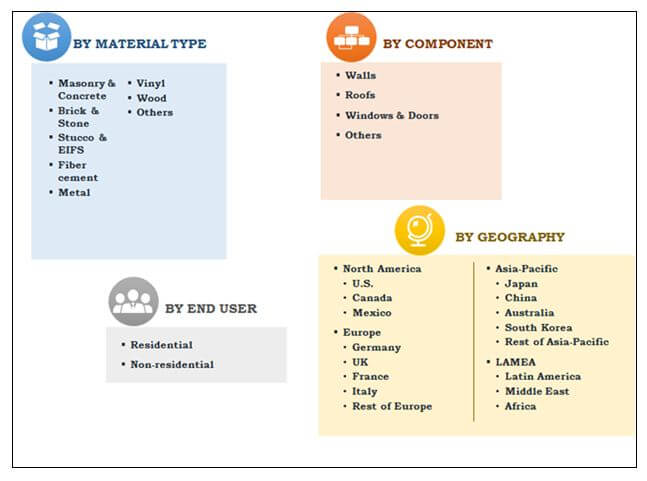 Top Impacting Factors for Global Claddings Market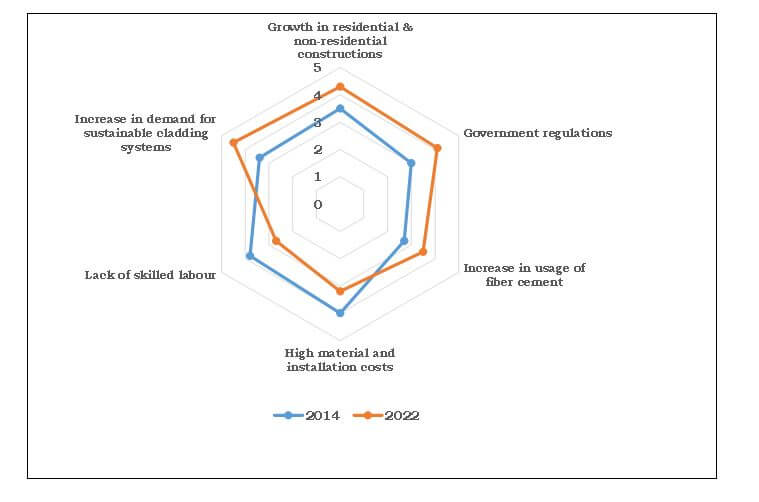 Growth in residential & non-residential constructions:
The growing construction sector across the globe will have a significant impact on the growth of the claddings industry. The global construction output is expected to grow by 85% by 2030, creating a market of around $15.5 trillion. The major growth of the construction sector is expected in emerging countries in the Asia-Pacific and LAMEA regions. Claddings play a key role in improving the aesthetics, energy efficiencies, and weatherability, which have increased their adoption.
Government regulations:
Many governments' across the globe have formulated several initiatives, which aim to reduce the total amount of energy used by buildings on an annual basis. These strategies play a key role for the claddings industry as cladding systems have a significant effect in improving the overall performance of the buildings by providing excellent thermal efficiency, which helps in improving the building efficiency thereby cutting down the energy costs.
Increase in usage of fiber cement:
Fiber cement in commercial and residential construction is primarily used for cladding, molding & trimming, and for other applications. The usage of fiber cement as a cladding material has witnessed a significant growth over the last few years. This increase of fiber cement as a cladding material is due to its ability to improve the buildings' sustainability. Fiber cement is widely available from renewable sources and has high tensile strength and is relatively low cost. Although fiber cement presently accounts for only for minor share of the claddings market, its adoption is expected to increase over the forecast period.
High material and installation cost:
The cost of installation of claddings from certain materials such as concrete can increase the overall construction costs. In some cases the installation of claddings takes long period of time thereby increasing the labor costs. The impact of this factor is presently moderate, but it is expected to decrease over the forecast period.
Key players profiled in the report include Acme Brick Company, Alcoa Inc., Axiall Corporation, Boral Limited, CSR Limited, Etex Group, Armstrong Metalldecken AG, James Hardie Plc, Nichiha Corporation, and Tata Steel Limited.
Key Benefits
This study provides an in-depth analysis of the global claddings market, along with current trends and future estimations to identify the potential investment pockets.
Key drivers, restraints, and opportunities and their impact analysis are elucidated in the report.
Porter's Five Forces analytical model illustrates the competitiveness of the claddings industry by analyzing various parameters such as threat of new entrants, threat of substitutes, strength of the buyers, and strength of the suppliers.
Quantitative analysis of the current market and estimations from 2014 to 2022 is provided to highlight the financial competency of the market.
Cladding Market Key Segmentation
The global claddings market is segmented on the basis of component type, material type, end-use sector, and geography.
By Component Type
Walls
Roofs
Windows & doors
Staircase
Others
By Material Type
Masonry & concrete
Brick & stone
Stucco & EIFS
Fiber cement
Metal
Vinyl
Wood
Others
By End-user
Residential
Non-residential
By Geography
North America
Europe

UK
Germany
France
Italy
Rest of Europe

Asia-Pacific

China
Australia
Japan
South Korea
Rest of Asia-Pacific

LAMEA

Middle East
Latin America
Africa
Key Players
Acme Brick Company
Alcoa Inc.
Axiall Corporation
Boral Limited
CSR Limited
Etex Group
Armstrong Metalldecken AG
James Hardie Plc
Nichiha Corporation
Tata Steel Limited
Other Players Mentioned in the Report
The other companies mentioned in the report include A. Steadman & Sons, C A Building Products and Metal Technology.