Client Virtualization Market Outlook: 2025
Client virtualization is a technology used to isolate a computer desktop environment from a physical computer. It is a type of client-server computing model, which stores virtualized apps and desktop on a centralized server rather than the physical machine. Client virtualization covers three major types of solutions including desktop virtualization, application virtualization, and presentation virtualization. The global client virtualization market size was valued at $4,222 million in 2017 and is projected to reach $10,113 million by 2025, registering a CAGR of 11.8% from 2018 to 2025.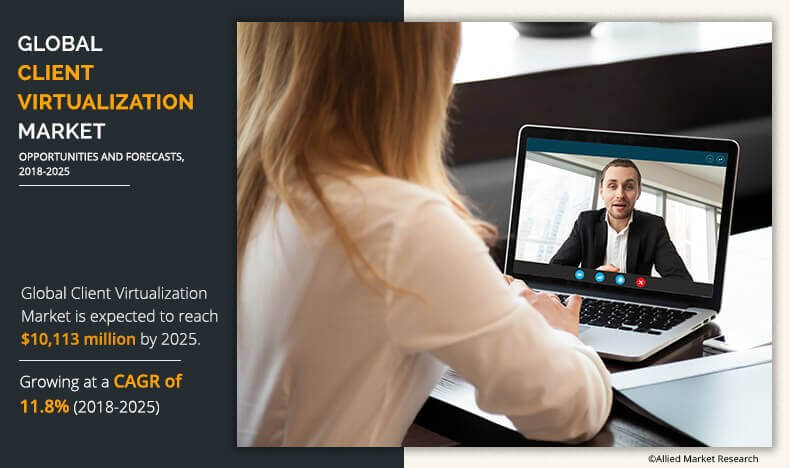 The desktop virtualization segment dominated the overall market in 2017 and is expected to maintain its dominance in the near future, owing to its significant benefits in improving productivity and reducing costs. Moreover, application virtualization is expected to attain the highest growth rate during the forecast period.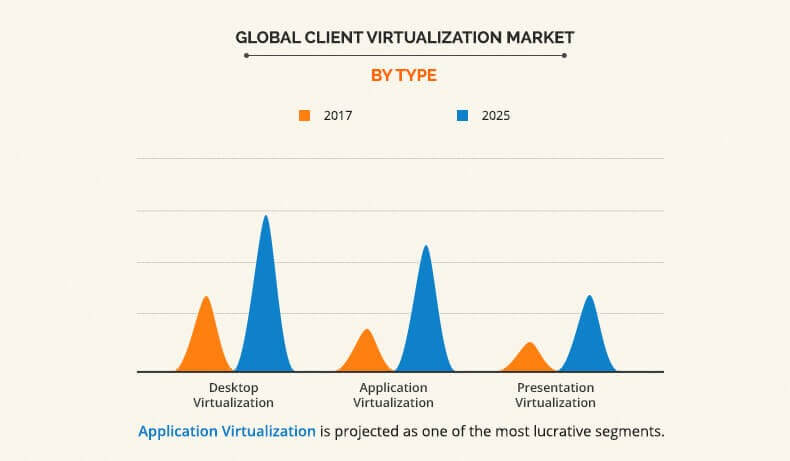 The IT & telecom segment dominated the overall client virtualization market share in 2017, owing to significant adoption of these solutions among enterprises to reduce IT costs and need of better management and accessibility. However, the healthcare segment is expected to witness highest growth rate, due to in the ongoing trend of digitalization among institutions, which augments the need for client virtual solutions.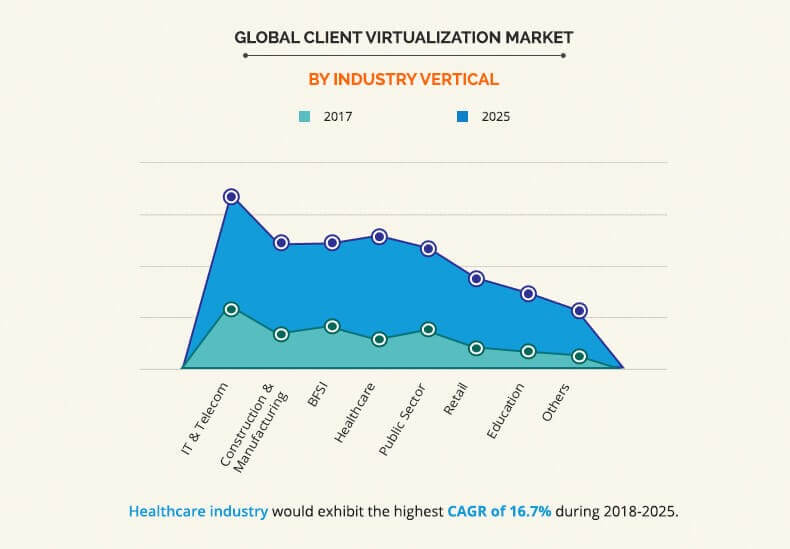 North America governed the overall market in terms of revenue in 2017, owing to the significant adoption of client virtualization solutions supported by high IT spending among different organizations and high demand for better desktop management across the region. However, Asia-Pacific is expected to witness the highest growth rate during the forecast period, owing to factors such as rise in IT spending and increase in adoption of BYOD across industries.
The report focuses on drivers and restraints of the market based on the analysis of regional trends. Moreover, the study includes the Porter's five forces analysis of the industry to understand the impact of various factors such as bargaining power of suppliers, competitive intensity of competitors, threat of new entrants, threat of substitutes, and bargaining power of buyers on the growth of the market.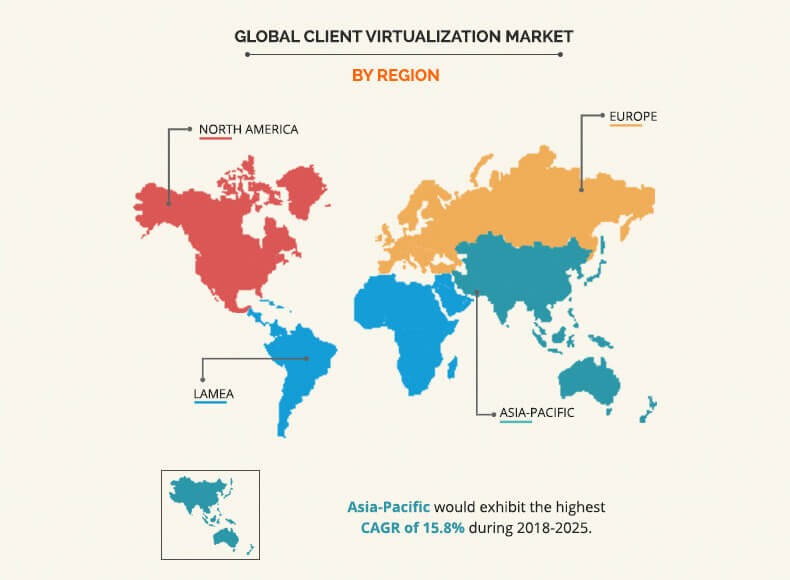 Segment review
The global client virtualization market is segmented based on type, organization size, industry vertical, and region. Based on type, it is categorized into desktop virtualization, application virtualization, and presentation virtualization. Based on organization size, the market is divided into large enterprises and small- and medium-sized businesses (SMBs). Based on industry vertical, it is segmented into IT & telecom, construction & manufacturing, BFSI, healthcare, public sector, retail, education, and others.
The key players operating in the global client virtualization market include Cisco Systems, Inc., Citrix Systems, Inc., Huawei Technologies Co., Ltd., IBM Corporation, Microsoft Corporation, Oracle Corporation, Parallels Inc., Red Hat, Inc., Toshiba Corporation, and VMware, Inc.
Top impacting factors
The growth of the global client virtualization market is driven by increase in need to boost efficiency of employees, rise in adoption of BYOD, enhancement in data security, and increase in cost-savings associated with client virtualization solutions. However, performance and compatibility issues of client virtualization solutions hamper the market growth during the forecast period. These factors collectively provide opportunities for the market growth. However, each factor has its definite impact on the client virtualization market.
Growing need to increase employees' efficiency
With increase in mobile workforce, employees need seamless access to data round the clock. Thus, with the implementation of client virtualizations, organizations can ensure that employees experience the same computing experience anywhere and anytime across the globe. For instance, the essential structure of a VDI is centrally generated, administrated, and delivered over a network to each of its users, which reduces the computing load on local clients and improves overall efficiency. In this era of competition, companies are focusing on boosting productivity at workplaces using various software and tools, especially client virtualization solutions. Employees who have access to such tools can securely access their corporate virtual desktops and data from a remote location. Moreover, a VDI client capable of providing a richer desktop experience as compared to a typical mobile device and enables its employees to access specialized applications. Such solutions have a host of benefits such as increase in productivity for organizations, better accessibility for employees, and less labor-intensive for IT administrators for managing systems.
Cost savings associated with client virtualization solutions
Client virtualization reduces the time required for provisioning new applications and desktops as well as decreases the cost associated with desktop management and other support. According to industry experts, PC hardware and software management accounts for 50–70% of the total cost of ownership (TCO) of a system. These companies have started adopting client virtualization, especially virtual apps and desktops to cut IT labor costs. Using virtualization, apps and desktops are now centrally managed in the data center instead of the traditional approach of using individual endpoint devices. Once the deployment of virtualization technology is done among businesses, applications and desktops can be effectively managed from any location across the globe. Furthermore, according to experts, virtualized desktops and apps have helped them to reduce their desktop management budget by 40%, which is a significant indicator of cost savings associated with client virtualization solutions.
Increased market for workspace-as-a-service
The adoption of workspace-as-a-service (WaaS) among enterprises has increased in recent years and is expected to maintain this growth trend in the forthcoming years. This technology is a type of virtual desktop that enables access to office applications and data from anywhere. This trend has led to the paradigm shift in preference for cloud-based "as a service" solutions over on premise (servers or workstations) among organizations. These solutions have helped solve the issue of geographical accessibility of employees and increase their productivity. Thus, increased adoption of WaaS among end users is expected to create significant opportunities for the client virtualization market in future.
Key Benefits for Client Virtualization Market:
This study presents the analytical depiction of the global client virtualization market along with the current trends and future estimations to determine the imminent investment pockets.
The report presents information related to key drivers, restraints, and opportunities.
The current market is quantitatively analyzed for the period of 2017–2025 to highlight the financial competency of the industry.
Porter's five forces analysis illustrates the potency of buyers & suppliers in the global client virtualization industry.
 Client Virtualization Market Report Highlights
Aspects
Details
By Type

Desktop Virtualization
Application Virtualization
Presentation Virtualization

By Organization Size
By Industry Vertical

IT & Telecom
Construction & Manufacturing
BFSI
Healthcare
Public Sector
Retail
Education
Others

By Region

North America (U.S., Canada)
Europe (UK, Germany, France, Rest of Europe)
Asia-Pacific (China, India, Japan, Rest of Asia-Pacific)
LAMEA (Latin America, Middle East, Africa)

Key Market Players
Huawei Technologies Co., Ltd., Parallels International GmbH., Red Hat, Inc., Oracle Corporation, VMware, Inc., Cisco Systems, Inc., Citrix Systems, Inc., Toshiba Corporation, IBM Corporation, Microsoft Corporation