A clinical decision support system (CDSS) with the use of various data such as patient information and records, targeted clinical data and other health information aims to enhance healthcare experience and delivery by assisting in critical medical decisions making. CDSS has evolved on the way right from 1970s. The prior versions of CDSS were involved in direct clinical decision making wherein, the data related to patient was matched and compared with the industry standards by the software to give recommendations, thus aiding the physicians and healthcare professionals in clinical decision making. While the modernized CDSS available currently are used at point-of-care and integrates expertise and knowledge of the clinicians and information or suggestions for a particular situation. Efforts to develop CDSS capable of analyzing and interpreting loads of data which is beyond human capabilities are being made. CDSS consists of various tools that offer revised, targeted sets of data specific to a human or situation to the clinicians. It is implemented in healthcare scenario to increase the efficiency and reduce errors and faults.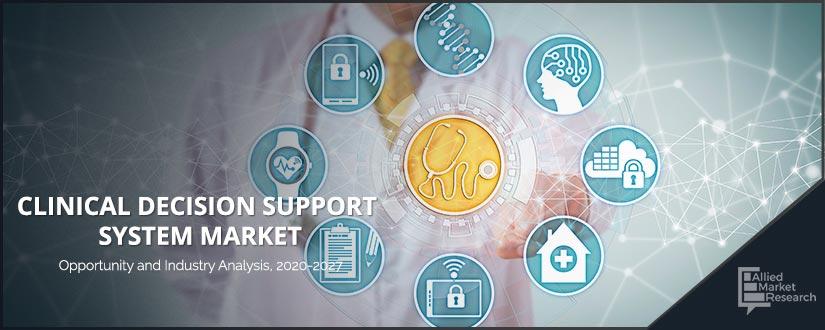 COVID – 19 scenario analysis:  
The COVID-19 pandemic has emerged as a humanitarian as well as economic crisis, creating strain on the society and affecting millions of people and businesses
Industry closures and people are asked to stay in their homes which has cause taken a huge toll in terms of money and economic growth
Over 4 million people affected globally, with 300 thousand losing their lives due to novel coronavirus
Healthcare organizations are already working in battle mode, preparing new plans to respond growing COVID-19 patients, right from sourcing rapid diagnosing kits to sufficient PPE kits for workers
However, CDSS can be of great importance in this COVID-19 pandemic period as they would help the healthcare authorities, professionals and clinicians in taking various clinical decisions using prior experience, knowledge, data and suggestions provided by CDSS
In order to distress the healthcare providers and increase efficiency, governments are implementing CDSS in COVID-19 related healthcare services 
Top impacting factors: Market Scenario Analysis, Trends, Drivers and Impact Analysis
Technological advancements and integration of disciplines like biotechnology and information technology (IT) i.e. bioinformatics has paved way for implementation of data optimization for data analytics, data storage and management. Numerous innovations supported by investments in R&D activities have provided solutions for big data handling and its efficient use in healthcare sector. Implementation of cloud computing supplemented by interoperating systems will further enable smooth function and efficient usage of data which will lead to significant increase in the demand for CDSS in the global market.
Rising geriatric population, increasing number of hospitals and healthcare service providers integrating different types and forms of CDSS at various levels to benefit due to its assistance and expertise in clinical decision making. Demand for support based decision making has also increased in recent times as it minimizes the risk and errors which may affect the outcome. Furthermore, CDSS ensures smooth administration of number of patients visiting hospitals and healthcare facilities regarding maintenance and management of data entry, storage and collection. These factors would fuel the growth of CDSS in the market in the near future. In recent times, there has been increasingly importance given to precision medicine and customization in therapeutic treatment as well as quality care wherein CDSS comes in the frame and aids in providing customization efficiently by accessing clinical records, history and patient data rapidly and offer target-specific suggestion with use of Electronic Health Record (EHR). This will surge the demand of CDSS in the market.
However, regardless of all the attributes it possesses, the clinical decision support systems are often criticized when it comes to issues regarding data privacy and need of technically qualified and skilled staff to implement the CDSS and resolve related issues. Thee input data required by CDSS to perform optimally needs to be accurate and specific, however the patient data available is unspecific and needs extra efforts for filtering and revising the data. As a result, lack of awareness, data privacy related issues, improper handling of the system, inadequate skilled professional are expected to create hamper the growth of market.
Increasing prevalence of diseases and healthcare expenditure
According to the statistics published by world health organization (WHO), there has been immense increase in chronic diseases worldwide. In 2001, chronic diseases accounted for almost 60% of the 56.5 million reported deaths with approximately 46% of the burden of disease worldwide. Non-communicable diseases (NCDs) are expected to increase upto 57% by 2020. The geriatric population is expected to rise by 22% by the year 2050, according to WHO. In addition, Organization for Economic Co-operation and Development (OECD) survey report, stated in 2018 average per capita health expenditure in the U.S. was about $ 10,586. These factors, collectively would create immense opportunities for growth of CDSS in the global clinical decision support system market. 
The efforts taken to standardize and bring down the cost of healthcare services, need for enhancing the quality of healthcare services, increasing incidences of chronic diseases and growing acceptance of supported decision making are factors that would facilitate the clinical decision support system market growth.
Recent technological advancements to boost the growth
Ongoing R&D activities and high expenditure in developing solutions related to CDSS would propel the growth of CDSS market. The US Food and Drug Administration (FDA) in 2018, announced clearance for marketing of Viz.AI's Contact application. It is an artificial intelligence-based clinical decision support system, first of its kind and is designed to assess CT scan results. At University of Pennsylvania, a group of scientists developed a CDSS tool reduces with ability to reduce time consumed for diagnosis of a life threatening infection sepsis, by 12 hours, which would prove clinical in saving lives of thousands of individuals. Apple in 2018, made announcement of 39 health systems entering into partnership to access patient's health related data using Electronic Health Record (EHR) data viewer allowing these companies to access data using Apple devices and platforms.  The revised patient data would be used on clinical decision making and also notify patients regarding medical information provided by various organizations. 
Key benefits of the report:
This study presents the analytical depiction of the global clinical decision support system industry along with the current trends and future estimations to determine the imminent investment pockets.
The report presents information related to key drivers, restraints, and opportunities along with detailed analysis of the global clinical decision support system market share.
The current market is quantitatively analysed from 2020 to 2027 to highlight the global clinical decision support system market growth scenario.
Porter's five forces analysis illustrates the potency of buyers & suppliers in the market.
The report provides a detailed global clinical decision support system market analysis based on competitive intensity and how the competition will take shape in coming years.
Questions answered in the Clinical Decision Support System Market research report:
Who are the leading market players active in the clinical decision support system market?
What are the current trends that will influence the market in the next few years?
What are the driving factors, restraints, and opportunities in the clinical decision support system market?
What are the projections for the future that will help in taking further strategic steps?
 Clinical Decision Support System Market Report Highlights
Aspects
Details
By Type

Knowledge based CDSS
Non-knowledge based CDSS

By Modes of Deployment
By Products

Integrated System
Stand-alone System
Standard-based
Service Model-based
Other Products

By Applications

Medical Diagnosis
Prescription Decision Support
Information Retrieval
Therapy Planning and Assessment
Other Applications

By Region

North America (US, Canada, Mexico)
Europe (France, Germany, UK, Italy, Spain, rest of Europe)
Asia-Pacific (Japan, China, India, Australia, South Korea, rest of Asia-Pacific)
LAMEA (Brazil, South Africa, South Arabia, rest of LAMEA)

Key Market Players
Meditech, Cerner Corporation, Epic Systems Corporation, Allscripts, Mckesson, Philips Healthcare, Wolters Kluwer Health, Hearst Health, Elsevier B.V, IBM.