Clinical Nutrition Market Overview:
The global clinical nutrition market size was valued at $32,495.97 million in 2020, and is projected to reach $51,128.26 million by 2028, registering a CAGR of 6.1% from 2021 to 2028.
Enteral nutrition segment is expected to witness growth owing to its wide application in COVID 19 treatment.
Clinical nutrition product is a type of pharmaceutical product that helps to keep a patient healthy. It helps to improve the metabolic system by providing adequate supplements such as minerals, vitamins, and others. Clinical nutrition diagnosis and treat diseases that affect the intake, intestinal absorption, and metabolism of constituents of the diet, and help promote health through prevention of diet-related diseases. It works in both acute and ambulatory care settings, which includes cardiac rehabilitation, renal dialysis, diabetes, pediatrics, nutrition support, cancer, trauma, wellness centers, and community-based intervention programs.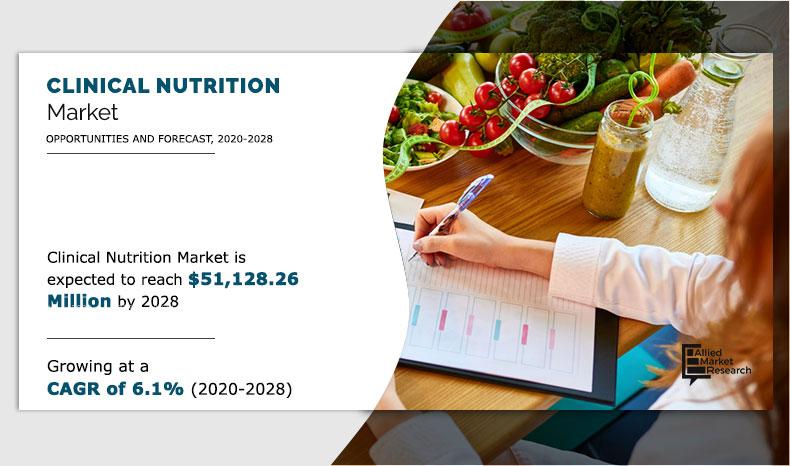 The COVID-19 pandemic is expected to have a strong influence on the clinical nutrition products market, as the demand for nutritional management, particularly among children and older population, continues to witness consistent growth. The demand for clinical nutrition products amid the ongoing COVID-19 crisis is on the rise, as consumers are seeking various immunity-boosting alternatives to prevent being infected from the novel coronavirus. The onset of pandemic, older people and patients are at the risk of malnutrition. The infection also causes a serve lack of appetite, along with other symptoms such as anosmia dysgeusia, or diarrhea, both of which raise the risk of disease related malnutrition. Acute malnutrition caused by COVID-19 infection led to increase in loss of muscle mass and a deterioration of immune defenses.
Moreover, some of the medication used in treating malnutrition can exacerbate the effects caused by Covid-19, which can enhance the demand for the clinical nutrition market. Hence, the clinical nutrition market is negatively impacted by the COVID-19 pandemic.
The growth of the global clinical nutrition market is majorly driven by rise in prevalence of metabolic disorders, high spending on healthcare, and the rise of the middle class in emerging economies. Further, the growing number of elderly population and development of clinical nutrition products specific to ageing population is expected to thrive the market growth. However, certain restraints such as lack of awareness for clinical medical nutrition and stringent regulations, are hampering the market growth for clinical nutrition. 
By route of administration, the clinical nutrition market is segmented into oral, Enteral and Parental. Further, by application, it is divided into cancer, neurological disorders, metabolic disorders, gastrointestinal disorders and others. By end user, it is segregated into pediatric, adults, and geriatric. By region, the market is analyzed across North America, Europe, Asia-Pacific, and LAMEA. The North America clinical nutrition market accounted for the largest share in 2020 followed by Europe; however, the Asia-Pacific region is anticipated to grow with the highest CAGR 7.20% during the forecast period. 
Route of Administration segment review
By route of administration, the oral segment held the largest share in 2020 and is anticipated to maintain its dominance during the forecast period, owing to increase in malnourished patients who have malignancy, chronic disease, and/or anorexia and increase in incidences of chronic diseases such as cancer, gastrointestinal disorders and metabolic disorders provides lucrative growth opportunities for oral clinical nutrition market. Further, the enteral segment is estimated to be the fastest growing segment at a CAGR of 7.30% during the forecast period.
Clinical Nutrition Market

---
By Route Of Administration
Oral Clinical Nutriton segment holds a dominant position in 2020 and would continue to maintain the lead over the forecast period.
Application segment review
On the basis of application, the cancer segment is expected to register highest CAGR of 10.50% during the forecast period, owing to increase in number of people suffering from chronic conditions such as cancer and diabetes coupled with growing geriatric population base, is expected to drive the market over the forecast timeframe. Rising incidences of chronic diseases have stimulated growth in clinical nutrition prescriptions as patients suffering from such conditions are deprived of few essential nutrients. Moreover, increasing obese population due to unhealthy dietary habits as well as physical inactivity will propel the industry growth.
Clinical Nutrition Market

---
By Application
Cancer Segment is projected as one of the most lucrative segment.
Region segment review
By region, North America accounted for the largest share in 2020, and is anticipated to maintain its dominance from 2021 to 2028, due to high expenditure on R&D, presence of major players & their product availability, and well-established healthcare infrastructure in the region. However, Asia-Pacific is expected to register the highest CAGR during the forecast period, as Governments of Asian countries are investing in the development of healthcare infrastructure.
Clinical Nutrition Market

---
By Region
Asia Pacific region would exhibit the highest CAGR of 7.20% during 2020-2028.
Some of the key players operating in the global clinical nutrition market include Abbott Laboratories, B. Braun Melsungen AG, Danone Nutricia, Baxter International Inc., Fresenius SE & Co. KGaA, Perrigo Company Plc, Pfizer Inc., Lonza Ltd, Nestlé S.A., and Hero Nutritionals Inc.
Key Benefits For Stakeholders
This report entails a detailed quantitative analysis along with the current global clinical nutrition market trends from 2020 to 2028 to identify the prevailing opportunities along with the strategic assessment.
The clinical nutrition market forecast is studied from 2021 to 2028.
The market size and estimations are based on a comprehensive analysis of key developments in the clinical nutrition industry.
A qualitative analysis based on innovative products facilitates strategic business planning.
The development strategies adopted by the key market players are enlisted to understand the competitive scenario of the clinical nutrition market.
 Clinical Nutrition Market Report Highlights
Aspects
Details
By ROUTE OF ADMINISTRATION
By APPLICATION

Cancer
Neurological Diseases
Gastrointestinal Disorders
Metabolic Disorders
Others

By END USER

Pediatric
Adults
Geriatric

By Region

North America (U.S., Canada, Mexico)
Europe (France, Germany, Italy, Spain, UK, Russia, Rest of Europe)
Asia-Pacific (China, Japan, India, South Korea, Australia, Thailand, Malaysia, Indonesia, Rest of Asia-Pacific)
LAMEA (Brazil, South Africa, Saudi Arabia, UAE, Argentina, Rest of LAMEA)

Key Market Players
PERRIGO COMPANY PLC, HERO NUTRITIONALS INC., PFIZER INC., NESTLÉ S.A., BAXTER INTERNATIONAL INC., LONZA LTD., ABBOTT LABORATORIES, FRESENIUS SE & CO. KGAA, .B. BRAUN MELSUNGEN AG, DANONE NUTRICIA