Clinical trials are research studies performed in a group of people called sample that are aimed at evaluating a medical, surgical, or behavioral intervention. It is a primary way for researchers to measure safety, efficacy, side effects and positive effects of new treatment, new drug, medical device or test cancer therapies, treatments for cardiovascular disease, the safety and efficacy of new therapies and a number of other conditions on sample. Clinical trials are sponsored and funded by government agencies, institutions, hospitals, physicians, pharmaceutical or biotechnology companies, advocacy groups, or other organizations. It is a crucial step before launching a new drug or product into market. One important factor in successfully conducting clinical studies is the efficient management of clinical trial supplies, particularly for those complex studies requiring detailed monitoring, precise planning, and coordination between many players. Demands for increasingly complex and expensive clinical trials have forced drug developers to look to supply service providers to source clinical trial materials and deliver them to operational sites.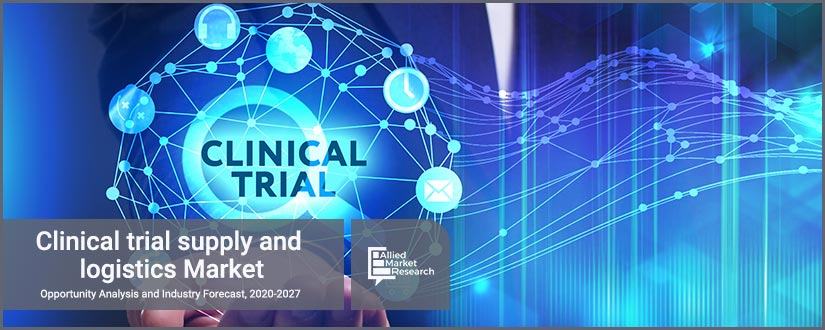 COVID – 19 scenario analysis:  
Due to the ongoing COVID – 19 pandemic, more than to four million infected people and the affected economies continue to struggle, as COVID-19 has impacted several industries including clinical trails supply and logistics  as well 
With flights grounded and businesses at loss, the participants of trials are not leaving their homes has made continuing clinical trials extremely difficult 
A report published recently, in which nearly 30 percent of surveyed clinical trial sites, said that the novel coronavirus will have a huge impact on their ability to recruit patients for new trials and to keep patients enrolled for in-progress trials intact with their study schedules 
The same report highlighted 56% of U.S. clinical research study sites and 81 percent of European sites indicated already-enrolled patients are probably not willing to continue in clinical trials and this discontinuation would affect the clinical trial supply and logistics as well 
As of March 30, 2020; nearly 30 biotech and pharma companies have reported a disruption to clinical trials and its supply and logistics as a result of the crisis
Top impacting factors: Market Scenario Analysis, Trends, Drivers and Impact Analysis
Demand for biological and orphan drugs will be one of the factors that drive the clinical trial supply and logistics market. There is rise in development of new drug, therapies and medical devices which is going to supplement the growth of the market. Technological advances occurring in pharmaceutical and biologics, especially in areas of testing and development of new medical procedures, products, drugs and experiments, is heavily responsible for driving the global clinical trial supply and logistics market. Furthermore, many companies are immensely investing to bring advanced logistics and technologies in clinical trial activities in cycle, consequently spiking supply of the necessary equipment. In addition to this, several governments are encouraging to carry out ethical clinical trial activities which will lead to the betterment of mankind. Thus, the global clinical trial supply and logistics market is expected to expand with immense growth in near future. Simultaneously, the increasing emphasis by the manufacturers towards minimizing overage incidences and avoiding shortages, optimizing production and packaging, and balancing shipment and supply costs are increasing the demand for efficient clinical trial supply and logistics. On the contrary, high expenses in arranging for patients, equipment needed to carry on ethical clinical trials and lack of necessary expertise to execute such activities as well as time consumption are the major factors hampering the clinical trial supply and logistics market. Many players wiling to expand into unexplored market would be likely facing these issues.
Increasing innovations in Clinical trial supply and logistics
The supply and logistics provider as well as pharmaceutical and biotech firms engaged in coming up with alternative site solutions and utilizing more innovative approaches are critical to keeping trials moving forward to prevent delays in therapies and ultimately, to the patients who can benefit from them. This pandemic has been the first time there has been a global disruption to traditional onsite clinical trials. The U.S Food and Drug Administration (FDA), the National Institutes of Health (NIH), the European Medicines Agency (EMA), China's National Medical Products Administration and several other countries have issued several guidelines pertaining to the conduct of trials during the pandemic and are in support of incorporating virtual services. 
Adopting direct-to-patient (DTP)/direct-from-patient (DFP) services can resolve challenges, which may also include quarantines and travel bans, site closings, and protecting patients and site staff. Such services can keep clinical trials running and patients safe by making treatments, diagnostic tests shipped directly to them at home. Via DFP services, biological samples can be collected from patient's home and sent to laboratory for testing. Integrating DTP/DFP includes use of tracking technologies to update patient location and home deliveries and pick-up. 
Pharmaceutical and Biotech firms entering into strategic partnerships with Supply and logistics providers and CROs
With the aim of increasing profit margins and expansion of the product portfolio to new markets, pharmaceutical and biopharmaceutical companies are entering in strategic agreements for better distribution channels and better reach to the customers and outsourcing clinical trial supply and logistics activities to CROs. Many companies trying to expand in developing geographies are also outsourcing to supply and logistics services provider for better market reach. For example, the cost of clinical trials in China is roughly 20% less than what it is in the US. It has resulted in reduced expenditures and increased investments in R&D to conduct clinical trials. The demand for efficient supply and logistics of trial samples between pharma companies, the food and drug administration, and CROs will continue to drive the market in the years to come.  As a result, the clinical trial supply and logistics market is expected to make significant gains. 
Key benefits of the report:
This study presents the analytical depiction of the global clinical trial supply and logistics industry along with the current trends and future estimations to determine the imminent investment pockets.
The report presents information related to key drivers, restraints, and opportunities along with detailed analysis of the global clinical trial supply and logistics market market share.
The current market is quantitatively analysed from 2020 to 2027 to highlight the global clinical trial supply and logistics market growth scenario.
Porter's five forces analysis illustrates the potency of buyers & suppliers in the market.
The report provides a detailed global clinical trial supply and logistics market market analysis based on competitive intensity and how the competition will take shape in coming years.
Questions answered in the Clinical Trial Supply and Logistics Market research report:
Who are the leading market players active in the clinical trial supply and logistics market?
What are the current trends that will influence the market in the next few years?
What are the driving factors, restraints, and opportunities in the market?
What are the projections for the future that will help in taking further strategic steps?
 Clinical trial supply and logistics market - Global Opportunity Analysis and Industry Forecast, 2020-2027 Report Highlights
Aspects
Details
By Component

Manufacturing
Packaging
Distribution

By Type

Virtual service providers
Courier and delivery service providers

By End User

Pharmaceutical and biotech organizations
Medical devices and supplier companies

By Region

North America (US, Canada, Mexico)
Europe (France, Germany, UK, Italy, Spain, rest of Europe)
Asia-Pacific (Japan, China, India, Australia, South Korea, rest of Asia-Pacific)
LAMEA (Brazil, South Arabia, South Africa, rest of LAMEA)

Key Market Players
World Courier, DHL, Movianto, Catalent, Patheon, Marken, FedEx, Almac Group, Parexel International, Fisher Clinical Services, Packaging Coordinators Inc.