Cloud-based VDI Market Statistics - 2023
Cloud-based VDI market size was valued at $3.654 million in 2016, and is estimated to reach $ 10,154 million by 2023, growing at a CAGR of 16.5% from 2017 to 2023. Increase in demand for augmented reality & virtual reality in the industries such as healthcare and production fuels the demand for cloud-based VDI, thereby driving the market growth across North America and Europe.
LAMEA is expected to account for the least share in the global Cloud-based VDI market as compared to other regions, due to uniform smartphone penetration across Latin America. Furthermore, Middle East and Africa are expected to gain traction due to increase in investment in IT infrastructures. However, lack of awareness of the software and dearth of skilled professionals required for installations related to the software are expected to restrain the market growth during the forecast period.
Cloud-based VDI enables industries to store and manage a centralized server or network storage in the cloud and hosts various desktop machine on a single virtual machine. This offers superior flexibility and mobility, thus supporting increased productivity and employee satisfaction. The global cloud-based VDI market is expected to witness significant growth rate, due to the increase in adoption of handheld devices & smartphone for enterprise computing across the developed and the developing regions, including North America, Europe, and Asia-Pacific.
The Asia-Pacific cloud-based VDI market is expected to register the highest CAGR during the forecast period, owing to increase in government spending to build smart cities and strengthen economic growth. In addition, rise in investments in digitalization from the developing countries such as China, India, and Japan is expected to offer lucrative opportunities for market expansion.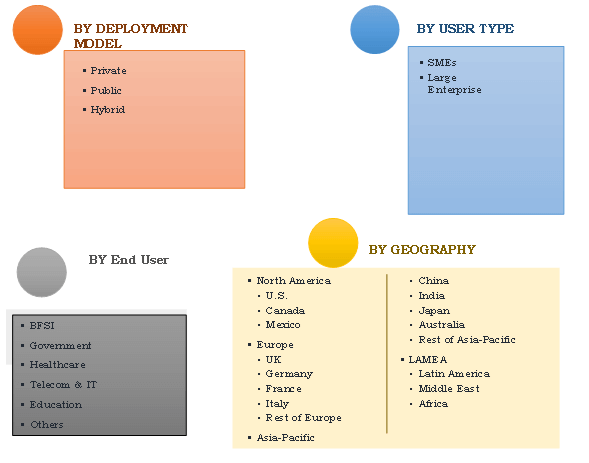 The global cloud-based VDI market is segmented on the basis of deployment model, user type, end user, and geography. The deployment model covered in the study includes private, public, and hybrid. By user type, the market is bifurcated into small & medium enterprise (SMEs) and large enterprise. Based on end user, it is categorized into BFSI, government, healthcare, telecom & IT, education, and others. Regionally, it is analyzed across North America, Europe, Asia-Pacific, and LAMEA.
The key players profiled in the report are Amazon Web Services, Inc., Cisco Systems, Citrix Systems, Inc., Dell Inc., HP Development Company, L.P., IBM Corporation, Microsoft Corporation, NComputing Co. LTD, Rackspace, Inc., and VMware. The report includes the key strategies adopted by these players and the detailed analysis of the current trends, upcoming opportunities, and restraints of the global cloud-based VDI market in addition to their impacts.
Increase in adoption of handheld devices & smartphone for enterprise computing
Increase in government spending on digitization, decrease in the prices of smartphones, and improved tele density are the factors driving the Cloud-based VDI market growth. Presently, companies are implementing BYOD (bring your own device) policy, which minimizes the equipment purchasing & management cost and supports the changing business needs.
Rise in Demand for Virtualization
The benefits of virtual desktop infrastructure include centralized management, workforce mobility, and decrease the data security threats. The actual data sets are saved and rely on the data centers or remote servers. Virtualization provides better scalability and effective business operations, which boost the adoption of cloud-based VDI, thereby supplementing the growth of the market.
Increase in Adoption of Cloud-based Solutions
Increase in applications of cloud computing such database storage, server accessibility, and a broad range of application services over the internet boosts the market growth. Companies are opting for flexible and easy deployment solutions to offer increased offerings, which improve employee's productivity. Thus, the various features of cloud-based solutions drive the market growth.
Key Benefits of the Study:
In-depth analysis and dynamics of the global cloud-based VDI market is provided to understand the market scenario.
Quantitative analysis of the current trends and future estimations from 2017 to 2023 is provided to assist strategists and stakeholders to capitalize on the prevailing market opportunities.
Porter's Five Forces analysis examines the competitive structure and provides a clear understanding of the factors that influence market entry and expansion.
A detailed analysis of the geographical segments enables the identification of profitable segments for market players.
Comprehensive analysis of the trends, subsegments, and key revenue pockets of Cloud based VDI market is provided.
 Cloud-based VDI Market Report Highlights
Aspects
Details
By Deployement Model
By User Type

Small & Medium Enterprise (SMEs)
Large Enterprise

By End User

BFSI
Government
Healthcare
Telecom & IT
Education
Others

By Geography

North America
Europe

UK
Germany
France
Italy
Rest of Europe

Asia-Pacific

China
India
Japan
Australia
Rest of Asia-Pacific

LAMEA

Latin America
Middle East
Africa

Key Market Players
AMAZON.COM, INC. (AMAZON WEB SERVICES, INC.), CISCO SYSTEMS, INC., CITRIX SYSTEMS, INC., DELL TECHNOLOGIES INC., HP INC. (HP DEVELOPMENT COMPANY, L.P.), IBM CORPORATION, MICROSOFT CORPORATION, NCOMPUTING CO., LIMITED, RACKSPACE INC., VMWARE, INC.