Cloud-based VDI Market Research, 2032
The global cloud-based vdi market was valued at $6.9 billion in 2022, and is projected to reach $31.5 billion by 2032, growing at a CAGR of 16.7% from 2023 to 2032.
Cloud-based VDI model may create significant savings in terms of power, cooling, and site leasing costs, which helps to cut hardware costs. Cloud-based VDI is a solution that enables organizations to deploy and manage virtual desktops in the cloud rather than on-premises infrastructure. It allows the dynamic allocation of computing resources on the basis of user demand, providing flexibility and scalability. With cloud-based VDI, businesses may streamline desktop management, reduce hardware & maintenance costs, and provide remote access to desktop environments for the workforce.  These benefits of cloud-based VDI solutions are expected to drive the market demand across the globe.
Rise in adoption of mobility & remote work and surge in expansion of cloud computing technology drive the cloud-based VDI market growth. In addition, surge in adoption of internet and mobile devices fuels the growth of the cloud-based VDI market. However, data security & privacy concerns and high bandwidth & network dependency limit the growth of this market. Conversely, an increase in demand for augmented reality & virtual reality in several industries is anticipated to provide numerous opportunities for the expansion of the market during the forecast period. 
"The COVID-19 outbreak had significant impact on the growth of the cloud-based VDI market owing to as many organizations transitioned from office-based operations to virtual work over cloud during the CCOVID-19 pandemic, which accelerated investments in VDI solutions to reduce hardware costs and allow workforce to work remotely. Furthermore, consumer behavior and preferences have witnessed a significant shift due to the outbreak of pandemic. The major customer expectation that causes the shift in consumer preference include flexibility and scalability in the IT infrastructure. Consequently, cloud VDI provides the scalability to easily add or remove virtual desktops based on demand, allowing consumers to scale their infrastructure without significant upfront investments, which propel the growth of the market throughout the forecast period."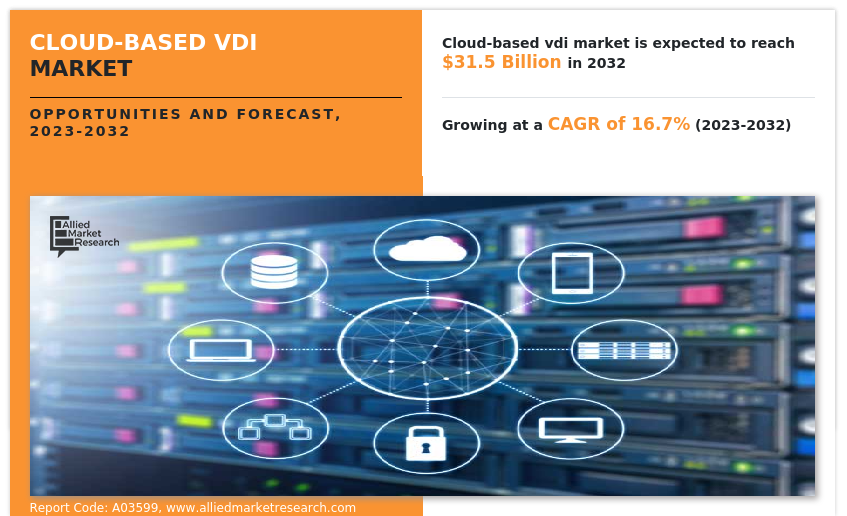 Segment review 
The cloud-based VDI market is segmented into deployment model, user type, end user, and region. Depending on the deployment model, the market is divided into private, public, and hybrid. By user type, it is categorized into SMEs and large enterprise. By end user, it is divided into BFSI, education, healthcare, government, IT & telecom, and others. By region, the market is analyzed across North America, Europe, Asia-Pacific, and LAMEA.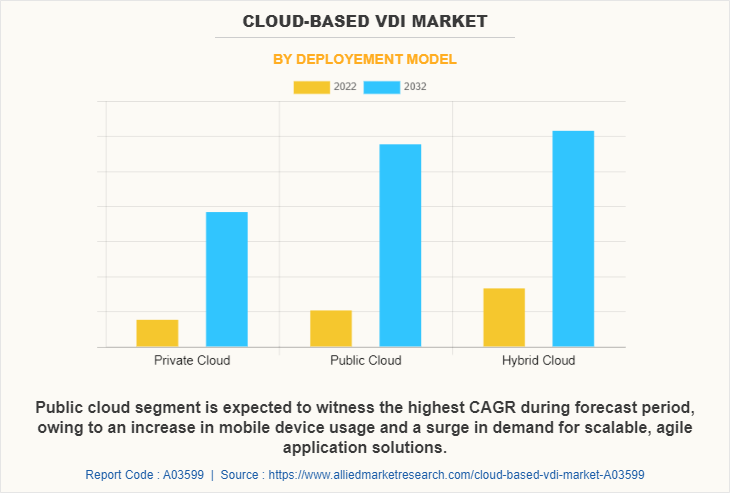 Depending on the deployment model, the hybrid cloud segment dominated the cloud-based VDI market size in 2022 and is expected to continue this trend during the forecast period, as it allows organizations to leverage a mix of on-premises infrastructure and public cloud services for their VDI needs. However, the public cloud segment is expected to witness significant growth in the upcoming years, as it allows businesses to deploy virtual desktops in the cloud and access them remotely.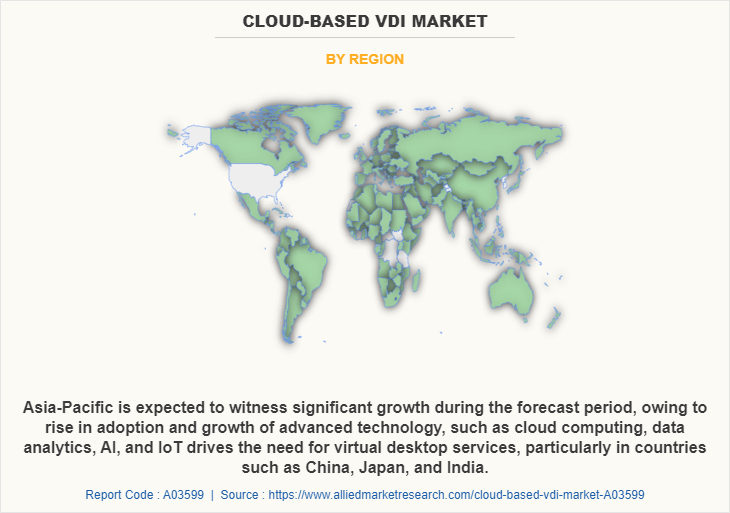 Region-wise, the cloud-based VDI market share was dominated by North America in 2022 and is expected to retain its position during the forecast period owing to rise in demand for high-quality mobile services, extensive availability of fiber, and surge in penetration of the cloud technology. However, Asia-Pacific is expected to witness significant growth during the forecast period, owing to the rapid economic growth, digital transformation, and increase in adoption of cloud technologies across various industries including healthcare, education, and others. Thus, these factors are expected to witness considerable growth during the forecast period.
Major players operating in the global cloud-based VDI industry is dominated by key players such as Amazon Web Services, Inc., Cisco Systems, Citrix Systems, Inc., Dell Inc., HP Development Company, L.P., IBM Corporation, Microsoft Corporation, NComputing Co. LTD, Rackspace, Inc., and VMware.. These players have adopted various strategies to increase their market penetration and strengthen their position in the cloud-based VDI industry. 
Digital capabilities 
Virtual desktop infrastructure (VDI) is the creation and management of desktop environments and applications that allow employees to work and access applications and services outside the office, in the office, or from a remote location. Moreover, Since VDI makes virtual desktops easy to deploy and update from a centralized location, an increasing number of companies are implementing it for remote workers. Furthermore, VDI is an ideal solution for environments that allow or require employees to use their own devices. Since processing is done on a centralized server, VDI allows the use of a wider range of devices. It also offers better security, since data lives on the server and is not retained on the end client device. In addition, VDI uses server hardware to run desktop operating systems (OS) like Windows or Linux, or other software programs, on a VM with the desktop OS hosted on a centralized server in a physical datacenter. 
End User Adoption 
The global cloud-based VDI market is expected to register high growth due to rise in focus of firms on digitization are expected to drive industry growth. Thus, increase in adoption of cloud-based VDI, owing to its rising smartphone penetration, soaring data telecommuting needs, surging demand for workforce productivity, are factors accelerating BYOD in the nation, particularly among industries like BFSI, telecom, media, and entertainment. Falling prices for GPU, SSDs and flash memories have also positively impacted the prices of the VDI solutions available in the market is one of the most significant factors driving the growth of the market. With surge in demand for cloud-based VDI, various companies have established alliances to increase their capabilities. For instance, in March 202, Kasm Technologies partnered with Oracle Corporation to offer Workspaces for Oracle, a new Desktop-as-a-Service (DaaS), Remote Browser Isolation (RBI) and Containerized Application Streaming (CAS) solution. This innovative solution combines the benefits of the public cloud with the security and control of on-premises infrastructure, allowing enterprises to create cloud-based remote work solutions on-demand and at a global scale. 
In addition, with further growth in investment across the world and the rise in demand for cloud-based VDI, various companies have expanded their current product portfolio with increased diversification among customers. For instance, in In September 2023, Stratodesk launched Stratodesk Managed Service Provider (MSP) program for MSPs and system integrators. The new program enables partners to offer complete services to provision and manage endpoints for hybrid workplaces. 
Moreover, with the increase in competition, major market players have started collaborating companies to expand their market penetration and reach. For instance, January 2021, Cloud4C collaborated with Citrix to offer Citrix Virtual Apps and Desktops service for enterprises to leverage unmatched security and mobile workforce capabilities.   
Top Impacting Factors 
Rise in adoption of mobility and remote work 
The rise in adoption of mobility and remote work has directly influenced the growth of the global cloud-based VDI market. The surge in trend of employees working from remote locations post-COVID and the need for seamless access to the work environment from any device have accelerated the demand for cloud-based VDI solutions. For instance, in September 2020, according to survey conducted by Organization for Economic Co-operation and Development (OECD), , Remote work has increased rapidly as a result of the pandemic, with more than half of the American workforce working from home.   
In addition, 56% of hiring managers feel that the shift to remote work has gone better than expected. Furthermore, 61.9% of hiring managers stated that they are willing to rely more on remote work in the future. Radical advancements in desktop solutions, enabled through communication technologies, require revising present business models and maintenance strategies. Consequently, cloud-based VDI solutions are significantly adopted to increase the use of IT and control systems among virtual desktop operators, particularly IoT and other digital technologies. Cloud-based VDI enables employees to access virtual desktops, applications, and data from any location with an internet connection. This flexibility allows employees to work from home or from remote offices, empowering individuals to be productive regardless of their physical location. These aforementioned factors are likely to contribute to the increased installation of cloud-based VDI market, globally.  
Furthermore, the integration of cloud-based VDI solutions allows multiple devices, including laptops, desktops, tablets, and smartphones, to run different operating systems. Individuals may use their preferred devices to access virtual desktops, providing a consistent user experience across various platforms. Hence, these multiple benefits offered by cloud-based VDI solutions are anticipated to boost the market demand.   
Moreover, regional governments are continuously involved in promoting cloud solutions for virtual desktops. According to the State for Electronics and Information Technology, the Indian government has planned an incentive scheme to help domestic cloud-technology companies and startups challenge the supremacy of Microsoft Azure, Amazon Web Services, and Google Cloud. Such initiatives pooling in the digitalization of the virtual desktop is expected to fuel the demand for cloud-based VDI, which in turn is projected to augment market growth on a global scale. 
Surge in expansion of cloud computing technology  
The surge in the expansion of cloud computing technology is a key driver for the growth of the cloud-based VDI market. Cloud computing provides underlying infrastructure and resources required to deliver virtual desktops to end-users, making it an essential facilitating technology for cloud-based VDI solutions. This is attributed to the fact that various end-users are committing to adopt cloud based virtual desktop solutions as a part of digital transformation initiative. For instance, in April 2023, the Japanese government raised $31.7 million (4.2 billion yen) in funding to develop shared quantum computing using a business-friendly cloud platform.   
The Japanese government intends to broaden quantum computing's accessibility so that businesses may take advantage of its benefits. Therefore, cloud-based VDI gained wider traction among end-users, taking advantage of cloud computing solutions in several industries. Moreover, cloud-based VDI leverages the economies of scale provided by cloud computing. Organizations may avoid the upfront costs associated with purchasing and maintaining on-premises hardware infrastructure. Consequently, regional governments and private & public businesses invest in cloud computing solutions.   
For instance, in April 2023, Ericsson partnered with the Canadian Government to raise $352.40 million (CAD 470 million) in funding to enhance the presence of the global leaders in advanced 5G, 6G, AI, cloud RAN, and core network technologies. Such investment and advancements in cloud computing are expected to contribute to the growth of the global cloud-based VDI market. 
Key Benefits For Stakeholders  
This report provides a quantitative analysis of the market segments, current trends, estimations, and dynamics of the cloud-based VDI market forecast from 2023 to 2032 to identify the prevailing cloud-based VDI market opportunities.
The market research is offered along with information related to key drivers, restraints, and opportunities.
Porter's five forces analysis highlights the potency of buyers and suppliers to enable stakeholders make profit-oriented business decisions and strengthen their supplier-buyer network.
In-depth analysis of the cloud-based VDI market segmentation assists to determine the prevailing market opportunities.
Major countries in each region are mapped according to their revenue contribution to the global market.
Market player positioning facilitates benchmarking and provides a clear understanding of the present position of the market players.
The report includes the cloud-based VDI market analysis of the regional as well as global cloud-based VDI market trends, key players, market segments, application areas, and market growth strategies.

. 
 Cloud-based VDI Market Report Highlights
Aspects
Details
Market Size By 2032
USD 31.5 billion
Growth Rate
CAGR of 16.7%
Forecast period
2022 - 2032
Report Pages
273
By Deployement Model

Private Cloud
Public Cloud
Hybrid Cloud

By Organization Size

Small and Medium-sized Enterprises (SMEs)
Large Enterprises

By End User

BFSI
Government
Healthcare
IT and Telecom
Education
Others

By Region

North America (U.S., Canada)
Europe (UK, Germany, France, Italy, Spain, Rest of Europe)
Asia-Pacific (China, Japan, India, Australia, South Korea, Rest of Asia-Pacific)
LAMEA (Latin America, Middle East, Africa)

Key Market Players
Citrix Systems Inc., NComputing Co., Ltd., Dell Technologies Inc., Amazon.com Inc., Microsoft Corporation., Rackspace Technology Inc., Cisco Systems Inc., HP Inc., VMware, Inc., International Business Machines Corporation
Analyst Review
Cloud-based VDI refers to a virtualization technology in which desktop operating systems and applications are hosted and delivered from a cloud infrastructure. Users access the virtual desktops remotely through a network connection, using portable clients or other devices, while the actual computing and storage resources are provided by the cloud service provider.  
It allows organizations to deploy windows virtual machines that can be accessed from anywhere and at any time, making it an ideal solution for remote workers. . Organizations quickly scale up or down the number of virtual desktop instances as needed, without the need for significant hardware investments or infrastructure changes. Key providers in the cloud-based VDI market are Amazon Web Services, Inc., Cisco Systems, and Citrix Systems, Inc. With the growth in demand for virtual desktop services, various companies have developed new services to increase their solutions offerings in virtual desktop infrastructure.  
For instance, in October 2021, AWS launched Amazon WorkSpaces Core, a fully managed VDI service that combines AWS's cost effectiveness, global dependability, and security with conventional VDI administration techniques, which in turn, drives the market growth. In addition, with the surge in demand for cloud-based VDI, various companies have expanded their partnership strategies to continue with the due to enhanced security and decrease in infrastructure cost .For instance, in February 2023, STC partnered with Cisco, to expand the usage of cloud computing at a faster rate to stimulate innovation, preserve competitive advantage, and change interactions with digital services.  
The STC has expanded on the present foundation for more agility, security, efficiency, and creativity as it continues to move toward cloud transformation. Cloud technology has improved the way people work and the production efficiency of industries.  
Similarly, in May 2022, Unicon collaborated with Citrix, to provide expanded VDI software that can aid healthcare organizations in enhancing security, flexibility, performance, and collaboration while lowering costs and enhancing patient care. This strategic collaboration is expected to drive the cloud-based VDI market growth.