The cloud migration services market size was valued at $88.46 billion in 2019, and is projected to reach $515.83 billion by 2027, growing at a CAGR of 24.8% from 2020 to 2027.
Cloud migration is a set of processes that help its end users to migrate or move their business operation, processes, and applications on cloud infrastructure or in cloud computing environment. Majorly, migration entails shifting one's legacy IT infrastructure to the public cloud environment. Many industries such as BFSI and healthcare prefer for private or hybrid cloud migration solutions, as it provides high-end security framework.
Legacy infrastructure is proven to be outdated and unreliable that adds up to storage space. Thus, for growth and agility of businesses, many industries have deployed cloud migration services, which involve upgradation of entire business operations to cloud. Thus, cloud migration services market size is expected to grow at a significant rate in the coming years. Dominating cloud migration service providers include AWS services and Microsoft Azure.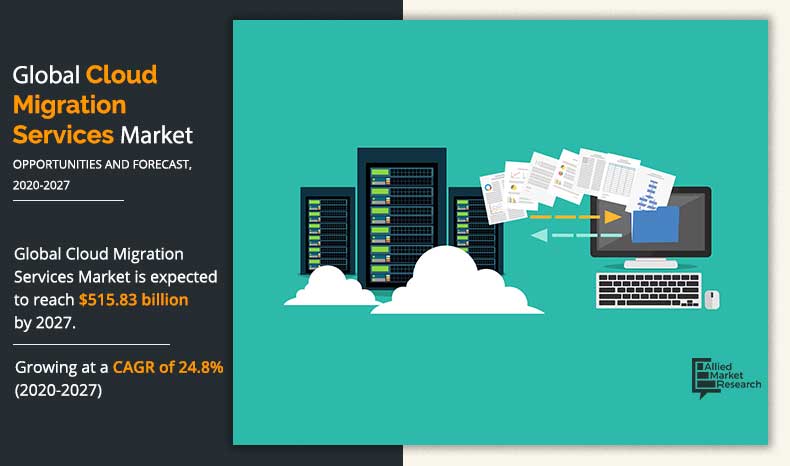 The general benefit or objective of any cloud migration process is to host applications and data in the effective IT environment, which is based on factors such as performance, cost, and security. This is a major factor expected to propel the global cloud migration services market growth during the forecast period. Enterprises have to identify right cloud scenario among public cloud, which provides access to compute resources through dedicated connections or the internet; private cloud, which uses a proprietary architecture and keeps data within the data center; hybrid cloud, which mixes private and public cloud models and transfers data between the two; and a multi-cloud, where a business uses infrastructure-as-a-service (IaaS) options from more than a single public cloud provider. The migration to cloud ultimately frees an enterprise IT team from the load of managing uptime, as placing an application in the cloud is often considered as most logical step for growth.
The report focuses on the growth prospects, restraints, and market analysis. The study provides Porter's five forces analysis of the cloud migration services industry to understand the impact of various factors such as bargaining power of suppliers, competitive intensity of competitors, threat of new entrants, threat of substitutes, and bargaining power of buyers on the market.
Cloud Migration Services Market

---
By Service Type
Managed services is projected as one of the most lucrative segments.
Segment review
The global cloud migration services market is segmented into service type, application, organization size, deployment mode, industry vertical, and region. Depending on service type, the market is bifurcated into managed services and professional services. The applications covered in the study include project management, infrastructure management, security & compliance management, and others. By organization size, the market is segregated into large enterprises and small- & medium-sized enterprises (SMEs). The deployment model segment is fragmented into public cloud, private cloud, and hybrid cloud. On the basis of industry vertical, the market is differentiated into BFSI, manufacturing, healthcare & life sciences, IT & telecommunications, consumer goods & retail, government & public sector, media & entertainment, and others. Region wise, the market is analyzed across North America, Europe, Asia-Pacific, and LAMEA.
The players operating in the cloud migration services market analysis include Amazon Web Services, Inc., Cisco Systems, Inc., DXC Technology, Google LLC, International Business Machines Corporation (IBM), Microsoft Corporation, NTT DATA Corporation, Rackspace Hosting Inc., RiverMeadow Software, Inc., and VMware Inc. These major players have adopted various key development strategies such as business expansion and new product launch, which help drive the growth of the global cloud migration services market.
 
Cloud Migration Services Market

---
By Deployment Mode
Hybrid cloud is projected as one of the most significant segments.
COVID Impact Analysis
In Covid-19 pandemic where businesses are coping with operational challenges, many CXO's are compelled to accelerate digital tools and techniques among which cloud migration have witnessed significant growth. Many large enterprises and SME's have inclined towards cloud-savvy managed service providers (MSPs) which has accelerated migration process, scaled existing services, modernized legacy applications, enabled and orchestrated multi-cloud environments, while still leveraging various cloud-native capabilities. Furthermore, many cloud service providers have introduced various attractive cloud migration strategies that especially supports SME's to adopt these services at ease with less financial burden which is creating numerous opportunities for the market.
Cloud Migration Services Market

---
By Region
Asia-Pacific region is projected as one of the most significant segments.
Top impacting factors
Increase in need for business agility and rise in adoption of automation solutions are major factors expected to drive the growth of the global cloud migration services market during the forecast period. Surge in need for faster and easier deployment of applications with pay-as-you-go model coupled with rise in adoption for cloud migration in business continuity is expected to boost the market forecast growth. Moreover, preferences for lower CAPEX and OPEX among various organizations across the globe is expected to propel the market growth. However, issues associated with enterprise application's cloud compatibility and cloud interoperability and vendor lock-in situations are some of the factors that hamper the growth of the market to a certain extent. On the contrary, rise in global cloud expenditures and high adoption rate of cloud migration services in the healthcare sector are factors of the global cloud migration services market opportunity.
Rise in demand for cloud migration for business continuity
Cloud migration services deal with the platform as well as the software services. The platforms and the software providers fall under this category of the value chain. PaaS offerings include application design, application development, team collaboration, data base integration, and security. The major cloud migration services market trends offered by these services are known as PaaS service providers. Various types of PaaS vendors are available in the market; however, all offer services or applications. This service is hosted by the vendors who are licensed on the subscription basis. SaaS is used by the subscriber using a web browser. SaaS has become popular with the maturing mobile application and other software such as CAD and ERP. SaaS and PaaS providers play a significant role in the value chain of the cloud computing services market, due to increase in demand for both services. Thus, aforementioned factors are expected to drive the demand for cloud migration services market during the forecast period.
Key Benefits for Stakeholders:
 This study includes market trends, opportunity, analysis, and future estimations to determine the imminent investment pockets.
 The report presents information related to key drivers, restraints, and opportunities of the cloud migration services industry.
 The cloud migration services market share is quantitatively analyzed from 2019 to 2027 to highlight the financial competency of the industry.
 Porter's five forces analysis illustrates the potency of the buyers & suppliers in the cloud migration services market.
 Cloud Migration Services Market Report Highlights
Aspects
Details
By SERVICE MODEL

Managed Service
Professional Service

By Deployment Mode

Public Cloud
Private Cloud
Hybrid Cloud

By Application

Project Management
Infrastructure Management
Security & Compliance Management
Others

By Organization Size

Large Enterprises
Small & Medium Enterprises

By Industry Vertical

BFSI
Manufacturing
Healthcare & Life Sciences
IT & Telecommunications
Consumer Goods & Retail
Government & Public Sector
Media & Entertainment
Others

By Region

North America (U.S., Canada)
Europe (UK, Germany, France, ITALY, Rest of Europe)
Asia-Pacific (China, India, Japan, SOUTH KOREA, AUSTRALIA, Rest of Asia-Pacific)
LAMEA (Latin America, Middle East, Africa)

Key Market Players
INTERNATIONAL BUSINESS MACHINES CORPORATION, RACKSPACE HOSTING, INC., RIVERMEADOW SOFTWARE INC., MICROSOFT CORPORATION, GOOGLE LLC, NTT DATA CORPORATION, VMWARE, INC., AMAZON WEB SERVICES, INC., DXC TECHNOLOGY COMPANY, CISCO SYSTEMS, INC.