Global Cloud Radio Access Network (C-RAN) Market Research, 2031
The global Cloud Radio Access Network (C-RAN) market was valued at $14.2 billion in 2021, and is projected to reach $95.8 billion by 2031, growing at a CAGR of 21.2% from 2022 to 2031.
The COVID-19 outbreak had a positive impact on the Cloud Radio Access Network (C-RAN) market, owing to the increased use of online services and content streaming, which increased the burden on wireless networks. Therefore, telecom operators and mobile infrastructure service providers are seeking effective cellular networking solutions, such as C-RAN, which directly influence the market growth all over the world.
C-RAN model can create significant savings in terms of power, cooling, and site leasing costs which helps to cut hardware costs. C-RAN can lower the total cost of ownership (TCO) and it can improve network performance. It is particularly beneficial in low-latency network scenarios, which are included in 5G standards as Ultra-Reliable and Low-Latency Communications (URLLC). The centralized cloud RAN architecture also provides the benefit of not requiring a rebuild of the transport network. Other benefits of C-RAN include the ability to pool resources, reuse infrastructure, simplify network operations and management, support multiple technologies, reduce energy consumption, and lower CAPEX. These aforementioned benefits of C-RAN architecture will drive the market demand across the globe.
Rise in the need for energy-efficient and cost-effective networking solutions and the surge in the proliferation of 5G network technologies are driving the growth of the market. In addition, the rapid rise in bandwidth demand is fueling the growth of the C-RAN market. However, the necessity for a high-capacity fronthaul limits the growth of this market. Conversely, growing numbers of internet users across global and a surge in the growth of network connectivity to implement IoT are anticipated to provide numerous opportunities for the expansion of the market during the forecast period.
The report focuses on growth prospects, restraints, and analysis of the global C-RAN market trend. The study provides Porter's five forces analysis to understand the impact of various factors, such as bargaining power of suppliers, competitive intensity of competitors, the threat of new entrants, threat of substitutes, and bargaining power of buyers on the global C-RAN market share.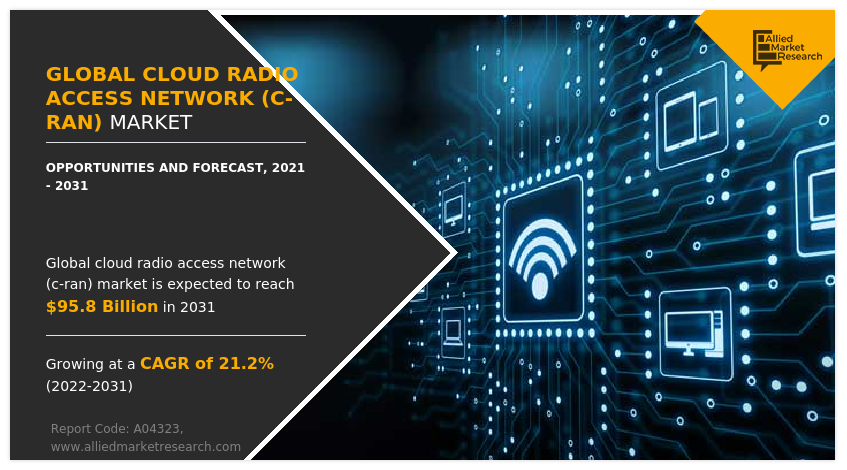 The global Cloud Radio Access Network (C-RAN) market is segmented into Component, Network Type, Deployment, and End User.
Segment review
The global C-RAN market is segmented into component, network type, deployment, end-user, and region. Depending on the component, the market is divided into solutions and services. Based on network type, it is categorized into 2G & 3G, 4G, and 5G. By deployment, it is divided into indoor and outdoor. Based on end-user, it is bifurcated into telecom operators and enterprises. Region-wise, it is analyzed across North America, Europe, Asia-Pacific, and LAMEA.
Depending on the deployment, the indoor segment dominated the C-RAN market share in 2022 and is expected to continue this trend during the forecast period, as RAN and small cell solutions allow mobile operators to deliver additional network capacity easily, and cost-effectively, with enhanced mobile experiences in residential applications. However, the outdoor segment is expected to witness significant growth in the upcoming years, as it provides significant benefits in lower energy costs, greater network resilience, and dynamic allocation of network resources with time.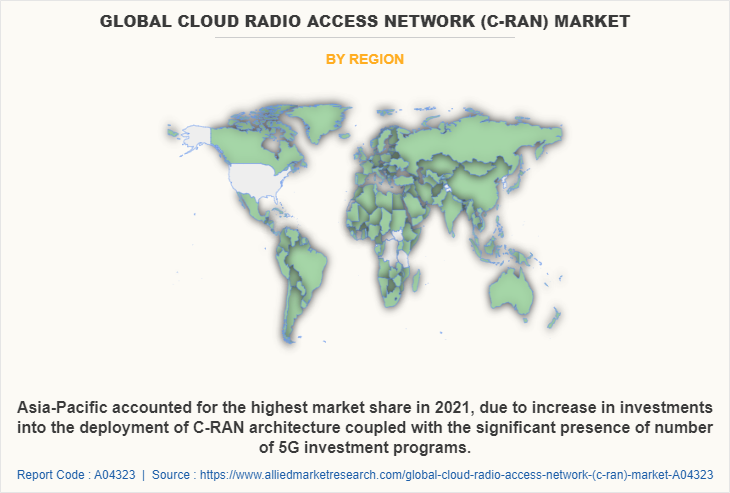 Region-wise, the C-RAN market was dominated by Asia-Pacific in 2021 and is expected to retain its position during the forecast period, owing to high demand for high-quality mobile services, extensive availability of fiber, and rising penetration of the 5G network technology are some of the driving factors in the region. However, Europe is expected to witness significant growth during the forecast period, owing to the 3G technology has shifted to advance 4G (LTE and LTE-A) and 5G deployments are likely to provide 10-100 Mbps data speed and with less than 1-millisecond latency. Thus, these factors are expected to witness considerable growth of cloud radio access network market trends during the forecast period.
The global C-RAN market is dominated by key players such as Altiostar, Cisco Systems, Inc., Fujitsu Limited, Huawei Technologies Co., Ltd., Intel Corporation, NEC CORPORATION, Nokia Corporation, Qualcomm Technologies, Inc., Samsung Electronics Co. Ltd., Ericsson, and ZTE Corporation. These players have adopted various strategies to increase their market penetration and strengthen their position in the industry.
Digital Capabilities
C-RAN is increasingly relevant in LTE-advanced where advanced interference control techniques such as enhanced Inter-Cell Interference Coordination (eICIC) will benefit from the parallelism and increased processing power at the centralized BBU. In addition, other LTE-Advanced features such as carrier aggregation and CoMP (Coordinated Multipoint) will leverage the operational efficiencies of resource sharing at the centralized processing unit. The Virtualized-RAN (V-RAN) architecture virtualizes the BBU functionality and services in a centralized BBU pool (V-BBU) in the Central Office (CO) that can effectively manage on-demand resource allocation, mobility, and interference control for a large number of interfaces using programmable software layers. V-RAN architecture enjoys software-defined capacity and scaling limits. It enables selective content caching, which helps to further reduce CapEx and OpEx as well as improve user experience based on its cloud infrastructure.
Furthermore, cloud RAN offering for communications service providers adds more versatility to network buildouts to address a variety of 5G use cases. For instance, in October 2020, Ericsson announced cloud RAN to enable communications service and to add greater flexibility and versatility to Ericsson's network, which is fully compatible with the Ericsson Radio System portfolio, and also supports both 5G standalone and non-standalone. Moreover, the growing consumer need for greater integrating, commercializing, and deploying of multiple ecosystems in this vRAN software is leading to the launch of cutting-edge software by the market players. For instance, in September 2022, NEC Corporation introduced open virtualized RAN software suite to the international market. NEC's vCU/vDU software suite leverages the company's technological leadership and commitment to improving Open Radio Access Networks (RAN). This allows customers to select the best solutions for their needs which is driving the cloud radio access network market forecast.
End-User Adoption
The growing cloudification of RAN by selected 5G RAN network functions in containers through Commercial off-the-shelf (COTS) hardware platforms is accelerating end-user adoption. Network Interface Cards (NICs) and hardware accelerators are the foundation. Specific server configurations are based on workload demands, especially for Distributed Units (DU) with higher processing demands and stricter requirements on latency. This requires accelerators to manage Layer 1 pipeline functions and is especially critical to meet the demands of Massive MIMO radios.
Furthermore, the industry is transforming and introducing 5G networks, management, orchestration, and automation. With the introduction of Cloud RAN, edge computing, container-based architectures, and network slicing, the management and orchestration systems have become critical for success. These systems must manage physical network functions (PNF), virtual network functions (VNF), cloud-native network functions (CNF), and end-to-end life cycle management of services across Cloud RAN, transport, 5G Core, and underlying cloud infrastructure, Cloud RAN management is managing hybrid network functions in RAN, but also about bringing cloud-native principles, programable networks and model-driven management and orchestration systems. This brings key values needed in 5G networks such as automation, flexibility, faster time to market, managing complex networks, and better customer experience increasing the end-user experience.
RAN programmability is essentially the capacity to tailor the behavior and performance of the RAN through applications with access to multi-domain information. This will also open the RAN environment to a broader ecosystem and allows developers to build applications completely independently from innovations in the RAN domain. This unlocks new potentials and innovation value, enhancing the CSP's role and creating opportunities for monetization.
Government Initiatives
Various companies and government bodies are collaborating to strengthen R&D in the telecom industry with evolving productive alliances that lead to indigenous design, development, manufacturing, and deployment of cost-effective 5G products and solutions. For instance, in June 2022, the Government of India's Ministry of Communications released that the Centre for Development of Telematics (C-DOT), WiSig Networks Private Limited, and VVDN Technologies Private Limited have collaborated in the area of Open RAN-based Radio Network for 5G solution. It designed various cutting-edge Telecom technologies including 4G solutions and is working in 5G. WiSig Networks Private Limited is a start-up company engaged in the business of developing, marketing, and offering various communications solutions including 5G Mobile Communication Products and Solutions. This collaboration aims to leverage the technical competencies and complementary strengths of Indian R&D and industry in evolving a mutually productive alliance leading to indigenous design, development, manufacturing, and deployment of cost-effective 5G products and solutions. This engagement will augment the indigenous Intellectual Property and create new avenues for wider adoption and monetization of home-grown 5G products & solutions.
Furthermore, the growing investment by the government to develop and test open RAN technology. For instance, in November 2021, The German government announced the first projects to receive support from a €300 million fund created to develop and test open RAN technology. Projects is an open RAN test lab run by a consortium of partners including Deutsche Telekom, Vodafone, and Telefónica. These above-mentioned factors are projected to strengthen the cloud radio access network market trends over the forecast period.
Rise in need for energy-efficient and cost-effective networking solutions
Network densification is integral to deploying 5G architecture, which massively increased data rates, from megabits per second (Mbps) to gigabits per second (Gbps), and ultra-reliable lower latency, from tens of milliseconds to milliseconds. The successful implementation of 5G is mainly dependent on network densification, which is increased through available network capacity by adding more cell sites, which include macro sites, radio access networks, in-building wireless, and small cell deployments. Thus, the rise in deployments of 5G will pave the utilization of networking solutions, which drive the market growth. Furthermore, C-RAN also provides high energy efficiency with gigabit-per-second data rates across software-defined wireless networks, which increases energy-efficient and cost-effective networking solutions. Thus, this factor is driving the adoption of C-RAN by various market providers across different countries. For instance, in June 2022, Chunghwa Telecom (CHT), the telecoms company in Taiwan, introduced energy efficiency to the fore in a recent 5G mid-band upgrade, which is providing cut power consumption by more than one-third while also improving network performance. This is driving the cloud radio access network market growth.
In addition, cloud radio access networks (C-RAN) planning offers a cost-efficient and energy-efficient solution to increase the capacity of the cellular network. The introduction of complementary networking architecture for the C-RAN helps to adapt the data traffic and reduces the system cost, These aforementioned benefits act as a major driving force for the market demand. Furthermore, migration from distributed to cloud/centralized radio access networks (C-RANs) helps in lowering the operational expenditures due to pooling baseband processing into the cloud and reduced power consumption. This results in increased energy efficiency and cost-effective networking solution that drives market growth. Moreover, In the mobile network, the RAN is built to provide nationwide coverage and capacity for users. As a result, the RAN's energy consumption represents over 75% of total network consumption. This RAN energy efficiency is of the utmost importance in keeping energy consumption under control while still delivering an optimal user experience. This factor also drives cloud radio access network market growth across the globe.
Surge in the proliferation of 5G network technologies
Rise in the proliferation of 5G network technologies owing to the significant use and demand of C-RAN in the future progression of wireless technology, such as 5G and the IoT, is one of the major driving factors for the market growth. This is due to advantages such as easier deployment and scaling capability, the transition from LTE to 5G networks will rely heavily on C-RAN development. It also provides a cost-effective, manageable solution for supporting more users at a time, which drives the future endurance of the cloud radio access network market trends.
In addition, the growing commercialization of 5G technologies is also accelerating C-RAN industry development globally. This is attributed to as 5G communications are considered the key to personal consumption experience upgrades and digital industrial transformation. 5G is an essential part of long-term industrial development. For example, the European Union proposed the 2030 Digital Compass (Digital Compass) plan, which outlines commercial digital transformation and public service digitalization strategy. It adopted 5G as the basis for Industry 4.0. Moreover, South Korea has further strengthened the construction of a 5G+ converged ecosystem and promoted 5G united services. Likewise, in Japan, 5G technology continues to promote the value of B5G (Beyond 5G) to people's livelihood and society. Similarly, China has put forward a long-term goal for advancing network connectivity, driven by a growing focus on scientific and technological innovation and deepening the 5G & Industrial Internet as its important goal. These advancements across different geographies are expected to drive the adoption of 5G technologies, which in turn, boost the demand for C-RAN industry worldwide.
KEY BENEFITS FOR STAKEHOLDERS        
This report provides a quantitative analysis of the market segments, current trends, estimations, and dynamics of the cloud radio access network market size from 2021 to 2031 to identify the prevailing cloud radio access network industry opportunities.

The market research is offered along with information related to key drivers, restraints, and opportunities.

Porter's five forces analysis highlights the potency of buyers and suppliers to enable stakeholders make profit-oriented business decisions and strengthen their supplier-buyer network.

In-depth analysis of the Cloud Radio Access Network (C-RAN) market growth assists to determine the prevailing market opportunities.

Major countries in each region are mapped according to their revenue contribution to the global market.

Market player positioning facilitates benchmarking and provides a clear understanding of the present position of the market players.

The report includes the analysis of the regional as well as global cloud radio access network market share, key players, market segments, application areas, and market growth strategies.
 Global Cloud Radio Access Network (C-RAN) Market Report Highlights
Aspects
Details
Market Size By 2031
USD 95.8 billion
Growth Rate
CAGR of 21.2%
Forecast period
2021 - 2031
Report Pages
275
By Component
By Network Type
By Deployment
By End User

Telecom Operators
Enterprises

By Region

North America (U.S., Canada)
Europe (UK, Germany, France, Italy, Spain, Rest of Europe)
Asia-Pacific (China, India, Japan, Australia, South Korea, Rest of Asia-Pacific)
LAMEA (Latin America, Middle East, Africa)

Key Market Players
ZTE Corporation, Intel Corporation, Huawei Technologies Co., Ltd., Fujitsu, Altiostar, NEC CORPORATION, Cisco Systems, Inc., Nokia Corporation, Samsung Electronics Co. Ltd., Ericsson, Qualcomm Technologies, Inc.