Cloud Security Market Outlook: 2020
The global cloud security market size is expected to garner $8.9 billion by 2020, registering a CAGR of 23.5% during the forecast period 2015 - 2020. Cloud security encompasses a set of policies and controls, which cater to the security aspects of the cloud by protecting applications, data, and infrastructure. The cloud computing market is prone to threats such as data breaches, data loss, and insecure application programming interfaces (API). Therefore, there is a growing need to provide a secure environment for both cloud providers and customers.
Segment Overview
The global cloud security market is segmented on the basis of type, end user, vertical, deployment, and geography. The market is segmented based on the type of cloud security namely, cloud identity and access management, data loss prevention, email & web security, cloud database security, network security, and cloud encryption. The end users of the cloud security include, large enterprises and small & medium enterprises. Furthermore, this technology has its applications in various verticals, which include healthcare, BFSI, retail, IT & telecom, government agencies, and others. Based on the type of deployment, the market is segmented into private, public, and hybrid.  The market is analyzed on the basis of four regions, namely North America, Europe, Asia-Pacific, and LAMEA. The key players analyzed in this report are CA Technologies, Inc., IBM Corporation, Symantec Corporation, Cisco Systems, Inc., and others.
There are several drivers, restraints, and opportunities which impact the growth of the cloud security market. Increasing adoption of cloud services by enterprises and the rapidly growing trend of BYOD and CYOD are the key driving forces of the market. In addition, increased adoption of cloud services by large and medium scale enterprises along with growing demand for managed security services creates ample opportunities for the market players. However, low awareness about cloud services hampers the cloud security market growth
Top Impacting Factors in Global Cloud Security Market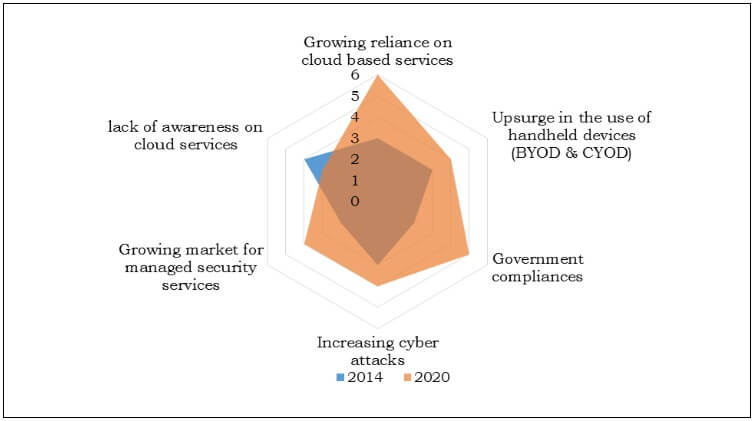 Growing reliance on cloud-based services
Increasing adoption of cloud services across diverse verticals has resulted in increased dependence on cloud for storage and other applications. Increasing number of internet users and growing adoption of cloud services are the key impacting factors for adoption of cloud security solutions. Over the period, the growth of online business would highlight significance of this factor.
Increasing number of cyber-attacks
An increasing number of cyber-attacks due to an upsurge in digitalization is one of the driving factors of the cloud security market. Cyber-attacks have increased rapidly, thereby, resulting in a strong need for cloud security services. The number of data theft cases have exponentially increased in the last five years, owing to increased generation of digital content and lack of security to protect financial and corporate data. BFSI, followed by IT & telecom and retail, are the most targeted industries. Therefore, burgeoning number of cyber-attacks and data breach cases would boost the growth of the market in future.
Growing market for managed security services
The cloud-based managed security services are expected to witness increased adoption in the market, due to its ability to customize the set of services as per requirement. The concept of managed security service offers protection against intruders & cyber-attacks and includes next-generation firewall, content filtering, managed two-factor authentication and even security consultancy. This is expected to provide ample opportunities for market players.
The market is largely driven by product launch strategy. The increasing adoption of cloud-based services and its diverse use across varying industries such as healthcare, BFSI, IT & telecom, government, and retail has contributed to the growth of the cloud security market. The vendors in the market offer customized and differentiated products in the market to enhance their portfolios. Market leaders, such as Trend Micro, Symantec, and IBM, among others have launched products in the recent past. For instance, in October 2014, Trend Micro launched Trend Micro Security 2015. The security solution is designed for Windows, Android, and iOS platforms to provide security solutions cyber threats, irrespective of the operating system of the device. The security solution would protect personal information and data of users as well as maintain the privacy of users. The other top strategies in the cloud security industry include acquisitions, followed by collaboration and expansion
Covid-19 Impact on the Cloud Security Market-
The cloud security market is expected to grow during the Covid-19 pandemic due to increased cloud traffic owing to surge in remote working and adoption of collaborative tools across industries.
According to McAfee, enterprise use of cloud services across the globe surged by 50.0% from January 2020 to April 2020 and external attacks on cloud accounts grew by 630.0% over the same period.
Key Benefits of Market Study:
Comprehensive analysis of the current and future trends in the global market have been provided in this report
This report provides a competitive scenario of the global market with current and future growth trends, structure, driving factors, scope, opportunities, and challenges
This report includes a comprehensive analysis of market segments to provide insights on the market dynamics
Porter's Five Forces analysis highlights the potential of buyers and suppliers as well as provides insights on the competitive structure of the market to devise effective growth strategies and facilitate better decision-making
Value chain analysis provides key inputs on the role of stakeholders involved at various stages of the value chain
SWOT analysis of the key market players highlights their strengths and weaknesses along with potential opportunities present in the market
 Cloud Security Market Report Highlights
Aspects
Details
By Type

Cloud Identity and Access Management
Data Loss Prevention
Email & Web Security
Cloud Database Security
Network Security
Cloud Encryption

By End User

Large scale enterprise
Small & medium enterprise

BY DEPLOYMENT
By Vertical

Healthcare
BFSI
IT & Telecom
Government Agencies
Retail
Others

By Geography

North America
Europe
Asia-Pacific
LAMEA

Key Market Players
CA Technologies, Inc., Cisco Systems, Inc., Fortinet, Inc., IBM Corporation, Intel Corporation (McAfee, Inc.), Panda Security, Sophos, Ltd., Symantec Corporation, Trend Micro, Inc., CloudPassage Inc.