The global cloud seeding market was valued at $120.35 million in 2021, and is projected to reach $192.77 million by 2031, growing at a CAGR of 5.1% from 2022 to 2031.
Cloud seeding can be identified as weather modification technique that improves a cloud's ability to produce rain or snow. This technique is also used to control weather events such as suppressing storms or causing rain in draught effected areas. The concept of cloud seeding was introduced in 1946 by General Electric. Inorganic compounds such as silver iodide, sodium chloride or dry ice are introduced to the clouds via various aerial and ground-based techniques. These chemicals act as a condensation accelerator. The unattached super cooled water vapor molecules in the cloud condenses around chemicals that are introduced. The grouping of water molecules around chemicals continues until water droplets are formulated, and falls back to ground in the form of rain. The technology currently is in the developing phase and countries across the globe are contributing to its research and development activities. As of 2022, around 56 countries across the globe, including major nations such as the U.S., China, India, and UK have active cloud seeding programs.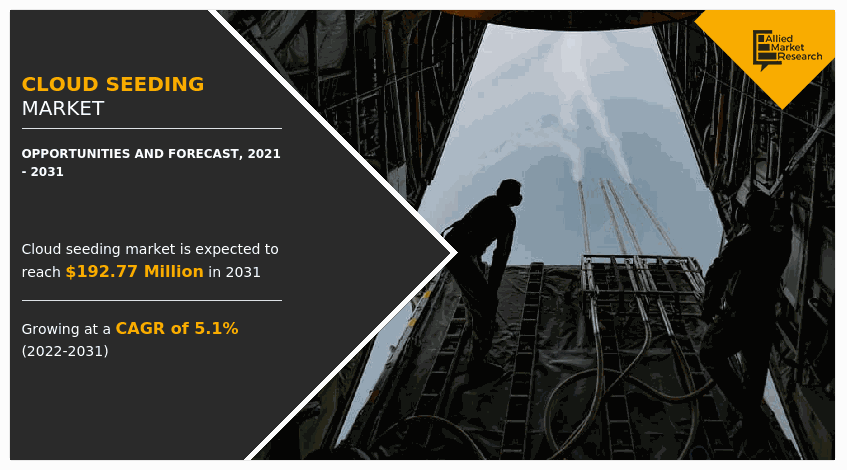 The cloud seeding market is segmented into Type, Application, Flare and Seeding Technique.
The COVID-19 pandemic had an adverse effect on the cloud seeding industry. Imposition on sudden lockdown and halt on commercial activities resulted in limited weather monitoring and forecasting activities. With limited data on current weather and clouds, it becomes impossible to perform cloud seeding operations. Also, sudden shutdown of manufacturing sector, trade, transport and local commute had a notable impact on weather which make prediction even more difficult. Apart from the prediction and operational challenges, limited access to raw materials and operational flight to perform cloud seeding to further bottleneck business opportunities. Cloud seeding is mostly practiced by government bodies across vast regions. Focus and financial allocation of government organizations towards contaminating the impacts of COVID-19 virus resulted in cloud seeding industry slowdown within the cloud seeding industry. However, the market is expected to recover at a healthy rate. Countries like China, UAE and U.S. having long term goals before COVID-19 are realigning themselves in that direction, supporting new business opportunities.
Factors, such as increase in investment within cloud modification programs, introduction of new technologies, and rise in demand mitigate environmental threats. Rise in application of cloud seeding technologies to generate artificial rain and maintain water level in draught regions is expected to act as a primary market accelerator. Water deprecated regions, including Saudi Arabia have done notable investment within the cloud seeding industry. For instance, in April 2022, the Saudi Arabia Council of Ministers announced inauguration of cloud seeding program over three cities to increase rainfall. The program is segmented in two phases. The first phase is stated to include setting up operations in Riyadh, Qassim, and hail region, followed by Asir, Al-Baha, and Taif regions in the second phase. The program is supposed to use advanced meteorological techniques to ensure environmental friendly operations.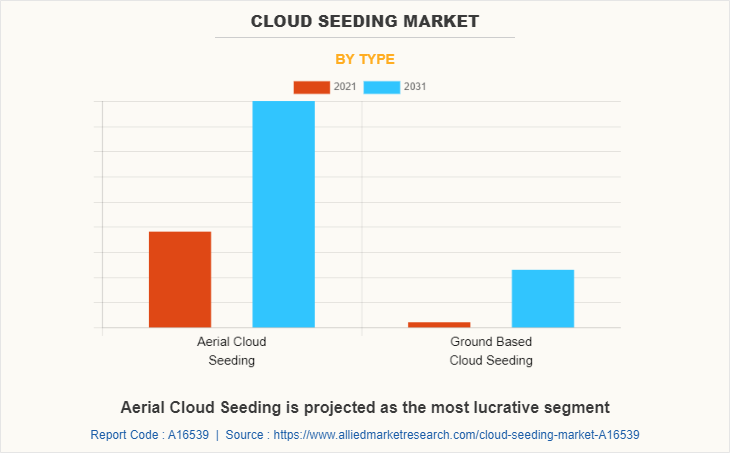 The cloud seeding market is segmented on the basis of type, application, flare type, seeding technique, and region. By type, it is categorized aerial cloud seeding and ground based cloud seeding. Depending on application, it is fragmented into increasing precipitation, mitigating hail damage, and dispersing fog. By flare type, it is divided into end burning flares, ejection flares, automatic/remote based generator, manual generator, and flare trees. By seeding technique, the market is divided into hygroscopic, and glaciogeneic. Region-wise, the market is analyzed across North America, Europe, Asia-Pacific, and LAMEA.
Companies have adopted product development and product launch as their key development strategies in the cloud seeding industry. Moreover, collaborations and acquisitions are expected to enable leading players to enhance their product portfolios and expand into different regions. The key players operating in the cloud seeding market are Weather Modification, Inc., RHS Consulting, Limited, North American Weather Consultants, Inc., Seeding Operations And Atmospheric Research, Snowy Hydro Limited, Mettech S.p.A., AFJets Sdn Bhd, Cloud Seeding Technologies, 3D s.a., and Ice Crystal Engineering LLC.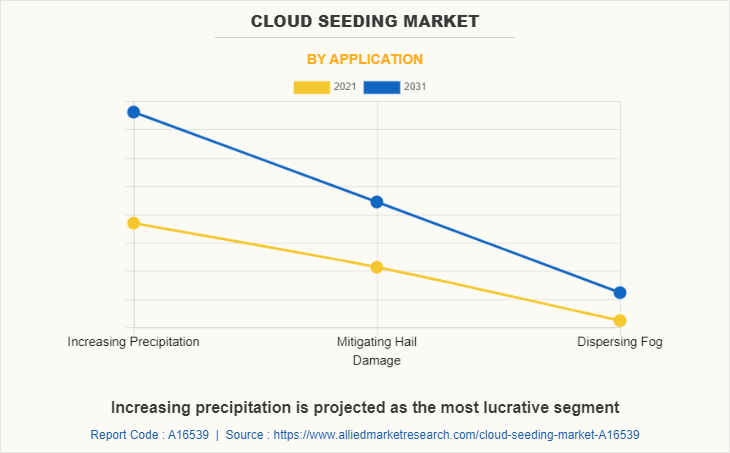 Usage of cloud seeding technologies to regulate weather patterns
The rise in global warming and carbon footprint at alarming levels across the globe, backed by range of industrial and logistics activities is having a notable impact on weather pattern. Major season such as summer, winter, and monsoon across the globe is getting irregular. Extreme weather conditions, heat and cold waves, and large storms are expected to become a common occurrence in coming years. Almost quarter of the world, including major economies such as the U.S., Russia, China, UK, India, and UAE recorded highest temperature in their respective geographies in 2021. Such catastrophic situations have allowed environmental researchers to come with a viable solution to control weather.
Cloud seeding technique can increase precipitation in cloud and augment rainfall or snowfall as and when needed. Commercial application like use of aerial or ground-based cloud seeding to have a consistent environmental conditions around runways are being practiced for several years. Extreme weather conditions like fog, hail or ice can limit the aircraft ability to land and takeoff, generating a demand of regular cloud seeding operations.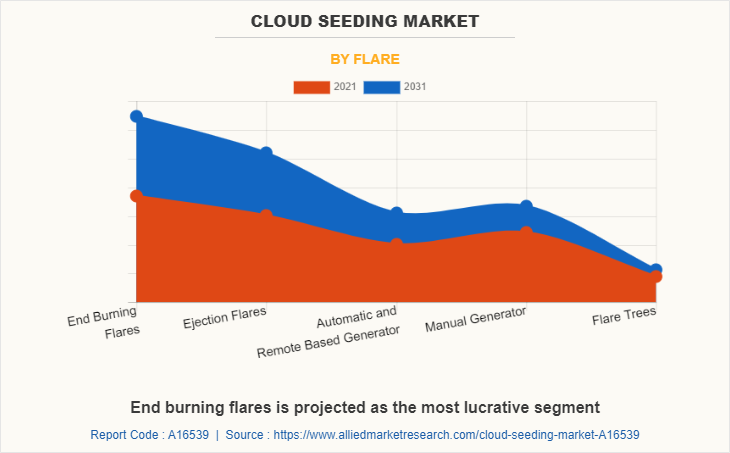 Reduce the catastrophic impact of natural disasters
The environmental shift due to increase in pollution and uneven weather conditions is generating catastrophic impact on societies across the globe. Flash floods, thunderstorms, uneven rainfall, heat strokes, and hail storms are becoming a common phenomenon, incurring notable losses to human society. An average of $20 billion of losses every year is incurred by the U.S. due to hail damage. An average of more than 1,000 hail events are recorded every year across the U.S. and the number keeps on increasing every year. In May 2020, a hail storm in South Texas area caused notable damage, summing the amount to $1.4 billion. Apart from the U.S., other countries such as Germany, China, and Australia are also suffering from similar consequences. Cold regions including Canada and Russia suffer from extreme snowfall, challenging the day to day operations, whereas the dessert regions such as UAE, are suffering from extreme water scarcity due to lack of rain.
Cloud seeding technologies can help notably reduce this catastrophic impacts. Chemicals like silver iodide and sodium chloride used in cloud seeding can accelerate the precipitation of catastrophic clouds and reduce the total damage that is expected to incur. For instance, a cloud having extreme snow or rain particles approaching civilian region can be cloud seeded in jungle area. The cloud seeding will ensure the cloud precipitation and disasters can be mitigated.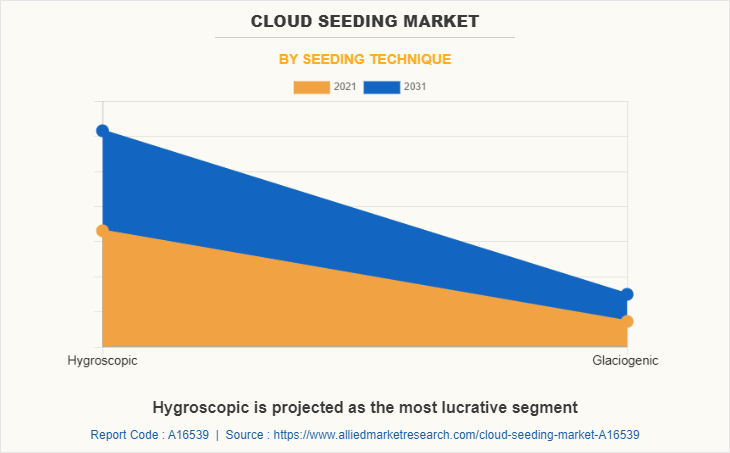 Continued growth in population to generate water demand
The rise in population across the globe and increasing demand of fresh water to various day to day personal and professional activities to support adoption of cloud seeding technologies. These weather modification technique will allow regions to cater the rising market demand of fresh water through increase cloud precipitation activities. The population is expected to grow over 40% in next 45% with growth rate of 1.1% per year. Countries in Asia-Pacific and North America will have the highest population density where countries in Africa and Asia-Pacific has the highest growth rate. The increasing population density and growth rate will become a primary factor driving the consumption of clean water and indirectly creating a demand for cloud seeding market.
Challenges in commercial acceptance
Weather modification through cloud seeding is a complex process which may have a long term impact over the atmosphere, if it is used in a continuous manner. Despite cloud seeding has been used for decades, there is no conclusive results about its success ratio which is creating a hurdle in widespread commercial acceptance. Another major factor hindering the commercial acceptance is the fact that cloud seeding cannot be done on every cloud. There needs to be specific weather conditions such as minimum density of cloud which can be seeded to have optimal results. Advanced weather forecast and monitoring technologies are required to rectify such clouds, limiting its business opportunities.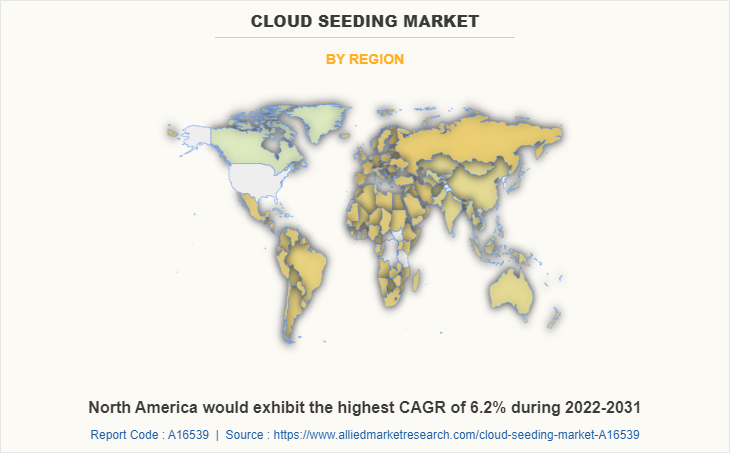 KEY BENEFITS FOR STAKEHOLDERS
This study presents the analytical depiction of the global cloud seeding market analysis along with the current trends and future estimations to depict imminent investment pockets.

The overall cloud seeding market opportunity is determined by understanding profitable trends to gain a stronger foothold.

The report presents information related to the key drivers, restraints, and opportunities of

the global cloud seeding market with a detailed impact analysis.

The current cloud seeding market is quantitatively analyzed from 2021 to 2031 to benchmark the financial competency.

Porter's five forces analysis illustrates the potency of the buyers and suppliers in the industry.
 Cloud Seeding Market Report Highlights
Aspects
Details
By Type

Aerial Cloud Seeding
Ground Based Cloud Seeding

By Application

Increasing Precipitation
Mitigating Hail Damage
Dispersing Fog

By Flare

End Burning Flares
Ejection Flares
Automatic and Remote Based Generator
Manual Generator
Flare Trees

By Seeding Technique
By Region

North America (U.S., Canada, Mexico)
Europe (Germany, U.K., France, Russia, Rest of Europe)
Asia-Pacific (China, India, Japan, Rest of Asia-Pacific)
LAMEA (Latin America, Middle East, Africa)

Key Market Players
WEATHER MODIFICATION, INC, Mettech S.p.A, 3D s.a, CLOUD SEEDING TECHNOLOGIES, RHS CONSULTING, LIMITED, SEEDING OPERATIONS AND ATMOSPHERIC RESEARCH, NORTH AMERICAN WEATHER CONSULTANTS, INC, snowy hydro limited, AFJets Sdn Bhd, Ice Crystal Engineering