The global CNC metal cutting machine market size was valued at $53,069.1 million in 2020, and is projected to reach $83,364.4 million by 2030, registering a CAGR of 4.2% from 2020 to 2030.CNC Metal Cutting Machines are high precision machines that make computer-controlled repeated movements for custom metal fabrication works. Computer-generated codes enable CNC metal cutting machines to achieve meticulous accuracy. CNC metal cutting machines are highly customizable, making them suitable for use in various manufacturing facilities. 
The halted manufacturing in industries and prolonged lockdown in various countries due to the COVID-19 pandemic has affected the CNC metal cutting machines supply chain.
The changing global power dynamics has significantly increased spending on defense equipment across the globe, thereby increasing the number of companies involved in manufacturing of defense and aerospace products. This has increased the use of CNC metal cutting machine market growth of precise manufacturing equipment in the defense and aerospace sector. Furthermore, surgeon industrialization has significantly increased the use of metals, thereby creating demand for the market. In addition, the rise in purchasing power of masses has significantly increased the demand for automobiles and electronic products. This increase in demand further boosts the use of CNC metal cutting machine manufacturing industry.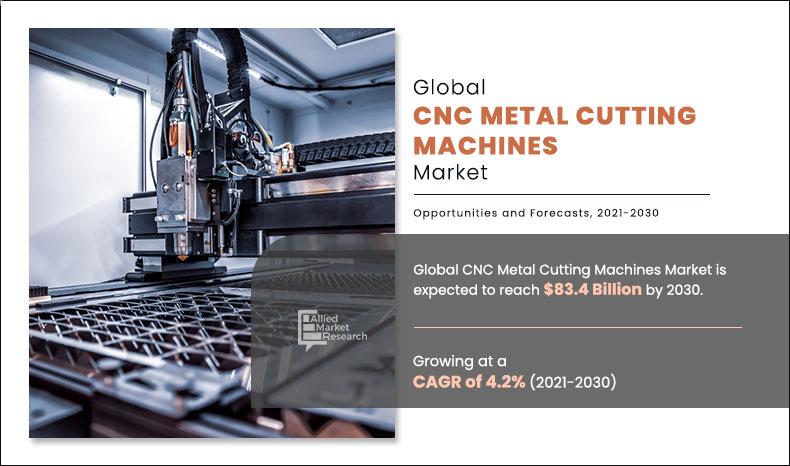 The defense spending across the globe has witnessed significant increase in the past few years. For instance, according to U.S. Government Accountability Office, U.S. defense spending accounted for $714 billion in FY 2020 and the amount is expected to increase to $733 billion in FY 2021. Countries in the Asia-Pacific region such as China and India have emerged as major defense markets as well as manufacturers. The Asia-Pacific region has emerged as a major automotive hub, owing to rapid growth of automotive industry in countries such as China and India. China is the world's largest automotive market by both manufacturing capacity and annual sales, and India has approximately 25 vehicles per thousand people as of 2020, and the number is expected to cross 150 vehicles per thousand people by the year 2040. Such rapid growth of defense and automotive industry is anticipated to increase the use of CNC metal cutting machines. However, high cost of new CNC metal cutting machines and increased adaptation of secondhand CNC metal cutting machines is anticipated to be a restraint in the growth of the market. 
CNC Metal Cutting Machine Market

---
By Type
Machining Centres is expected to hold a majority share of the market throughout the study period
The novel coronavirus has rapidly spread across various countries and regions, causing an enormous impact on the lives of people and the overall community. It began as a human health condition and has now become a significant threat to global trade, economy, and finance. The COVID-19 pandemic has halted the production of many products in the CNC metal cutting machines business due to the lockdown. Furthermore, the number of COVID-19 cases are expected to reduce in the near future as the vaccine for COVID-19 is introduced in the market. This has led to the reopening of CNC metal cutting machine manufacturing companies at their full-scale capacities. This is expected to help the market to recover by the start of 2022.After COVID-19 infection cases begin to decline, CNC metal cutting machine manufacturers must focus on protecting their staff, operations, and supply networks to respond to urgent emergencies and establish new methods of working.
Furthermore, surge in demand for electronics and other products fueled by rise in population and increased purchasing capacity of masses are anticipated to boost the global manufacturing industry. In addition, supportive government initiatives and increased number of Free Trade Agreements across the globe are expected to fuel manufacturing industries. These factors are anticipated to positively influence the Global CNC metal cutting machine market share. 
CNC Metal Cutting Machine Market

---
By End-user
Electronics is projected to grow at a significant CAGR
The global CNC metal cutting machine market is segmented on the basis of type, end user, and region. By type, the market is categorized into new Machining Centers, Lathe Machines, Gear Cutting Machines, Laser Cutting Machines, and Others. On the basis ofend user, it is categorized into Automobile, Aerospace & defense, Electronics, Power & Energy, and Others. Region wise, the market is analyzed across North America, Europe, Asia-Pacific, and LAMEA. Asia-Pacific dominated the market in 2020, accounting for the highest share, and is anticipated to maintain this trend throughout the forecast period. This is attributed to increase in population, urbanization, and industries.
Competition Analysis
Key companies profiled in the CNC metal cutting machine market report include Amada Holdings Co., Ltd., Coherent, Inc., DMG MORI CO., Ltd., Hurco Companies, Inc., Komatsu Ltd, Lincoln Electric Holdings, Inc., Maschinenfabrik Berthold Hermle AG, Okuma Corporation, TRUMPF GmbH + Co. KG, and Yamazaki Mazak Corporation
CNC Metal Cutting Machine Market

---
By Region
North America held a dominant position in 2020 and would continue to grow at a significant CAGR during the forecast period.
Key Benefits For Stakeholders
The report provides an extensive analysis of the current and emerging CNC metal cutting machine market trends and dynamics.  
In-depth CNC metal cutting machine market analysis is conducted by constructing market estimations for key market segments between 2021 and 2030. 
Extensive analysis of the CNC metal cutting machine market is conducted by following key product positioning and monitoring of top competitors within the market framework.
A comprehensive analysis of all the regions is provided to determine the prevailing opportunities.
The global CNC metal cutting machine market forecast analysis from 2021 to 2030 is included in the report.
The key players within CNC metal cuttinag machine market, are profiled in this report and their strategies are analyzed thoroughly.
To help the understand competitive outlook of the CNC metal cutting machines industry.
 CNC Metal Cutting Machine Market Report Highlights
Aspects
Details
By Product Type

Machining Centers
Lathe Machines
Gear Cutting Machines
Laser Cutting Machines
Others

By END USER

Automobile
Aerospace & defense
Electronics
Power & Energy
Others BY REGION

By Region

North America (U.S., Canada, Mexico)
Europe (UK, Germany, France, Spain, Italy, Rest of Europe)
Asia-Pacific (China, Japan, India, Australia, South Korea, Rest of Asia-Pacific)
LAMEA (Latin America, Middle East, Africa)