Coagulation Testing Market Research, 2031
The global coagulation testing market size was valued at $3.1 billion in 2021, and is projected to reach $8.8 billion by 2031, growing at a CAGR of 11.5% from 2022 to 2031.Blood Coagulation, also known as clotting, is a change in the physical properties of blood caused by the conversion of fibrinogen, a soluble plasma protein, into fibrin, a solid gel. A coagulometer is used to examine the ability of the blood to clot and the blood clotting time.
The COVID-19 has had a favorable impact on the global coagulation testing market. There is a high demand for coagulation-related parameters such as D-dimer; in fact, the increase in D-dimer was the most significant change in coagulation parameters such as prothrombin time. According to studies, patients with higher D-dimer had a higher risk of dying. In this time of economic crisis, this factor is expected to fuel market expansion as it is a primary driver of the demand for coagulation testing techniques for early diagnosis.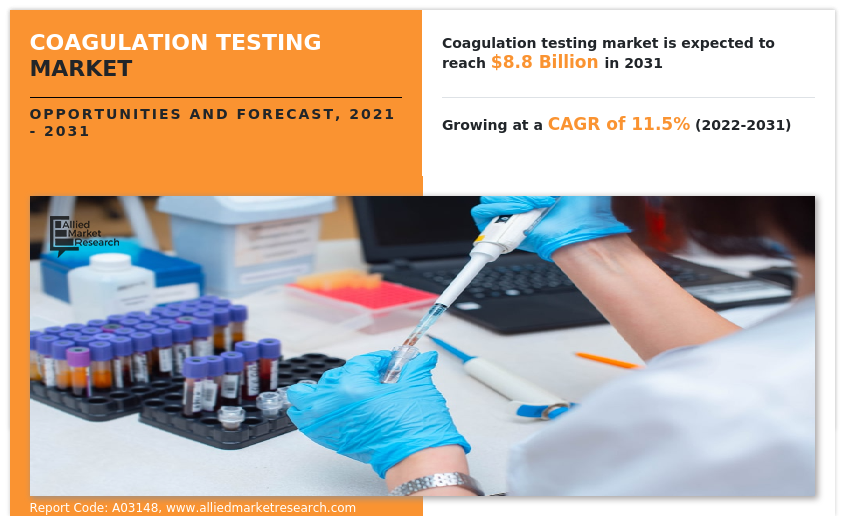 Blood's ability to clot and how long it takes to clot are both assessed by coagulation tests. This test aids the physician in determining the likelihood of blood vessel thrombosis or severe bleeding. Testing aids medical professionals in determining the likelihood of excessive bleeding and the formation of blood vessel clots, or thrombosis. Some common coagulation test types are complete blood count (CBC), fibrinogen level, Factor V assay, prothrombin time, platelet count, thrombin time, and bleeding time.
The global market for coagulation testing market forecast to experience rapid growth due to the prevalence of chronic blood illnesses. The market for coagulation testing is expected to increase as a result of rise in need for specialized hematology and coagulation laboratories. Point of care (POC) devices are created using cutting-edge technologies such as fluorescence microscopy, microfluidics, electrochemical sensing, and photoacoustic detection. POC instruments primarily gauge the optical, mechanical, and electrochemical aspects of blood clotting. These technical developments are anticipated to accelerate the market expansion for coagulation testing market growth.
The global coagulation testing industry's expansion is expected to be constrained by the higher cost of coagulation instruments and a lack of expertise. The growth of the global coagulation testing market size may be hindered by a shortage of competent workers and increased device costs.
The coagulation testing market opportunity is expected to benefit greatly from recent innovations such as smartphone-enabled coagulation tests. It is projected that the smartphone-based blood coagulation test will propel market expansion. This self-testing method uses an instrument to track blood flow in individuals receiving anticoagulant medication. Patients have the option to conduct this test at home due to the device.
The key players profiled in this report include Thermo Fisher Scientific Inc., Helena Laboratories Corporation., Micropoint Biosciences, Medtronic, F. Hoffmann-La Roche Ltd, Nihon Kohden Corporation., Abbott., Sysmex Corporation, Bd Biosciences., and Danaher.
The global coagulation testing market is segmented on the basis of product type, application, end-use industry, and region. By product type, the market is sub-segmented into instruments and consumables. By application, the market is classified into prothrombin time, activated partial thromboplastin time, thrombin time, and activated clotting time. By end-user, the market is classified into hospitals, clinical laboratories, point-of-care testing, and others. By region, the market is analyzed across North America, Europe, Asia-Pacific, and LAMEA.
The coagulation testing market is segmented into Product, Application and End User.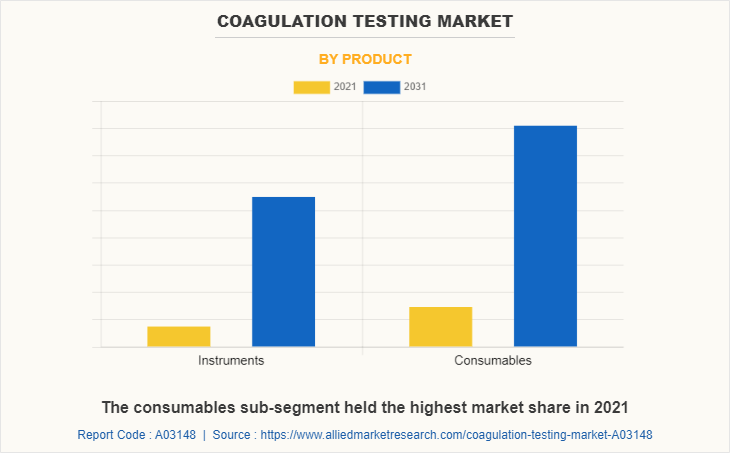 By product type, the consumables segment dominated the global coagulation testing market share in 2021. Consumables include reagents and strains. All testing techniques require reagents hence, consumables for coagulation testing are widely used and frequently ordered.Tremendous growth in diagnostic centers across the globe; enhanced diagnostic tools; improved treatment monitoring; and heavy investments in the R&D are anticipated to drive the growth of global market.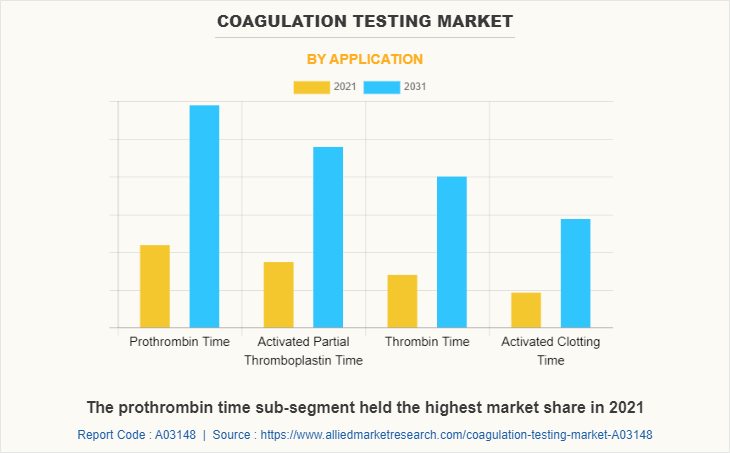 The prothrombin time segment dominated the global coagulation testing market share in 2021. Prothrombin time is one of numerous blood tests used in clinical practice to assess patients' coagulation status. Increase in economic pressures on hospitals and rise in competition among therapists and suppliers are expected to drive the growth of global market. Moreover, clinicians are reviewing developing technologies, and also ensuring that patients benefit from new advancements. Furthermore, perioperative coagulation prothrombin time offers complex interactions within the clotting system, reduces turnaround test times, and reduces inappropriate transfusion.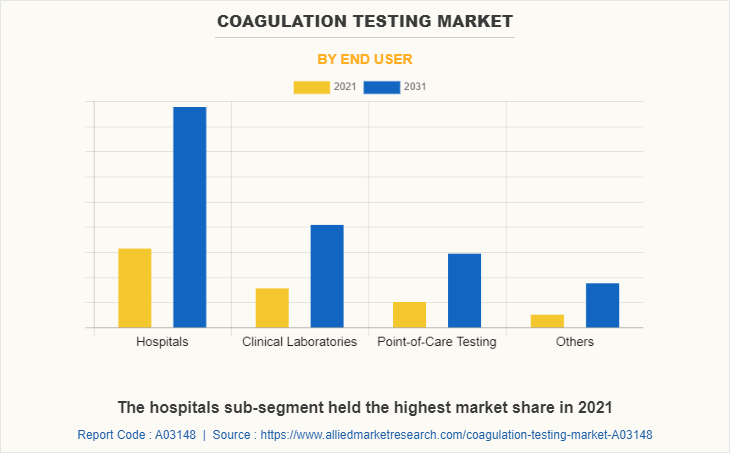 By end-user, the hospitals sub-segment dominated the global coagulation testing market share in 2021. Clotting time tests, such as prothrombin time, are widely used to evaluate the hemostatic system in an outpatient or hospital context. Newly developed prothrombin time testing equipment with sensor technology are faster and easier to use. Furthermore, the rising prevalence of cardiovascular ailments, blood disorders, and increased demand for hospital is projected to fuel the growth of the global market, during the forecast period.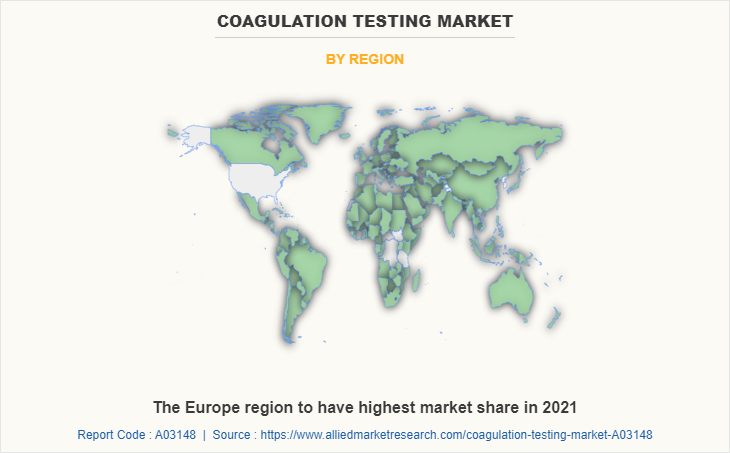 By region, Europe dominated the global coagulation testing market in 2021 and is projected to remain the dominant-growing sub-segment during the forecast period. This is majorly due to the latest advancements and strategies and the most current updates in the field. Annually, cardiovascular disease (CVD) accounts for 3.9 million deaths in Europe i.e. CVD causes 45% of all deaths in Europe. In addition, death rates from both ischemic heart disease and stroke are generally higher in Eastern and Central Europe; these deaths are anticipated to drive the demand for coagulation tests services and eventually boost the growth of coagulation tests in Europe market.
Impact of COVID-19 on the Global Coagulation Testing Industry
The COVID-19 pandemic has positively affected the global coagulation testing market. Many scientists are focusing on identifying the coagulopathy behavior linked to the novel coronavirus.

Researchers are responsible for monitoring several coagulation tests such as prothrombin time (PT), platelet count, fibrinogen, and D-dimer methods to find the sensitivity of coagulation testing in hospitalized patients due to COVID-19.

They have found that patients who have higher D-dimer have high chance of mortality. This element is a major driver of the need for coagulation testing procedures for early diagnosis and is anticipated to fuel market expansion during this moment of economic crisis.
Key Benefits For Stakeholders
This report provides a quantitative analysis of the market segments, current trends, estimations, and dynamics of the coagulation testing market analysis from 2021 to 2031 to identify the prevailing coagulation testing market opportunities.
The market research is offered along with information related to key drivers, restraints, and opportunities.
Porter's five forces analysis highlights the potency of buyers and suppliers to enable stakeholders make profit-oriented business decisions and strengthen their supplier-buyer network.
In-depth analysis of the coagulation testing market segmentation assists to determine the prevailing market opportunities.
Major countries in each region are mapped according to their revenue contribution to the global market.
Market player positioning facilitates benchmarking and provides a clear understanding of the present position of the market players.
The report includes the analysis of the regional as well as global coagulation testing market trends, key players, market segments, application areas, and market growth strategies.
 Coagulation Testing Market Report Highlights
Aspects
Details
Market Size By 2031
USD 8.8 billion
Growth Rate
CAGR of 11.5%
Forecast period
2021 - 2031
Report Pages
280
By Product
By Application

Prothrombin Time
Activated Partial Thromboplastin Time
Thrombin Time
Activated Clotting Time

By End User

Hospitals
Clinical Laboratories
Point-of-Care Testing
Others

By Region

North America (U.S., Canada, Mexico)
Europe (Germany, United Kingdom, France, Spain, Italy, Rest of Europe)
Asia-Pacific (China, Japan, India, South Korea, Australia, Rest Of Asia Pacific)
LAMEA (Brazil, Saudi Arabia, UAE, South Africa, Rest of LAMEA)

Key Market Players
Nihon Kohden Corporation, Alere Inc., Micropoint Biosciences, Diagnostica Stago Sas, F. Hoffmann-La Roche Ltd., Helena Laboratories, Sysmex Corporation, Thermo Fisher Scientific Inc., Abbott Laboratories, Medtronic plc