Coal Bed Methane Market Overview:
The Global Coal Bed Methane Market was valued at $9,089 million in 2016, and is expected to reach $17,956 million by 2023, registering a CAGR of 9.0% from 2017 to 2023. Coal bed methane (CBM) is the natural gas found in most coal deposits. It is created during coalification process where plant material is converted into coal over millions of years. In addition, CBM consists of pure methane, which is a clean-burning fuel, which contains lesser impurities and require minimal processing. It is considered eco-friendly than oil, coal, or even conventional natural gas.
The reduction in methane emissions associated with conventional fuels and coal mining, lower price of CBM compared to other unconventional natural gases, and generation of direct and indirect employment in the extraction of CBM drive the growth of global CBM market. However, the large initial capital commitment for well drilling, stimulation, and water handling, and the difficulty in estimation of recoverable volumes in evaluation of CBM proposals hamper the market growth. Key market players have adopted agreement as their key strategy to widen their brand portfolios and expand their market outreach.
The global coal bed methane market is segmented based on application and geography. The application segment is classified into industrial, power generation, transportation, commercial, and residential. Geographically, it is analyzed across North America, Europe, and Asia-Pacific.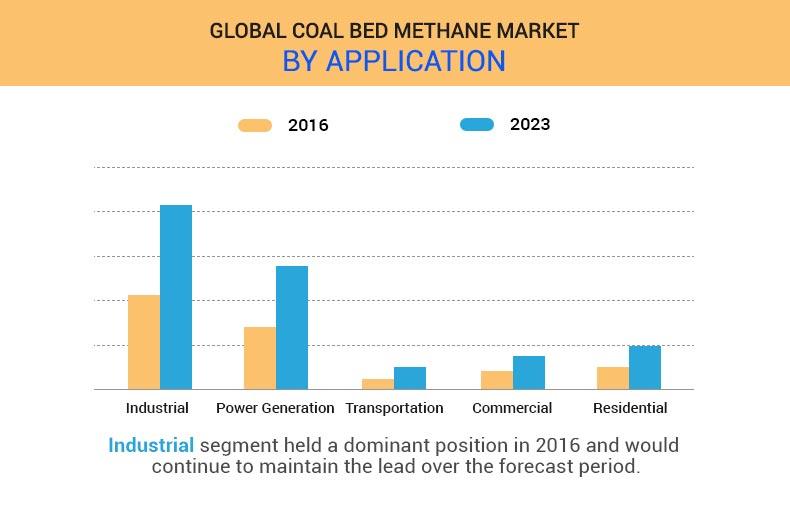 In 2016, the power generation segment, in terms of revenue, accounted for around one-third share of the global coal bed methane market. In terms of volume, power generation accounted for approximately 30% share in the overall market. Power generation is the most lucrative segment for investment in the global CBM market, owing to the demand for natural gas in various end-user industries. Thus, this segment is anticipated to show high growth rate and significant return on investment for stakeholders due to its notable revenue contribution.
Global Coal Bed Methane Geography Analysis
U.S. contributes to the larger part of current CBM extraction and has developing generation potential globally. The innovation and experience procured in the U.S. could be promptly applied globally. A standout among the most encouraging markets is Australia, where CBM or coal seam gas (CSG), is a noteworthy source for satisfying liquid natural gas (LNG) demand. Demand for LNG is expected to rise in the adjacent Asia-Pacific markets, transferring the growth to CBM as a substitute. India, China, and Russia have critical CBM stores, which are estimated to gain surge in extraction by 2017.
Major companies have adopted product development, expansion, and merger as their strategies to sustain the intense market competition. The key players profiled in the report include, Arrow Energy Holdings Pty Ltd., Baker Hughes, Inc., BG Group PLC., Blue Energy Ltd., BP PLC., China United CoalBed Methane Corporation, Concophillips, Encana Corporation, Origin Energy Ltd., and Santos Ltd.
The other market players (not profiled in report) in the value chain include AGL Energy Limited, Bow Energy Ltd., Black Diamond Energy, Inc., Dart Energy Corporation, Great Eastern Energy Corp. Ltd., Green Dragon Gas Ltd., Halliburton Co., Metgasco Ltd., Reliance Power Limited, and Senex Energy Limited.
Key Benefits
This report provides an extensive analysis of the current trends, emerging estimations, and dynamics in the global CBM market.
In-depth analysis of the market is conducted and estimations for key segments between 2016 and 2023 are provided in the report.
The factors that drive and restrain the growth of the market are provided in the report.
Industry analysis is conducted by following the key product positioning and monitoring the top competitors within the market framework.
Key market players are profiled and their strategies are analyzed thoroughly, which provide a competitive outlook of the industry trends.
 Coal Bed Methane Market Report Highlights
Aspects
Details
By Application

Industrial
Power Generation
Transportation
Commercial
Residential

By Geography

North America
Europe
Asia-Pacific
LAMEA

Key Market Players
CONCOPHILLIPS, ARROW ENERGY, CHINA UNITED COAL BED METHANE CORPORATION, ORIGIN ENERGY, BLUE ENERGY, BG GROUP (ROYAL DUTCH SHELL PLC.), SANTOS LTD., BP PLC, BAKER HUGHES, ENCANA CORPORATION