Coal Gasification Market Research, 2032
The global coal gasification market size was valued at $186.9 billion in 2022, and is projected to reach $544.2 billion by 2032, growing at a CAGR of 11.4% from 2023 to 2032. Coal gasification presents a practical solution for utilizing coal to meet stringent environmental regulations. The coal gasification process involves the oxidation of coal by air, oxygen, steam or carbon dioxide under controlled conditions for the production of fuel gas also known as syngas. The coal gasification process generates syngas which is composed of carbon monoxide, hydrogen, and other gases. This process offers a cleaner way for the utilization of coal as an energy source.
The COVID-19 pandemic has disrupted global supply chains, greatly impacting the availability of raw materials necessary for coal gasification technologies. In addition, delays in the delivery of equipment and machinery have resulted in the slowdown of the project timelines.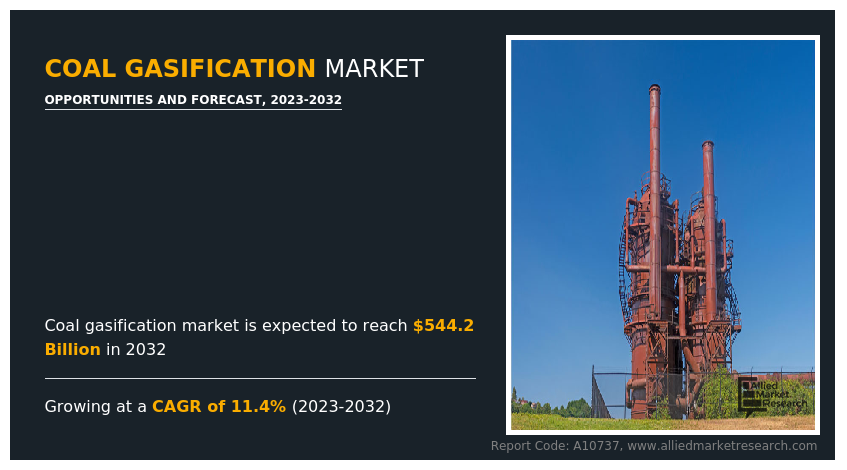 Coal gasification allows for the capture and removal of pollutants such as sulfur dioxide (SO2) and particulate matter. Thus, coal gasification helps in reducing the environmental impact and achieving sustainability goals. Syngas produced via coal gasification is used across different applications such as chemicals, and electricity generation which makes it a versatile gasification process to diversify energy production and minimize the dependence on fossil fuels.
Gasification process generates cleaner liquid and gaseous fuels that can be used across chemicals, power, and other sectors. The coal gasification market is gaining huge popularity as it can address global energy security and environmental objectives. Notably, gasification installations could play a pivotal role in combating climate change due to their intrinsically lower costs for capturing carbon dioxide (CO2). In addition, the recent advancements in the integrated gasification and combined cycle (IGCC) power plants represent a remarkable shift from conventional power generation methods.
Modern gasification technologies exhibit noteworthy enhancements compared to their early counterparts, featuring heightened flexibility, considerably expanded scale, and novel applications. These advancements have propelled gasification technologies to unparalleled prominence. Furthermore, the widespread adoption of gasification methods can be primarily attributed to socioeconomic factors, concerns over energy security, and the imperatives of environmental stewardship. Moreover, the realm of gasification technologies has seen diversification, encompassing strategies aimed at cost reduction through integration as well as those emphasizing compact, modular gasifiers. These factors are anticipated to boost the market growth during the forecast period.
Furthermore, as the demand for clean hydrogen rises, coal gasification could play a pivotal role in hydrogen supply, especially considering the projected increase in hydrogen demand by 2050. Coal-based hydrogen production through gasification has already proven effective, offering hydrogen of high purity for various industries, including refining, ammonia production, and fuel cells. This process, which involves converting coal into syngas rich in hydrogen and other components, has demonstrated its viability through successful implementations such as the Great Plains Synfuel Plant.
Another promising advantage lies in the field of Underground Coal Gasification (UCG). This process involves combusting coal in situ to create usable gas, offering the potential for various applications, including electricity generation, steam production, and chemical feedstock. UCG has demonstrated its capabilities through pilot projects and ongoing research, presenting a novel approach to harnessing coal's potential for energy and hydrogen generation. The integration of UCG with technologies like solid oxide fuel cells (SOFC) holds promise for efficient power generation and carbon-neutral processes.
The high cost involved in setting up a coal gasification plant is estimated to hamper the market demand in the coming years. There is a significant amount of water required for the coal gasification process for cooling purposes. Thus, the countries facing water scarcity issues can find it difficult to setup the coal gasification plants. In addition, coal gasification is a complex process owing to which it requires proper monitoring of different parameters including temperature, gas composition, pressure, and others which is anticipated to hinder the market growth during the forecast period.
Advancements in the integrated coal gasification combined cycle (IGCC) power plants represent a cutting-edge thermal power system that is anticipated to generate excellent opportunities in the market. This is because IGCC power plants has high power generation efficiency and environmental performance due to their integration of coal gasification with the Gas Turbine Combined Cycle (GTCC) technology. Larger-scale IGCC systems can boost power generation efficiency by approximately 15% while curbing CO2 emissions compared to standard coal-fired thermal power setups. This enhanced efficiency translates to reduced sulphur oxide, nitrogen oxide, and dust emissions per kilowatt-hour of electricity produced. Also, IGCC releases about 30% less hot wastewater compared to traditional coal-fired thermal power generation.
In contrast to conventional setups requiring substantial water for flue gas treatment, IGCC employs a more efficient water usage approach as it treats high-pressure, low-volume fuel gas. Moreover, the Integrated Gasification Combined Cycle (IGCC) yields minimal volatile mercury levels and critical air pollutants.  In addition, a significant rise in global coal consumption is anticipated to boost the coal gasification market opportunities, For instance, as stated in the "2022 BP World Energy Statistics Yearbook", the global coal consumption reached 160.1 EJ (Exajoules) in 2021. This contributes to approximately 26.9% of global energy consumption. Also, in countries namely India and China, coal is one of the most vital fossil fuels that is widely used.
Furthermore, various coal gasification technologies such as plasma gasification, decoupling gasification, and supercritical water gasification are being adopted recently. This is because the above-mentioned technologies have excellent coal utilization rate, boost the production of hydrogen-rich syngas, minimize the environmental impact, and others. These factors are anticipated to boost the coal gasification market growth during the forecast period.
The key players profiled in this report include Air Liquide, Mitsubishi Heavy Industries Ltd., Air Products, Thyssenkrupp Uhde GmbH, Andritz, Dakota Gasification Company, Sedin Engineering Co Ltd., Sasol Limited, Linc Energy Ltd., and Shanxi Lu'an Mining Group Co., Ltd. . Business expansion, partnership, and investment are common strategies followed by major market players. In January 2022, Indonesia started the construction of a $2.3 billion coal gasification plant to minimize the country's liquefied petroleum gas (LPG) imports by optimizing its coal resources
The coal gasification market is segmented on the basis of gasifier, application, and region. By gasifier, the market is divided into fixed bed, fluidized bed, and entrained flow. By application, the market is classified into fertilizers, electricity generation, chemicals, hydrogen generation, steel production, and others. By region, the market is analyzed across North America, Europe, Asia-Pacific, and LAMEA.
The coal gasification market is segmented into Gasifier and Application.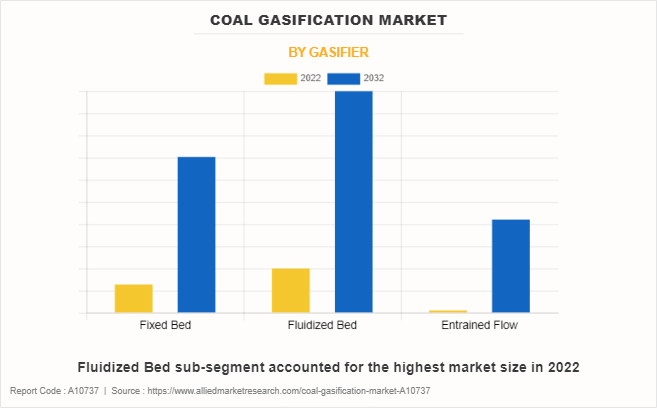 By gasifier, the fluidized bed sub-segment dominated the market in 2022. The fluidized bed gasifiers are widely preferred for coal gasification owing to their high reaction rates, efficient mixing, heat transfer sulfur capture, and reduction in the tar formation. For instance, in these gasifiers, the solid particles are suspended in a fluid-like state by the upward flow of gas. Owing to this, the fluidized bed gasifiers offer excellent mixing between the particles and the gasifying agents that leads to efficient gas-solid reactions. Also, these gasifiers have continuous movement and circulation of particles in a fluidized bed that leads to high gasification reaction rates with efficient conversion of feedstock into syngas. In addition, fluidized bed gasifiers tend to produce low tar and heavy hydrocarbons compared to other gasification techniques. Thus, the production of cleaner syngas simplifies downstream processing and minimizes the need for extensive gas cleaning. These factors are anticipated to propel the fluidized bed gasifier market share in the coming years.
By application, the electricity generation sub-segment dominated the global coal gasification market share in 2022. Coal gasification is used for electricity generation via Integrated Gasification Combined Cycle (IGCC). The IGCC power plants are generally more efficient than conventional coal-fired power plants. The gasification process leads to cleaner and more concentrated fuel production known as syngas. In addition, the syngas produced via coal gasification contains hydrogen. This hydrogen-rich syngas can be used for various industrial applications such as chemical processing, steel processing, power utilities, and fuel cell use. In addition, the hydrogen produced via coal gasification for electricity generation is considered a renewable energy source that can be stored and used later for generating electricity. Thus, coal gasification is gaining huge popularity across the electricity generation sector.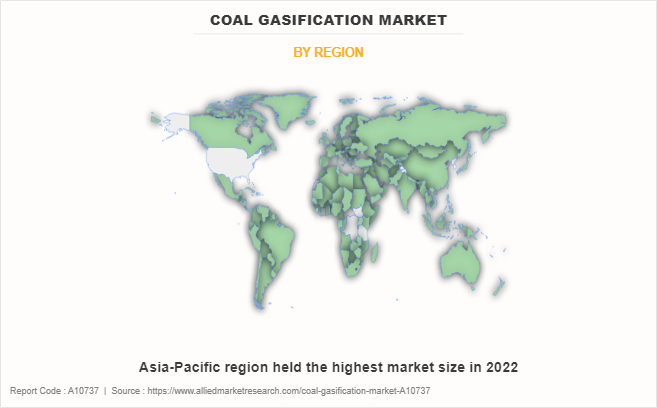 By region, Asia-Pacific dominated the global market in 2022. The Asia-Pacific countries majorly China, India, Australia, Japan, Indonesia, and South Korea have been actively engaging in several coal gasification projects owing to the presence of significant coal reserves. In China, several coal-to-methanol projects as well as coal-to-chemicals projects have been implemented. Based on the same, in October 2021, Indonesia and China signed a memorandum of understanding for conducting a feasibility study of a $560 million worth of coal-to-methanol plant. In addition, in April 2021, the Indian government approved an exclusive subsidy policy for the production of urea via coal gasification by Talcher Fertilizers Limited (TFL). Based on the same, TFL has is setting up a 1.27 million ton per annum capacity urea plant based on coal gasification technology. This plant is located in Odisha and an investment worth Rs. 13,277 crore ($132, 770 million) was made for establishing this plant. These initiatives are driving the coal gasification developments in the Asia-Pacific region.
Impact of COVID-19 on the Global Coal Gasification Industry
Key Benefits For Stakeholders
The report provides exclusive and comprehensive analysis of the global coal gasification market scope, trends along with the coal gasification market forecast.

The report elucidates the coal gasification market trends along with key drivers, and restraints of the market. It is a compilation of detailed information, inputs from industry participants and industry experts across the value chain, and quantitative and qualitative assessment by industry analysts.

Porter's five forces analysis helps analyze the potential of the buyers & suppliers and the competitive scenario of the market for strategy building.

The report entailing the coal gasification market analysis maps the qualitative sway of various industry factors on market segments as well as geographies.

The data in this report aims on market dynamics, trends, and developments affecting the coal gasification market demand.
 Coal Gasification Market Report Highlights
Aspects
Details
Market Size By 2032
USD 544.2 billion
Growth Rate
CAGR of 11.4%
Forecast period
2022 - 2032
Report Pages
300
By Gasifier

Fixed Bed
Fluidized Bed
Entrained Flow

By Application

Fertilizers
Electricity Generation
Chemicals
Hydrogen Generation
Steel Production
Others

By Region

North America (U.S., Canada, Mexico)
Europe (Germany, Russia, UK, Belgium, Spain, Rest of Europe)
Asia-Pacific (China, Japan, India, Indonesia, Australia, Rest of Asia-Pacific)
LAMEA (Brazil, Chile, Saudi Arabia, South Africa, Rest of LAMEA)

Key Market Players
Linc Energy Ltd., Mitsubishi Heavy Industries Ltd., Thyssenkrupp Uhde GmbH, Air Products, Dakota Gasification Company, Sedin Engineering Co Ltd., Andritz, Shanxi Lu'an Mining Group Co., Ltd., Air Liquide, Sasol Limited