The coco coir market size was valued at $369.70 million in 2019, and is expected to garner $525.70 million by 2027, registering a CAGR of 8.2% from 2020 to 2027. Coco coir, also called coco fiber, is extracted from the outer shell of a coco, which is a stiff, coarse natural fiber, flexible natural yarn that is extracted from the outer husk of the coco manually or through machines. White fibers and brown fibers are two common types of coco fibers extracted from matured coco shells. Coir has the highest concentration of lignin that makes it stronger, but less flexible compared to cotton and unsuitable for dyeing. Coco coir is considered as an eco-friendly product, which is suitable for hydroponic and horticultural applications, as it absorbs water. Surge in demand for eco-friendly products with lightweight properties coupled with expansion of the upholstery industry is driving growth of the global coco coir market. 
The major by-product of coconut is coconut husk from which coir fiber is extracted. This extraction process generates large quantity of coir dust or coir pith, which has gained significant traction in the coco coir market, owing to the fact that it is used a growth medium in horticulture. However, coir pith is still not considered as an ideal carbon source for use in agriculture, owing to its higher carbon and nitrogen ratio and lower biodegradability due to high lignin content. Thus, coir pith is composted to lower the carbon & nitrogen ratio, reduce the lignin & cellulose content, and increase its manorial value. Composting of coir pith reduces its bulkiness and converts plant nutrients to the available form. Thus, the demand for coir pith is increasing in horticulture farming. In addition, many benefits offered by using coco coir in agriculture such as high moisture content and balanced carbon to nitrogen ratio have boosted it demand, thereby augmenting the coco coir market growth. Most vegetables grow better in neutral conditions, and since coir is naturally neutral, there is no need for extra additives to even out the acidity.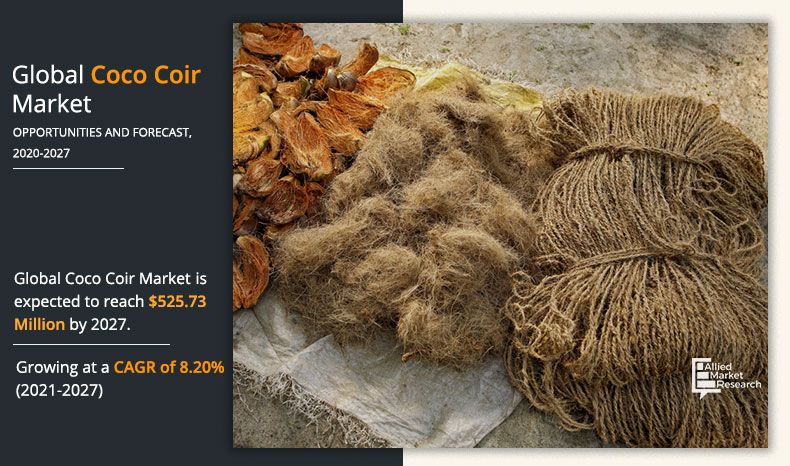 Moreover, coir improves drainage in agricultural beds. Since it breaks down slowly but retains moisture, it creates air pockets below the roots in the soil. This allows the water to drain away from the plant's roots but still hold some of the moisture, thus, the soil does not completely dry out. This works on many types of beds, including those with heavy clay and in dry beds with more sand. Thus, all the above factors notably contribute toward the coco coir market growth. Moreover, government initiatives to promote horticulture-based farming of vegetables and fruits boost the coco coir market growth. Moreover, many of the companies have adopted the concept of cleaner production to cater to consumers' needs. Hence, the inclination of consumers toward ecofriendly products is playing a vital role in the growth of the global market.
Environmental awareness is increasing worldwide since the last few years. With rise in awareness among the customers especially with reference to global warming and climate change phenomenon, they have become more cautious regarding their purchases specifically toward the nature of purchased products. Cleaner production of coco products is a relatively new preventive environmental strategy, which helps in increasing the resource efficiency of products, processes, and services, and reduce risk to people & the environment. Many companies active in the coconut products manufacturing have started to brand themselves as environmentally friendly and to offer products that have minimal adverse effect on the environment.
On the basis of product, the coco coir grows bags segment accounted for the maximum coco coir market share in 2019. This is attributed to the fact that grow bags are available in standard sizes and with different volume of coir that can be flat bags or small open top container grow bag. The bags offer same benefits of coir growing but with added advantage of being portable and increased efficiency.
Coco Coir Market

---
By Product
The Coir material segment would witness the fastest growth, registering a CAGR of 9.90% during the forecast.
By application, the coconut meals segment dominated the coco coir market in 2019, and is expected to retain its dominance throughout the coco coir market forecast period. This is attributed to wide range of applications in agriculture sector, owing to its homogeneous and fine structure. Coconut meal is majorly used as a substrate for different crops, thus, its demand from agriculture sector is expected to increase in the coming years, which contributes toward the coco coir market growth.  
Coco Coir Market

---
By Application
Coconut meals segment would witness the fastest growth, registering a CAGR of 9.2% during the forecast period.
Depending on consumer, the greenhouses segment has contributed the highest revenue in 2019, as food demand is expected to increase between 59% and 98% by 2050. This will shape agricultural coco coir markets in ways we have not seen before. Farmers worldwide will be required to increase crop production, either by increasing the amount of agricultural land to grow crops or by enhancing productivity on existing agricultural products. Thus, the aforementioned factors are projected to contribute toward the growth of greenhouses, which, in turn, is likely to boost the demand for coco coir during the forecast period. 
Coco Coir Market

---
By Consumer
Sellers segment would witness the fastest growth, registering a CAGR of 11.00% during the forecast period.
The players operating in the global coco coir industry have adopted new product launch as their key developmental strategy to expand their market share, increase profitability, and remain competitive in the coco coir market. The key players profiled in the report include Firedust, Pilipinas Ecofiber Corporation, Universal Coco Indonesia, Lima Group, Pelemix Ltd., Consarc Pvt Ltd., Bali Coco Fiber, Cocofiber, Coco Green Pvt Ltd., and Lanka Coco Products.
Coco Coir Market

---
By Region
Asia-Pacific segment would witness the fastest growth, registering a CAGR of 10.00% during the forecast period.
Key Benefits For Stakeholders
The report provides a quantitative analysis of the current coco coir market trends, estimations, and dynamics of the market size from 2019 to 2027 to identify the prevailing opportunities.
Porter's five forces analysis highlights the potency of buyers and suppliers to enable stakeholders to make profit-oriented business decisions and strengthen their supplier–buyer network.
In-depth coco coir market analysis and the market size and segmentation assist to determine the prevailing coco coir market opportunities.
The major countries in each region are mapped according to their revenue contribution to the market. 
The market player positioning segment facilitates benchmarking and provides a clear understanding of the present position of the market players in the coco coir industry. 
 Coco Coir Market Report Highlights
Aspects
Details
By Product

Coco Coir Grow Bags
Bales
Coir Material
Open Tops
Blends & Loose Substrate
Others

By Application

Rope & Cordage
Coco Nets & Twines
Stitched Mats
Coconut Meals
Husk
Others

By Consumer
By Region

North America (U.S., Canada, Mexico)
Europe (Germany, France, UK, Italy, The Netherlands, Denmark, Rest of Europe)
Asia-Pacific (India, Indonesia, China, Philippines, South Korea, Vietnam, Malaysia, Rest of Asia-Pacific)
LAMEA (Lain America, Middle East, Africa)

Key Market Players
BALI COCO, COCO GREEN (PVT) LTD, COCOLANDLANKA (PVT) LTD., CONSARC (PVT) LTD., FIBREDUST LLC, LANKA COCO PRODUCTS, LIMA GROUP, PELEMIX LTD., PILIPINAS ECOFIBER CORPORATION, UNIVERSAL COCO INDONESIA