The global cold chain tracking and monitoring market was valued at $4.6 billion in 2020, and is projected to reach $15.2 billion by 2030, growing at a CAGR of 12.9% from 2021 to 2030.
A cold chain is an uninterrupted supply system that maintains the quality of products from production through to transportation, distribution, storage, and retail by using temperature-controlled environments. It provides a safe, temperature-controlled environment for sensitive items such as fresh &frozen food products, pharmaceutical products, biologics, chemicals, and vaccines. At present, the cold chain system uses sensor-based technology (IoT), which allows sophisticated real-time data tracking by enabling real-time logistic management of every link in the chain.Multiple export industries depend on the vital links provided by connected sensors to identify incidents immediately and help mitigate any damages or delays with reactive responses. In May 2019, Savi Technology launched its newest sensor to its current suite of sensors, Savi Locate, for global exporters to provide real-time information by delivering objective and accurate real-time, in-transit visibility data from the broadest range of locations around the world.
The COVID-19 crisis has created uncertainty in the cold chain tracking and monitoring market by slowing down the logistics services, closure of workplaces, and restrictions on travel hampering business growth with increased panic among the customer segments. Governments across different regions announced total lockdown and temporary shutdown of industries, leading to border closures that restricted the movement of transportation & logistics services. The global business outlook has changed dramatically post COVID-19 health crisis. However, among all that difficulty, cold chain monitoring companies have responded to the COVID-19 crisis with surprising success along with increased safety measures & implementation of new technologies. For the requirement of pharmaceutical products by the countries during the peak point of pandemic, most of the governments got collaborated with UNICEF to establish effective cold chain systems for vaccine storage.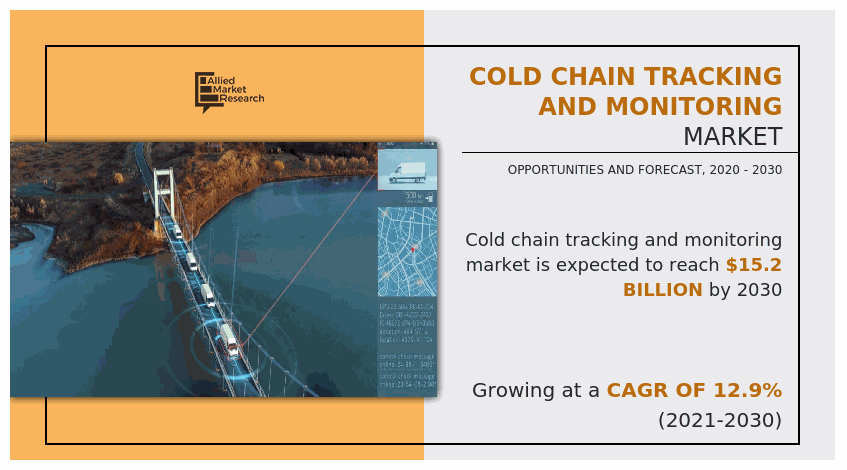 In recent years, the cold chain monitoring system has become essential in healthcare, hospitals, laboratories, clinics, pharmacies, food & beverage, server rooms, and other industries. Such businesses got complete control over temperature regulation and monitoring processes to ensure optimal temperatures throughout the logistics cycle, increasing their longevity. In addition, growth in packaged food industry and increase in demand for remotely operated automated devices in storage facilities are expected to foster new opportunities in this cold chain tracking and monitoring market. For instance, a Florida-based start-up, Freshurety, places IoT sensors inside food palettes to continuously record the ambient temperature and examine the fruit and veggies gases to predict the expiry date & prevent unwanted food waste.
Cold Chain Tracking and Monitoring Market

---

By End User
Healthcare is projected as the most lucrative segments
Factors such as increased focus on quality & product sensitivity, surge in refrigerated warehouses, and growth in pharmaceutical sectors are expected to drive the growth of the cold chain tracking and monitoring market. In addition, change in government policies & regulations and growth in the organized retail sector are anticipated to boost the market's growth. However, factors such as lack of standardization and high operational cost restrain the market growth. Furthermore,the adoption of RFID technologies for cold chain applications and research for advancement in cold chain software provide lucrative growth opportunities for the market players.
The cold chain tracking and monitoring market is segmentedon the basis of system, solution, end-user, and region. On the basis of system, the market is divided into hardware and software. By solution, it is classified into storage and transportation. By end-user, it is divided into healthcare, food & beverage, chemical, and others. By region, the market is analyzed across North America, Europe, Asia-Pacific, and LAMEA.
Cold Chain Tracking and Monitoring Market

---
By System
Software is projected as the most lucrative segments
The key players operating in the global cold chain tracking and monitoring market are Americold Logistics, LLC, Berlinger & Co. AG, Controlant, ELPRO-BUCHS AG, Hanwell Solutions, Infratab, Inc., Monnit Corporation, ORBCOMM, Savi Technology, and Sensitech Inc.
Increasing focus on quality and product sensitivity
The demand for fresh food & beverages has increased with growth in innovations & focus on quality, health, and integrity. Moreover, surge in interest in healthful food and growth in middle class population in locations such as China, are pushing cold chains to globalize. Consumers now demand higher-end products, such as Alaskan salmon, that must travel extended distances and ship quickly to ensure freshness and quality. Thus, maintaining optimum temperature is necessary for cold chain products to avoid changes in texture & taste when a shipment strays outside recommended temperatures. In addition, pharmaceutical manufacturers require efficient cold chain monitoring systems, extended temperature for transportation, and expanded coverage to include over-the-counter drugs. For instance, in April 2019, Controlant launched its PR-T80 Digital Temperature Probe – an innovative real-time solution designed for dry ice applications, active pharmaceutical ingredients (APIs), clinical trials, and additional pharmaceutical and life sciences products that offer transport and storage in low temperature-controlled environments. Therefore, the increased focus on quality & product sensitivity in the food & drugs sectors is expected to drive the cold chain tracking & monitoring market.
Cold Chain Tracking and Monitoring Market

---

By Solution
Transportation is projected as the most lucrative segments
Increase in refrigerated warehouses
A warehouse is a large storage area for storing goods. Dozens of cold chain system warehouses are designed to ensure the ideal storage and transportation conditions for temperature-sensitive products. Thus, due to the fluctuating market demand for products, the need to store goods has increased, thereby inducing a warehouse. Businesses invest millions of dollars in their cold chain operations to create effective, efficient, and reliable processes owing to end-to-end cold chain security, which is considered as a weak link in the entire cold chain tracking & monitoring system. The advent of refrigerated warehouses has very well satisfied the manufacturers of these temperature-sensitive products.
Moreover, in Vietnam, due to the expansion of the middle class population, the food processing industry has developed in recent years. In 2019, the size of the food and pharmaceutical markets that require refrigerated transport in the Vietnamese retail market was estimated to grow to about US $10 billion in 2020 as per the Euromonitor study. Furthermore, in 2021, Lineage Logistics Holding, LLC announced the strategic expansion of its facility network near the major port in Savannah, Georgia, that provides additional capacity for imported and exported frozen and refrigerated products. Thus, surge in refrigerated warehouses fuels the growth of the cold chain tracking & monitoring market.
High operational cost
The daily operations in the cold chain tracking and monitoring industry require large electricity consumption. Thus, the cold chain service providers find it difficult to minimize their operational costs due to increased energy costs. Furthermore, penetrating capital investments during the process due to heavy electricity consumption for the applications such as lighting, heating, ventilation, and cooling in the cold chain tracking and monitoring process is anticipated to make the setting and operating procedure challenging and complex for the key players. Therefore, high operational cost is anticipated to hinder the market's growth.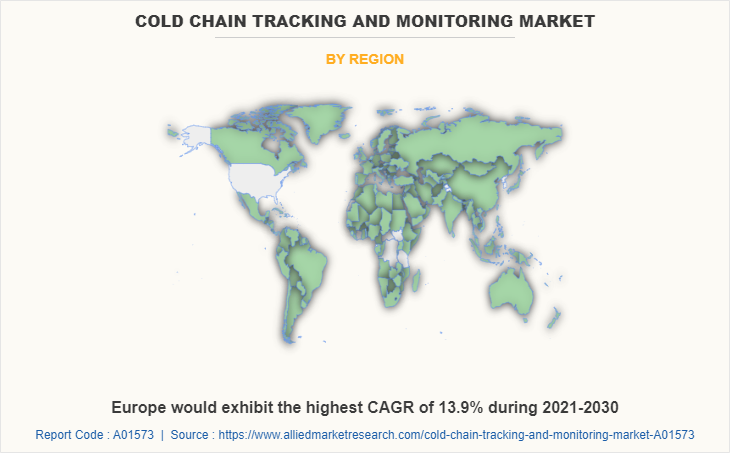 Research for advancements in cold chain software
Proper storage mechanisms became inevitable with rise in demand for perishable goods. Thus, to encounter the complexity of operations of these temperature-controlled warehouses, IoT helps in cold chain management by providing sophisticated temperature tracking and monitoring solutions. It involves controlling and monitoring a product's flow from the procurement of raw materials to the distribution of the final product. In addition, IoT provides live data that allows unmatched visibility into every process and transaction within the cold chain logistics. Furthermore, it intelligently connects people, processes, data, and things via devices and sensors, creating a networked ecosystem for continuously measuring, collecting, and exchanging live data. The operators can connect to intermodal shipping containers, cargo, vessels, and trailers with enterprise IT systems via sensors, GPS, mobile networks, and a cloud-based platform. For instance, in February 2022, M2Cloud, the leading bio-cold chain technology company in Korea, developed an IoT-based 'LTE monitoring system' optimized for biopharmaceutical monitoring with Thales, a global leader in IoT communication modules, to work on the development of next-generation bio-cold chain systems by combining industry-leading security and IoT technology. Thus, the advent of IoT and the adoption of automated software for cold chain logistics foster market opportunity.
Key Benefits For Stakeholders
This study presents the analytical depiction of the global cold chain tracking and monitoring market analysis along with the current trends and future estimations to depict imminent investment pockets.

The overall market opportunity is determined by understanding profitable trends to gain a stronger foothold.

The report presents information related to key drivers, restraints, and opportunities of the market with a detailed impact analysis.

The current market is quantitatively analyzed from 2021 to 2030 to benchmark the financial competency.

Porter's five forces analysis illustrates the potency of the buyers and suppliers in the industry.
 Cold Chain Tracking and Monitoring Market Report Highlights
Aspects
Details
By End User

Others
Healthcare
Food & Beverage
Chemical

By System
By Solution
By Region

North America (U.S., Canada, Mexico)
Europe (Rest of Europe, Germany, France, U.K., Italy)
Asia-Pacific (Japan, China, Australia, India, South Korea, Rest of Asia-Pacific)
LAMEA (Latin America, Middle East, Africa)

Key Market Players
Savi Technology, berlinger & co. ag, americold logistics, llc., ELPRO-BUCHS AG, Monnit Corporation, ORBCOMM, Inc., Sensitech Inc, Hanwell Solutions, controlant, Infratab
Other Players In the Value Chain Include
Lineage Logistics Holdings, LLC, Klinge Corporation, Daikin Industries, Ltd., Interstate Warehousing, Inc., Partner Logistics, Maven Systems Pvt. Ltd.