Commercial Aircraft NextGen Avionics Market Statistics 2030 -
The global commercial aircraft nextgen avionics market was valued at $4,420.0 million in 2020 and is projected to reach $9,150.5 million in 2030, registering a CAGR of 8.3%.  
The COVID-19 outbreak proved very drastic for a variety of businesses and forced governments across the globe to implement strict lockdowns and led to social distancing being made mandatory to contain the spread of the virus. As a result, people started avoiding visiting places, and the demand for any means of transportation, including air travel, observed a huge decline in 2020. As a result, thousands of airplanes were grounded worldwide, and the industry witnessed a huge slump in revenues. The aviation sector is expected to witness significant losses in the current year, 2021 owing to the uncontrolled situation of the pandemic across several parts globally. The losses witnessed by the aviation sector have impacted the adoption of innovative technologies such as AI in avionics systems. Airports and airlines suffered to a large scale by the pandemic that stopped the companies and authorities to invest in advanced nextgen avionics systems.
The avionics equipment elements of nextgen avionics have been defined in North America through efforts led by the Federal Aviation Administration (FAA) and Radio Technical Commission for Aeronautics (RTCA). They include leveraging existing aircraft capabilities, such as GPS/WAAS, localizer performance with vertical guidance (LPV), area navigation (RNAV) and terminal required navigation performance (RNP), vertical navigation (VNAV) and flight information system broadcast (FIS-B), as well as increased use of portable or installed electronic flight bags (EFBs). In addition, new aircraft equipment capabilities that are targeted include data communications through flight management system (FMS) integration, global navigation satellite system (GNSS), landing systems (GLS), automatic dependent surveillance-broadcast (ADS-B), and traffic information service - broadcast (TIS-B) for aircraft without traffic collision avoidance system (TCAS).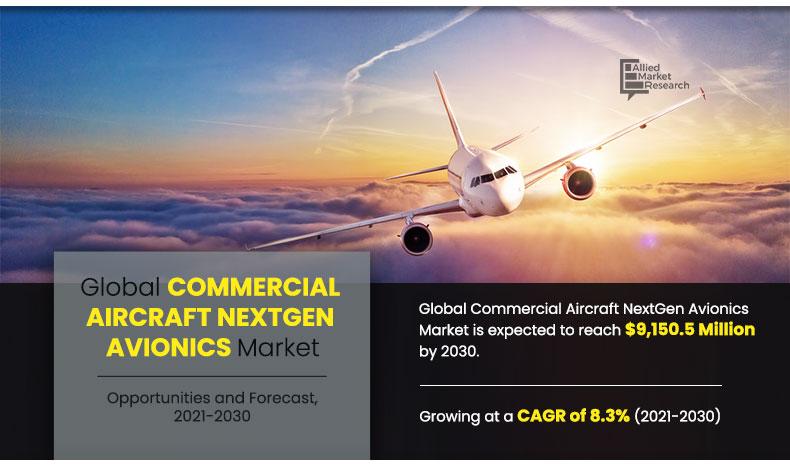 Get more information on this report : Request Sample Pages
The aviation industry's reliance on data to make important flying decisions is quickly expanding. The most recent aircraft designs, which are being adopted in new aircraft fleets, are outfitted with technology that can provide exceptional data collecting and transmission. The latest generation of aircraft produces huge amount of data through thousands of sensors and advanced digitalized systems.
Almost everything on board an aircraft today is being directly controlled by sophisticated electronics systems. Elaborate electronic systems used across all commercial purpose aircraft are developed by professional avionics engineers to cater to different applications in aircraft operations, such as communications, navigation, engine management, and several others that manage different functions, for example, passenger comfort & entertainment, collision avoidance, fuel systems, flight recorders information displays, and other functions.
In line with the efforts regarding the development of nextgen avionics, some of the big aerospace manufacturers have adopted different strategies over the years to excel in the market. For instance, Curtiss-Wright adopted agreement, contract, and product launch; Honeywell International Inc. adopted agreement, partnership, and product launch; and Raytheon Technologies Corporation adopted contract, agreement, investment, and product development as their key developmental strategies to gain strong traction in the market. The increasing effort by the global players in developing highly reliable and efficient avionics systems is expected to boost the growth of the global commercial aircraft nextgen avionics market during the forecast timeframe. 
The market segmentation is based on system, installation stage, aircraft type, and region. On the basis of system, the market is further divided into flight management system, communication system, electric and navigation system, surveillance and emergency system, collision avoidance system, weather system, and others. Based on installation stage, it is bifurcated into forward fit and retrofit. Based on aircraft type, it is classified into narrow body and wide body. Region-wise, the market is analyzed across North America, Europe, Asia-Pacific, and LAMEA. 
Key players operating in the global commercial aircraft nextgen avionics market include BAE Systems PLC, Cobham Limited, Curtiss-Wright, General Electric Company, Honeywell International Inc., L3Harris Technologies Inc., Raytheon Technologies Corporation, Safran, Teledyne Technologies Incorporated, and Thales Group. 
Rise in dependency on avionics to make critical flying decisions 
Every modern aircraft uses electronic systems of different kinds to accomplish an array of functions. Usually, more complex aircraft employs more intricate electronic systems. Commercial airliners and business jets use avionics for different applications such as to offer services, track and report performance measures, and function within recognized safety constraints. The highly advanced avionics systems also integrate various functions to advance the performance, manage costs, and simplify maintenance. This proves the rising demand for improved electronics to be integrated with commercial aircraft. Year-on-year, the reliance of electronic systems on the data collected by numerous sensors installed on an airplane is increasing as improved data communications help pilots and air traffic controllers to connect rapidly, easily, and with lesser risk of miscommunication as compared with radio communications over busy frequencies. For instance, Collins Aerospace is making next-generation flight control computer systems that will have around 20 times the processing power of current generation systems. Furthermore, factors, such as high data speeds, miniaturization, and improved functionality of avionics components, are expected to increase the demand for nextgen avionics during the forecast timeframe.  
Initiatives by government administrations to make aerospace safer and more efficient
The U.S. government is making efforts to modernize its air transportation system to make flying safer, efficient, and more predictable. Under the ongoing next-generation air transportation system (nextgen) project, the Federal Aviation Administration (FAA) aims to modernize the national airspace system (NAS) by leveraging new technologies and methods to increase the capacity, flexibility, and resilience while decreasing the environmental impact of aviation. FAA is producing new unified systems that primarily change and enhance navigation, communications, and surveillance in the NAS. In terms of communication, in a modernized NAS, aircraft will be able to obtain dynamic and intricate commands from ground systems that can detect the aircraft's exact location and time. Navigation-wise, the FAA has switched to a satellite-enabled navigation system that is more accurate than conventional ground-based navigation supports. The continuing implementation of nextgen offers air traffic controllers with precise position of aircraft and a clear vision of immediate surroundings, including weather conditions and other aircraft. With improvement in these three essential areas, nextgen considerably improves the overall performance, efficiency, capacity, and predictability throughout the NAS. The implementation of nextgen would require the improvement of avionics systems that will enable data communications, integrate commercial space operations, and enhance decision support software applications, among other developments. The successful implementation of the NextGen project is expected to motivate governments in other countries to implement such a scheme, which will surge the demand for commercial aircraft nextgen avionics during the forecast timeframe.
Commercial Aircraft NextGen Avionics Market

---
By Systems
Surveillance and Emergency System is projected as the most lucrative segments
Get more information on this report : Request Sample Pages
Cybersecurity issues with nextgen avionics systems
Modern airplanes are fitted with systems and networks that exchange data with air-traffic controllers, pilots, maintenance crews, passengers, and other aircraft, in a manner that was not earlier possible. Thus, if electronic systems of an aircraft are not aptly secured, they could expose themselves to the risks of a wide range of possible cyberattacks. Vulnerabilities could occur due to several reasons, for instance, not applying patches to commercial software, malicious software uploads, outdated systems on outdated airplanes, flight data spoofing, and insecure supply chains. Up to now, wide-ranging cybersecurity controls were executed and there have not been any instances of cyberattacks on an aircraft's avionics systems. Still, increasing linkage amongst airplanes and other systems along with developing cyber threat
Commercial Aircraft NextGen Avionics Market

---
By Installation Type
Retrofit

is projected as the most lucrative segments
Get more information on this report : Request Sample Pages
landscape could result in growing risks for future aircraft security.
A report by the Government Accountability Office (GAO) published in October 2020 revealed various shortcomings in the FAA's cyber-defense of avionics systems, with inefficient practices such as not prioritizing the cyber risks and lack of cybersecurity training. With rising data-driven decision-making involved in aircraft operations, such practices are expected to result in cyberattacks, which can severely impact the aviation industry across the globe. Therefore, the issue of cybersecurity is expected to hinder the growth of the global commercial aircraft nextgen avionics market during the forecast timeline.
Commercial Aircraft NextGen Avionics Market

---
By Aircraft Type
Wide Body is projected as the most lucrative segments
Get more information on this report : Request Sample Pages
Increase in air passenger traffic across the globe
According to International Civil Aviation Organization's (ICAO) yearly worldwide statistics, the total number of commuters carried on scheduled flights rose to 4.38 billion in 2019, which was 3.65% higher than the previous year. The highest passenger traffic was witnessed in Asia-Pacific. In October 2018, the International Air Transport Association (IATA) publicized that due to current developments in air transport projects, the passenger count could double to 8.2 billion in 2037. The COVID-19 pandemic led to severe downfall in air traffic figures, although recently, in May 2021, the IATA stated that the global air passenger traffic is anticipated to recover to almost 88% of pre-COVID-19 levels during 2022, and is projected to outdo this level during 2023. This signifies a robust demand for air travel globally. This rise in air passenger traffic is expected to result in the procurement of new aircraft on a large scale across the world, which is expected to generate huge demand for the whole supply chain of the aircraft, including avionic components. Moreover, with the announcement by FAA and European Union Aviation Safety Agency (EASA) regarding the upgrade of avionics components, new aircraft have to be installed with nextgen avionics. This is expected to lead to significant growth of the global commercial aircraft nextgen avionics market during the forecast timeline.
Commercial Aircraft NextGen Avionics Market

---
By Region
Asia-Pacific would exhibit the highest CAGR of 10.0% during 2021-2030.
Get more information on this report : Request Sample Pages
COVID-19 Impact Analysis 
The COVID-19 impact on the commercial aircraft nextgen avionics market is unpredictable and is expected to remain in force till the second quarter of 2021. 
The COVID-19 outbreak forced governments across the globe to implement strict lockdowns and banned domestic and international travel for most of 2020. This led to sudden fall in demand for air-travel and hampered the adoption of technologies, such as artificial intelligence/machine learning, into avionics across the globe. 
Moreover, nationwide lockdowns forced avionics parts manufacturing facilities to partially or completely shut their operations.
Adverse impacts of the COVID-19 pandemic have resulted in delays in activities and initiatives regarding development of robust and innovative nextgen avionics solutions globally.
Key Benefits For Stakeholders
This study presents analytical depiction of the global commercial aircraft nextgen avionics market analysis along with current trends and future estimations to depict imminent investment pockets.
The overall commercial aircraft nextgen avionics market opportunity is determined by understanding profitable trends to gain a stronger foothold.
The report presents information related to key drivers, restraints, and opportunities of the global commercial aircraft nextgen avionics market with a detailed impact analysis.
The current commercial aircraft nextgen avionics market is quantitatively analyzed from 2020 to 2030 to benchmark the financial competency.
Porter's five forces analysis illustrates the potency of the buyers and suppliers in the industry.
Key Market Segments
By Systems
Flight Management System
Communication System
Electric and Navigation System
Surveillance and Emergency System
Collision Avoidance System
Weather System
Others (Health Monitoring, Tactical System, In-flight Entertainment)
By Installation Stage
By Aircraft Type
By Region
North America
Europe

Germany
UK
France
Spain
Rest of Europe

Asia-Pacific

China
India
Japan
South Korea
Rest of Asia Pacific

LAMEA

Latin America
Middle East
Africa
Key Players
BAE Systems PLC
Cobham Limited
Curtiss-Wright
General Electric Company
Honeywell International Inc.
L3Harris Technologies Inc.
Raytheon Technologies Corporation
Safran
Teledyne Technologies Incorporated
Thales Group