The global commercial avionics systems market was valued at $32.9 billion in 2020, and is projected to reach $54.4 billion by 2030, growing at a CAGR of 5.31% from 2021 to 2030.
Commercial avionics system includes various flight sub-systems, including health monitoring systems, flight management, flight control, navigation & surveillance systems, electrical & emergency, communication, and systems electronics. In addition, it includes autonomous computer control components or electronic devices that receives input from engine controls or flight control surfaces and provides output to flight management systems. Flight management systems have multi-purpose performance, navigation, and aircraft operations computer that provide virtual information and operating synergy among closed or open aspects involved with a flight, from pre-engine start or take-off to engine shut-down or landing. There is increase in need for real-time data and navigation systems in commercial avionics systems industry. 
The COVID-19 impact on the commercial avionics systems industry is unpredictable and is expected to remain in force for a few years. The COVID-19 outbreak forced governments across the globe to implement stringent lockdown and ban import–export of raw materials items for most of 2020 and few months in 2021. This declined availability of important raw materials required for manufacturing commercial avionics systems. Moreover, nationwide lockdown forced drone manufacturing facilities to partially or completely shut their operations. Adverse impacts of the COVID-19 pandemic resulted in delays in activities and initiatives regarding development of advanced commercial avionics systems across the globe.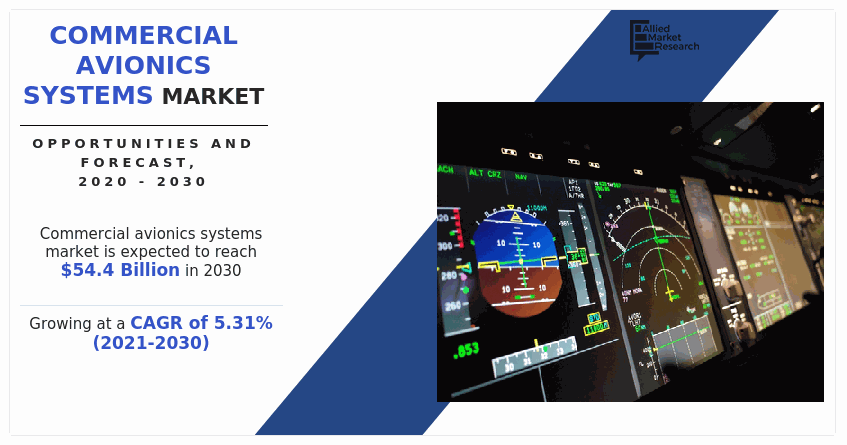 Factors, including surge in number of aircraft deliveries, growth in emerging economies, increase in demand for in-flight entertainment (IFE) services, and rise in need for real-time data drive the growth of commercial avionics systems market. However, regulatory framework and vulnerability to cyber-attacks hinder the growth of the market.
On the contrary, development of advanced avionics systems for Nextgen aircraft, growth in adoption of low-cost carriers (LCC) in developing countries, and improvement in commercial aviation networks are factors that are projected to create new growth opportunities for prominent players.
Commercial Avionics Systems Market

---
By Aircraft Type
Freighter is expected to witness lucrative growth during the forecast period
Get more information on this report :
Request Sample Pages
Global commercial avionics systems market is segmented on the basis of aircraft type, sub-system, fit, and region. On the basis aircraft type, the market has been categorized into narrow body, wide body, regional & business jet, and freighter. According to sub-system, it is classified into flight management and control, health monitoring, electrical and emergency, communication navigation and surveillance, and others. Depending on fit, it is categorized into retrofit and forward fit. Region wise, it is analyzed across North America, Europe, Asia-Pacific, and LAMEA.
The key players profiled in these commercial avionics systems market report include BAE Systems Plc., General Electric, Honeywell International Inc., L-3 Harris Technologies, Meggitt PLC., Panasonic Corporation, Raytheon Technologies Corporation, Teledyne Technologies, Inc., Thales Group, and Universal Avionics Systems Corporation.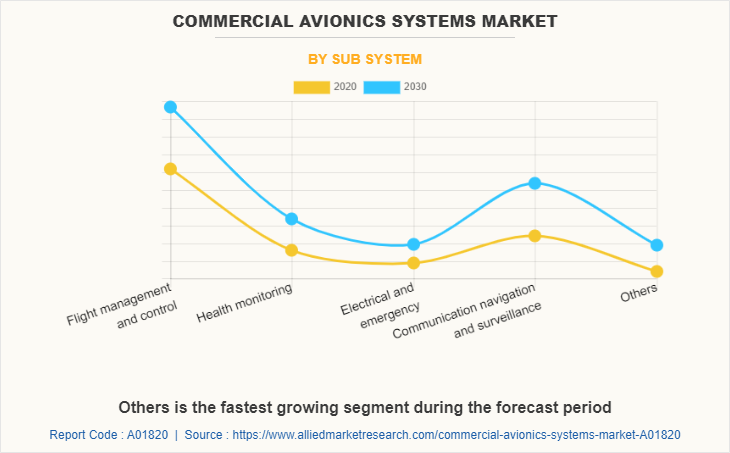 Surge in number of aircraft deliveries
According to the International Civil Aviation Organization (ICAO), by 2035, passenger traffic and freight volume will be double. Increase in number of airline passengers is observed, owing to factors, including growth in disposal income of middle-class population and rise in adoption of low-cost airlines. Thus, increase in passengers tends to increase number of commercial aircraft deliveries. In addition, significant increase in demand for avionics systems & services, owing to rise in number of commercial aircraft deliveries. Major countries such as Canada, the U.S., Brazil, Indonesia, Philippines, China, Saudi Arabia, and India witness rise in number of air passengers and aircraft deliveries. For instance, according to the Bureau of transportation, in October 2021, the U.S. Airlines passengers increased 119% from October 2020. According to the International Air Transport Association (IATA), passenger numbers will be double to 8.2 billion in 2037 at 3.5% compound annual growth rate (CAGR).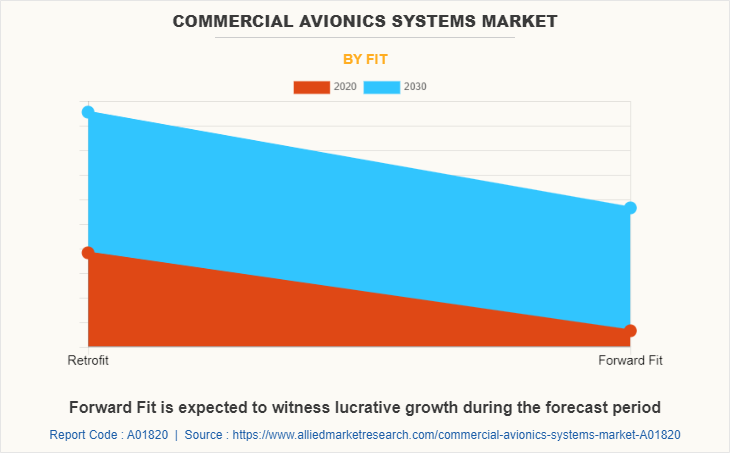 Increase in demand for real-time data
Technological improvements significantly impacted the commercial avionics systems market. Furthermore, developments in health monitoring systems, glass cockpits, and in-flight entertainment aided the growth of market Increase in demand for data analytics in aviation industry primarily drives the growth of market, particularly in North America and Europe, where the industry is sufficiently advanced to include such advancements. Real-time data analytics allows for faster data processing speed, which aids in industry decision-making. This element is expected to have a significant impact in future.
Moreover, inappropriate business decisions, due to unavailability of data management systems, maintenance scheduling, business/operation trend analysis, and aircraft on ground (loss of revenue) hinder the growth of advanced aviation industry. These problems are efficiently solved with use of advanced real-time data monitoring systems & software for various flight operations. Companies focus on developing new support systems for aircraft health monitoring, preventive maintenance, and avoiding system failure to facilitate real-time, post-flight recorded data management, fault notification, and diagnostic reporting. These new developments drive the growth of commercial avionics systems market.
High costs involved
Commercial avionics systems involve high costs in implementation and maintenance. In addition, complexities involved in managing value chain, owing to low profits associated with installation of such expensive systems and rise in prices of fuel hinder the growth of the market. In addition, high initial cost associated with installation of networking technologies and connectivity hardware hamper the growth of the market. For instance, air-to-ground technology costs around $80,000 per aircraft however, cost associated with deployment of satellite technology is around $400,000. This hinders the adoption rate of connectivity hardware and services by airlines, particularly in the developing regions, including Asia Pacific and Latin America to a considerable extent. Moreover, commercial avionics systems are highly dependent on network planning & designing and complex electronic integrations. These services, if related to deployment of satellite networking technology or equipment, are estimated to cost over $100,000.
Growth of low-cost carriers (LCCs) in emerging economies
Emergence of low-cost airlines revolutionized travel industry, especially in developing countries, across the globe. Low-cost carriers (LCCs)) are favored by cost-conscious travelers in developing countries. This is expected to drive the demand for aircraft deliveries. Furthermore, growth in network capacities and   adoption of low-cost carriers in many developing countries provide lucrative growth opportunities for the market. This led to increase in number of aircraft deliveries, which boost the market growth of commercial avionics systems
Moreover, emerging markets in the developing regions such as Asia-Pacific, the Middle East, and Latin America are projected to create new growth opportunities for prominent players. Commercial aviation market players, including Honeywell International Inc. and General Electric supplement the growth of the market during the forecast period. For instance, in November 2021, Collins Aerospace (a subsidiary of Raytheon Technologies Corporation) signed an agreement with Emirates Airline to upgrade its fleet of 101 B777 and 107 A380 aircraft with the company's latest GLU-2100 multi-mode receiver (MMR) and provide a full suite of avionics and satellite communication (SATCOM) capabilities to Emirates' 777X aircraft.
Furthermore, in May 2021, Honeywell International Inc. signed a five-year maintenance agreement with SR Technics Malaysia, as an authorized channel partner for both mechanical and avionics components. In addition, in April 2021, Honeywell International Inc. signed a five-year distribution agreement with the Abu Dhabi Aviation (ADA) to supply multifunction control display units (MCDU) products.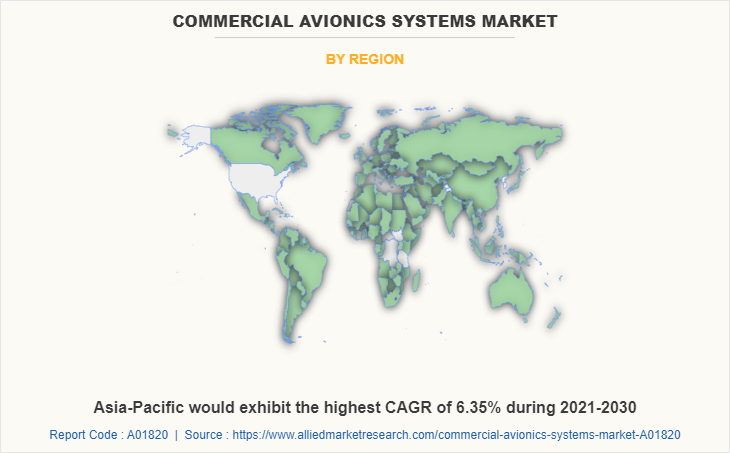 Key Benefits For Stakeholders
This study presents analytical depiction of the global commercial avionics systems market analysis along with the current trends and future estimations to depict imminent investment pockets.

The overall commercial avionics systems market opportunity is determined by understanding profitable trends to gain a stronger foothold.

The report presents information related to key drivers, restraints, and opportunities of the commercial avionics systems market with a detailed impact analysis.

The current commercial avionics systems market is quantitatively analyzed from 2020 to 2030 to benchmark the financial competency.

Porter's five forces analysis illustrates the potency of buyers and suppliers in the industry.
 Commercial Avionics Systems Market Report Highlights
Aspects
Details
By Aircraft Type

Narrow Body
Wide Body
Regional & Business Jet
Freighter

By Sub System

Flight management and control
Health monitoring
Electrical and emergency
Communication navigation and surveillance
Others

By Fit
By Region

North America (U.S., Canada, Mexico)
Europe (U.K., Germany, France, Russia, Rest of Europe)
Asia-Pacific (China, India, Japan, South Korea, Rest of Asia-Pacific)
LAMEA (Latin America, Middle East, Africa)

Key Market Players
Honeywell International Inc, Meggitt PLC, General Electric, Teledyne Technologies Inc, Thales Group, L3 Harris Technologies, Raytheon Technologies Corporation, Panasonic Corporation, Universal Avionics Systems Corporation, BAE Systems PLC