Commercial Drones Market Statistics 2030 -
The global commercial drones market was valued at $2.72 billion in 2020, and is projected to reach $21.69 billion in 2030, registering a CAGR of 23.7%.    
The rapid spread of COVID-19 has had a significant impact on the global commercial drones market globally, owing to the implementation of strict lockdown measures across the world. COVID-19 pandemic led to several challenges for the commercial drones industry such as disruption in the supply chain of raw materials, logistics challenges, and others. On the other hand, the commercial drones technology manufacturers had to reduce expansion and R&D investments to withstand the decline in revenue and operating performance of various companies. The challenges in the procurement of commercial drones for various commercial applications were observed throughout the year, which, however, are expected to alleviate in a few years.
Aircrafts that have the capability to fly autonomously with the help of an embedded program or which can be remotely operated from ground by a pilot are called as drones. Commercial drones are unmanned aerial aircrafts that are designed for commercial applications such as risk mitigation, resource planning, research & excavation, urban planning, engineering, farming management, tourism, aerial imaging, LiDAR applications, cargo management, weather monitoring, traffic control, green mapping, and others. These applications are utilized by several sectors such as agriculture and environment, media & entertainment, energy, government, and others as business solutions.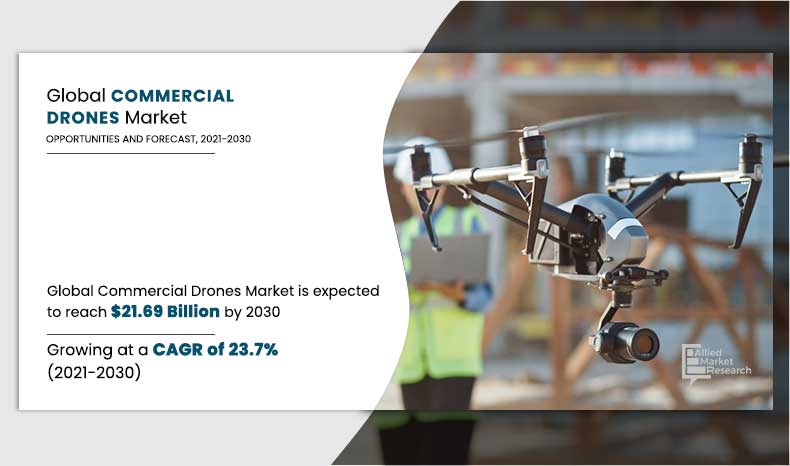 An increase in the market for location-based services such as e-commerce companies, food delivery, and shopping apps, tourism websites, social networking apps, and others are expected to supplement the market growth. However, stringent government regulations regarding national security and satellite imagery as a substitute option are expected to hamper the market growth. Technological advancements such as advanced motion & temperature sensors in cameras, 3D mapping software, unmanned aerial vehicles, and others have created ample opportunities for market growth.
The global commercial drones market is segmented based on type, application, mode of operation, and region. Based on type, it is classified into fixed-wing drones, rotary blade drones, and hybrid drones segment. Commercial drones have witnessed a rise in their adoption globally, due to advancements in technology and increased adoption of mapping solutions. By application, the market is segmented into, agriculture and environment, media and entertainment, energy, government, construction & archaeology, and others. By mode of operation, the market is segmented into remotely operated, semi-autonomous, autonomous. By region, the market is classified into North America (U.S., Canada, Mexico), Europe (UK, France, Germany, Rest of Europe), Asia-Pacific (China, Japan, India, South Korea, and Rest of Asia-Pacific), and LAMEA (Latin America, Middle East, and Africa). 
Key players profiled in this report include AeroVironment, Inc., DJI Technology Co., Ltd., Parrot SA, SKYDIO, Leptron Unmanned Aircraft Systems, Inc., PrecisionHawk Inc., Yuneec International Co. Ltd., Aeryon Labs Inc., Delair, and Insitu Inc.
Commercial Drones Market

---
By Type
Hybrid is projected as the most lucrative segment
Technologically advanced products
There has been a rise in the demand for commercial drones due to their advanced features such as high resolutions cameras and advanced sensors systems. This has enabled key industry players to improve their product portfolio with advanced technologies. In addition, companies such as DJI Technologies, Yuneec, Parrot SA, and others have advanced products equipped with advanced sensors and high-performance cameras in their UAV segment. For instance, DJI Technologies drones, PHANTOM 4 ADVANCED is equipped with a 1-inch 20MP sensor capable of shooting 4K 60fps video, and DJI Air 2S has a sensational camera drone that packs some incredible onboard tech, including a 1-inch CMOS sensor that enables operators to capture strikingly sharp images and video; Yuneec's Typhoon H Pro drone integrated with Intel RealSense Technology Improves Safety, Allows More Creative Options with Intelligent Obstacle Navigation; and Parrot SA ANAFI Ai drone embeds 48 MP main camera & boasts a powerfully-stabilized 4K 60fps / HDR10 camera to capture finely-detailed aerial images and smooth video footage and obstacle-avoidance (OA) system.  Furthermore, key strategies include partnership and collaboration adopted by many players such as Delair, PrecisionHawk, DJI Technologies, and others for the advancement in drone systems to propel the growth of the market. For Instance, in September 2019, Delair collaborated with DJI Technologies, the world's leader in civilian drones and aerial imaging technology to enhance and integrate solutions for visual data collection and analysis for businesses. Also, in May 2021, Parrot SA collaborated with Textron Systems, the world leader in unmanned air, surface, and land products, services, and support for aerospace and defense customers. With this collaboration Parrot's durable ANAFI USA and ANAFI platform drones enhanced their aerial experience and take advantage of the program's real-time analysis, smart visualization, and collaboration capabilities leveraging augmented reality (AR). Continuous innovation and the introduction of cost-effective products are expected to further stimulate market growth.
Promising growth rate of the drone market
The factors such as technological advancements in the industry and increased application areas such as precision agriculture, aerial imaging, cargo management, traffic monitoring, and others trigger the growth of the drone market. Manufacturers are designing and developing new drone systems to meet the needs of various applications, which is propelling the market forward. For instance, in June 2020, Parrot SA launched ANAFI USA, a unique drone that combines enterprise-class data security with easy-to-use features. ANAFI USA is a powerful drone built to meet the demands of first responders, firefighters, search-and-rescue teams, security agencies, surveying, and inspection professionals. And in July 2020, Skydio launched the X2 family of a commercial drone. X2 drone platform is designed for enterprise use with an onboard 360-degree super-zoom camera, 35 min battery life, and a maximum range of 6.2 miles. 
Commercial Drones Market

---
By Mode Of Operation
Autonomous is projected as the most lucrative segment
Although the market is currently in the growing stage, it is expected to generate high demand in the next few years. According to the recent report released in January 2022 by Federal Aviation Administration, 329,114 commercial drones (Unmanned Aircraft Systems) were registered. In addition, drone manufacturers are funded to develop advanced products. For instance, in December 2021, DRONE FUND, a Japan-based venture capital company invested around USD 90 million (JPY 10 billion) in Wingcopter. Also, in July 2021, Pentagon invests $13.4 million to boost drone start-ups.
Privacy and security concerns
Aerial imaging, green mapping, LiDAR, GIS services, and other such applications are concerned with capturing landscape information including photographs and imagery solutions through drones with the help of EO/IR and other systems. To protect the private space of the public and issues related with national security, governments of various nations have formulated laws, which restrict the growth of this market. For instance, in the North American market, Federal Aviation Administration (FAA) has stated that UAVs can fly only up to 500 ft. above ground level and are not allowed in a radius of 3 miles around airports or flying strips. In addition, because of the cyber-security risks involved with drones, many administrations have enacted bans or limits on drone possession. For instance, in April 2021, Legislator Huang Kuo-shu of the Democratic Progressive Party (DPP) of Taiwan has issued a guideline warning against the procurement of drones for made-in-China aerial photography, robots, and coding platforms and subsequent phasing out of the existing equipment. The announcement was made owing to the cybersecurity loophole on consumer electronics manufactured in China.  
Commercial Drones Market

---
By Application
Media and Entertainment is projected as the most lucrative segment
Moreover, they are not allowed to violate any privacy acts, security laws, and cannot invade flight restricted and National Oceanic & Atmospheric Administration (NOAA) zones. However, regulations stated by FAA and other governments are still under development, hence, no proper regulatory framework is defined for this market. The rise in the implementation of drones in multifaceted applications has also increased the cyber-security threat for its users. Hackers can potentially take advantage of drones by gaining access to the drones' unencrypted Wi-Fi and GPS technologies.
Increased application areas for GIS, LiDAR, mapping services, and others
An increase in demand for GIS, LiDAR, and mapping services from sectors such as Agriculture, construction, infrastructure, and inventory management fuels the growth of the market. Commercial drones are now making a significant effect in applications that take advantage of their abilities to capture localized visual data quickly and affordably. In addition, with the use of LiDAR, GIS, and other mapping services, the agriculture industry is seeing effective changes in yield output, improved crop health management, and improved soil conditions. Real estate and civil engineering sectors are advancing in terms of new technology adoption such as multidimensional modeling, architectural planning, and monitoring civil engineering projects. In addition, Drone-based solutions save time and increase workflow and are used for various purposes, including research & exploration, archeological surveys, mining, cargo management, telecom network management, oil & gas resource management, and others. In addition, the rise in application areas creates demand for advanced drone systems and is expected to boost market growth during the forecast period.
Commercial Drones Market

---
By Region
Asia-Pacific would exhibit the highest CAGR of 25.8% during 2021-2030.
COVID-19 Impact Analysis 
The COVID-19 impact on the commercial drones market is unpredictable, and is expected to remain in force for a few years. 
The COVID-19 outbreak forced governments across the globe to implement stringent lockdown and ban import–export of raw materials items for most of 2020 & few months in 2021. This led to sudden fall in the availability of important raw materials for manufacturing commercial drones.
Moreover, nationwide lockdown forced drone manufacturing facilities to partially or completely shut their operations.
Adverse impacts of the COVID-19 pandemic have resulted in delays in activities and initiatives regarding development of advanced commercial drones globally.
Key Benefits For Stakeholders
This study presents analytical depiction of the global commercial drones market analysis along with the current trends and future estimations to depict imminent investment pockets.
The overall commercial drones market opportunity is determined by understanding profitable trends to gain a stronger foothold.
The report presents information related to key drivers, restraints, and opportunities of the global commercial drones market with a detailed impact analysis.
The current commercial drones market is quantitatively analyzed from 2020 to 2030 to benchmark the financial competency.
Porter's five forces analysis illustrates the potency of the buyers and suppliers in the industry.
 Commercial Drones Market Report Highlights
Aspects
Details
By Type
By Mode of Operation

Remotely Operated
Semi-Autonomous
Autonomous

By Application

Agriculture and Environment
Media and Entertainment
Energy
Government
Construction
Others

By Region

North America (U.S., Canada, Mexico)
Europe (UK, Germany, France, Russia, Rest of Europe)
Asia-Pacific (China, India, Japan, South Korea, Rest of Asia-Pacific)
LAMEA (Latin America, Middle East, Africa)

By KEY PLAYERS

AeroVironment, Inc.
Aeryon Labs Inc.
Delair
DJI Technology Co., Ltd.
Insitu Inc.
Leptron Unmanned Aircraft Systems, Inc.
Parrot SA
PrecisionHawk Inc.
SKYDIO
Yuneec International Co. Ltd.