The global commercial satellite imaging market was valued at $3.3 billion in 2021, and is projected to reach $9.2 billion by 2031, growing at a CAGR of 11.3% from 2022 to 2031.
The COVID-19 outbreak severely impacted the aerospace industry on a global level. For most of the large space manufacturers, the COVID-19 pandemic has hampered mission-deployments along with slowing down of new product deliveries due to disruption of supply chain. The pandemic also have impacted the revenue streams allocated towards the R&D and adoption of new technologies in commercial satellite imaging sector. However, the post pandemic demand for commercial satellite imaging is foreseen to grow appreciably owing to the growing application of commercial satellite imagery and analytics in various end use verticals.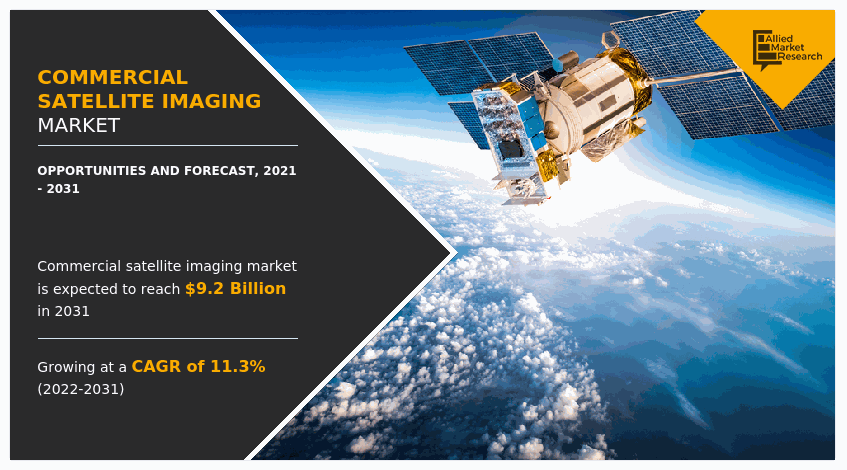 The commercial satellite imaging market is segmented into Application and End User.
Commercial satellite imaging mainly deals with capturing the images of earth through satellite also knowns as earth observation and utilizing these images for various commercial purposes is knows as commercial satellite imaging. Some of the foremost applications of commercial satellite include acquisition & mapping, disaster management, energy & natural resource management, urban planning & development, and security & surveillance. The importance of images captured through satellite is increasing due to rise in use of these images in environmental forecasting and responding quickly in emergency such as defense security events and natural calamities.  
The commercial satellite imaging market is segmented on the basis of application, end user, and region. By application, the market is classified into Geospatial data acquisition & mapping, Urban Planning & Development, Disaster Management, Energy & Natural Resource Management, Surveillance & Security, Defense & Intelligence and Other. By end user, it is segmented into Government, Military & Defense, Forestry and Agriculture, Energy, Civil Engineering and Archaeology, Transportation and Logistics and Others. By region, the market is analyzed across North America, Europe, Asia-Pacific, and LAMEA.
The key players analyzed in the global commercial satellite imaging market are BlackSky, European Space Imaging, Galileo Group, Inc., ImageSat, L3Harris Technologies, Inc., Maxar Technologies Inc., Planet Labs Inc., Airbus S.A.S., SpaceKnow Inc. Telespazio France.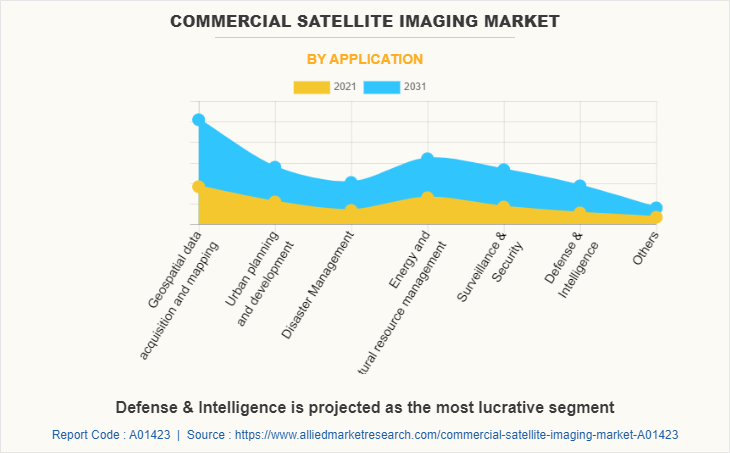 Vital applications in government and defense services
Satellite imaging offers geospatial products and services for most of the government agencies and defense authorities for various applications, wherein security concern being the important one. With high image quality and precise information, satellite imaging is a proven source of information for any government or defense authorities, which helps in maximizing security programs. In addition, the information extracted from satellite images is further helping local government to better assess the real-life situations, which further helps in developing programs to save lives, protect properties, and enhance future economic stability of their respective communities.
Furthermore, in defense sector, current threat of terrorism and attack on critical infrastructure can be tracked through geographical mapping and can be protected by adopting preventive measures. With the help of satellite imaging, decision-making is becoming easier than before. Moreover, satellite imaging helps in precise mapping for mission planning, search and rescue operation, and formulating future developments. Therefore, government and defense sector collectively emerged as a major growth driver for this market.
Growth in dependence on location-based services
Location-based services (LBSs) are a set of services that use real time geo-data through internet capable devices in order to provide information about current location. LSBs are greatly dependent on geographical mapping, which is carried out with the help of satellite imagery. They are gaining immense popularity and are massively adopted in government sector, defense and intelligence, transportation, telecommunication, manufacturing, e-retailing, energy, and natural resource management industries. This is attributed to high-resolution imagery for the production of updated, highly accurate, and real-time maps by LBSs. Therefore, growth in adoption of LSBs is expected to drive the growth of the satellite imaging market.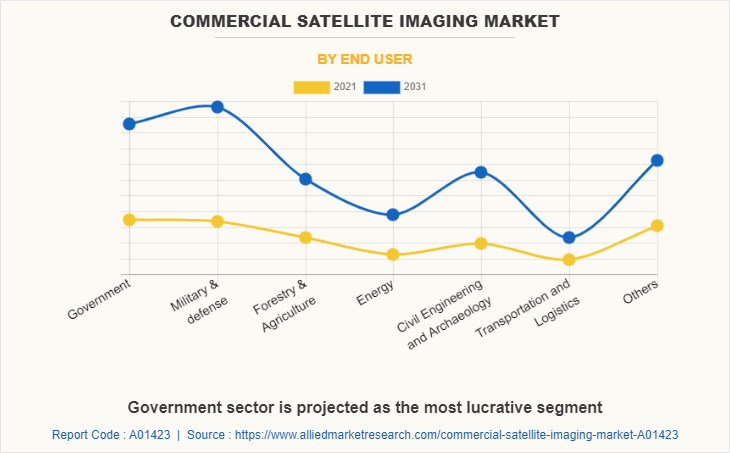 LBSs help during flood, rescue events, natural calamities, and for weather forecasting to develop future programs to simplify the situational evets. Therefore, most of the countries are mandating the use of LBSs as it helps in decision-making for civil defense operations and in police and geographic information systems.
People are using location-based services through various internet capable devices such as smartphones, tracking devices, digital cameras, tablets, and fitness devices. Increase in adoption of smartphones across the globe accelerates the utilization of location-based services; thereby, boosting the market growth. In addition, various mobile applications such as business and communication apps, gaming apps, health and wellness apps, and personal convenience apps majorly use real-time positioning information. Thus, increase in trend of navigation and location-based services across various sectors is expected to drive the growth of the commercial satellite imaging market.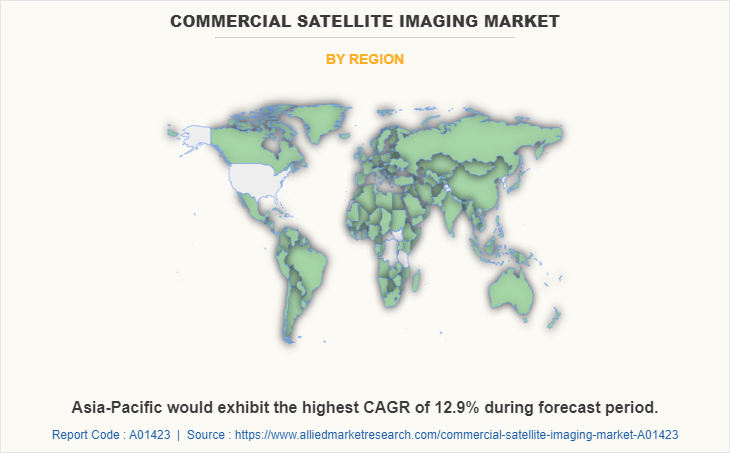 Key Benefits For Stakeholders
This report provides a quantitative analysis of the market segments, current trends, estimations, and dynamics of the commercial satellite imaging market analysis from 2021 to 2031 to identify the prevailing commercial satellite imaging market opportunities.
The market research is offered along with information related to key drivers, restraints, and opportunities.
Porter's five forces analysis highlights the potency of buyers and suppliers to enable stakeholders make profit-oriented business decisions and strengthen their supplier-buyer network.
In-depth analysis of the commercial satellite imaging market segmentation assists to determine the prevailing market opportunities.
Major countries in each region are mapped according to their revenue contribution to the global market.
Market player positioning facilitates benchmarking and provides a clear understanding of the present position of the market players.
The report includes the analysis of the regional as well as global commercial satellite imaging market trends, key players, market segments, application areas, and market growth strategies.
 Commercial Satellite Imaging Market Report Highlights
Aspects
Details
By Application

Defense & Intelligence
Others
Geospatial data acquisition and mapping
Urban planning and development
Disaster Management
Energy and natural resource management
Surveillance & Security

By End User

Government
Military & defense
Forestry & Agriculture
Energy
Civil Engineering and Archaeology
Transportation and Logistics
Others

By Region

North America (U.S., Canada, Mexico)
Europe (Spain, Russia, U.K., Rest of Europe, Germany, France)
Asia-Pacific (China, Japan, India, South Korea, Australia, Rest Of Asia Pacific)
LAMEA (Brazil, Saudi Arabia, UAE, Israel, Rest of LAMEA)

Key Market Players
MAXAR TECHNOLOGIES INC, SPACEKNOW, BLACKSKY GLOBAL LLC, PLANET LABS INC, EUROPEAN SPACE IMAGING, HARRIS CORPORATION, IMAGESAT INTERNATIONAL N.V, URTHECAST CORP, TELESPAZIO FRANCE, GALILEO GROUP, INC