Compound Semiconductor Market – 2027
The global compound semiconductor market was valued at $89.9 billion in 2019, and is projected to reach $212.9 billion by 2027, registering a CAGR of 11.1% from 2020 to 2027. A compound semiconductor is defined as a semiconductor composed of elements from two or more different groups of the periodic table, and is synthesized using deposition technologies. Devices made of semiconductors are essential components of most electronic circuits, as they possess unique properties such as wide band gap, high operational temperatures, high current & voltage holding capacity, and ability to generate microwave signals.
COVID 19 scenario to impact IT & Telecom segment in Compound Semiconductor Market positively.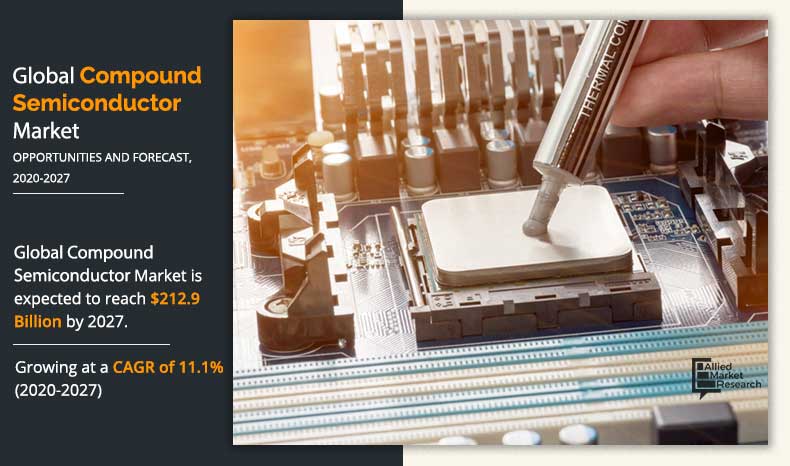 Compound semiconductors provide significant performance advantages that are absolutely essential for a growing range of technology applications. Compound semiconductors such as GaAs and InP can operate at speeds that have higher magnitudes than silicon. In addition, compound semiconductors can generate and receive a broad range of the electromagnetic spectrum from high frequency ultraviolet visible spectrum to long wavelength infrared light. Other properties offered by compound semiconductor materials include the ability to emit and sense light in the form of general lighting (LEDs) and communications (lasers and receivers for fiber-optics).
According to compound semiconductor market analysis, the compound semiconductor wafers are used in photonics, microelectronics, spintronics, and photovoltaic, among others. They provide faster switching at high power with increased energy efficiency and promote improved performances. Epitaxial wafer is manufactured by adding multi-micrometer thick single silicon carbide crystal layers on top of a polished wafer. Precise control of thickness, carrier concentration, and defect density is required to enable its seamless production. The epitaxial layers define the wireless, photonic, and electronic performance of compound semiconductor epitaxial wafers, which are then processed to produce the chips and ICs, which can be found in various technology devices and gadgets globally.
The factors such as advantage of compound semiconductor wafers over silicon-based wafers, increase in demand for compound semiconductor epitaxial wafer in consumer electronics, and emerging trends toward wafers in automotive industry drive the compound semiconductor market growth to a certain extent. However, increase in cost of wafer manufacturing is expected to pose a major threat to the compound semiconductor market size globally. However, emerging usage of compound semiconductors in smart technologies and increasing popularity of IoT in wafers are expected to provide lucrative compound semiconductor market opportunity globally.
Compound Semiconductor Market

---

By Type
III-V Compound Semiconductor segment will dominate the market during 2020-2027
Segmentation
The global compound semiconductor market is analyzed on the basis of type, deposition technology, product, application, and region. Based on type, the market is categorized into III–V compound semiconductors, II–VI compound semiconductors, sapphire, IV–IV compound semiconductors, and others. The III–V compound semiconductors segment is further divided into gallium nitride (GAN), gallium phosphide (GAP), gallium arsenide (GAAS), indium phosphide (INP), and indium antimonide (INSB).
The II–VI compound semiconductors segment is classified into cadmium selenide (CDSE), cadmium telluride (CDTE), and zinc selenide (ZNSE). The IV–IV compound semiconductors segment is bifurcated into silicon carbide (SIC) and silicon germanium (SIGE). The others segment includes aluminum gallium arsenide (ALGAAS), aluminum indium arsenide (ALINAS), aluminum gallium nitride (ALGAN), aluminum gallium phosphide (ALGAP), indium gallium nitride (INGAN), cadmium zinc telluride (CDZNTE), and mercury cadmium telluride (HGCDTE).
Compound Semiconductor Market

---
By Deposition Technology
Molecular Beam Epitaxy segment is projected to be the most lucrative segment
By deposition technology, the compound semiconductor market share is segmented into chemical vapor deposition (CVD), molecular beam epitaxy (MBE), hydride vapor phase epitaxy (HVPE), ammonothermal, liquid phase epitaxy (LPE), atomic layer deposition (ALD), and others. On the basis of product, compound semiconductors are categorized into power semiconductor, transistors, integrated circuits (ICs), diodes & rectifiers, and others.
Compound Semiconductor Market

---
By Product
Transistor segment would grow at a highest CAGR of 13.0% during the forecast period
The transistors segment is further classified into high electron mobility transistors (HEMTs), metal oxide semiconductor field effect transistors (MOSFETs), and metal semiconductor field effect transistors (MESFETs). Integrated circuit is bifurcated into monolithic microwave integrated circuits (MMICs) and radio frequency integrated circuits (RFICs). The diode & rectifiers segment is further segmented into PIN diode, Zener diode, Schottky diode, and light emitting diode.
Compound Semiconductor Market

---

By Application
IT & Telecom segment holds a dominant position in 2019 and would maintain the lead during 2020-2027
On the basis of applications, the market is studied across IT & telecom, industrial and energy & power, aerospace & defense, automotive, consumer electronics, and healthcare. IT & telecom is further segmented into signal amplifiers & switching systems, satellite communication applications, radar applications, and RF. Aerospace & defense is classified into combat vehicles, ships & vessels, and microwave radiation. Industrial and energy & power is further segmented into wind turbines and wind power systems.
Consumer electronics is further segmented into inverters, LED lighting, and switch mode consumer power supply systems. The automotive segment is further divided into electric vehicles & hybrid electric vehicles, automotive braking systems, rail traction, and automobile motor drives. The healthcare segment is further bifurcated into implantable medical devices and biomedical electronics. By region, the compound semiconductor market is analyzed across North America, Europe, Asia-Pacific and LAMEA, along with its prominent countries.
Compound Semiconductor Market

---

By Region
Asia-Pacific region would exhibit the highest CAGR of 13.2% during 2020-2027
The key compound semiconductor industry players profiled in the report include Cree Inc., Nichia Corporation, Samsung Electronics, Qorvo, NXP Semiconductor N.V., Taiwan Semiconductor Manufacturing Company Ltd., Renesas Electronics Corporation, Texas Instruments Inc., STMicroelectronics NV, and Infineon Technologies AG. These key players have adopted strategies, such as product portfolio expansion, mergers & acquisitions, agreements, geographical expansion, and collaborations to enhance their market penetration.
The COVID-19 crisis is making uncertainty in the stock market, immense slowing of the supply chain, falling business confidence, and increasing panic among the customer segments. The overall impact of the pandemic is impacting the production process of several industries including semiconductor and electronics, and many more. Trade barriers are further constraining the demand and supply outlook. As the government of different countries has already announced total lockdown and temporarily shutdown of industries, the overall production process is adversely affected.
COVID-19 is having a large impact on both the consumer and the economy. Electronics manufacturing hubs have been temporarily shut down to liming the COVID-19 spread among the individuals. This has majorly affected the supply chain of semiconductor market by creating shortages of materials, components, and finished goods. Lack of business continuity has ensured significant negative impacts on revenue, shareholder returns, and revenue, which are expected to create financial disruptions in the compound semiconductor industry.
The impact of COVID-19 on the manufacturing industry has significantly affected the global economy. Electronic components such as PCBs, LED chips and wafers, ICs, and other semiconductor devices are mostly imported from China. Due to the shutdown of manufacturing units, the prices of semiconductor components have increased by 2-3%, owing to shortage of supplies. In addition, product demand is being shifting across ASICS, memory, and sensors, among others, with rapid change in consumer behavior.
Top Impacting Factors
The significant factors impacting the growth of the global compound semiconductor epitaxial wafer market include advantage of compound semiconductor wafers over silicon-based wafers, increase in demand for compound semiconductor epitaxial wafer in consumer electronics, and emerging trends toward wafers in the automotive industry. However, increase in cost of wafer manufacturing acts as the major barrier for early adoption; thereby, hampering the growth of the market. On the contrary, emerging usage of compound semiconductors in smart technologies and increase in popularity of IoT in wafers are the factors anticipated to provide lucrative opportunities for the growth of the compound semiconductor epitaxial wafer market during the forecast period.
Key Benefits For Stakeholders:
This study includes the analytical depiction of the compound semiconductor market forecast along with the current trends and future estimations to determine the imminent investment pockets.

The report presents information regarding the key drivers, restraints, and opportunities in the smart sensor market.

The compound semiconductor market trends are quantitatively analyzed from 2019 to 2027 to highlight the financial competency of the industry.

Porter's five forces analysis illustrates the potency of the buyers and suppliers in the industry.
 Compound Semiconductor Market Report Highlights
Aspects
Details
By Type

III-V COMPOUND SEMICONDUCTOR

Gallium Nitride
Gallium Phosphide
Gallium Arsenide
Indium Phosphide
Indium Antimonide

II-VI COMPOUND SEMICONDUCTOR

Cadmium Selenide
Cadmium Telluride
Zinc Selenide

SAPPHIRE
IV-IV COMPOUND SEMICONDUCTOR
OTHERS

By Deposition Technology

CHEMICAL VAPOR DEPOSITION
MOLECULAR BEAM EPITAXY
HYDRIDE VAPOR PHASE EPITAXY
AMMONOTHERMAL
ATOMIC LAYER DEPOSITION
OTHERS

By Product

Power Semiconductor
Transistor
Integrated Circuits
Diodes and Rectifiers
Others

By Application

IT & Telecom
Industrial and Energy & Power
Aerospace & Defense
Automotive
Consumer Electronics
Healthcare

By Region

North America (U.S., Canada, Mexico)
EUROPE (UK, Germany, France, Rest of Europe)
ASIA-PACIFIC (China, Japan, India, Australia, Rest of Asia-Pacific)
LAMEA (Latin America, Middle East, Africa)

Key Market Players
NICHIA CORPORATION, CREE, INC, SAMSUNG ELECTRONICS CO. LTD, RENESAS ELECTRONICS CORPORATION, NXP SEMICONDUCTOR, STMICROELECTRONICS N.V., INFINEON TECHNOLOGIES AG, TEXAS INSTRUMENTS INCORPORATED, TAIWAN SEMICONDUCTOR MANUFACTURING COMPANY LIMITED, QORVO, INC.