Computer Numerical Control (CNC) Market Statistics - 2026
The global computer numerical control market size was valued at $14,593 million in 2018, and is projected to reach $22,904.3 million by 2026, growing at a CAGR of 5.9% from 2019 to 2026. CNC machine follows computerized control mechanism, in which various components of machine such as controllers, sensors, and programmable logic controller (PLC) drives are connected through a network for communication and management. Rise in adoption of automated manufacturing, especially in industrial and automobiles sector is a key factor expected to boost the growth of the global computer numerical control market.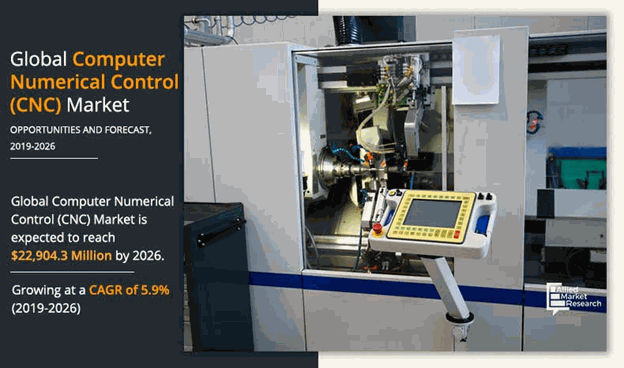 Increased productivity, time effectiveness, and precision & accuracy provided across metal working industries such as automobile and manufacturing industries drive the growth of the global computer numerical control market. In addition, favorable government initiatives such as "Make in India" and "Made in China 2025" in Asian region is fueling the growth of this market. However, high cost of CNC machines and surge in need for highly skilled professionals to deal with software interface are expected to hinder the growth of the market. On the contrary, rise in application areas across various industry verticals is expected to offer lucrative opportunities for market expansion.
Depending on machine tool type, the lathe segment is accounted for the highest market share in 2018. This is attributed to various advantages offered by CNC, including innovation in product design of CNC lathe machines along with focus on supportive needs such as service provision for the design & fabrication of customization, apparatus, trading, and training.
On the basis of industry vertical, the automobile segment is register the highest CAGR of 7.9% during the forecast period. Surge in demand for vehicles globally along with mass production of quality parts is expected to escalate the demand for CNC machines. Furthermore, CNC machines ensure excellence and precision in the parts designed, encouraging automotive suppliers to utilize cutting-edge technology to make variety of car parts in the stipulated time frame. Since these machines are controlled by electronic numerical control, with minimum human intervention, errors in the production line are significantly reduced, which is expected to offer remunerative opportunity for this segment.
In 2018, Asia-Pacific accounted for the highest computer numerical control market share, due rise in penetration of mobile devices such as smartphones and tablets. presence Furthermore, the of key vendors of computer numeric control market in the region, continuous adoption of advanced technology for attracting customers in manufacturing, and favorable government initiatives toward adoption of smart factory trend in this region are some of the key factors that drive the computer numerical control market growth.
The report focuses on the growth prospects, restraints, and global computer numerical control market trends. Moreover, the study includes the Porter's five forces analysis of the industry to understand the impact of various factors such as bargaining power of suppliers, competitive intensity of competitors, threat of new entrants, threat of substitutes, and bargaining power of buyers on the growth of the CNC market.
Segment review
The global computer numerical control market is segmented into machine tool type, industry vertical, and region. By machine tool type, the market is categorized into lathe, mills, routers, grinders, and others (plasma cutters, drill press, electric discharge machining, welding, and winding machines). On the basis of industry vertical, it is segregated into aerospace & defense, automobile, consumer electronics, healthcare, industrial machinery, and others (metal & mining and transportation). Region wise, it is analyzed across North America, Europe, Asia-Pacific, and LAMEA.
The key players operating in the global computer numerical control market analysis include Bosch Rexroth AG, Dalian Machine Tool Group Corporation (DMTG), Fagor Automation, FANUC Corporation, HAAS Automation, Inc., Heidenhain Corporation, Hurco Companies, Inc., Mitsubishi Electric Corporation, Okuma Corporation, Sandvik AB, and Soft Servo Systems Inc.
Top impacting factors
Increase in demand in mass production plants
CNC solutions have been increasingly deployed in mass production plants, owing to their ability of manufacturing high precision parts and components. Moreover, the diversified range to techniques such as CAD and CAM used in CNC to produce standardized parts through machine tools are completely interchangeable. Furthermore, the application of CNC in the manufacturing plants has a direct impact on cost reduction along with substantial increase in productivity and quality of the final product. Thus, all abovementioned capabilities of CNC influence the growth of end user industry verticals such as automobile and aerospace and defense, which, in turn, augment the demand for CNC machines in mass production plants.
Computer Numerical Control Market

---
By Machine Tool Type
Lathes machine tools segment is projected as one of the most lucrative segments.
Increase in need for precision and time effectiveness
Surge in need for intricate solid parts manufactured with defined finishing along with operational effectiveness is primarily driving the growth of computer numerical control market. CNC machines are majorly being used for engraving on wood and metal surface owing to their highly accurate and precise operations. CNC bears the micro and nano-machining capabilities that support it to process new materials such as polymers, and deliver results precisely according to the customer requirement. The application of CNC in process plants reduces the time required for design and production effectively. This feature promotes companies to adopt CNC solution, thereby boosting the CNC market growth. 
Computer Numerical Control Market

---
By Industry Vertical
Industry machinery segment accounted for the highest share in 2018.
The presence of favorable government initiatives, especially in Asian region
In 2016, China launched a plan called "Made in China 2025" for initiating the smart factory trend. It is an industrial strategy supported by billions of investments, focusing on China being the leading provider of high-quality and innovative manufacturing goods in the international as well as domestic market. Moreover, the market in India is witnessing growth of computer numerical control market, attributed to low cost of raw materials, and stagnant growth in developed nations. Approximately, 75% of the Indian machine tool producers are ISO certified along with CE certification. Furthermore, initiatives such as "Make in India" is boosting the growth of the manufacturing sector, which has increased foreign investments in India, thereby driving the growth of CNC market.
Computer Numerical Control Market

---
By Region
Asia-Pacific would exhibit the highest CAGR of 7.6% during 2019-2026.
Key Benefits For Stakeholders
This study includes the analytical depiction of the global computer numerical control market forecast and trends to determine the imminent investment pockets.
The report presents information related to key drivers, restraints, and opportunities.
The current computer numerical control market size is quantitatively analyzed from 2018 to 2026 to highlight the financial competency of the industry.
Porter's five forces analysis illustrates the potency of buyers & suppliers in the computer numerical control industry.
 Computer Numerical Control Market Report Highlights
Aspects
Details
By Machine Tool Type

Lathes
Mills
Routers
Grinders
Others

By Industry Vertical

Aerospace & Defense
Automobile
Electronics
Healthcare
Industry Machinery
Others

By Region

North America (U.S., Canada)
Europe (UK, Germany, France, Italy, Russia, Rest of Europe)
Asia-Pacific (China, India, Japan, South Korea, Rest of Asia-Pacific)
LAMEA (Latin America, Middle East, Africa)

Key Market Players
SOFT SERVO SYSTEMS, FAGOR AUTOMATION, HURCO COMPANIES, INC., HEIDENHAIN GMBH, MITSUBISHI ELECTRIC CORP., DALIAN MACHINE TOOL CORPORATION, FANUC CORPORATION, BOSCH REXROTH AG, GSK CNC EQUIPMENT CO. LTD, HAAS AUTOMATION, INC., OKUMA CORPORATION, SANDVIK AB