Concrete Admixtures Construction Chemicals Market Overview:
Global Concrete Admixtures Construction Chemicals Market revenue is expected to reach $16,324 million by 2023, from $11,027 million in 2016, with a CAGR of 5.7% from 2017 to 2023. Cement is used as a binding material in construction. Concrete admixtures are ingredients that are added to the concrete before or during blending for high workability, high strength, durability, watertight, wear resistant, and high finish. Various types of admixtures used in concrete are fly ash, silica fume, rice husk ash, superplasticizers, normal plasticizers, waterproofing agents, air-entraining agents, water-reducing agents, retarding agents, hydration-control agents, accelerating agents, anti-corrosion agents, coloring agents, and others. Three types of admixtures prevalent in the market are ligno-based, sulfonated naphthalene formaldehyde (SNF) & sulfonated melamine formaldehyde (SMF) based and polycarboxylate ether (PCE) based. Ligno-based admixtures were the first-generation admixtures with lower performance as compared to SNF & SMF- and PCE-based admixtures. The global concrete admixtures construction chemicals market is segmented based on type, application, and geography. Based on type, the market is bifurcated into mineral and chemical admixtures. Based on application, itis classified into residential, commercial, infrastructure, and repair structures. Geographically, itis categorized into North America, Europe, Asia-Pacific, and LAMEA.
Concrete Admixtures Construction Chemical Market Segmentation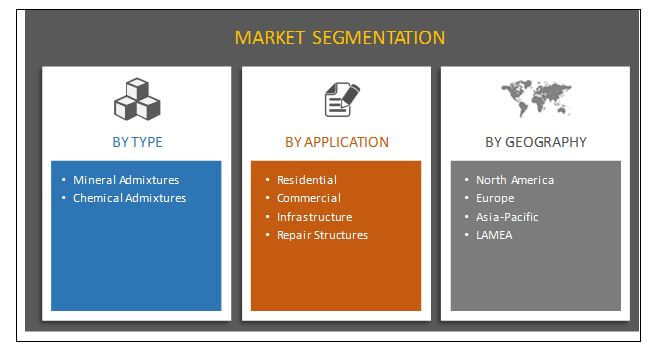 Asia Pacific is anticipated to grow at significant rate from 2017 to 2023. Emerging countries, such as China and India, offer lucrative opportunities to market players, due to the growing urbanization and industrialization. Thus, significantly large population base, rise in construction activities and increase in disposable income are expected to drive the growth of the market in this region.
Top Investment Pocket
Residential complexes and buildings are in high demand in response to the perennial urbanization globally. Construction firms initiate comparatively larger number of residential projects with high-grade construction materials to provide improved structural integrity and sustainability. Residential segment is the most lucrative market in the concrete admixtures construction chemicals market and is expected, to grow at the significant CAGR during the forecast period. Infrastructure segment is the second accretive market in global concrete admixtures construction chemical market.
Concrete Admixtures Construction Chemical Market Top Investment Pockets, By Application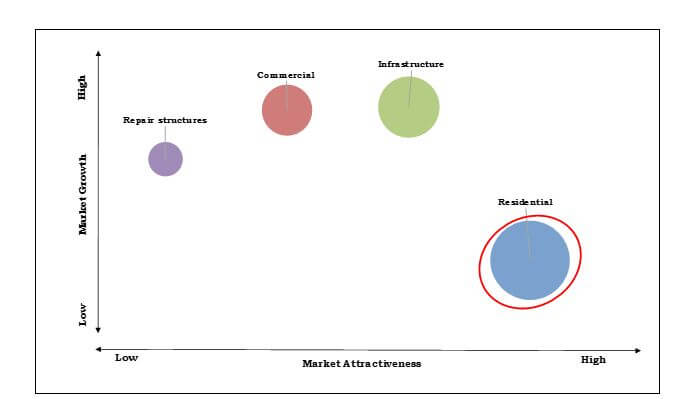 Segment Review
Chemical admixtures segment accounted for the largest share in concretes admixtures construction chemical market, owing to its high strength, excellent workability, high performance, and durability. It is expected to grow at a high CARG during 2017 to 2023.
LAMEA Review
The emergence of new markets in the LAMEA region has boosted construction schemes and elevated the living conditions of the population. The rise in urbanization and increase in living standards of people in Brazil is responsible for the growth in residential structures. As per the Brazilian Institute of Geography and Statistics, in 2012, the construction industry in Brazil accounted for about $109 billion. Further, growth in the construction industry is expected to drive the concrete admixture market in Brazil.
Brazil Concrete Admixtures Construction Chemical Market, 2015-2023 ($Million)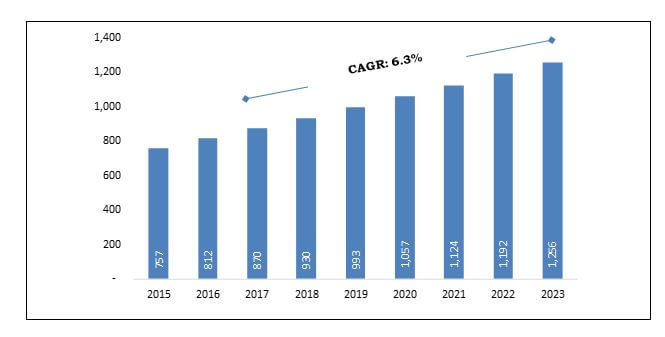 Some of the key players operating in the global concrete admixtures construction chemicals market are BASF SE, Arkema SA, Ashland Inc., Fosroc International Limited, Mapie S.p.A, Pidilite Industries, RPM International Inc., Sika AG, The Dow Chemical Company, and W.R. Grace & Company.
Other key concrete admixtures construction chemicals market players (not profiled in this report) in the value chain include CEMEX S.A.B de C.V., Conmix Ltd., CICO Technologies Ltd., and Chryso S.A.S.
Key Benefits for Stakeholders
This report provides the quantitative analysis of the current concrete admixtures construction chemical market and estimations through 2015-2023, which assist in identifying the prevailing market opportunities.
Extensive analysis of the current and emerging market trends and dynamics in the global concrete admixture construction chemical market is provided.
The study covers competitive landscape and value chain analysis, which helps to understand the competitive environment globally.
An in-depth analysis of current R&D within market is provided to understand the behavior of the market.
Extensive analysis of segment by product type helps in understanding the current packaging materials being used and the variants that is expected to gain prominence.
Detailed analysis is conducted by following key product positioning and monitoring the top competitors within the market framework.
 Concrete Admixtures Construction Chemical Market Report Highlights
Aspects
Details
By Type

MINERAL CONCRETE ADMIXTURES CONSTRUCTION CHEMICAL
CHEMICAL CONCRETE ADMIXTURES CONSTRUCTION CHEMICAL

By Application

Residential
Commercial
Infrastructure
Repair Structures

By Geography

North America
Europe

Russia
Germany
France
Turkey
UK
Rest of Europe

Asia-Pacific

India
China
Japan
Rest of Asia-Pacific

LAMEA

Brazil
Saudi Arabia
South Africa
Rest of LAMEA

Key Market Players
ASHLAND INC., RPM INTERNATIONAL INC., THE DOW CHEMICAL COMPANY, ARKEMA SA, MAPIE S.P.A., W.R. GRACE & COMPANY, SIKA AG., BASF SE, PIDILITE INDUSTRIES, FOSROC INTERNATIONAL LIMITED