The concrete market was valued at $617,260.1 million in 2020, and is expected to reach $972,046.3 million by 2030, registering a CAGR of 4.7% from 2021 to 2030. Concrete market includes revenue generated by sales of ready-mix concrete and precast products & elements. Ready-mix concrete is a mixture of cement, sand, water, aggregates, and sometimes binding adhesives. It is manufactured in batches at a central plant instead of mixing it on the job site. It is then transported to job site generally using mobile concrete trucks or trailers. In addition, precast products include paving stones & slabs, bricks, AAC blocks, and other similar products that are generally manufactured in bulk quantity, whereas precast element includes façade, floor, building blocks, pipe, and other similar products. These elements are generally used in construction of large infrastructures such as bridges and water management systems.
The concrete market was initially hampered owing to restrictions on construction activities. Ready-mix plants were at loss during the period. However, the market started recovering as lockdown restrictions were uplifted.
Increase in government expenditures for development and reconstruction & repair of infrastructures such as improvement of roads, bridges, and others drives the market growth. In addition, ready-mix concrete and precast products & elements save a lot of manufacturing, transportation, and installation time. These products are also cost effective as wastage while manufacturing these products is less. Furthermore, development in machinery and technology to manufacture these products help to achieve accuracy and overcome lack of skilled labor problem. However, high initial investment is needed to setup a ready-mix plant or a precast manufacturing facility. In addition, rise in adoption of environment friendly material for construction of buildings acts as restraint to the concrete market. Moreover, during the outbreak of COVID-19, construction, manufacturing, hotel, and tourism industries were majorly affected. Manufacturing activities were also stopped or restricted to a huge extent. Construction and transportation activities, along with their supply chains hampered on a global level. This led to decline in manufacturing of cement, which directly hampered growth of the concrete market. However, gradually industries are resuming their regular manufacturing and services. This is further expected to lead to re-initiation of cement companies at their full-scale capacities, which is expected to help the concrete market to recover by end of 2021.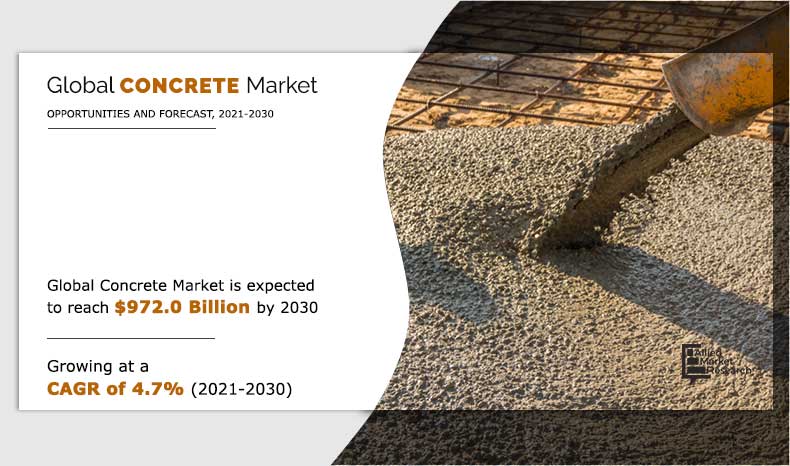 On the contrary, rapid urbanization and industrialization in developing countries has given rise to construction activities and is generating growth opportunities for the concrete market growth.
The concrete market is segmented into concrete type, application, end-user industry and region. By concrete type, it is segregated into ready-mix concrete, precast products and precast elements. Depending on application, it is classified into reinforced concrete and non-reinforced concrete. On the basis of end-user industry, it is divided into roads & highways, tunnels, residential buildings, non-residential buildings &, dams & power plants, mining and others. By region, it is analyzed across North America (the U.S., Canada, and Mexico), Europe (Germany, the UK, France, Spain, Finland, Sweden, Norway, Denmark, Belgium, Netherlands, Luxembourg and rest of Europe), Asia-Pacific (China, Japan, South Korea, India, and rest of Asia-Pacific), and LAMEA (Latin America, the Middle East, and Africa).
Concrete Market

---
By Concrete Type
Ready-mix segment holds the largest share in concrete market
Get more information on this report :
Request Sample Pages
On the basis of concrete type, in 2020, the ready-mix concrete segment dominated the concrete market, in terms of revenue and the precast products segment is expected to witness growth at the highest CAGR during the forecast period. On the basis of application, the reinforced concrete segment led the market in 2020, in terms of revenue and the non-reinforced concrete segment is anticipated to register highest CAGR during the forecast period. By end-user industry, the residential buildings segment led the market in 2020, in terms of revenue and the others segment is anticipated to register the highest CAGR during the forecast period. By region, Asia-Pacific led the market in 2020, in terms of revenue and LAMEA is anticipated to register highest CAGR during the forecast period.
Competition analysis
The major players profiled in the concrete market include CEMEX, S.A.B. de C.V., CRH, Forterra, Heidelbergcement AG, Holcim, Shay Murtagh Precast Ltd, Sika AG, Votorantim S.A., Weckenmann Anlagentechnik GmbH & Co. KG, and Wells Concrete. Major companies in the market have adopted strategies such as business expansion, acquisition, product launch, and collaboration to offer better products and services to customers in the concrete market.
Concrete Market

---
By Application
Reinforced concrete segment holds dominant position in 2020
Get more information on this report :
Request Sample Pages
Key Benefits For Stakeholders
The report provides an extensive analysis of the current and emerging concrete market trends and dynamics. 
In-depth concrete market analysis is conducted by estimations for the key segments between 2021 and 2030. 
Extensive analysis of the market is conducted by following key product positioning and monitoring of top competitors within the market framework.
A comprehensive analysis of four major regions is provided to determine the prevailing opportunities.
The market forecast analysis from 2021 to 2030 is included in the report.
The key market players operating in the market are profiled in this report and their strategies are analyzed thoroughly, which help understand the competitive outlook of the market industry.
Key Market Segments
By Concrete Type 
Ready-mix Concrete

Transit Mix Concrete
Central Mix Concrete
Shrink Mix Concrete

Precast Products

Paving Stones & Slabs
Bricks
AAC blocks
Others

Precast Elements

Facade
Floor
Building blocks
Pipe
Others
By Application 
Reinforced Concrete
Non-reinforced Concrete
By End-User industry 
Roads & Highways
Tunnels
Residential Buildings
Non-Residential Buildings
Dams & Power Plants
Mining
Others
By Region
North America
Europe

Germany
UK
France
Spain 
Finland
Sweden
Norway
Denmark
Belgium
Netherlands
Luxembourg
Rest of Europe

Asia-Pacific

China
Japan
South Korea
India
Rest of Asia-Pacific

LAMEA

Latin America
Middle East
Africa
Key Players
CEMEX, S.A.B. de C.V.
CRH
Forterra
Heidelbergcement AG
Holcim
Shay Murtagh Precast Ltd
Sika AG
Votorantim S.A.
Weckenmann Anlagentechnik GmbH & Co. KG
Wells Concrete