Conductive Coatings Market Overview:
Global Conductive Coatings Market Size was valued at $15,120 million in 2016, and is expected to reach at $24,360 million by 2023, growing at a CAGR of 6.8% from 2017 to 2023. Conductive coatings are applied on an electronic-base substrate to protect it from electromagnetic radiation interference resulting in product deterioration and rendering it useless. The added advantages of easy handling and coating on surface of materials of variable size and shape make it a much widely accepted method to prevent harmful interference.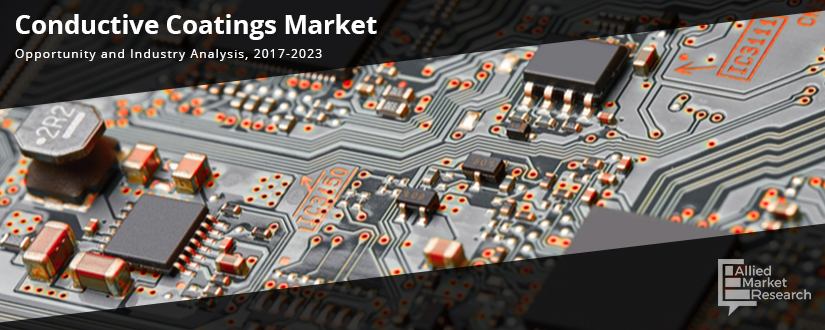 The global conductive coatings market is segmented based on material, application, and geography. Based on material, it is categorized into conductive polymers and organics, carbon nanomaterials, nanometals and related, metal compounds, metals, and conventional carbon. According to applications, it is classified into ESD/antistatic coatings, EMI/RFI coatings, solid state lighting, displays, photovoltaic cells, fuel cells, capacitors and supercapacitors, and batteries. Geographically, it is analyzed across North America, Europe, Asia-Pacific, and LAMEA.
Conductive Coatings Market Segmentation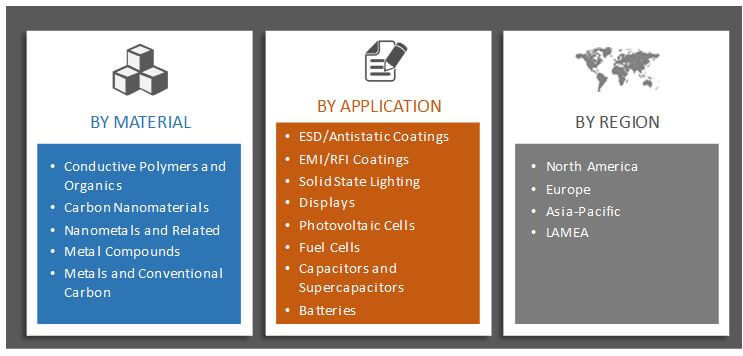 Top Investment Pocket
The EMI/RFI coatings application is anticipated to be the top investment pocket, owing to rise in demand for electronics from the huge volume of population in Asia-Pacific. In addition, short service life resulting in periodic replacement cycles and dropping prices of electronics devices makes it an attractive strategy to enter into the conductive coatings market. Moreover, the photovoltaic cells application is anticipated to be the second alternative of market players due to the growth in demand for use in achieving shielding effect from unwanted electromagnetic interference, thus enhancing the conductivity of the cells.
Top Investment Pockets, By Application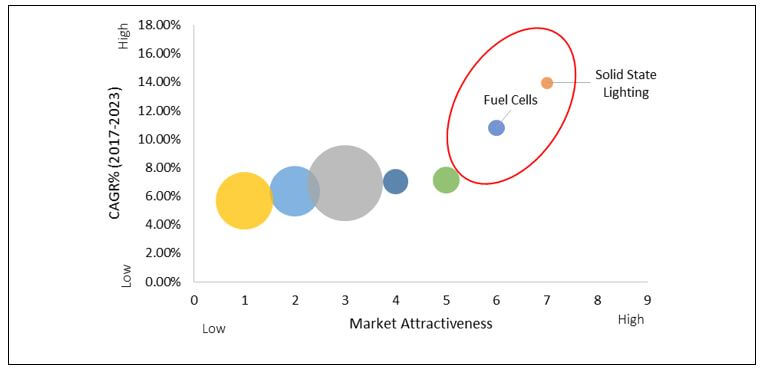 LAMEA Review
Brazil is an active conductive coatings market in LAMEA. It is a developing economy with abundant raw materials, development of ports to ease out transportation, and increase in number of educated population, which make it an ideal location for new entrants. Companies are establishing manufacturing bases to target an established customer base and expand their conductive coatings market share.
Brazil Conductive Coatings Market, 2015-2023 ($Million)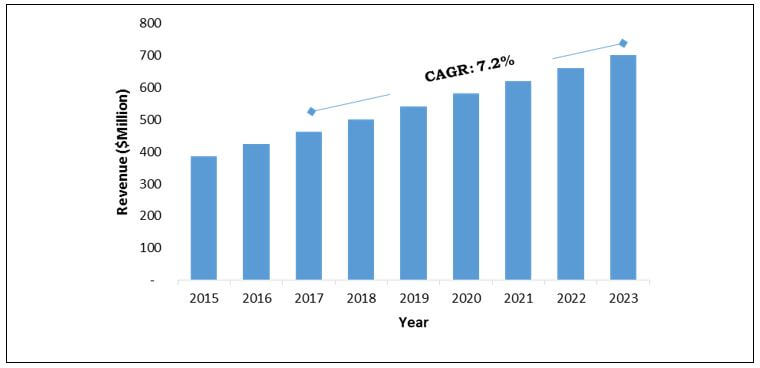 Key players operating in the conductive coatings market include PPG Industries Inc., Henkel, Akzonobel N. V., Axalta Coating Systems, 3M Company, Dai Nippon Printing, Abrisa Technologies, Acree Technologies Inc., Carclo PLC., and Cima Nanotech.
The other key players in the conductive coatings market (not included in the report) are Clearjet, Gentex Corp., Hitachi Chemical Co. Ltd., Inktec, Intlvac Thin Film Corp., Jtouch Corp., and JX Nippon Mining & Metals Corp.
Key Benefits for Conductive Coatings Market:
Porter's five forces analysis helps analyze the potential of buyers & suppliers and their conductive coatings market share for building strategies. 
It outlines the current trends and future scenario of the conductive coatings market size from 2016 to 2023 to understand the prevailing opportunities and potential investment pockets.
Major countries in four major regions, namely, North America, Asia-Pacific, Europe, and LAMEA have been mapped according to their individual revenue contribution in the conductive coatings market analysis at regional and country level.
The key drivers, restraints, and opportunities and their detailed impact analyses are elucidated in the study.
The profiles of key players along with their contribution in conductive coatings market growth are enlisted in the report.
 Conductive Coatings Market Report Highlights
Aspects
Details
By Material

Conductive Polymers and Organics
Carbon Nanomaterials
Nanometals and Related
Metal Compounds
Metals and Conventional Carbon

By Application

ESD/Antistatic Coatings
EMI/RFI Coatings
Solid State Lighting
Displays
Photovoltaic Cells
Fuel Cells
Capacitors and Supercapacitors
Batteries

By Geography

North America
Europe

Germany
UK
Turkey
France
Russia
Rest of Europe

Asia-Pacific

China
Japan
Korea
India
Rest of Asia-Pacific

LAMEA

Brazil
Argentina
UAE
Qatar
Rest of LAMEA

Key Market Players
PPG INDUSTRIES INC., HENKEL, AKZONOBEL N.V., AXALTA COATING SYSTEMS, 3M COMPANY, DAI NIPPON PRINTING, ABRISA TECHNOLOGIES, ACREE TECHNOLOGIES INC., CARCLO PLC, CIMA NANOTECH