Conductive Textiles Market Research, 2032
The global conductive textiles market was valued at $2.1 billion in 2022 and is projected to reach $6.3 billion by 2032, growing at a CAGR of 11.8% from 2023 to 2032.
Report key highlighters
Quantitative information mentioned in the global conductive textiles market includes the market numbers in terms of value (USD Million) and volume (Million square meters) with respect to different segments, pricing analysis, annual growth rate, CAGR (2023-32), and growth analysis.
The analysis in the report is provided on the basis of the fabric type, product type and end-use industry. The study will also contain qualitative information such as the market dynamics (drivers, restraints, opportunities), Porter's Five Force Analysis, key regulations across the region, and value chain analysis.
A few companies, including UBE Corporation, 3M, TORAY INDUSTRIES, INC., Kolon Industries, Inc., Saint Gobain, hold a large proportion of the conductive textile market.
This report makes it easier for existing market players and new entrants to the conductive textile business to plan their strategies and understand the dynamics of the industry, which ultimately helps them make better decisions.
The conductive textile market is being driven by the growing demand for smart textiles in industries like healthcare and sports, as well as advancements in wearable technology. The unique properties of conductive textiles, such as flexibility, lightweight design, and conductivity, make them highly suitable for applications such as sensors, heating elements, and energy storage.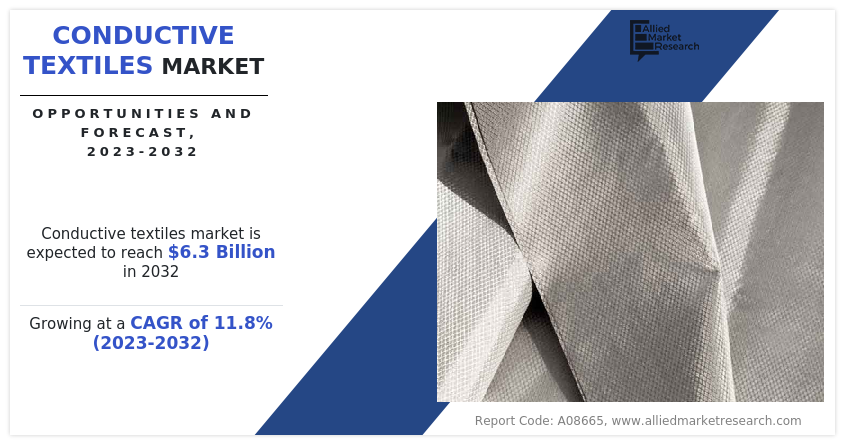 A conductive textile is a type of fabric that has been engineered to possess electrical conductivity. It is designed to conduct electrical signals or currents, enabling the integration of electronic components, sensors, or conductive pathways directly into the fabric structure. Conductive textiles can be created through various techniques, including incorporating metallic fibers, conductive yarns, or conductive coatings into the fabric during the manufacturing process.
The properties of conductive textiles include electrical conductivity, flexibility, durability, and compatibility with textile manufacturing processes. They can be woven, knitted, or non-woven, offering versatility in terms of fabric structures and designs. Conductive textiles are typically lightweight, breathable, and comfortable to wear, making them suitable for applications in wearable technology and smart textiles.
Conductive textiles find applications in various fields. In the healthcare industry, they can be used for monitoring vital signs, tracking patient movements, or delivering therapeutic treatments. In sports and fitness, conductive textiles can enable performance monitoring, gesture recognition, or interactive sportswear. They also find use in automotive applications for seat sensors or interior lighting, in aerospace for electromagnetic shielding, in industrial settings for sensors and safety equipment, and in fashion for creating unique and interactive garments.
Increasing demand from the medical and healthcare sector
Conductive textile is extensively used in both clinical and non-clinical medical and healthcare applications. It is designed to be both comfortable and practical. Due to its ability to recognize, collect, and transmit physiological signals, the conductive textiles product assists physicians and other medical personnel in monitoring and communicating about patients' conditions, thereby driving the medical & healthcare industry for conductive textiles. According to the Indian Equity Foundation, the Indian health technology industry was worth $1.9 billion in 2020. It is anticipated to reach $5 billion by 2023, with a compound annual growth rate of 39%. According to the Office of National Statistics, total current healthcare expenditure in the UK is projected to reach $297 billion in 2021, an increase of 7.4% overspending in 2020. Demand for conductive textiles will likely increase together with the expansion of the medical and healthcare industries; as a result, the conductive textiles market is expected to expand during the forecast period.
On the path to sustainable mobility, textiles are contributing effectively and rapidly in a variety of automotive applications. Automobiles are the backbone of our society, and the industry is consistently expanding at a healthy rate. With technological advancements, safety, and comfort features, the material used in all vehicle components is of utmost importance. Diverse modifications have resulted in material substitutions to satisfy requirements such as lower emissions, lightweight, anti-corrosion, durability, passenger safety, and fire resistance.
Globally, these developments are now the norm and a great deal of research and development is being conducted to discover the best alternatives to conventional materials. In addition to their use on exterior vehicle surfaces, conductive fabrics are also finding applications within the vehicle, such as enhanced thermal control. Their versatile character makes them a significant component of contemporary automobiles. The increasing integration of electronics into automobiles, the emergence of advanced polymers, and the continuous miniaturization of electronic components are likely to increase the market share of automotive applications.
Conductive textiles are lightweight and flexible, with high conductivity and tensile strength. They protect the combatant from extreme weather conditions (such as heat, cold, wind, and rain), ballistic impact, and nuclear, biological, or chemical threats, and help in sweat management. Consequently, it has been extensively adopted within the defense industry. The defense sector is the greatest consumer of conductive textiles globally. These conductive fabrics are also utilized in parachutes, safety harnesses, ropes, and camping equipment. Increasing government expenditure will also stimulate market expansion. According to Delhi Policy Group, the total defense expenditure for FY 2021-2022 was Rs.3,62,345.62 Crore ($49.6 billion), an increase of Rs.24,792.62 Crore ($3.4 billion) over the budget estimates for FY 2020-2021. According to the UK Ministry of Defense, the government spent $45.5 billion on defense in 2020/21, an increase of $2.7 billion from the previous year. Demand for conductive textiles from the defense sector is expected to drive the market for conductive textiles.
The high cost of producing conductive textiles due to extensive R&D is likely to restrain the growth of the textiles sector as a whole. In addition, the manufacturing process of incorporating electronic devices into fabrics is expensive and consequently drives up the overall price, which is likely to reduce demand with the advent of advanced production technologies. This means that conductive textile material is utilized by the military, defense, and healthcare sectors because it is unaffordable for the general public, thereby hampering the global conductive textiles industry's growth.
The demand for sustainable textiles is on the rise as more industries and consumers prioritize environmental responsibility. Conductive textiles can play a significant role in meeting sustainability goals due to their potential for eco-friendly development and application. One aspect of sustainable conductive textiles is the use of environmentally friendly materials. Traditional conductive materials, such as metallic fibers or coatings, can have negative environmental impacts during their production and disposal. However, the development of conductive textiles using eco-friendly materials, such as conductive organic fibers or recycled conductive materials, offers an opportunity to reduce the ecological footprint of these textiles. By incorporating sustainable materials, such as organic cotton, bamboo, or recycled polyester, conductive textiles can contribute to the overall sustainability of the textile industry.
The conductive textiles market is segmented into fabric type, product type, end-use industry, and region. Depending on the fabric type, the market is divided into nylon, cotton, polyester, and wool. On the basis of product type, it is categorized into woven textile, non-woven textile, and knitted textile. As per end-use industry, it is categorized into military and defense, healthcare, sports and fitness, consumer electronics, and others. Region-wise, the market is studied across North America, Europe, Asia-Pacific, and LAMEA.
The major players operating in the global conductive textiles market are UBE Corporation, 3M, TORAY INDUSTRIES, INC., Kolon Industries, Inc., Saint Gobain, KANEKA CORPORATION, Shinmax Technology Ltd., DuPont, Shieldex, and Coatex Industries.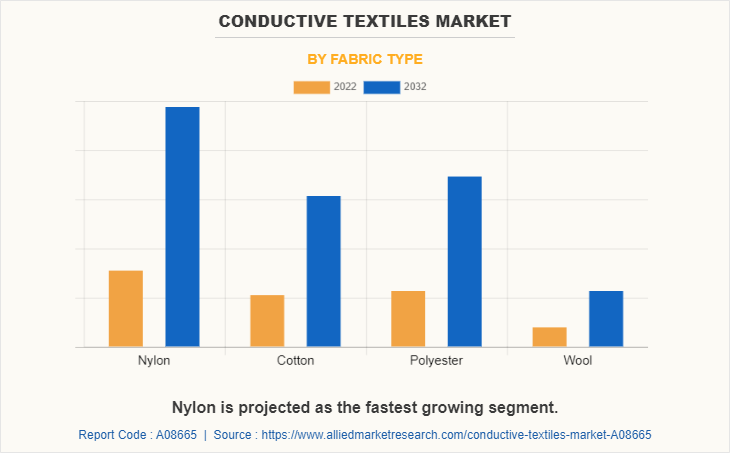 The nylon segment accounted for the largest share and is the fastest-growing segment with a CAGR of 12.2%. The rapid growth of nylon fabric in Asia Pacific can be attributed to the region's growing demand and awareness, as well as the prevalence of a significant apparel manufacturing base. Over the next seven years, the growth of the conductive textiles market is anticipated to be driven by the high demand for nylon in the production of conductive textiles due to its superior strength and resistance to damage.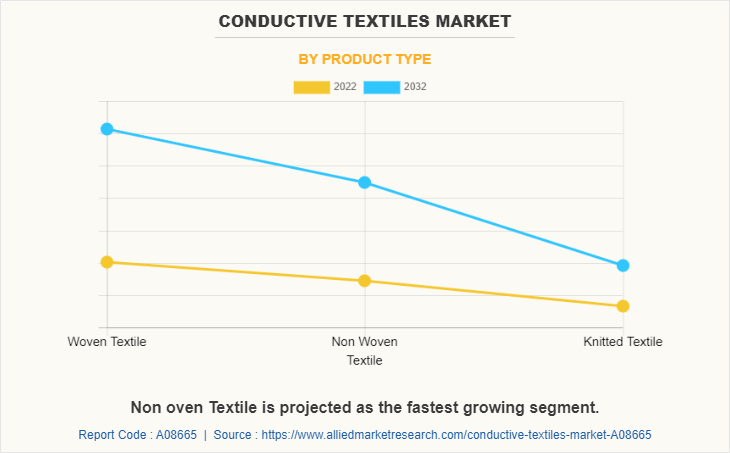 The woven textile segment accounted for the largest share. Due to their exceptional conductivity and shielding capacity, these textiles are preferred by manufacturers globally.
The non-woven textile segment is the fastest-growing segment with a CAGR of 12.1%. Due to its superior water repellency, abrasion resistance, and flame resistance.  Increasing demand for non-woven products in a variety of industries, including the military, healthcare, and automotive, has resulted in the rapid expansion of these goods. Asia-Pacific is anticipated to be the fastest-growing market for the aforementioned products due to their superior performance compared to the competition.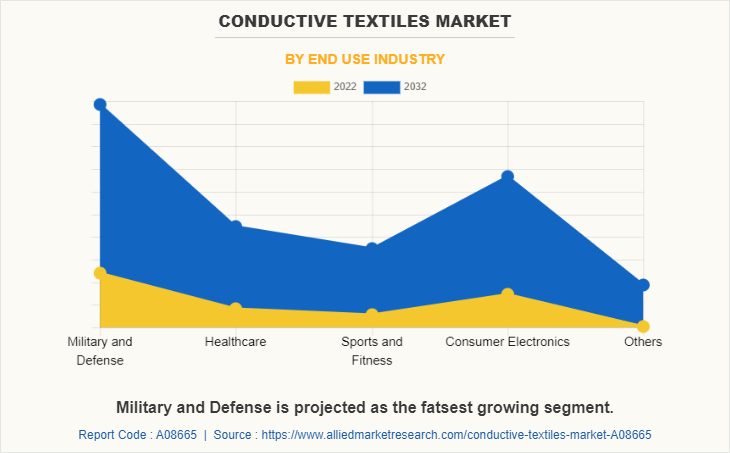 The military and defense segment accounted for the largest share and is the fastest-growing segment with a CAGR of 12.3%.  Increased use of conductive wearables that can monitor the battlefield, track the soldier's health, and assist in communication and temperature monitoring is anticipated to boost the segment's growth. The increase in military expenditure in emerging markets such as China, India, and Mexico is anticipated to be a major factor driving the demand for conductive textiles in the military and defense industry. In addition, global political unpredictability and the emergence of cutting-edge technology are anticipated to drive the demand for the product used in military and defense applications.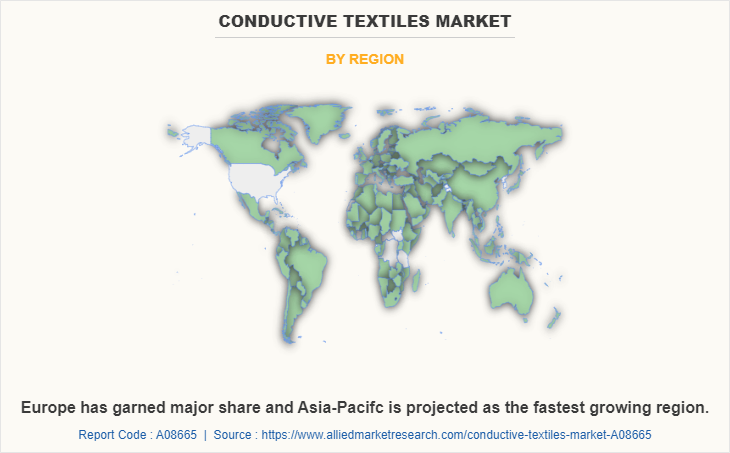 Europe garnered the largest share. In Europe, the market for conductive textiles is growing both in terms of usage and production, owing to the expanding medical industry, technological advancements, and rising consumer demand for smart fabric wearables. Germany has the greatest share of the European market because it has modern infrastructure and technology, a long history of making cars, and a highly skilled workforce.
Market trend
It is anticipated that the increasing emphasis on new product development, innovations, and research and development activities will generate lucrative returns. During the forecast period, there will be opportunities for the market's leading participants. In addition, the global market in several developing nations is anticipated to exhibit a positive trend in light of recent innovations.
Recent innovations entail exposing textile fibers to electrically conductive polymers (plastics) as vapors. Condensation forms a film on the surface of textile fibers that has exceptional conductive and mechanical properties. In addition, the process enables the textiles to maintain their flexibility and may give them the appearance of untreated textiles. Such advancements in the global conductive textiles market are anticipated to boost market expansion during the forecast period.
Russia- Ukraine War Impact
The conflict between Russia and Ukraine had potential impacts on various markets, including the conductive textiles market. The extent of these impacts depended on several factors, including the duration and intensity of the conflict, as well as the specific dynamics of the market.
The conflict disrupted the supply chains of conductive textile materials, as both Russia and Ukraine played significant roles in their production and export. Disruptions in the supply of raw materials or components from these countries led to shortages and increased prices, affecting the overall market.
Tensions resulting from the conflict led to the imposition of trade barriers, tariffs, or sanctions. These measures hindered the smooth flow of conductive textiles and related products between the two countries and their trading partners. Companies in the conductive textiles market faced challenges in accessing key markets or establishing new business relationships.
The geopolitical instability created uncertainties and impacted consumer confidence. This resulted in a slowdown in demand for various goods, including conductive textiles. Industries became more cautious about investing in new technologies or expanding their operations until the situation stabilized, affecting the growth of the market.
The conflict disrupted regional trade dynamics, causing shifts in demand and supply patterns for conductive textiles. Industries in the affected regions sought alternative suppliers or adjusted their sourcing strategies to mitigate risks. This led to a reconfiguration of supply chains and changes in market dynamics.
Overall, the Russia-Ukraine conflict caused disruption and uncertainty in the conductive textiles market. Businesses in this sector had to closely monitor the situation, diversify their supply chains where possible, and adapt their strategies to mitigate risks.
Key Benefits For Stakeholders
This report provides a quantitative analysis of the market segments, current trends, estimations, and dynamics of the conductive textiles market analysis from 2022 to 2032 to identify the prevailing conductive textiles market opportunities.
The market research is offered along with information related to key drivers, restraints, and opportunities.
Porter's five forces analysis highlights the potency of buyers and suppliers to enable stakeholders make profit-oriented business decisions and strengthen their supplier-buyer network.
In-depth analysis of the conductive textiles market segmentation assists to determine the prevailing market opportunities.
Major countries in each region are mapped according to their revenue contribution to the global market.
Market player positioning facilitates benchmarking and provides a clear understanding of the present position of the market players.
The report includes the analysis of the regional as well as global conductive textiles market trends, key players, market segments, application areas, and market growth strategies.
 Conductive Textiles Market Report Highlights
Aspects
Details
Market Size By 2032
USD 6.3 billion
Growth Rate
CAGR of 11.8%
Forecast period
2022 - 2032
Report Pages
580
By Fabric Type

Nylon
Cotton
Polyester
Wool

By Product Type

Woven Textile
Non Woven Textile
Knitted Textile

By End Use Industry

Sports and Fitness
Consumer Electronics
Others
Military and Defense
Healthcare

By Region

North America (U.S., Canada, Mexico)
Europe (Germany, UK, France, Spain, Italy, Rest of Europe)
Asia-Pacific (China, India, Japan, South Korea, Australia, Rest of Asia-Pacific)
LAMEA (Brazil, Saudi Arabia, South Africa, Rest of LAMEA)

Key Market Players
Saint-Gobain, 3M Company, Kolon Industries Inc., Shinmax Technology Ltd, TORAY INDUSTRIES, INC., Kaneka Corporation., UBE Corporation, DuPont de Nemours, Inc., Coatex Industries, Shieldex
Analyst Review
According to the insights of the CXOs of leading companies, the rising demand for smart fabrics and wearables among a growing population is driving the market for conductive textiles. Smart fabrics, which are utilized in the medical industry for monitoring, and graphene are anticipated to fuel the market growth. Increase in use of conductive textile in automotive wiring and cables are making automobiles lighter and more fuel-efficient. All of these factors are anticipated to drive the conductive textiles market.
The market for conductive textiles will be affected by the expensive price of the finished product. The production procedure for conductive textile is quite intensive, resulting in an expensive end product. This restricts the use of conductive textiles to the defense and military sectors, as they are unaffordable to the average consumer, thereby restraining the growth of the conductive textiles market.