The cone crushers market size was valued at $1,725.1 million in 2020, and is expected to reach $2,972.5 million by 2030, registering a CAGR of 5.5% from 2021 to 2030. Cone crushers are compression type of machines that reduce material by squeezing or compressing the feed material between a moving piece of steel and a stationary piece of steel. The material to be crushed (the feed), drops into the crushing chamber. The mantle is a moving part that gyrates in an eccentric motion. As the mantle moves, it crushes the material against the concave at the points where the gap is smallest. 
The cone crushers market was initially hampered owing to restrictions on construction and mining activities during lockdown. In addition, manufacturing of these machines was also affected during the period. However, the market started recovering as lockdown restrictions were uplifted.
The major driving factor of cone crushers market is increase in government expenditures for infrastructural development such as improvement of roads and bridges. Industries such as construction and tunnels require concrete, aggregates and precast products & elements. In addition, need for reduced construction time and cost-effective products. Use of ready-mix concrete and precast products & elements saves a lot of construction time. Aggregates are required to produce concrete as well as precast concrete products. In addition, precast production is cost-effective as products and elements are manufactured in bulk quantity. Moreover, production can be carried out by automated machines, which further saves manpower as well as construction time. This helps in driving the cone crushers. Furthermore, development in manufacturing technology has led to increase in construction and mining operations, which leads to increase in demand for raw material at faster rate. Owing to this, enhanced cone crushers are required in the market. This further drives the cone crunchers market globally.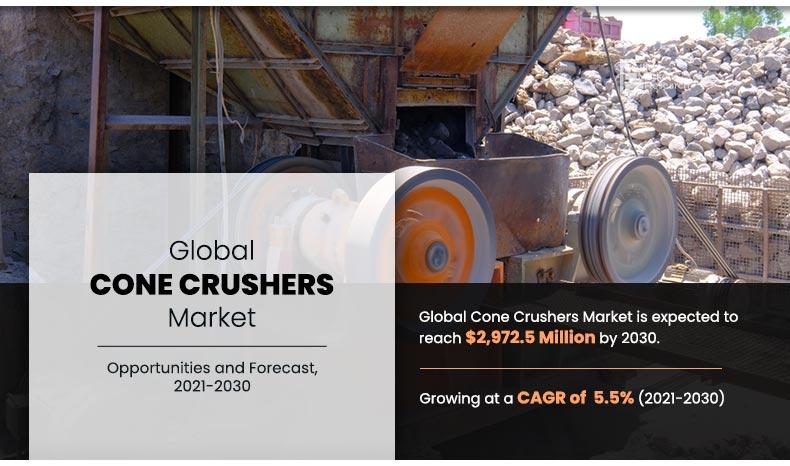 However, cone crunchers are construction equipment and their setup and maintenance is expensive compared to labor costs. Moreover, customers who do not require these equipment continuously or for long term and generally opt for rental equipment than to buy such expensive machine and use it rarely. Moreover, getting loan on higher interest rates to buy equipment is not feasible for many customers. Owing to this many customers opt for renting cone crushers that are required on construction sites. Such factors restrains growth of the market. In addition, use of alternative building materials, owing to climatic changes has declined use of concrete and mortar in the construction industry, which leads to decline in demand for cone crunchers in the market.
Furthermore, during the outbreak of the COVID-19 pandemic, construction, manufacturing, hotel, and tourism industries were majorly affected. Manufacturing activities were halted or restricted. Construction and transportation activities, along with their supply chains, were hampered on a global level. This led to decline in manufacturing of cone crushers as well as their demand in the market, thereby restraining growth of the cone crushers market. Conversely, industries are gradually resuming their regular manufacturing and services. This is expected to lead to re-initiation of cone crushers companies at their full-scale capacities, which is expected to help the cone crushers market to recover by the end of 2021.
Cone Crushers Market

---
By End-user Industry
Mining segment holds the largest share in Cone Crushers market
However, rapid urbanization and industrialization in developing countries has given rise to construction activities. Growth in demand for construction & infrastructure developments largely drives the cone crushers market. Industries such as roads & railways, tunnels, residential & non-residential construction, and mining are continuously developing, therefore, need construction of new infrastructure. This leads to rise in demand for aggregates, concrete, and precast products & elements. Thus, creating a major opportunity in emerging countries for growth of the cone crushers market.
The cone crushers market is segmented into end-user industry, mobility, sales type and region. By end-user industry, the market is segregated into mining, construction and recycling. The mobility covered in the study include stationary, portable-wheeled and portable-tracked mounted. On the basis of sales type, the market is divided into new equipment sales and aftermarket sales. Region wise, it is analyzed across North America (the U.S., Canada, and Mexico), Europe (Germany, France, the UK, Russia, and rest of Europe), Asia-Pacific (China, Japan, South Korea, India, and rest of Asia-Pacific), and LAMEA (Latin America, the Middle East, and Africa).
Cone Crushers Market

---
By Mobility
Portable-Wheeled segment holds dominant position in 2020
On the basis of end-user industry, in 2020, the mining segment dominated the cone crushers market, in terms of revenue, whereas the recycling segment is expected to witness growth at the highest CAGR during the forecast period. By mobility, the portable-wheeled segment led the market in 2020, in terms of revenue; however, the portable-tracked mounted segment is anticipated to register highest CAGR during the forecast period. Depending on sales type, the new equipment sales segment led the market in 2020, in terms of revenue. Conversely, the aftermarket sales segment is anticipated to exhibit the highest CAGR in the coming years. Region wise, Asia-Pacific garnered the highest revenue in 2020; however, LAMEA is anticipated to register highest CAGR during the forecast period.
Competition analysis
The major players profiled in the cone crushers market include Chengdu Dahongli Machinery Company Limited, CITIC Limited, Constmach, FLSmidth, Meka, Metso Outotec, Sandvik AB, Tenova S.p.A., The Weir Group PLC and Thyssenkrupp AG. Major companies in the market have adopted product launch as their key developmental strategy to offer better products and services to customers in the cone crushers market.
Cone Crushers Market

---
By Region
Asia-Pacific holds a dominant position in 2020 and LAMEA is expected to grow at a highest rate during the forecast period.
Key Benefits For Stakeholders
The report provides an extensive analysis of the current trends, future estimations, and dynamics of the cone crushers market. 
In-depth cone crushers market analysis is conducted by estimations for the key segments between 2021 and 2030. 
Extensive analysis of the market is conducted by following key product positioning and monitoring of top competitors within the market framework.
A comprehensive analysis of four major regions is provided to determine the prevailing opportunities.
The market forecast analysis from 2021 to 2030 is included in the report.
The key market players operating in the market are profiled in this report and their strategies are analyzed thoroughly, which help to understand the competitive outlook of the market industry.
 Cone Crushers Market Report Highlights
Aspects
Details
By Power Source

ELECTRIC MOTOR
DIESEL ENGINE

By Market Application

Mining
Construction
Aggregate
Demolition
Environmental
Others

By Geography

NORTH AMERICA
EUROPE

Germany
France
UK
Italy
Spain
Rest of Europe

ASIA-PACIFIC

Japan
China
Australia
India
South Korea
Taiwan
Rest of Asia-Pacific

LAMEA

Brazil
Turkey
South Arabia
South Africa
Rest of LAMEA

Key Market Players
Telsmith, FLSmidth & Co. A/S, Global Mining Crusher, Westpro Machinery Inc., Sandvik, Sky Machinery, ThyssenKrupp AG,, Puzzolana, Terex, Metso Corporation