Connected Agriculture Market Statistics: 2027
The connected agriculture market growth today is influenced by several drivers, restraints and opportunities. Growing demand for agri-mobile driven solutions to boost farmers revenue is driving the market. Thus, many telecom service providers are also seen focusing more on connected agriculture to provide a real-time data to the end-customers. However, lack of awareness about the advantages of connected agriculture especially in developing nations has restricted the connected agriculture market growth. On the other hand, the mobile based payment service providers enabling farmers to trace their payment real-time has created great opportunities. The development of the connected agriculture industry by enhancing farmers capability to conduct financial transactions easily in rural areas and easier access to agricultural information, is believed to grow worldwide.
Connected agriculture backs different stake holders along the farming or agriculture value chain via mobile technology. This technology includes an array of equipment and sub-segments such as data, connectivity networks, voice and more. Emergence of connected agriculture has improved the access to financial solutions. Furthermore, access to affordable financial solutions can also be customized for agricultural purposes, with connected agriculture technology. Besides this, the technology enables business owners to establish a link between potential buyers, traders, sellers and more. Moreover, the capacity of connected agriculture to deliver relevant data to farmers, including weather forecasts, cutting edge farming methods, commodity rates, where conventional techniques of communication are restricted, have added to its growing popularity.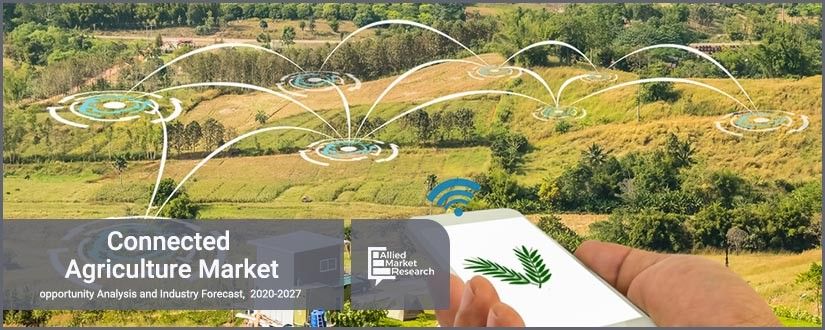 The connected agriculture market is segmented in terms of solution, application, services and geography. Major solutions offered by the vendors include bartering, trading and others. Besides this, the services offered include mobile information services, micro-lending services, micro- insurance services and others. In addition, the key applications covered in the report include smart irrigation and smart logistics. The market is analyzed on the basis of four regions, namely North America, Europe, Asia-Pacific and LAMEA. List of companies discussed in the report includes SAP, Orange, Cisco, Microsoft, SAGE, Vodafone, Trimble Navigation and others.
Connected Agriculture Market Key Benefits For Stakeholders
Comprehensive analysis of connected agriculture market penetration strategies and effective marketing channels forms an important part of the study
Exploratory function of the study digs deep into the major drivers, restraints and opportunities, shaping the future of the market
The market research report further highlights the technology developments and policy amendments influencing market growth
Comprehensive data on new markets, launches, collaborations, acquisitions and mergers etc. outline the potential of the market
SWOT analysis of the connected agriculture market brings to the table the weaknesses, strengths, opportunities and threats and also pin points how brands manage of stay competitive
Porters Five Forces analysis and SWOT analysis of the key market players are provided to illustrate the business strategies adopted by buyers and suppliers
Connected Agriculture Market Key Segments
Market By Service
Micro-Lending services
Micro- Insurance services
Mobile payment services
Mobile information services
Others
Market By Solution
Trading
Bartering
Tendering
Market By Application
Smart logistics
Smart irrigation
Market By Geography
North America
Europe
Asia Pacific
LAMEA
Key Market Players
SAP A.G
Trimble Navigation Limited
Microsoft Corporation
Vodafone PLC
Syspro
Orange Business Services
Cisco Systems, Inc.
Epicor Software Corporation
SAGE
 Connected Agriculture Market Report Highlights
Aspects
Details
By Offering

Solution

Device Management
Application Enablement
Connectivity Management

Service

By Application

Pre-Production Planning and Management
In-Production Planning and Management
Post-Production Planning and Management

By Geography

NORTH AMERICA
EUROPE

UK
GERMANY
FRANCE
REST OF EUROPE

ASIA-PACIFIC

CHINA
INDIA
JAPAN
REST OF ASIA-PACIFIC

LAMEA

LATIN AMERICA
MIDDLE EAST
AFRICA

Key Market Players
Trimble Navigation Limited, SAP SE, IBM, Syspro, Microsoft Corporation, Orange Business Services, Cisco Systems, Inc., Epicor Software Corporation, SAGE, AT&T