Connected Car Market Statistics – 2027
The global connected car market was valued at $63.03 billion in 2019, and is projected to reach $225.16 billion by 2027, registering a CAGR of 17.1%.            
Connected car facilitates connectivity on wheels offering comfort, convenience, performance, safety, and security along with powerful network technology. This enables the driver to connect with online platforms, thereby facilitating real-time communication. Rise in consumer demand for connectivity solutions, surge in need for constant connectivity, increase in dependency on technology, and upsurge in tech-savvy population are the key factors that contribute toward the growth of the global connected cars market. Over time, various connectivity solutions have been developed by car manufacturers and service providers, such as the machine-to-machine (M2M) connectivity platform. This M2M feature in a car enables interconnectivity between two connected cars. The car is equipped with numerous sensors and processors, which provide accurate and real-time information to the driver. This in turn fuels the adoption of connected cars across the globe, thus supplementing the growth of the market.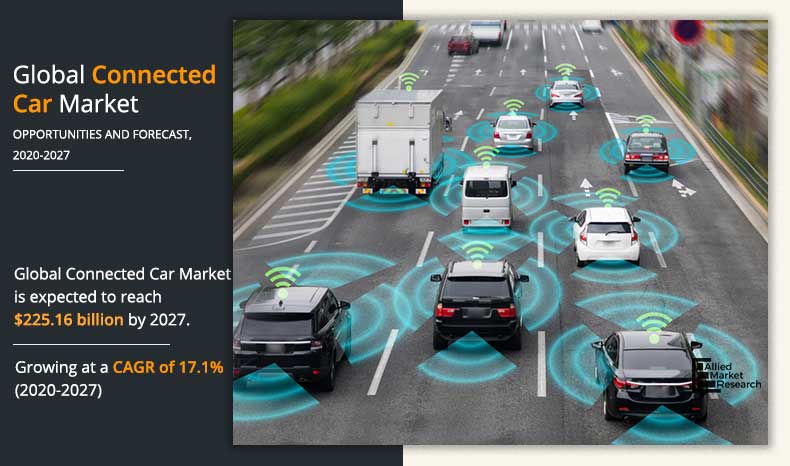 Factors such as technological advancements, rise in production of vehicles, and increase in demand for luxury & comfort in vehicles are expected to supplement the growth of the market. Moreover, factors such as improvement in global standards for vehicles and high maintenance cost of advanced suspension systems are anticipated to hamper the connected car market growth. However, rise in demand for lightweight suspension system and development of advanced suspension systems are expected to provide a better opportunity for the growth of the market. 
North America is the largest regional market for connected cars industry. The increased production and sales of vehicles across North America has led to the growth of connected car service across North America. Numerous developments have been carried out by connected service providers to offer better and efficient service, which eventually leads to the growth of the market across the region. Leading telecommunication companies are adding more number of connected cars in the network. This helps expand the connected cars network exponentially. For instance, AT&T Intellectual Property, a  telecommunication company has added around 2 million connected cars to its network and claims that the company has crossed the milestone of 1 million customers in the U.S.
Currently the connected cars market is in its transition phase. Several automobile manufacturers are switching to 5G enabled connected cars solutions that also offer 3G/4G service depending on the situation. Although 5Gsupported connected cars devices and services are bit expensive as compared to other devices, but their market is experiencing growth due to fast data transfer speed and increased bandwidth that is offered. Currently, automobile manufacturers are switching from 4G/LTE enabled connected cars solutions to 5G enabled devices. Yet a car with 5G-enabled connection can provide multiple valuable service such as telematics, remote control access, infotainment, GPS tracking, and others. These 5G solutions are easy to use, affordable, and facilitate remote diagnostics of a vehicle that gives it an upper hand in the market.
The global connected cars market is segmented into technology, connectivity solutions, services, end use, and region. By technology, the market is divided into 3G, 4G/LTE, and 5G. Connectivity solution is categorized into integrated, embedded, and tethered. By service, the market is classified into driver assistance, safety, entertainment, well-being, vehicle management, and mobility management. By end use, it is bifurcated into original equipment manufacturing (OEM) and after market. By region, the market is analyzed across North America, Europe, Asia-Pacific, and LAMEA.
The key players analyzed in the global connected car market are Airbiquity Inc., CloudMade, Continental AG, Intellias Ltd., LUXOFT, Qualcomm Technologies, Inc., Robert Bosch GmbH, Sierra Wireless, Tesla, and ZUBIE, INC., AT&T, Audi AG, BMW Group, Daimler AG, Ford Motor Company, Samsung Electronics, Telefonica S.A., TomTom International, Verizon Communications and Vodafone Group Plc. 
Key Developments:
In January 2020,

Continental AG launched an online portal named 'Continental Cooperation Portal' for digitally connected vehicle architectures which automate and standardizes software development and integration into the Connected vehicle. In addition it provide a central communication platform for software projects and it can be personally customized according to user's requirement.

In January 2020,

LUXOFT entered into a partnership with Microsoft to boost the delivery rate of connected vehicle solutions and mobility experiences. It offers the features such as advanced vehicle diagnostics, remote access and repair, and preventive maintenance.

In January 2020,

Qualcomm car-to-cloud service introduced by Qualcomm Technologies, Inc. helped automakers keep cockpit and telematics system up-to-date and future-proof vehicles by delivering the flexibility needed to activate features at any time.

In June 2019

, Airbiquity entered into a joint venture with Wing River, a leader of delivering IoT software for critical infrastructure on integrating key technologies and developed an end-to-end software to connect cars with cloud.

In March 2019

, DENSO, world's second largest mobility supplier invested $5 Million in Airbiquity to boost development of over-the-air (OTA) systems for wirelessly updating automotive software from a remote location.
Rise in trend of connectivity solutions
Smartphones have changed the definition of connectivity over time. People wish to stay connected with the outer world even while travelling. Now that connectivity has become the need of the hour, automobile manufacturers adopt connectivity solutions in their vehicles to boost their automobile sales. Consumers are expecting their vehicles to perform tasks similar to computers and smart phones. 
Connected Car Market

---
By Technology
5G technology is projected as the most lucrative segments
Adding connectivity solutions in the vehicle has become the top most priority for automobile manufacturers. Many connectivity solutions are integrated in modern cars that require internet service to perform their respective functions. Connectivity can be provided in a car using embedded, integrated, or tethered connectivity solutions. One of these connectivity solutions is used to offer Internet connection to the driver as well as the passengers who travel in the vehicle. An in-car hotspot can be created to provide Internet access to all the devices within the vehicle with the help of a smart phone, modem, or connectivity device. Therefore, rise in trend of connectivity solutions drives the growth of the connected cars market.
Connected Car Market

---
By Connectivity Solutions
Embedded is projected as the most lucrative segments
Ease of vehicle diagnosis
Advance diagnostic system is a feature that is expected to boost the connected cars market growth. In advanced diagnostics, the system in the car will supply data of the vehicle to both the automobile dealer and the customer, which can help predict potential automobile issues before they take place.
Connected Car Market

---
By Services
Driver assistance is projected as the most lucrative segments
In fleet management, it is easy to track vehicle records and decide which vehicle has travelled the most and accordingly offer service with the help of connectivity solutions. The diagnostic service offered is an efficient way to diagnose the status of the vehicles. It allows the consumers to manage the maintenance of their vehicle, thus saving money and time by avoiding unwanted expenses & breakdowns. The system provides a maintenance schedule and timely reminders to the consumer. The diagnostic system keeps a track of the smoke emission and fuel consumption of the vehicles, thereby monitoring its engine health. The diagnostic service sends a detailed report about the vehicle to the decision maker who decides on the service schedules for the automobile. Thus, ease of vehicle diagnosis with the help mobile applications is expected to fuel the connected car market growth.
Connected Car Market

---
By End-use
Aftermarket is projected as the most lucrative segments
Lack of uninterrupted & seamless internet connectivity
The main objective of connected cars is to keep the consumer connected to the outside world. People need a continuous access to the Internet even when they are travelling. Consumers expect their cars to perform tasks similar to their computer or smart phones. Interrupted connectivity may act as a restraint for the connected cars segment as it fails to offer a seamless Internet service. This is mainly due to inconsistency in the network offered by service providers, which varies for different regions.
Connected Car Market

---
By Region
Europe would exhibit the highest CAGR of 20.4% during 2020-2027.
Intelligent transportation system
The safety services offered in connected cars are an appropriate example of cutting edge aftermarket technology, which involves sharing data between the vehicle and the humans. Safety is a combination of telecommunication and automobile technology used to improve vehicle efficiency, reduce fuel consumption & maintenance cost, enhance security & safety measures, and assist the driver to enhance his overall driving experience. Driver assistance system is another feature of the connected cars that helps the driver find the most appropriate route to reach the destination. It also prompts alert messages regarding traffic jams and parking space availability. All these connected cars features provide intelligent transportation systems, which are designed to improve the overall driving experience.
Key Benefits For Stakeholders
This study presents analytical depiction of the global connected car market analysis along with the current trends and future estimations to depict imminent investment pockets.
The overall connected car market opportunity is determined by understanding profitable trends to gain a stronger foothold.
The report presents information related to the key drivers, restraints, and opportunities of the connected car market with a detailed impact analysis.
The current market is quantitatively analyzed from 2019 to 2027 to benchmark the financial competency.
Porter's five forces analysis illustrates the potency of the buyers and suppliers in the industry.
 Connected Car Market Report Highlights
Aspects
Details
By Technology
By Connectivity Solutions

Integrated
Embedded
Tethered

By Service

DRIVER ASSISTANCE
SAFETY
ENTERTAINMENT
WELL-BEING
VEHICLE MANAGEMENT
MOBILITY MANAGEMENT

By End Market

Original Equipment Manufacturer (OEMs)
Aftermarket

By Region

North America (U.S, Canada, Mexico)
Europe (UK, Germany, France, Russia, Italy, Rest of Europe)
Asia-Pacific (China, India, Japan, South Korea, Rest of Asia-Pacific)
LAMEA (Latin America, Middle East, Africa)

Key Market Players
Airbiquity Inc, VERIZON COMMUNICATIONS INC., AUDI AG, VODAFONE GROUP PLC, FORD MOTOR COMPANY, DAIMLER AG (MERCEDES-BENZ), Intellias Ltd, Robert Bosch GmbH, TELEFONICA, S.A., TOMTOM INTERNATIONAL N.V, CloudMade, LUXOFT, Tesla ZUBIE INC, SAMSUNG ELECTRONICS CO. LTD., Sierra Wireless, Continental AG, BMW GROUP, AT&T INC, Qualcomm Technologies Inc